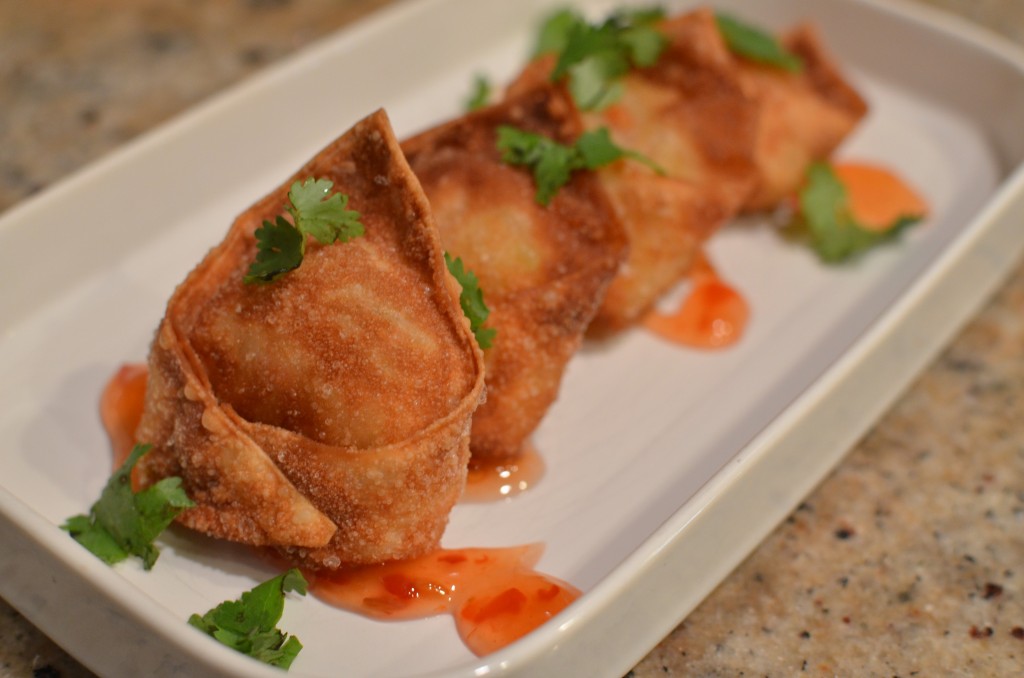 As a half-Asian kid, growing up I feel like I was spoiled when it came to food. While my brother and I were far from having a lot… we did have one major bonus… we had/have a mom with mad cooking skills. Honestly, I hated eating at my friend's homes…unless they had Asian parents, too (good food almost always guaranteed)… Kind of funny how that worked in our family circle.
One of my favorite foods growing up (and I had a lot of favorites) was fried wontons. Since ditching meat nearly 20 years ago, I can't remember the last time that I have had a fried wonton, but that's all the reason to make them myself. Now, I'll tell you that wonton skins can be a bit tricky to find vegan. I have been checking all of my local grocery stores, and all of the options contain milk. However, I struck gold when I checked the freezer in Asian markets. Not only did they have vegan wonton skins, they also carried pot sticker skins (recipe to eventually come…).
I like putting noodles in my wontons. It's another texture to go inside and a very inexpensive way to add more bulk to the wontons. The noodles that I use are called Maifun rice sticks. They come in an orange bag, and I've found them at both Target and Whole Foods. The noodles come in three bunches of noodles. You will only need one bunch. Save the remainder for later.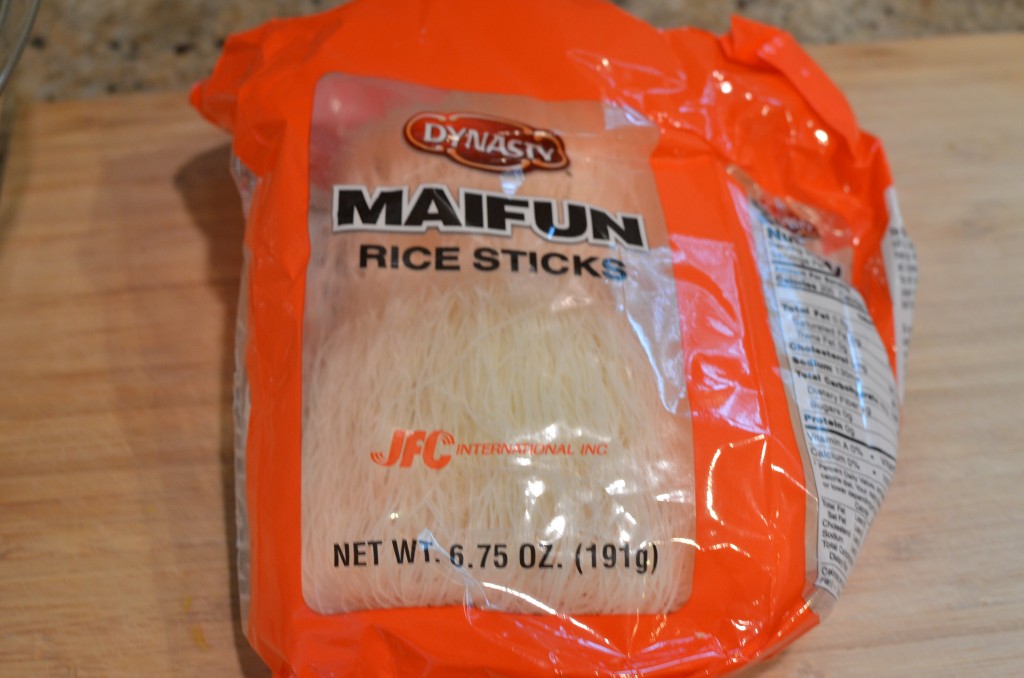 This filling is really easy to put together with only a few ingredients. The hardest part of making this recipe is filling the little wontons. Sometimes, I think that Chinese food is so special because of the labor involved… Making these little wontons reminds me of my childhood, and spending time with my mother, getting a meal ready… which makes these little pockets of goodness even more special. So, grab a loved one and cook with them. You'll be creating food and memories 🙂
Ingredients
1 1/2 cup finely chopped cabbage
1/3 package Maifun rice noodles
5 oz extra firm tofu (squeezed slightly to remove excess liquid)
1 carrot shredded
1-2 green onions diced
3 tablespoons soy sauce
1/2 tablespoon grated ginger
oil for deep frying (vegetable oil or peanut oil work nicely)
Instructions
If the wontons are frozen, place them in the refrigerator overnight to defrost.
Soak noodles in hot (near boiling) water for 3-4 minutes until softened. Drain. Then rinse with cold water and set aside.
In a large bowl, crumble the tofu with your hands. Add the remaining filling ingredients including the noodles. With kitchen shears, cut the noodles into small pieces. Mix the filling, and taste it for salt. If it's not salty enough, add a touch more soy sauce. Set filling aside for later.
Get a tray ready for the wontons by placing parchment paper on it and a dry kitchen towel on top. Keep the unused wontons skins from drying out by putting a small towel over them.
One wonton at a time, dampen two sides of the wonton skin with water using your finger. Put a small scoop of filling in the center of the wonton (approximately 1 tablespoon). Be careful not to let any filling touch the sides, otherwise it will be difficult to seal. Press the two wet sides to the two dry sides to seal (the wonton will now look like a triangle.
Advanced wonton-ery: Dampen the two similar angled corners of the triangle and press together. (My daughter says it makes them look like an envelope).
Place the wonton on the parchment paper under the towel. Continue filling the wontons with the remainder of the wonton filling.
In a deep fryer, fill with enough oil so that it is about an inch deep. Heat oil to about 375 degrees. Place wontons gently in fryer, and cook until brown and flip to fry the other side. Fry four to five wontons at a time. Frying takes only a few minutes per side. Rest all cooked wontons on paper towels or a brown paper grocery bag. (Bamboo chop sticks make excellent tools to flip wontons.)
Serve with your favorite sweet red chili sauce! ?
NOTE: Making wontons can be very time consuming (especially without any help). Feel free to not make them all in one sitting. When I made these, I was able to make and eat wontons on three separate evenings. Store any unused filling in an airtight container in the fridge along with the remainder of the wonton skins. Be sure to make within a few days 🙂
https://www.sillylittlevegan.com/vegan-fried-wontons/