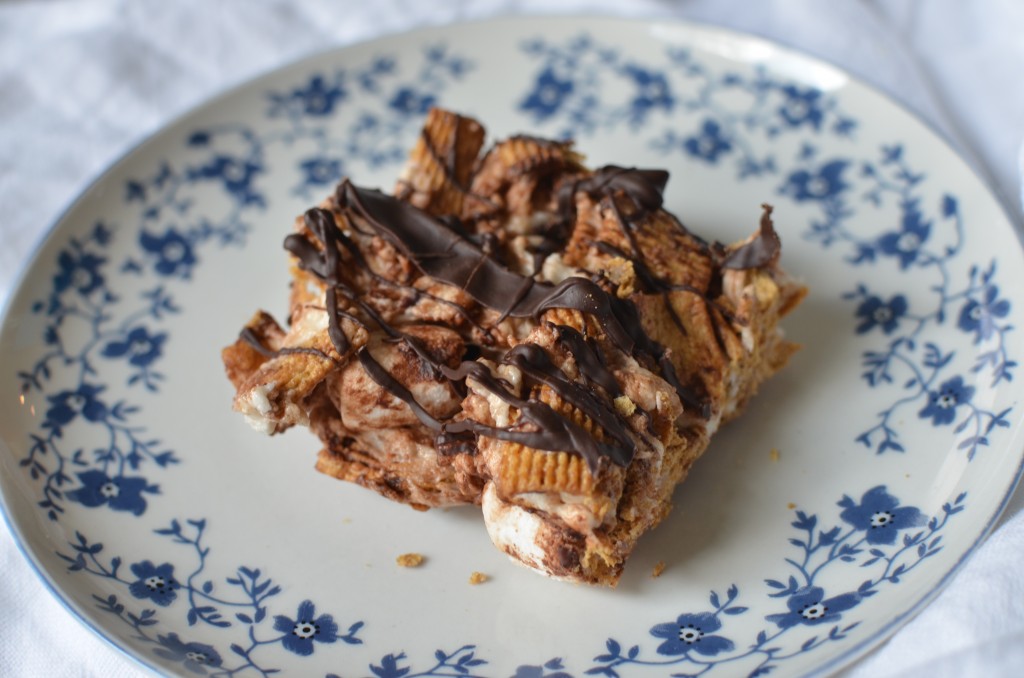 Yesterday, while I was at Costco, I noticed that they were selling a HUGE box of Graham Crunch cereal at a really great price. If you aren't familiar with this cereal, it's basically an organic version of Golden Grahams. Now.. being that it was a great deal, and I love a great deal.. I had to buy it… BUT I had a bit of a problem. I have one child who LOVES this cereal and one child who does NOT love this cereal. So, in order to get the whole family eating it, I decided to make a dessert with it. Genius right?…
Making S'more Bars is so easy, and it only needs a few ingredients.
Maybe it's obvious that not only do we have the Costco size cereal, but also have the Costco size Earth Balance (not actually available at Costco). Yes. Guilty as charged. Like I said, I love a deal, and per ounce it's cheaper to buy it in the HUGE tub…. and hey… since we're talking about deals… vegan marshmallows are not a deal. It is an expensive treat, but you get what you pay for… and since not eating animal parts (gelatin) is important to my family… this is how we roll. It is an occasional luxury item that's worth every penny!
(Ingredient lesson: Gelatin = boiled down bones, skin, connective tissue generally from cows or pigs)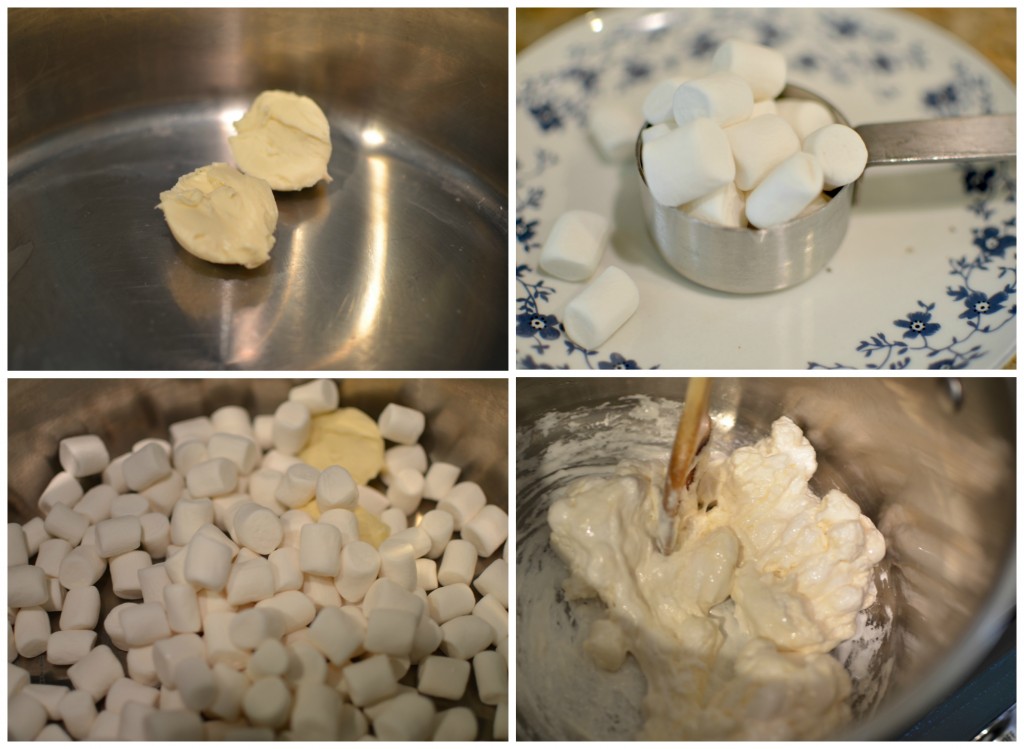 To get things going, place the butter in a large pot over medium-low heat. Reserve about 1/3 cup of the marshmallows, before dumping the rest of the bag into the pot. Stir. Stir. Stir. Stir. The marshmallows will start to melt together. It does not get bubbly and frothy like gelatin marshmallows. It's fine. Don't worry. Everything will be fine.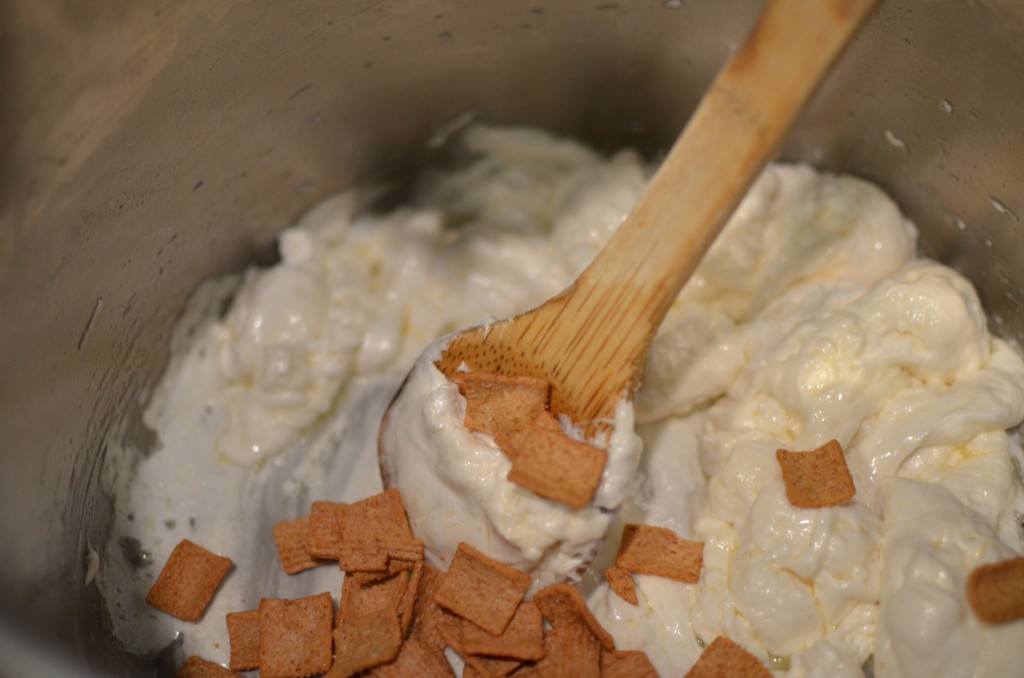 When the marshmallows get melted down, pour in 3 cups of cereal, turn off the heat and add 1/4 cup chocolate chips and the reserved marshmallows. Continue to gently stir until all of the cereal and chocolate are covered by the marshmallows.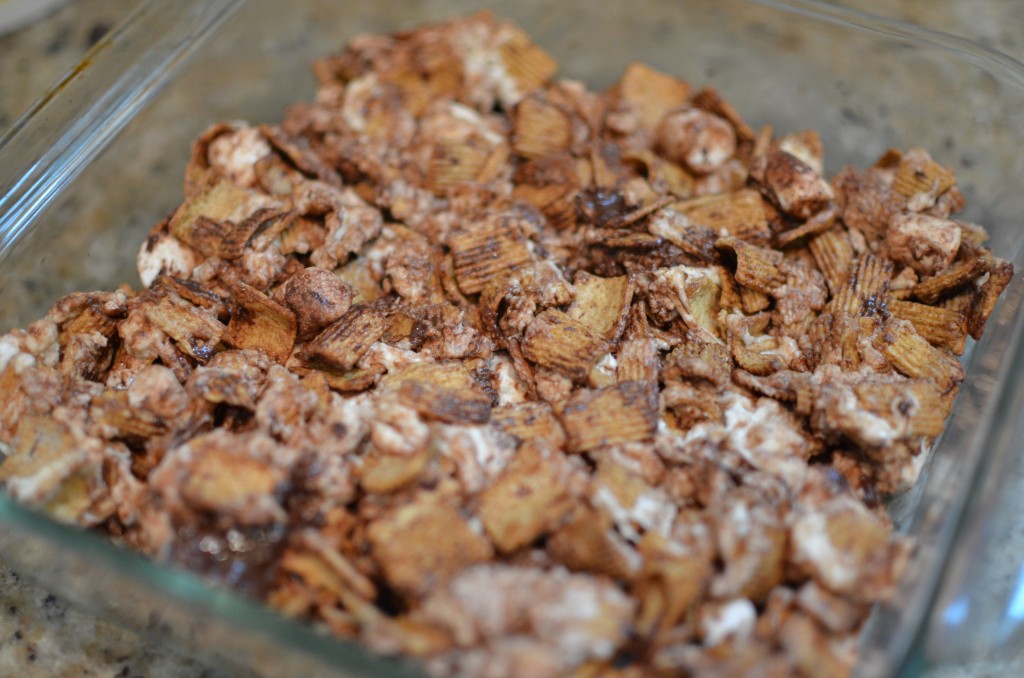 Gently press the cereal into an 8×8 inch greased pan and set aside.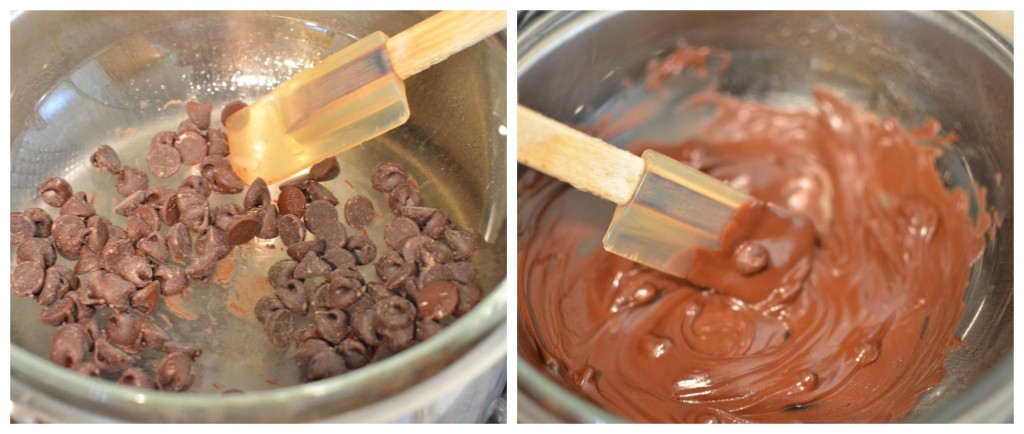 Melt 1/2 cup of chocolate chips. This can be done by using a double boiler or the microwave, but since we still have a broken microwave I only had one option. That reminds me… I have to get on that repair!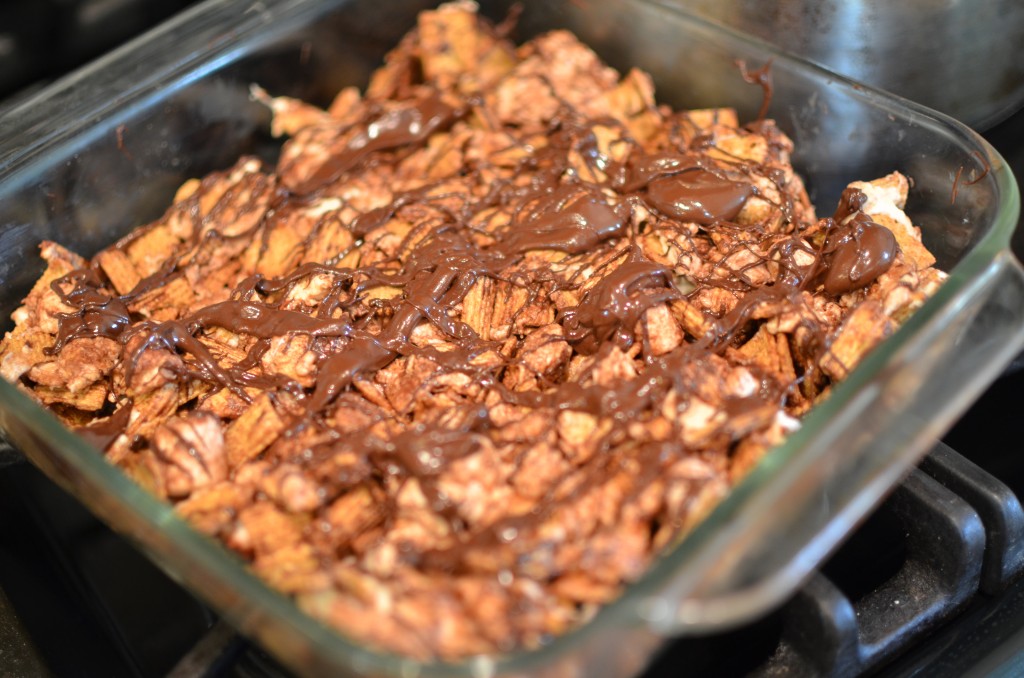 Drizzle the melted chocolate over the s'more bars and put it in the fridge to set.
Any left over chocolate can (and will) be used for dipping fruit!!! Yum! Easy chocolate fondue! Nothing wasted in this house!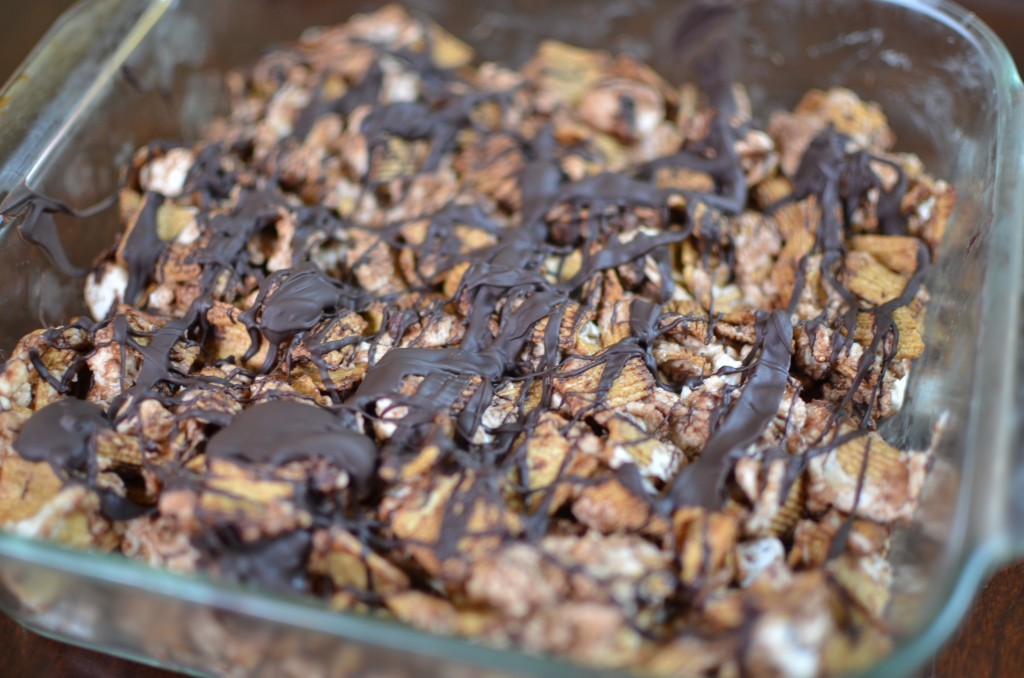 After chilled, cut into square… and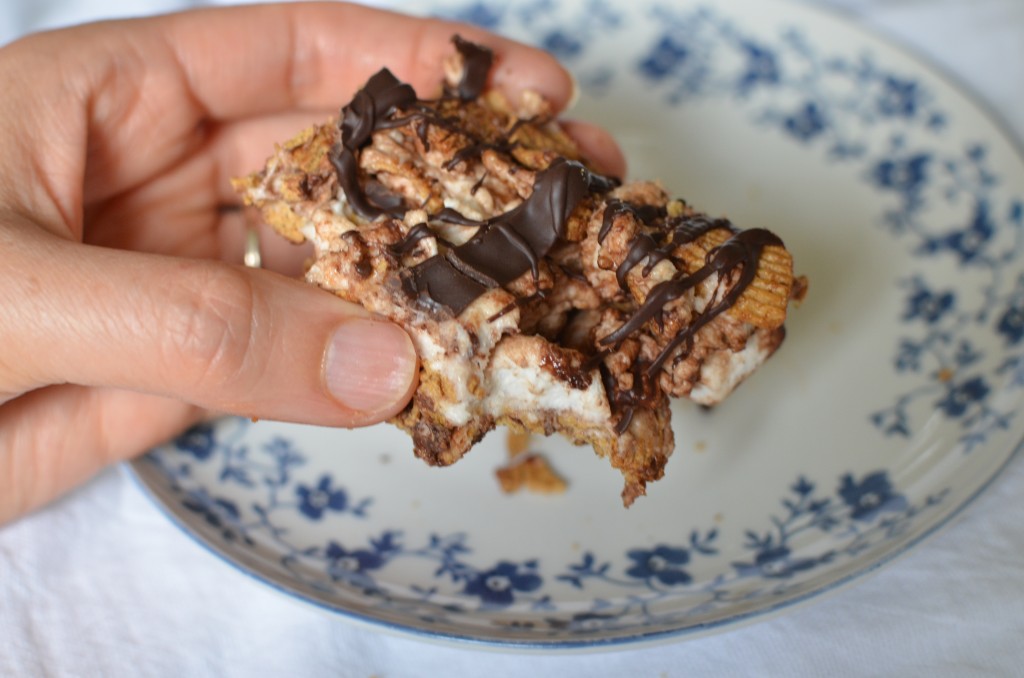 The best part… EAT. Can you see those hunks of marshmallows?… Oh yeah… that's a good bite. My family loved this dessert… and my Graham Crunch cereal hater in the family said…"Holy [veggie] hotdog this is good!!!" ♥
Ingredients
3 cups Graham Cereal
1 bag Dandies Marshmallows (1/3 cup reserved)
1/2 cup melted chocolate chips
1/4 cup chocolate chips
3 tablespoons non-dairy butter (Earth Balance)
Instructions
Melt 3 tablespoons of non-dairy butter in a large pot at medium-low heat, and pour 1 bag of Dandies marshmallows (minus the 1/3 cup reserved). When the marshmallows have melted down, add in the cereal. Gently stir the cereal, and turn off the heat. Add the reserved marshmallows and chocolate chips, and stir until mixed in and put the contents of the pot into a greased 8x8 in pan. Gently press the cereal mixture until it is evenly disbursed in the pan. Set aside.
Melt 1/2 cup non-dairy chocolate chips. Drizzle the chocolate on the bars, and then place the pan of cereal bars in the fridge to set. Let chill for about 30 minutes before serving.
https://www.sillylittlevegan.com/vegan-smore-bars/