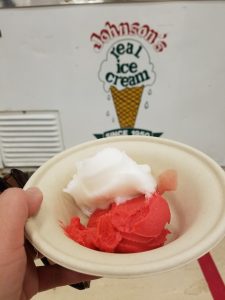 There have been so many things going on, and so many things to write about…. vegan topics and life events that have been in my head that I've thought about sharing. However, I really didn't know if I wanted to post them. I wasn't sure when I was going to get back to writing, or IF I was going to write again… Anyways, I'm here today, and I thought that I'd share another story about the importance of getting involved…even if you are an introvert like me.
Let's go back a few years first…
Over four years ago, I was approached about joining my children's PTO (parent teacher organization). The incoming presidents of the PTO needed new vice presidents, and for whatever reason I was asked if I would take a vice president position. I was extremely hesitant. I had not been involved much with the school, and I really didn't want to start going to monthly meetings. Honestly, I sometimes suffer from social anxiety, and getting involved to that extent would likely bring on my anxiety…
However, with that said, I found out that the vice presidents of the PTO were responsible for organizing the beginning of the school year's Ice Cream Social. All of the years before (that I know of), the Ice Cream Social had consisted of vanilla dairy ice cream plus ice cream toppings. Nothing vegan. At all. By facing my social anxiety issues head-on and agreeing to take the position, I knew that I could make an impact on this event. So, I did it. Honestly, that's the biggest reason that I got involved in the PTO…. and to me… that's a good enough reason. I had an agenda. I wanted to make a positive change in my girls' school.
With that said, I realize that I had a lot of help making it happen. My co-vice president was very supportive. Without her support, I would've likely failed. Gosh, she was a great person to work with (and she's now VEGAN!!!)!
The event was a success, and families loved the vegan option.
Now, the following year, we became presidents of the PTO. My goal was to keep this option going… and it did. The best part was when a parent attended a PTO meeting following the Ice Cream Social, and thanked us for having a dairy-free option. Her thanking the PTO is what I believe really solidified the change. The PTO was finally offering something for everyone, and that was a beautiful thing.
This year was year four for the Ice Cream Social. I had my fingers crossed that I would see a vegan option. However, to my surprise, the organizers had not one, but two options!!! For me, the best part was that the vegan option ran out before the non-vegan one. While some people may see that as I problem, I see it as a blessing. A shortage signifies that there is demand for compassionate choices.
So, in the end, not only did the organizers of the event continue the tradition, they went above and beyond what I started! My heart was so filled with love for our little elementary school that night…. and I'm proud that this will be my legacy.
I think an important lesson that I've learned is that in order to change things WE ourselves have to be willing to change. That often means that we have to get out of our comfort zones. I've seen that the more that I have put myself out there, the more positive things I've been a part of! ♥♥♥
Note: The vegan option at the Ice Cream Social was sorbet… While, there are wonderful vegan ice cream options available at stores right now, our school works with a local ice cream shop. Sorbet is the only dairy-free option available… and guess what?… It's delicious and families love it!