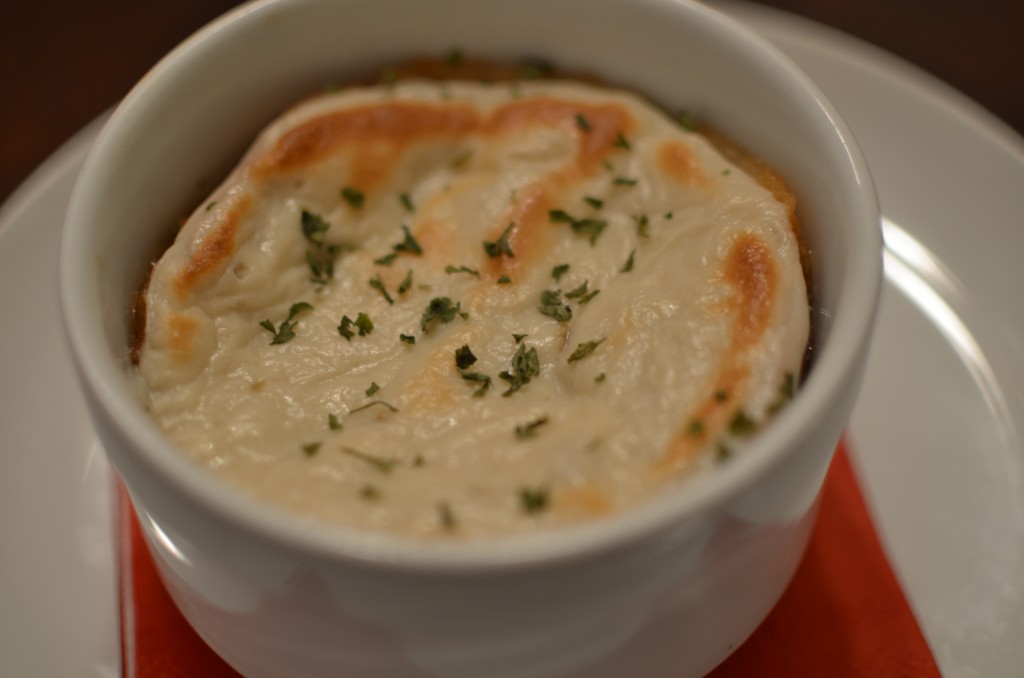 Last week was wonderful for my family. We were in celebratory mode as our eldest daughter had been on the brink of turning 9! Leading up to her birthday, I spent the week serving her very favorite dishes. Among those meals was a HUGE plate of mashed potatoes covered in homemade gravy and a side of sweet corn. Gosh, that was a funny sight!
One dish was a late addition, as it hit me in the middle of the week… and that was French onion soup. I had completely forgotten her love of this soup, and how could I blame her for loving it… a rich and savory broth with a bounty of floating sweet onions! Yum!
I can say that making French onion soup is not difficult. It does, however, take time. Time is necessary to properly caramelize the onions, and then there is the simmering of the soup itself to really infuse the broth with the onion flavor.
I like to include both sweet onions and shallots. Shallots are such a great way to really bump up the onion flavor, and to truly see how well shallots work you can just check out my Chinese Rice Noodle dish!
To start the soup, I placed the essential ingredients on the counter. Disregard the vast quantities of homemade broth… I only used one of them, as they turned out to be quite bitter (still working on this for a future post!).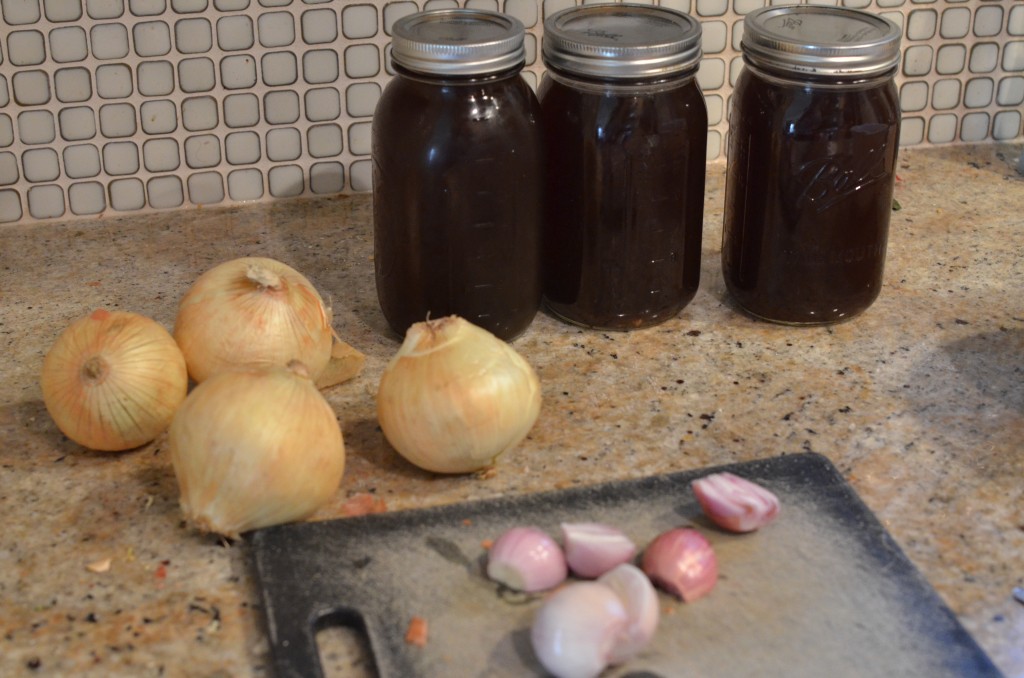 In a deep pot, cook sliced shallots in Earth Balance butter for about 5 minutes until they are nice and brown. I know it looks pretty oily in the pot, but once the rest of the onions are added to the stock pot, it won't be so oily 🙂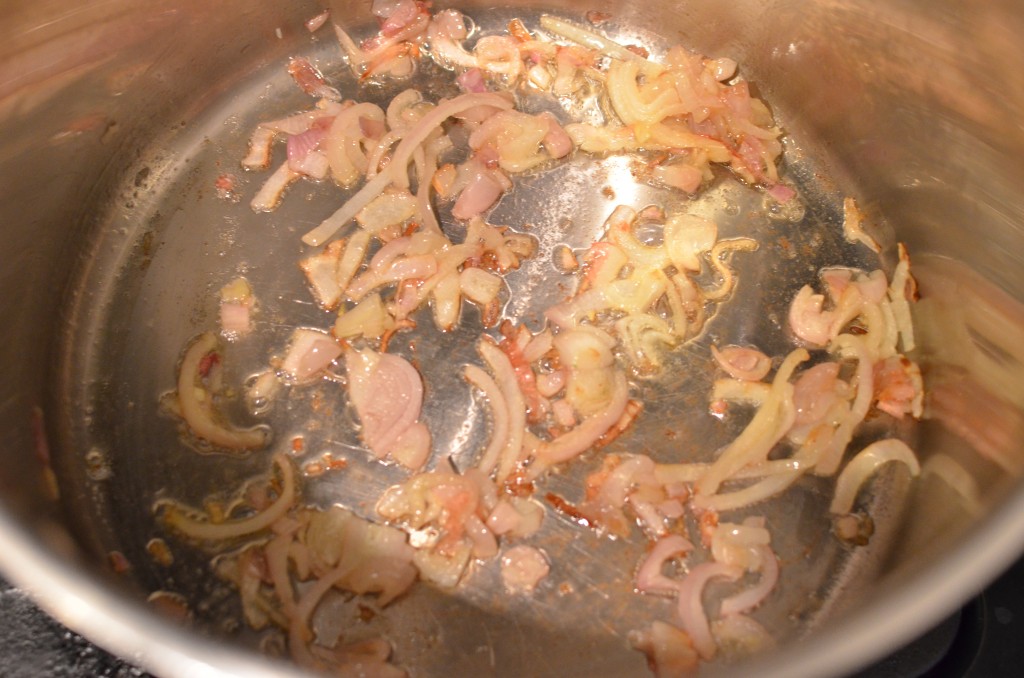 While the shallots are cooking, start chopping the sweet onions. I like to cut the onions into quarters and then slice them down length wise.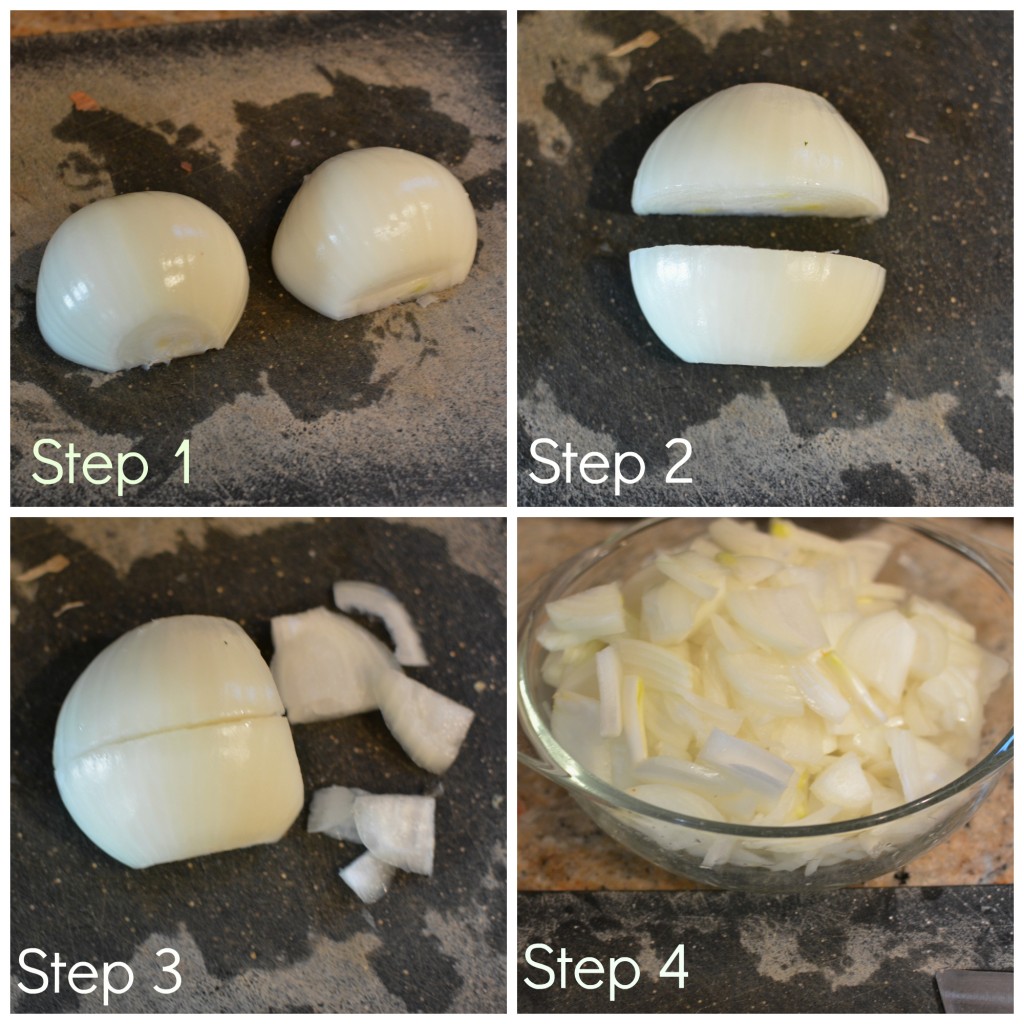 Add the sweet onions to the pot and stir. You can see the bits of caramelized shallots!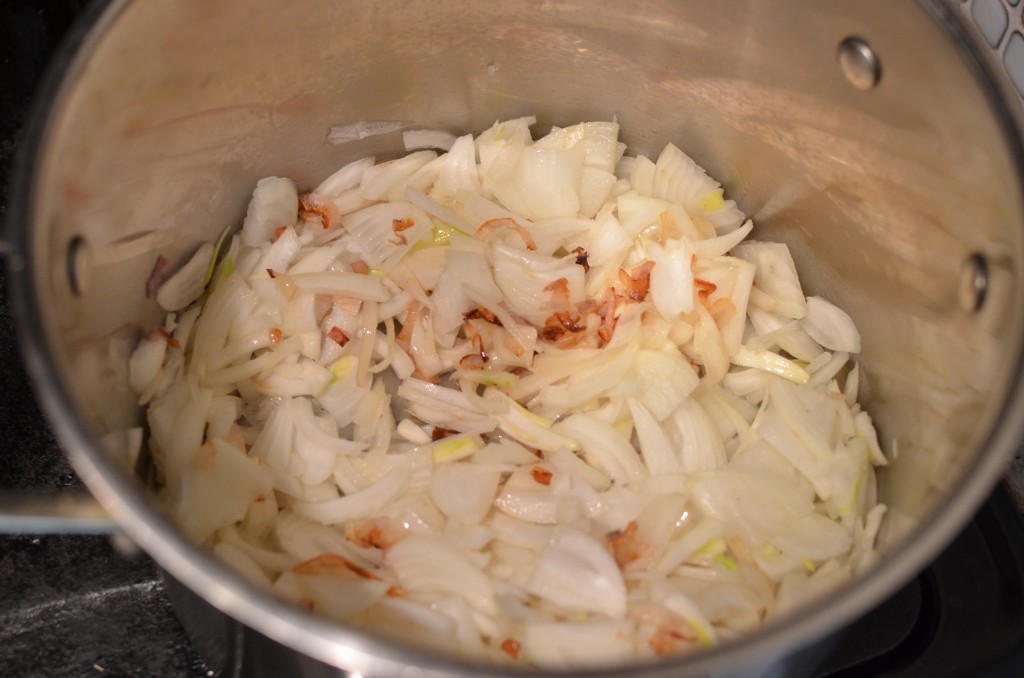 Add the thyme, salt, and bay leaves and let the onions and shallots cook for 15 minutes. They will turn a nice and golden hue.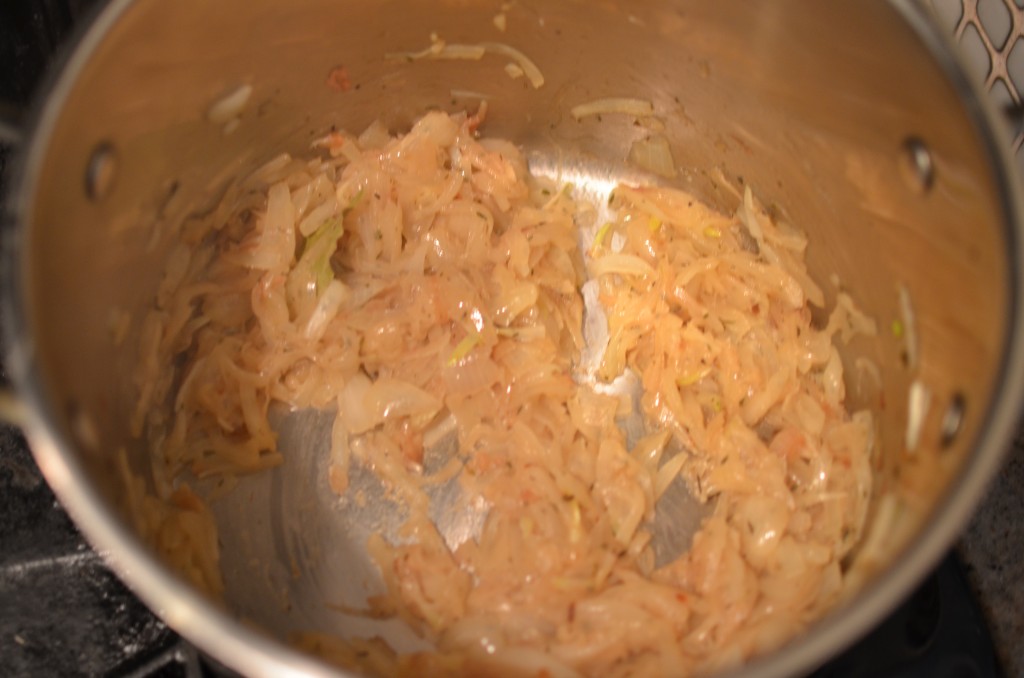 Just before pouring in the broth, add onion powder and dried chopped onions. Bring to a boil, and then let the soup simmer for at least 30 minutes.
To serve, cut and toast slices of French bread.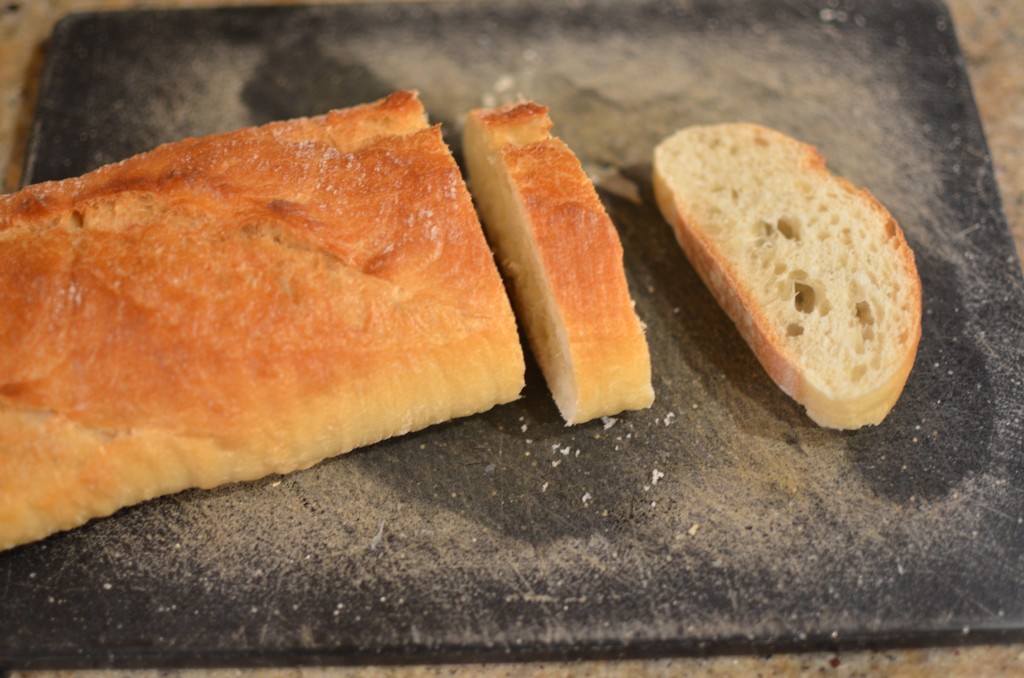 Ladle soup into an oven safe ramekin.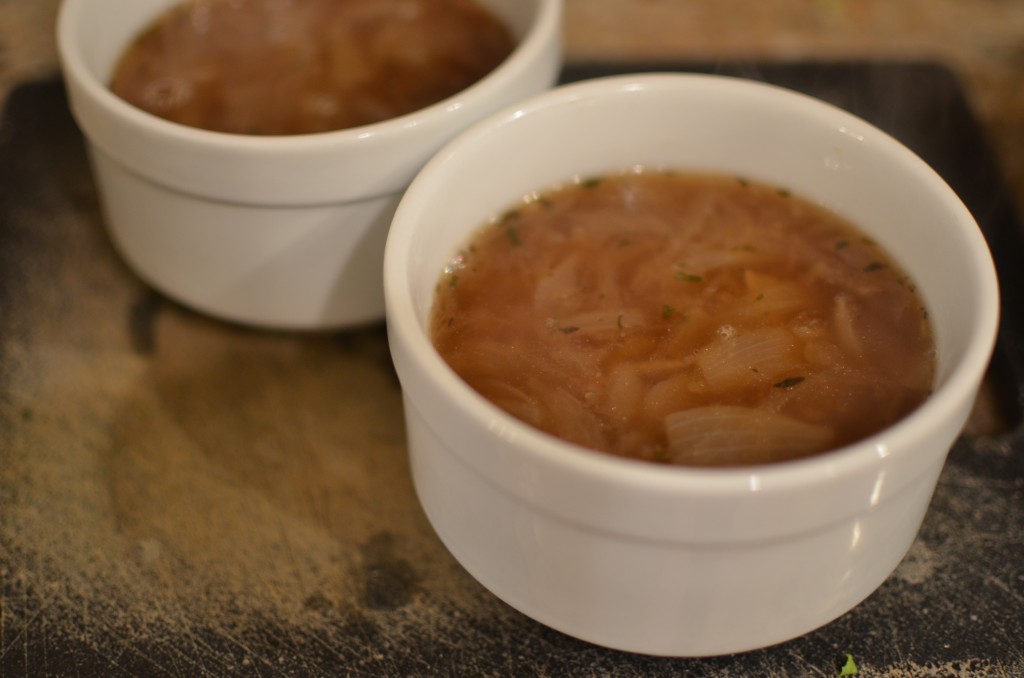 Put bread on top of the soup.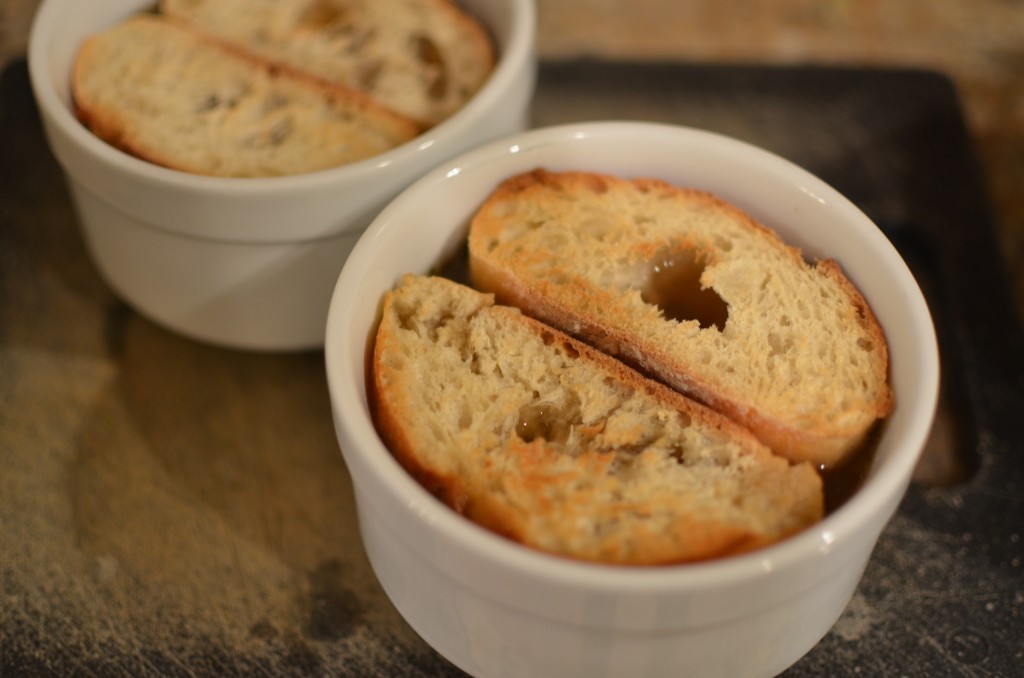 Top with your favorite vegan cheese (I used Daiya swiss).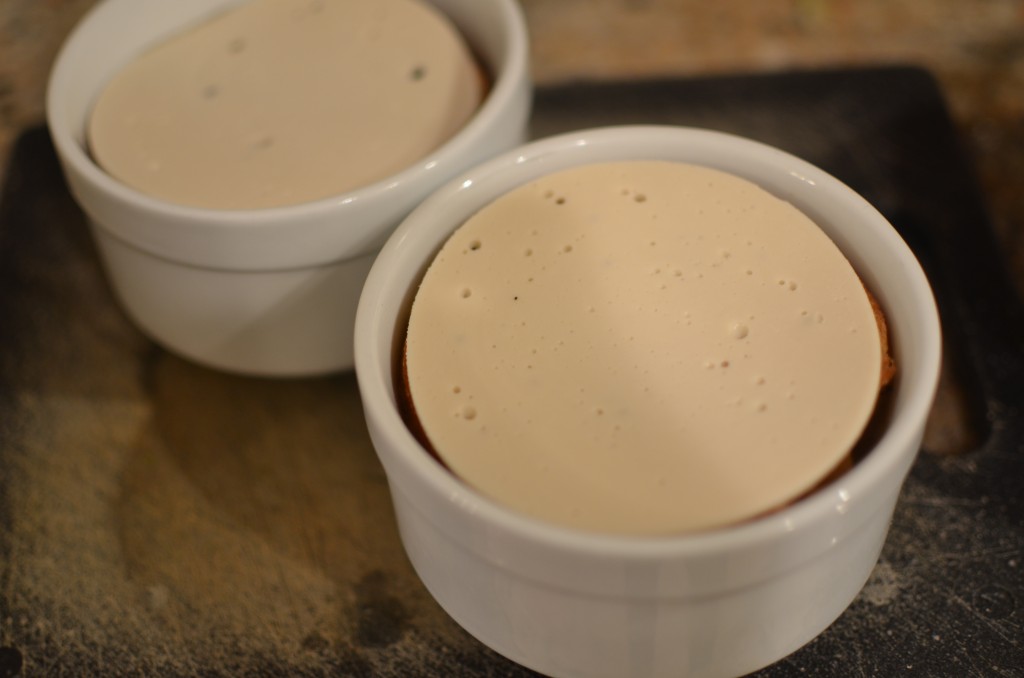 Set your oven to broil, and let the soup broil for a few minutes until the cheese gets browned. Garnish with a few dashes of dried or fresh parsley.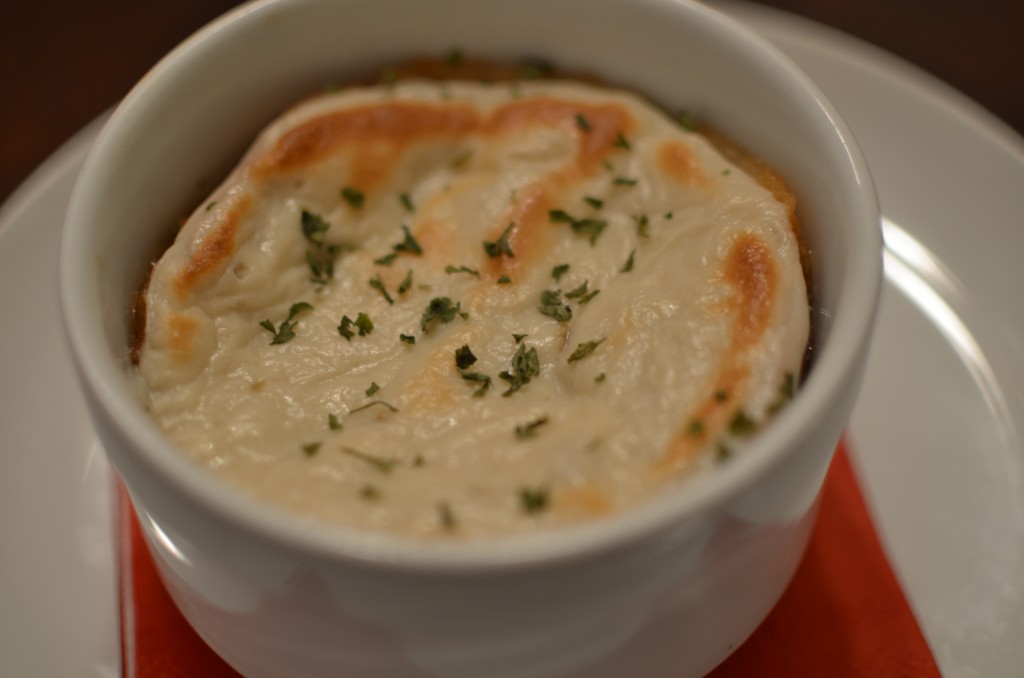 Enjoy!!
♥♥♥
Ingredients
4 sweet onion
3-4 shallots
2 tablespoons non-dairy butter (Earth Balance)
1 tablespoon dried chopped onion
2 bay leaves
2 teaspoons onion powder
1/2 teaspoon dried thyme
1/2 teaspoon kosher salt (+ 1/4 teaspoon if necessary)
8 cups vegetable broth
Instructions
On medium-high heat, melt non-dairy butter in a large stock pot. Add diced shallots and cook until browned, stirring occasionally. This takes approximately 5 minutes.
While the shallots are cooking, slice the sweet onions into small pieces. Place the sliced onions into the stockpot with the shallots and stir.
Add in the dried thyme, bay leaves, and salt. Cook for approximately 15 minutes, until the sweet onions are caramelized.
Add onion powder and dried chopped onion to the stock pot and stir, then pour in the vegetable broth. Turn the heat to high and bring the broth to a boil, then turn down heat and simmer for 30 minutes with the lid covered.
Ten minutes before serving, slice and toast French bread.
Turn oven to broil. Ladle the soup into a oven safe ramekin, then place bread and vegan cheese on top. Broil soup for a few minutes, until the cheese starts to melt and brown. Garnish with dried or fresh parsley. Bon apetit!
Notes
If your prefer a darker colored broth, add a touch of soy sauce or tamari to the soup. However, be careful, these also add saltiness to the soup. You may need to cut the vegetable broth with some water.
https://www.sillylittlevegan.com/vegan-french-onion-soup/