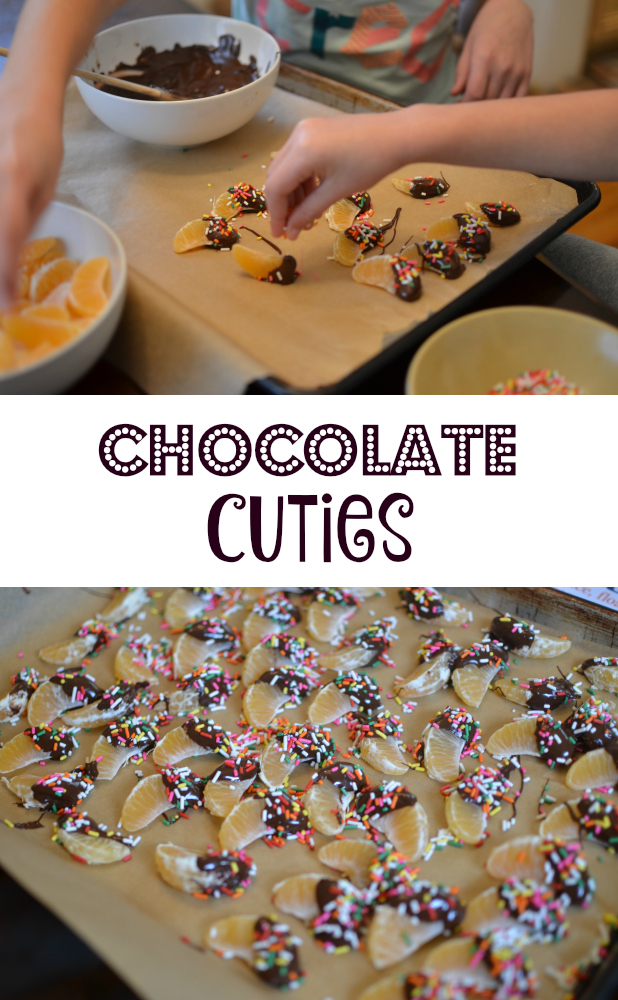 As I was planning the food to serve at Helena's 9th birthday party, it seemed like a great idea to include a sweet treat that was cute and on the healthy side. Since I was already making the cupcakes, it was important to make something that was super easy…. and something that Helena and her little sister could be in charge of…take some of the pressure off of mama!
I peeled four or five Clementines, checking for seeds as I went. Yeah… I peeled them… not the girls. They're still not into peeling fruit.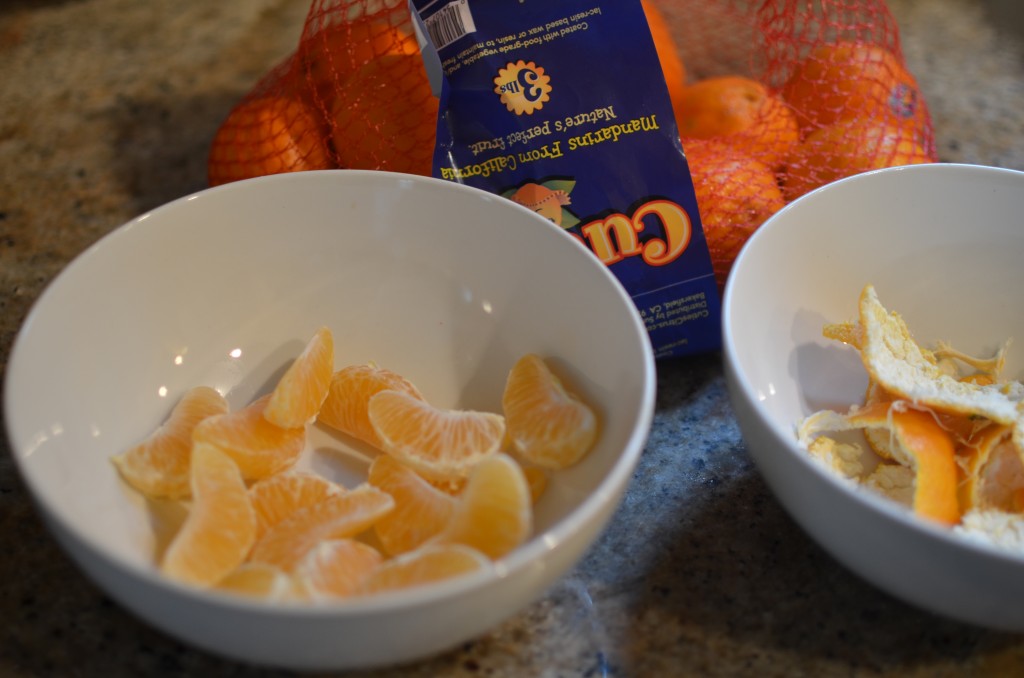 Then I poured a half of a bag of semi-sweet non-dairy chocolate chips into a microwave safe bowl.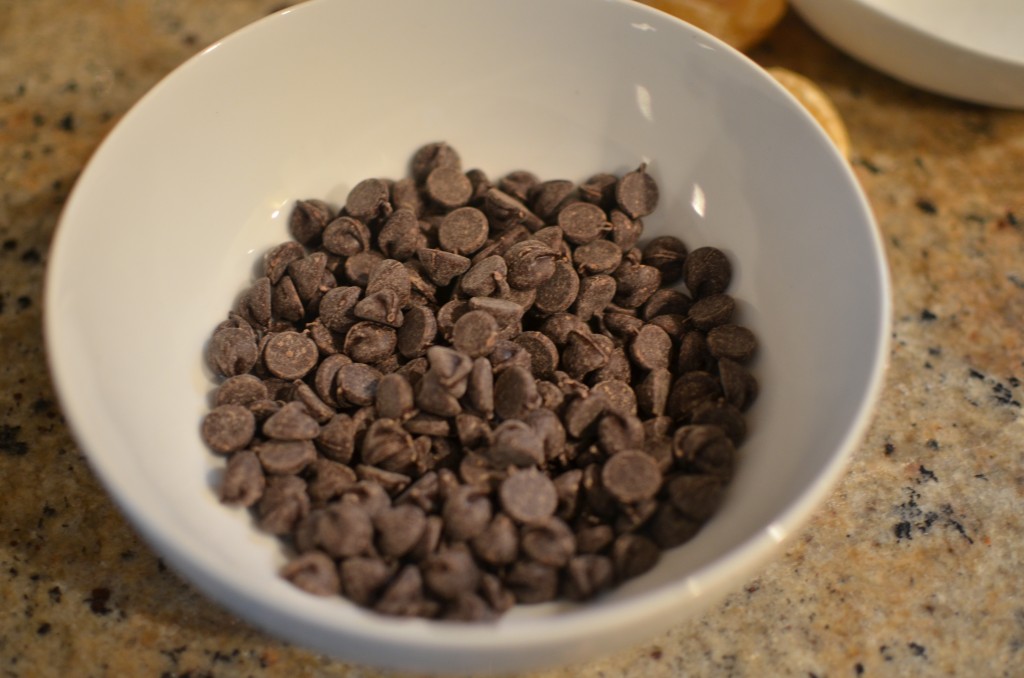 Then, put them in the microwave for 30 seconds… (YAY! My microwave is working again!!!…).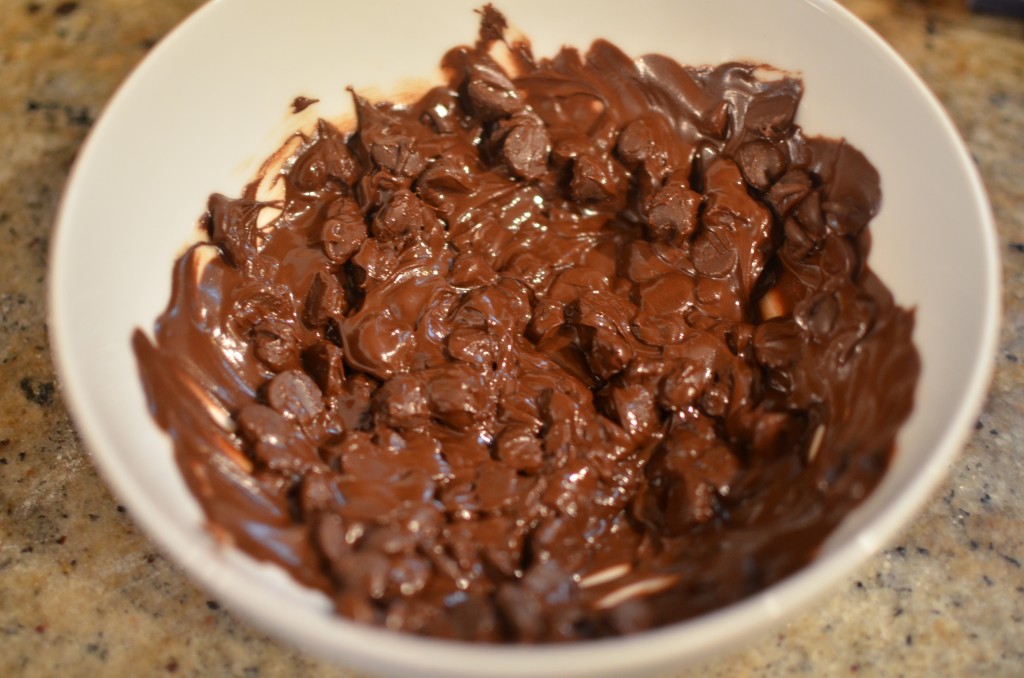 After 30 seconds they were almost melted, but not all of the way. So, I put the bowl back in for 15 more seconds. The total microwave time was approximately 1 minute, but the trick is to melt them until almost all of the chips are melted. Then, stir-stir-stir to melt the rest of the chips. (You can also melt the chocolate by double-boiler method).
Next, get your helpers… (if you have any!)… and place a piece of waxed paper (or parchment paper) on a cookie sheet for easy clean-up. Then start dipping the oranges in chocolate, and sprinkle away. (Note: I used sprinkles that are dairy and egg-free, but they were not certified vegan. You can find certified vegan sprinkles here).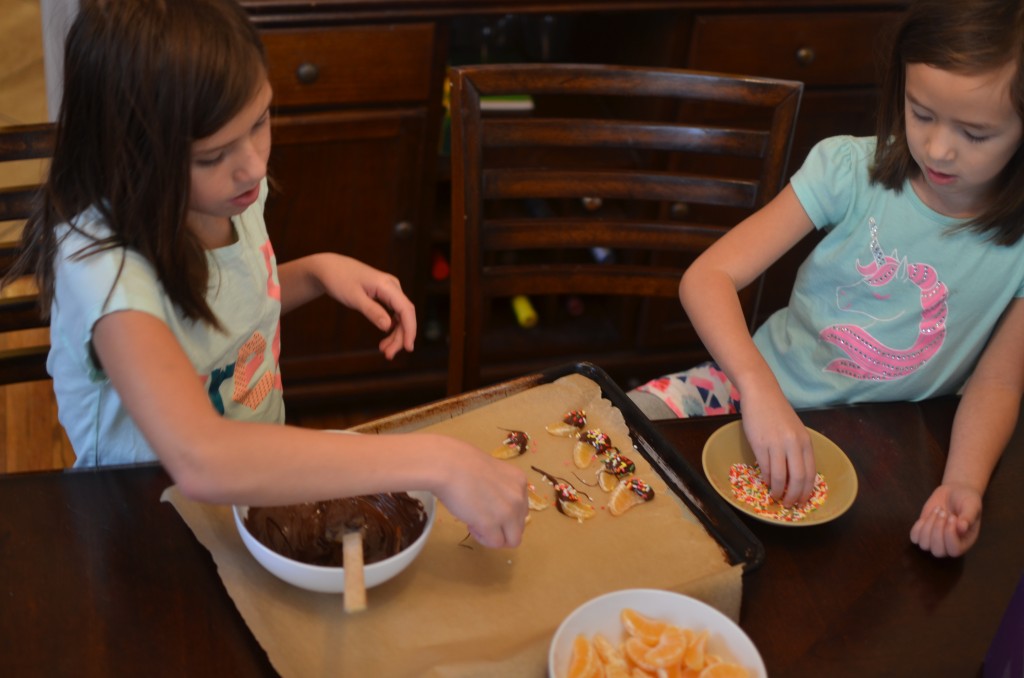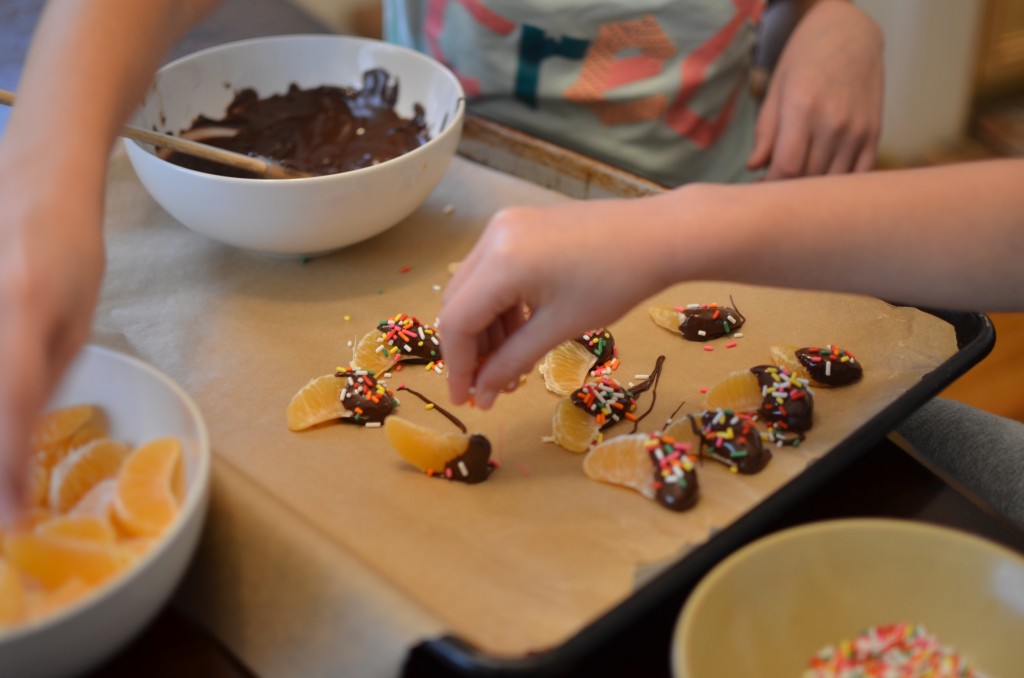 Fill the tray with chocolate clementines.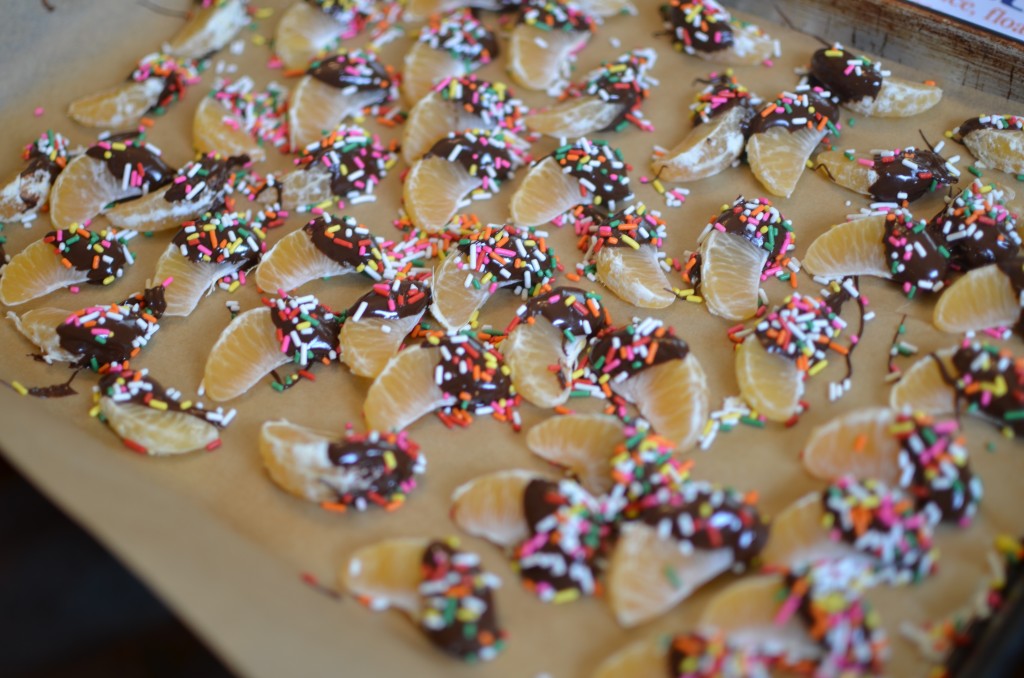 Put the tray in the refrigerator. Not the freezer… I repeat.. not the freezer… I did this once, and boy was the family disappointed! They were super hard, and defrosted funny. Oopsies!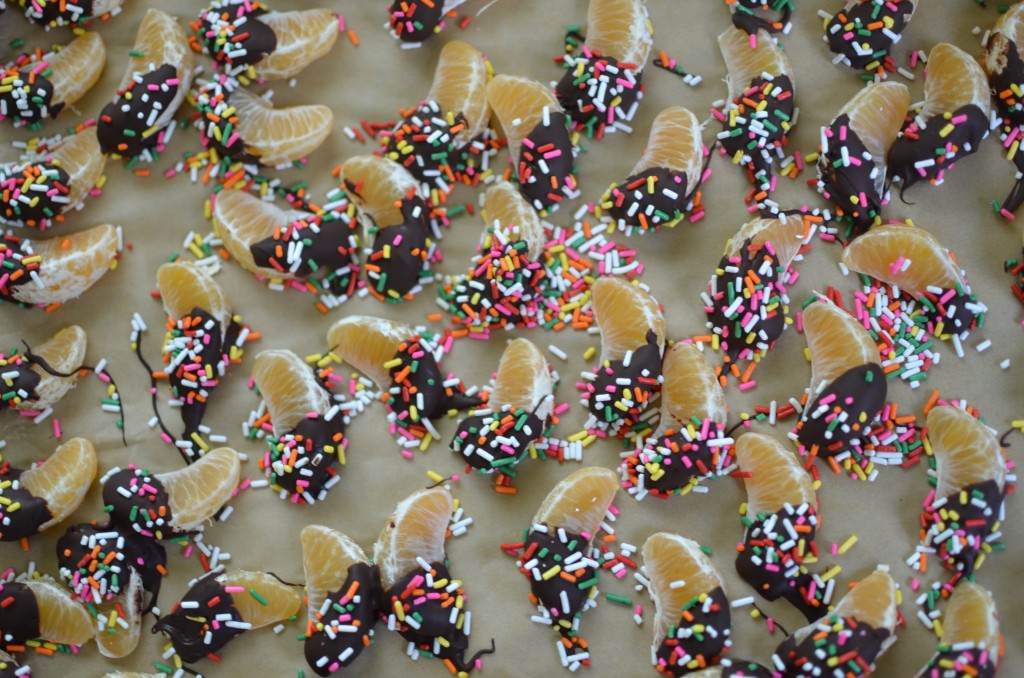 Once out of the refrigerator, they can be placed in a container for serving.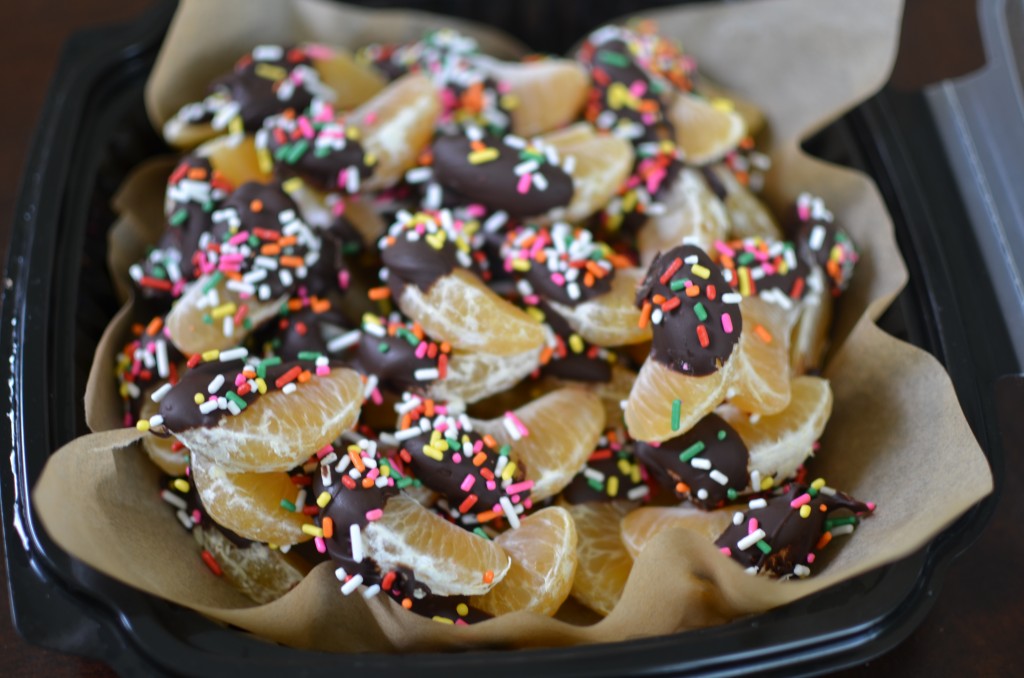 … and in case you were wondering… the kids at the birthday party LOVED THEM!!! They were the first snack to get finished! Chocolate Cuties are always a crowd pleaser! ♥
Ingredients
4-5 Cuties (seedless clementines)
1/2 bag non-dairy chocolate chips
Sprinkles
Instructions
Peel cuties.
Melt chocolate by either the double-boiler method or with the microwave.
Dip the ends of the Cuties in chocolate, and sprinkle the colored sprinkles over the chocolate.
Chill in the refrigerator for at least a half hour. Enjoy!
https://www.sillylittlevegan.com/chocolate-cuties/