This recipe is inspired by the brownies in the book, The Engine 2 Diet. I had the opportunity of trying the brownies at a book signing with Rip Esselstyn, and it was the first time that I had ever tried an oil-free baked-good that I liked.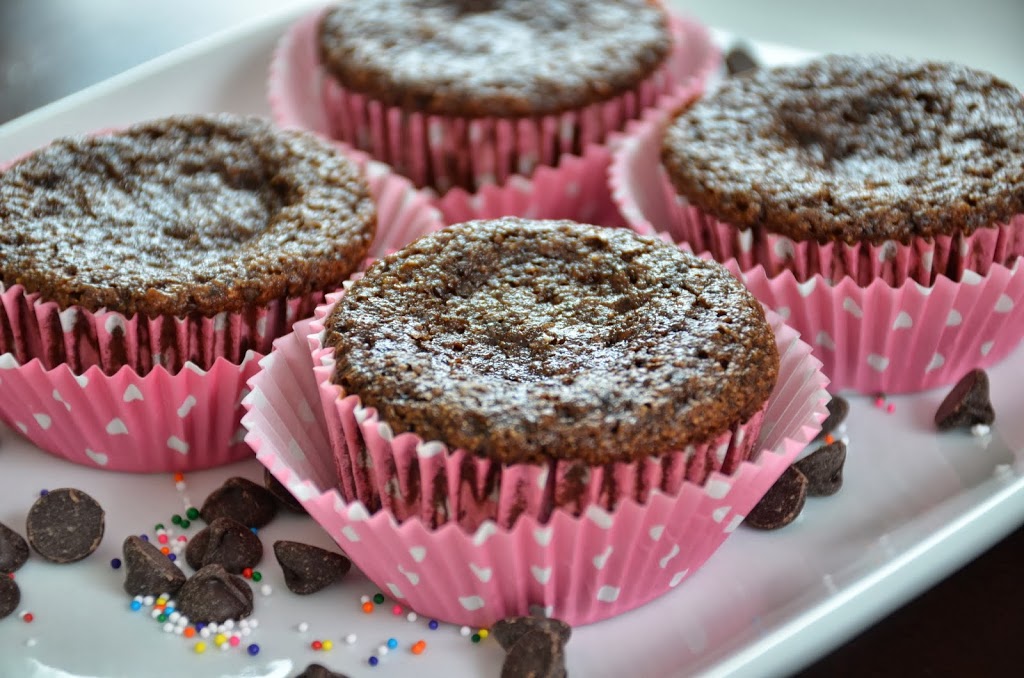 Oil-free double chocolate chip muffins!
In my attempt at eating better, I still find myself wanting to enjoy sweets. Especially something chocolaty! So, I thought that I would try to whip up some muffins and totally take-out any added oil. I also replaced the all-purpose flour with an organic whole wheat pastry flour. Now, I won't lie to you… there is still sugar in this recipe, but it's a heck of a lot healthier than a traditional muffin recipe that calls for a third of a cup of canola oil!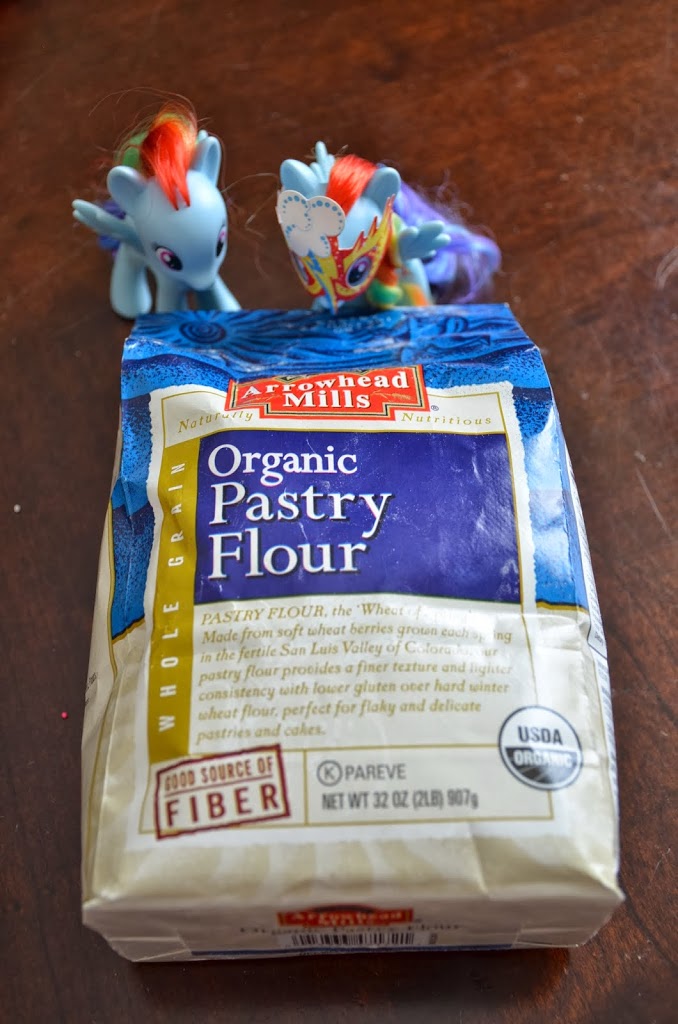 Pastry flour… rainbow ponies approved
I think that the hardest part of this recipe was finding the flour. At the store, the pastry flour wasn't with all of the other flours, so I had to ask…. then that person had to ask. Then VOILA!.. There it was hidden behind a display near the spices. I will warn you that it is a lot more expensive than all-purpose flour, but I thought that it was time to start using better ingredients.
Ingredients
1 cup unsweetened apple sauce
1 cup sweetened vanilla soy milk (or any other soy milk)
1 teaspoon apple cider vinegar
1 cup pastry flour
3/4 cup organic cane sugar
1/3 cup cocoa powder
2 tablespoons water
1 1/2 teaspoon vanilla extract
1/2 teaspoon almond extract (optional)
1 teaspoon baking soda
1 teaspoon baking powder
1/2 teaspoon salt
1 cup (heaping) semi-sweet chocolate chips
Preparation
I used paper liners when I made this; however, they stuck terribly to the liners! I recommend lightly spraying non-stick (silicone) baking cups instead of using paper liners. Or… if you choose to use the liners, wait for the muffins to cool (but that's awfully hard!).
Preheat oven to 350 degrees. In a large mug, whisk together water with the egg replacer until foamy. Set aside, then in another mug mix milk with apple cider vinegar. Set this aside to let curdle (you're making butter milk!). In a large mixing bowl, combine apple sauce and sugar. Add egg replacer, buttermilk, and extracts. Mix well.
In a separate medium sized bowl, sift the flour, cocoa powder, baking powder, baking soda, and salt. Add half of this mixture to your wet ingredients. Mix until well combined. Add the remainder of the dry mix to the batter and mix until just combined. Stir in chocolate chips.
Fill baking cups 3/4 full of muffin batter. Bake for approximately 18-20 minutes until done. Makes approximately 18 cupcake size muffins.
ENJOY!!!