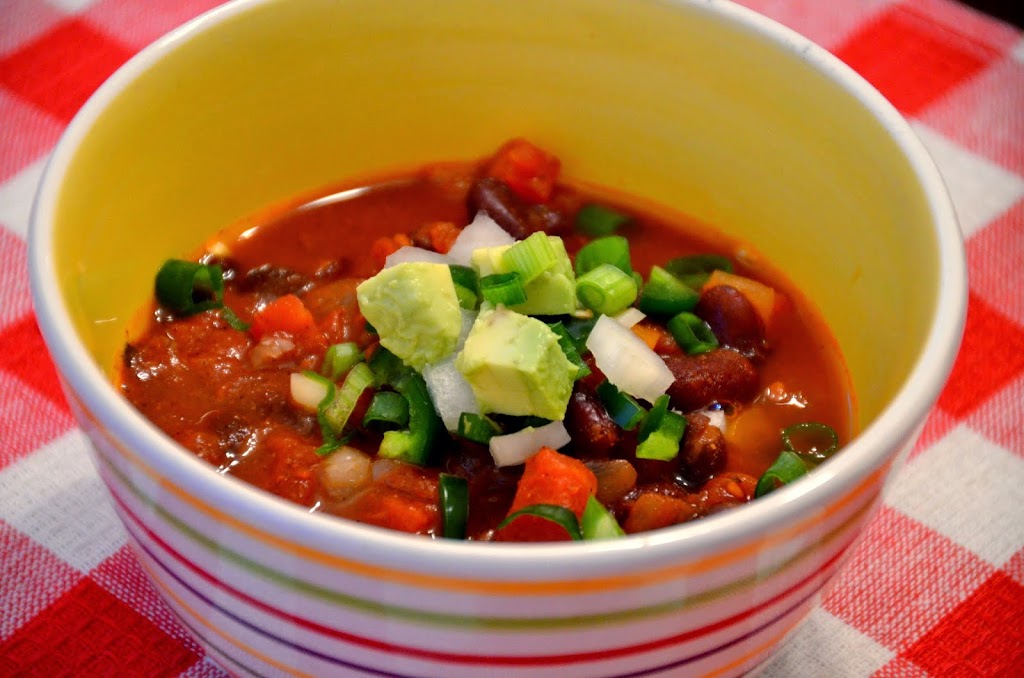 This is my absolute favorite chili, and the best part is…. it's so simple and inexpensive to make! The main ingredients of this chili comes directly from the pantry. How great is that?
Since we have children, I make this dish really mild. So, if you like it spicy.. please, take the liberty to use jalapenos (seeded or not seeded) or cayenne pepper. Either would be outstanding in this chili!
Ingredients
2- 15 oz cans of beans (1 can black beans/1 can red kidney beans)
2- 14.5 oz cans petite diced tomatoes
1/2 medium yellow onion chopped
1/2 medium pepper chopped (your choice… green, orange, red)
2 cloves garlic minced
2 tablespoons chili powder
1 tablespoon olive oil
1 scant tablespoon liquid sweetener (I like maple syrup)
1 1/2 teaspoon cumin powder
1 1/4 teaspoon kosher salt
1/2 teaspoon oregano
Suggested garnish
chopped onion
diced green onion
fresh diced jalapenos
chopped avocado
Preparation
Heat a olive oil in large pot and saute the onions and peppers. While cooking, add chili powder, cumin, salt, and oregano. Stir all of the spices so that it covers the onions and peppers. After about four minutes of cooking, add the garlic and cook for an additional 30 seconds. Add beans and tomatoes. Stir and then add in liquid sweetener. Let the chili simmer for approximately 30 minutes. Serve in large bowls.
Add your favorite garnishes! Enjoy! Our family loves to eat this with macaroni or oven fries.