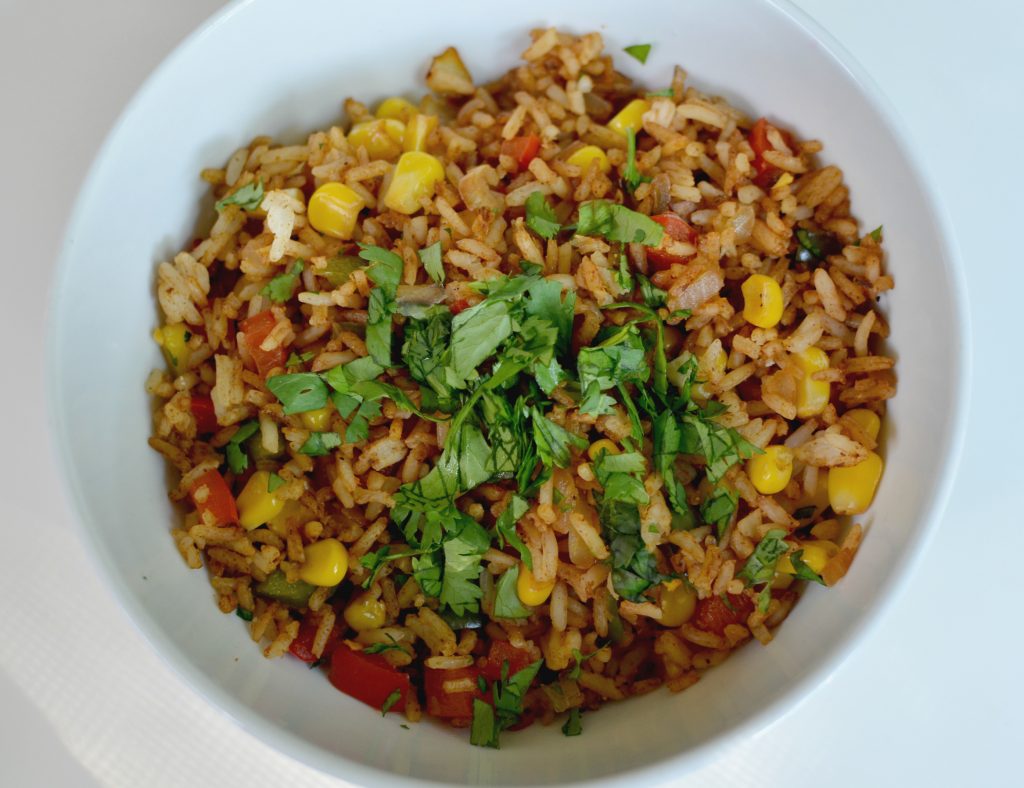 Okay… it's been a bit of time since I've posted any new content (yay for sharing a new recipe today… Mexican Fried Rice). I know, I know… I think sometimes we all need a break, and I definitely took one. However, some wonderful things have happen since my last post.
For one, I celebrated my FIVE YEAR VEGANIVERSARY in June (AKA: vegan anniversary)!!! Five year milestones are always so exciting (I'm celebrating TWENTY YEARS meat-free this summer, too… btw!!). My five years have gone by so very fast! I've met so many wonderful people all over the country that are all doing such exciting things. I've said this to friends in person (don't know if I've ever mentioned it here)… but I feel like I gained more from going vegan than I lost just from changing my diet/lifestyle. Honestly, to even consider any of my life as a loss is a misrepresentation… I think that's how non-vegans may look at a vegan life-style. Anyways… I digress. Yes. Five years and counting… and I only see more exciting things happening in many different arenas.
My family took a couple of trips… one was a trip to Maine, but on the way, we visited Farm Sanctuary in Watkins Glen, NY. It was so wonderful! In the near future, I plan to share that experience on here in a post. Moving on, the other trip that we took was to Myrtle Beach. That was particularly nice, because it is becoming more and more vegan friendly. So, the past few months have been all about family time and fun. Consequently, I have not been very active on my little blog.
Anyway, I'll stop chit-chatting… and get to the "meat" of this post, and that's a fun little recipe. It uses the techniques from my mom's fried rice and applies it to a Mexican rice dish. In fact, a little note on making fried rice, my mama says (and she knows best)… start with leftover rice from the day before (or older… just not tooooo old). Leftover rice is nice and dry, which is great for frying. No one wants soggy fried rice… so fresh is not always best.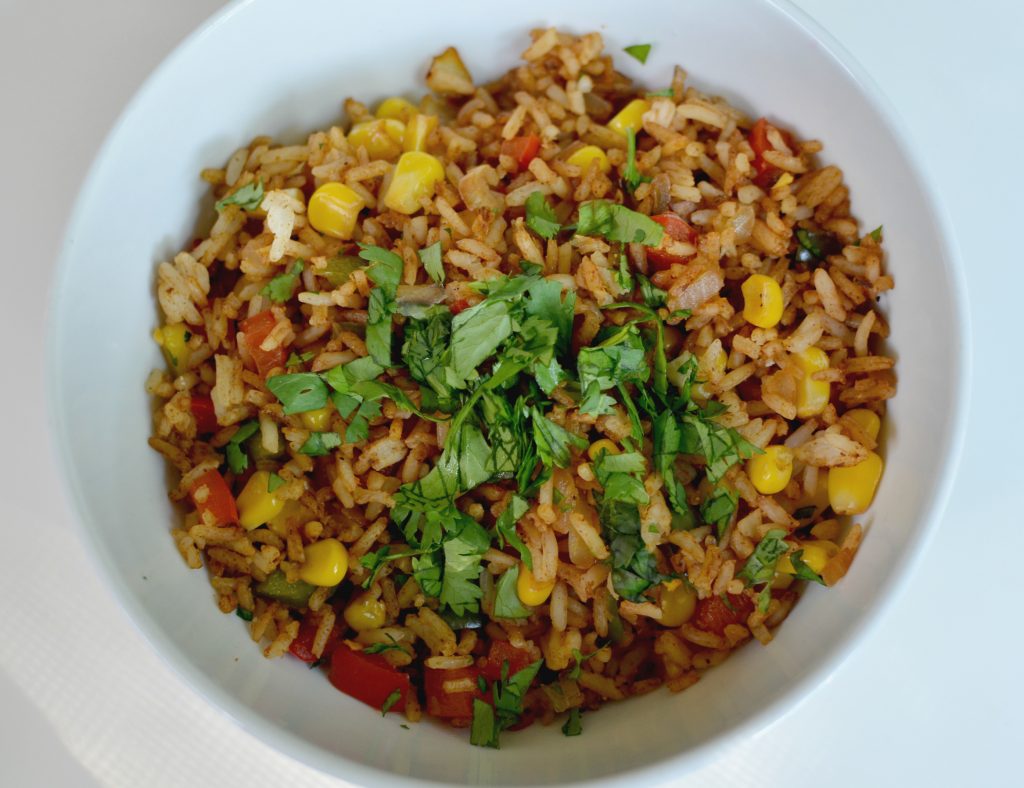 Ingredients
1 1/2 cup leftover white rice
1/2 cup frozen corn
1/4 diced red or green bell pepper
1/3 diced yellow or white onion
1 clove garlic chopped
2 tablespoon salsa
1 tablespoon soy sauce or tamari
1/2 teaspoon cumin
1/2 teaspoon chili powder
Cilantro (garnish)
Instructions
Heat oil in a non-stick skillet over medium-high heat. Coat with enough oil to just lightly cover the pan.
Add the onions and diced peppers to the heated pan and stir.
Let cook for about 3 minutes, until the veggies soften.
Add the garlic and stir.
Cook for about 1 minute and add the soy sauce.
Stir and cook for another minute.
Add the frozen corn to the pan, and cook until heated through. Stir constantly.
Now, add the leftover rice.
With the side of a wooden spoon, break the rice up and stir.
Once the rice is mostly broken up, add the salsa, chili powder, and cumin.
Stir until rice is evenly coated with the salsa and spices
Let the rice cook without stirring for a few minutes to slightly char the bottom layer of rice.
Stir and repeat.
Add salt to taste if necessary.
Plate in a medium sized bowl.
Before serving, garnish with cilantro (or diced green onions).
https://www.sillylittlevegan.com/mexican-fried-rice/
I hope you enjoy this recipe! Let's not be strangers! TTYL! ♥