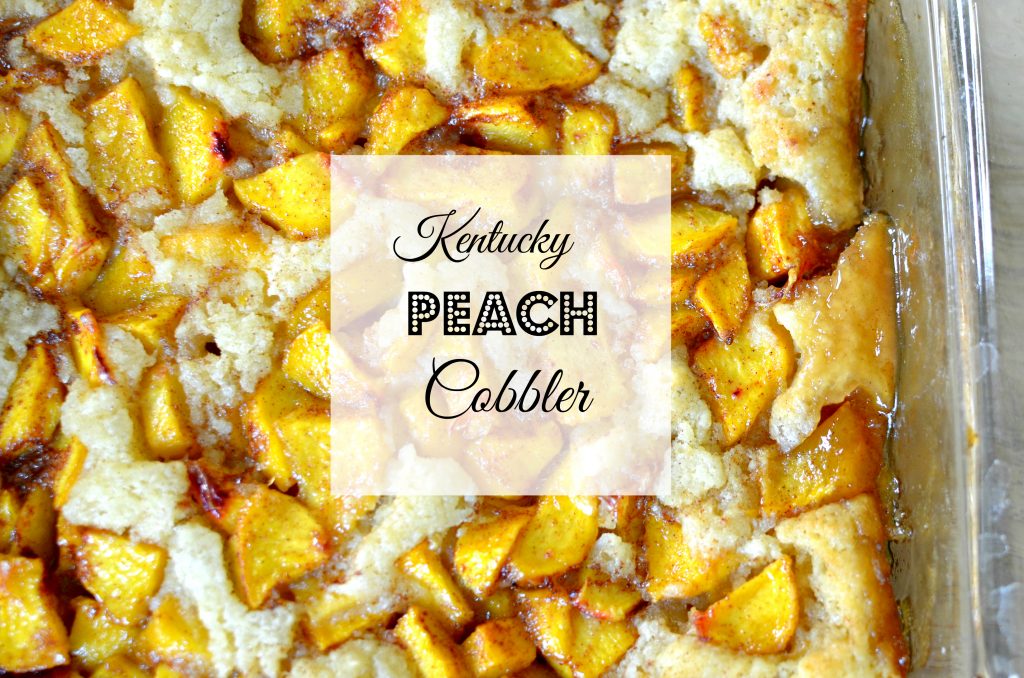 Goodness… I absolutely love peach cobbler. The soft warm fruit and the rich lightly-sweetend biscuit… it's one of my all time favorite desserts.
While I love eating peach cobbler, I am a bit lazy when it comes to making it. There's something about making biscuits (and pie crust) that I've never enjoyed. Lucky for me, I came across a recipe for a Kentucky Cobbler that is easy to make and simple to veganize. Unlike a typical cobbler, where the fruit is topped with a biscuit, this Kentucky cobbler has a sponge-like cake on the bottom with the fruit on top.
To make this recipe: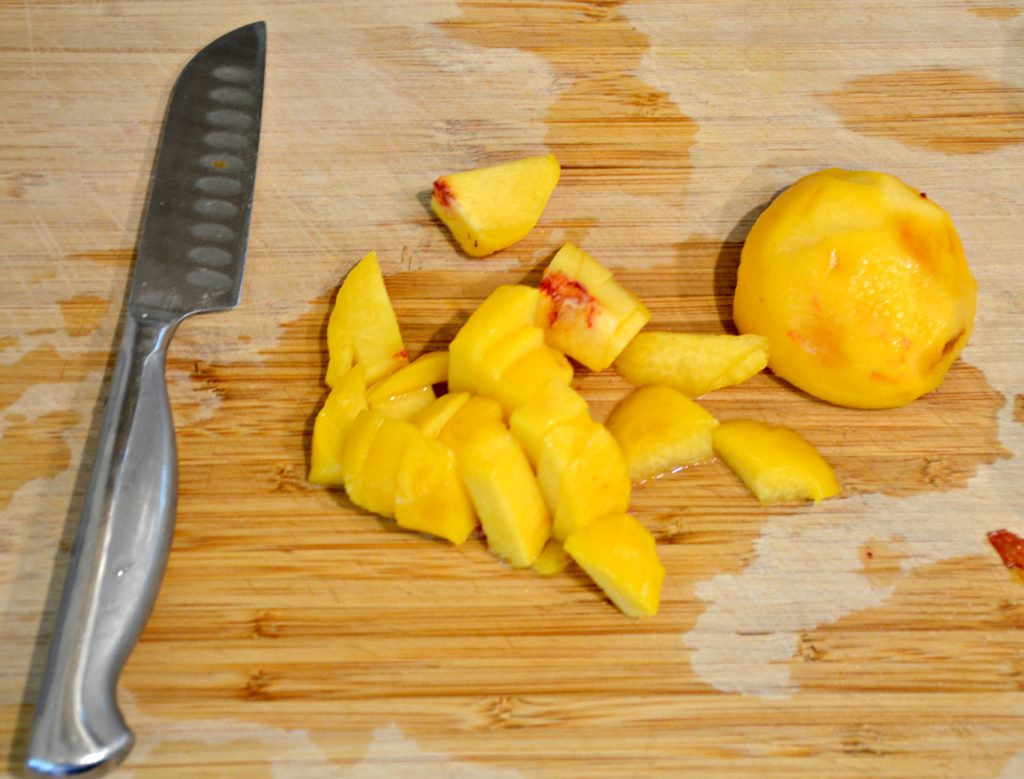 Peal the peaches and then dice them into small bite sized pieces (a vegetable peeler is handy for peeling peaches). I used four peaches of varying sizes (they were local peaches from my work, so they were on the smaller side). Total peaches needed for this recipe is 2 1/2 cups.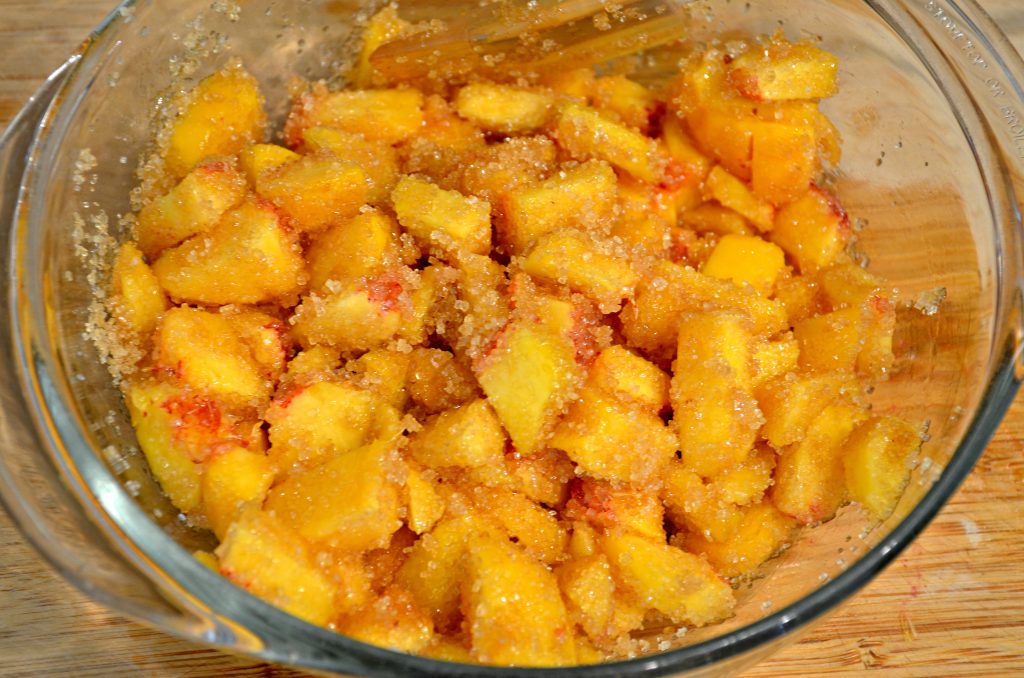 Once all of the peaches are diced, sprinkle them with a cup of sugar and stir to coat. Set sugary peaches aside for about 20 minutes. The fruit will start to become syrupy. After waiting 20 minutes, add cinnamon and stir.
In a separate medium sized bowl, make the batter by adding a cup of flour, baking powder, and salt. Stir in a cup of non-dairy milk, I used vanilla soy milk (my fave!). Then add a half cup of melted non-dairy butter (Earth Balance).
Stir until the butter is well incorporated into the batter. Pour the batter into an ungreased medium sized baking dish (8×8).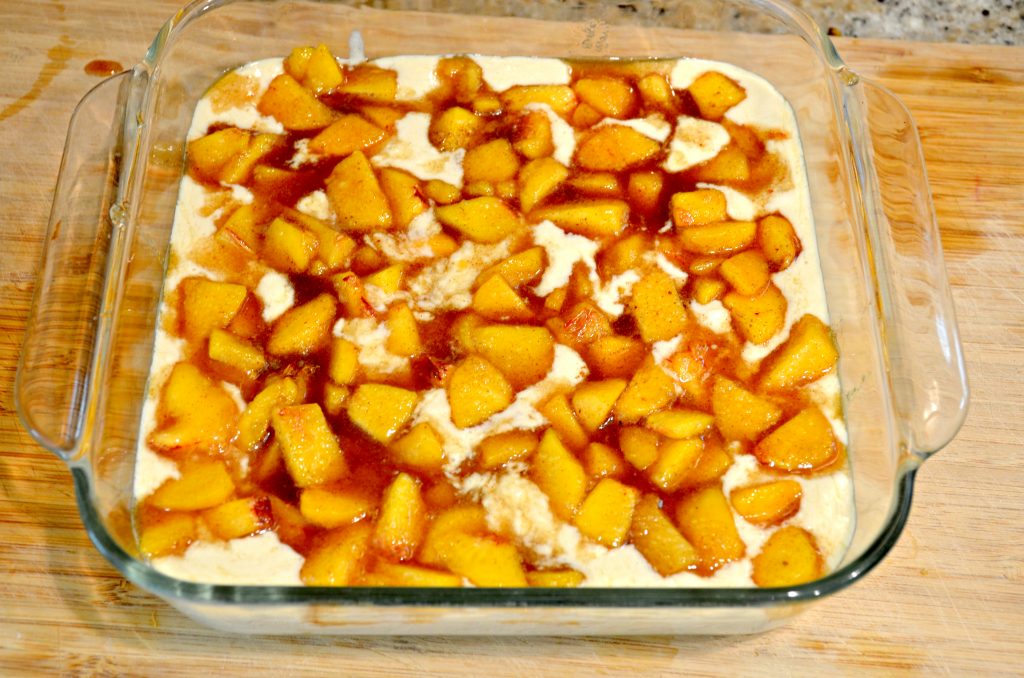 Pour all of the peaches and the syrup on top of the batter. Make sure to distribute the peaches evenly! Then bake. This will take about 45 to 55 minutes to bake.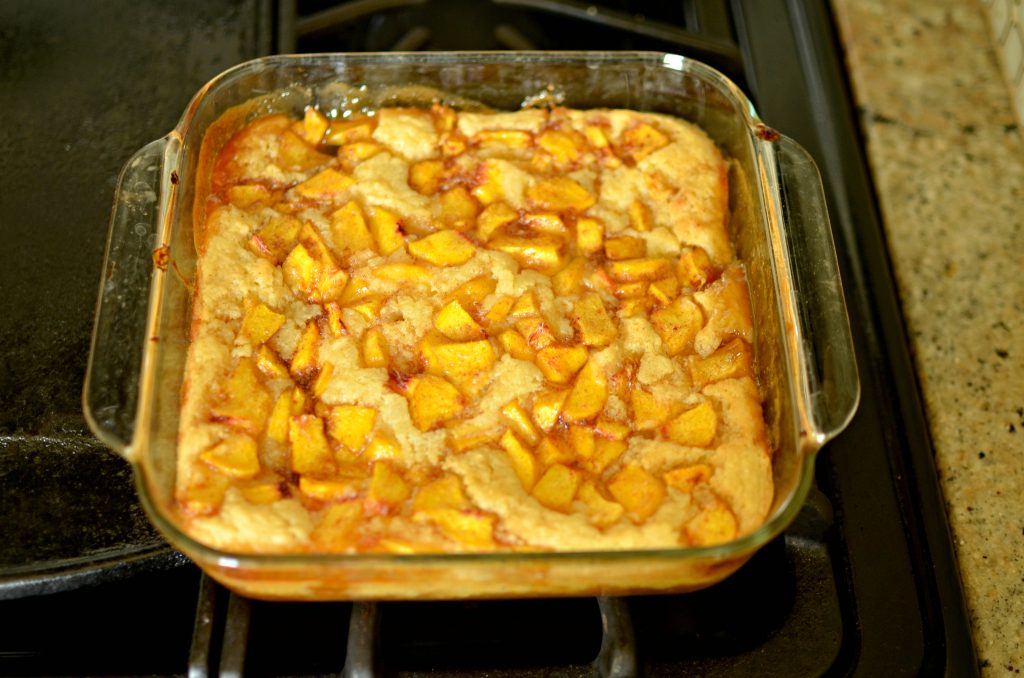 To check for doneness, give the cobbler a toothpick test. Stick a toothpick in it, and if it comes out clean then it is done. Voila! (Can you find my toothpick hole in the picture below. 😥 That hole sticks out like a sore thumb to me.)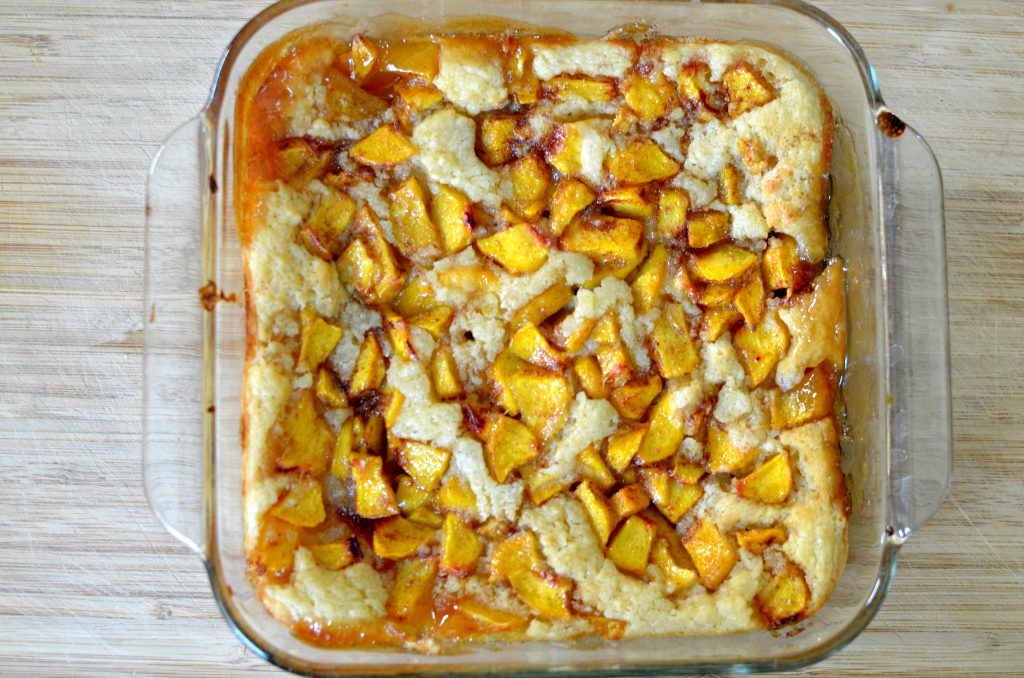 Let the cobbler cool a little bit before serving, because it comes out of the oven bubbling like lava… Admittedly, I snuck a few bites while no one was around…. I just couldn't wait until after dinner.
I really love the way that the syrup from the fruit ends up on the bottom of the pan, kind of like a traditional cobbler…. AND… the sticky caramelized parts in the corners are so good. I am definitely a corner person when it comes to baked goods, and cobblers are no exception!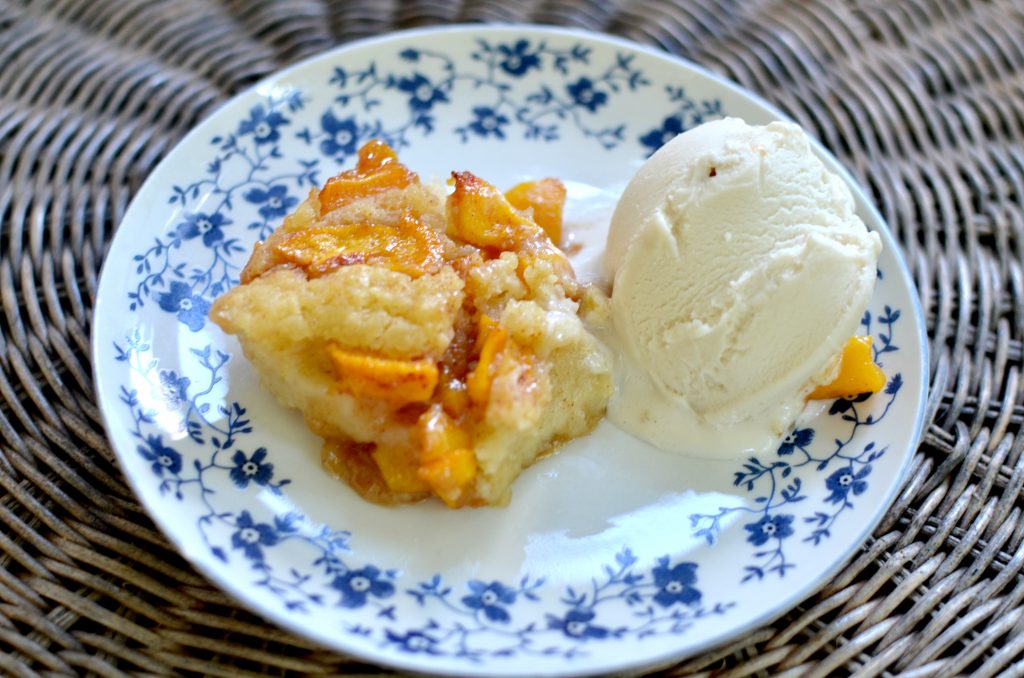 When it is time to serve, this cobbler is incredible with vanilla soy ice cream. I'd say this is even better than pie and ice cream, because well… it's cobbler… and cobbler is what dreams are made of… ♥
Ingredients
2 1/2 cups peeled and diced peaches
1 cup sugar
1 cup four
1 cup non-dairy milk (I used vanilla soy milk)
1/2 cup non dairy butter, melted (Earth Balance)
2 tablespoon baking powder
1 teaspoon vanilla
1/2 teaspoon salt
1/2 teaspoon ground cinnamon
Instructions
Place the peaches and sugar in a bowl, and stir.
Let the peaches sit in the sugar for 20 minutes.
Add cinnamon to the peaches and stir.
Preheat oven to 375
In a separate mixing bowl, add flour, baking powder, and salt. Give it a quick stir to mix.
Add the non-dairy milk and vanilla to the flour mixture and stir until combined.
Pour in the non-dairy butter into the batter.
Stir until the butter is fully mixed into the batter.
Pour the batter into an ungreased 8x8 in baking dish.
Pour the peaches on top of the batter and coat evenly.
Bake for 45 - 55 minutes until baked through.
Serve.
https://www.sillylittlevegan.com/kentucky-peach-cobbler/