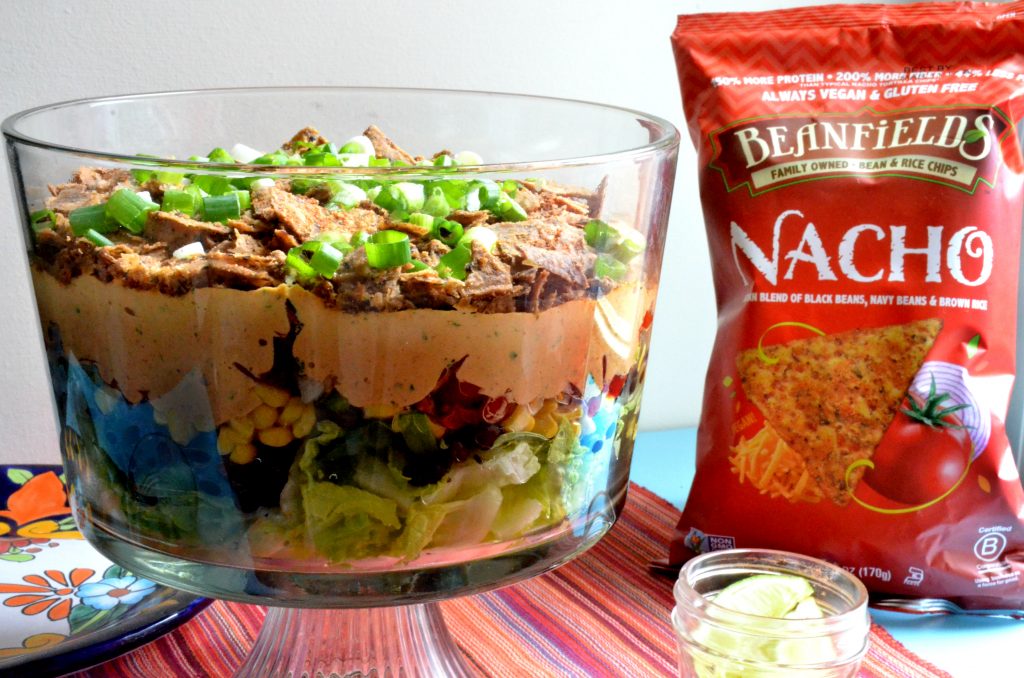 I have been a huge fan of Beanfields chips for a while. In the past, I wrote a product review of their chips and you can read it HERE. At the time of that post, I had a difficult time picking a favorite flavor, and to this day that still holds true! Since that post, Beanfields Snacks have released three new chip flavors (Jalapeño Nacho, White Bean with Sea Salt, and Black Bean with Sea Salt… pictured below), and they are all also delicious.
Today, I have an easy recipe to share that features my favorite brand of chips, and the recipe is a beautiful layered taco salad. This salad is great for parties and potlucks, because not only is it eye catching and tasty, but it also serves about 6-8 people as a hearty side dish.
There are only a couple of things to put together before assembling the salad: the pico de gallo and the spicy chipotle cashew sour cream. Otherwise, all there is to do is: chop some lettuce, defrost the sweet corn, and rinse and drain a can of black beans… Before serving, top the salad with crumbled nacho chips and green onions…easy peasy.
So here we go, let's make the pico de gallo: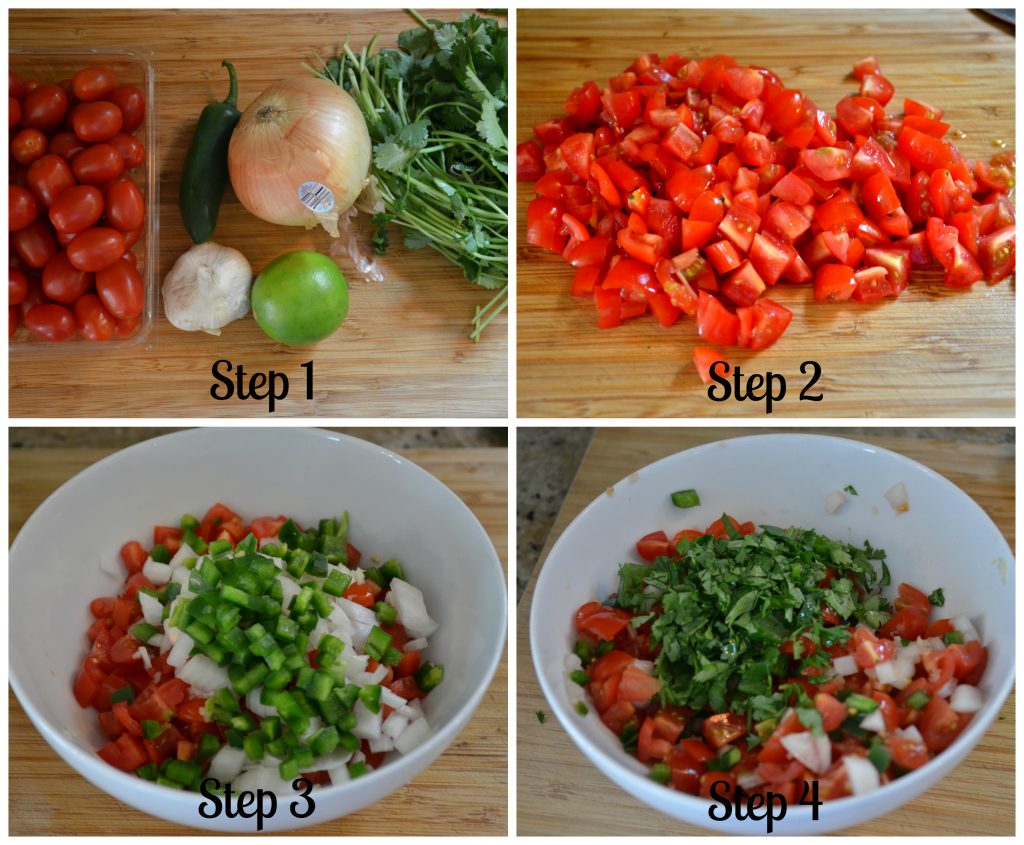 The base of the pico de gallo is 8 oz. of diced tomatoes that are placed in a bowl with 1/3 cup of diced onion, 1 seeded and diced jalapeño, 2 cloves of garlic crushed in a press, and about 1/4 cup of finely chopped cilantro. Squeeze a half of a lime on top and give it a sprinkle of salt. Stir to combine thoroughly.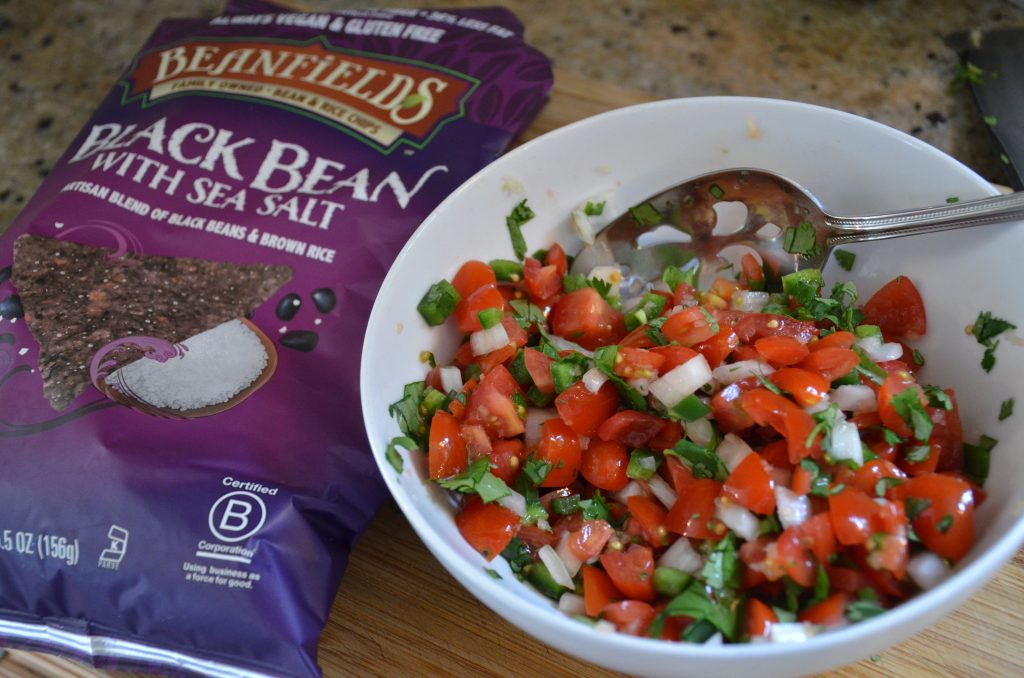 Give it a little taste to check for salt. Set it aside to let the flavors develop while you get everything else ready.
Now start the spicy Chipotle Cashew Sour Cream: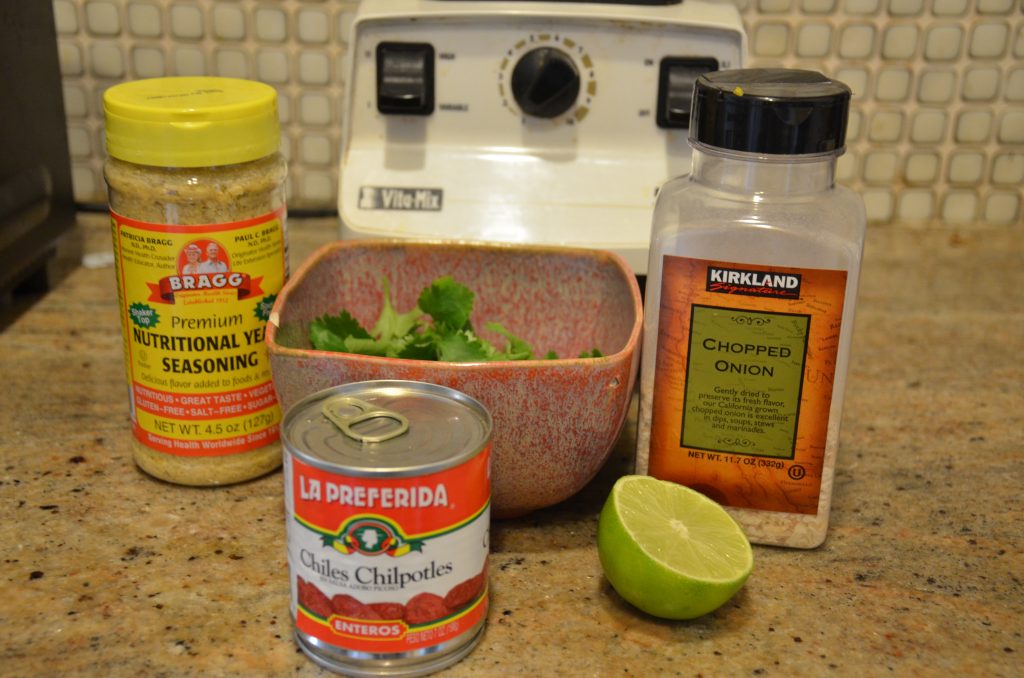 For the sour cream you will need raw cashews (not pictured), nutritional yeast, chipotle peppers in adobo sauce, 1/4 cup of cilantro, 3 green onions, dehydrated chopped onions, and a half of a lime.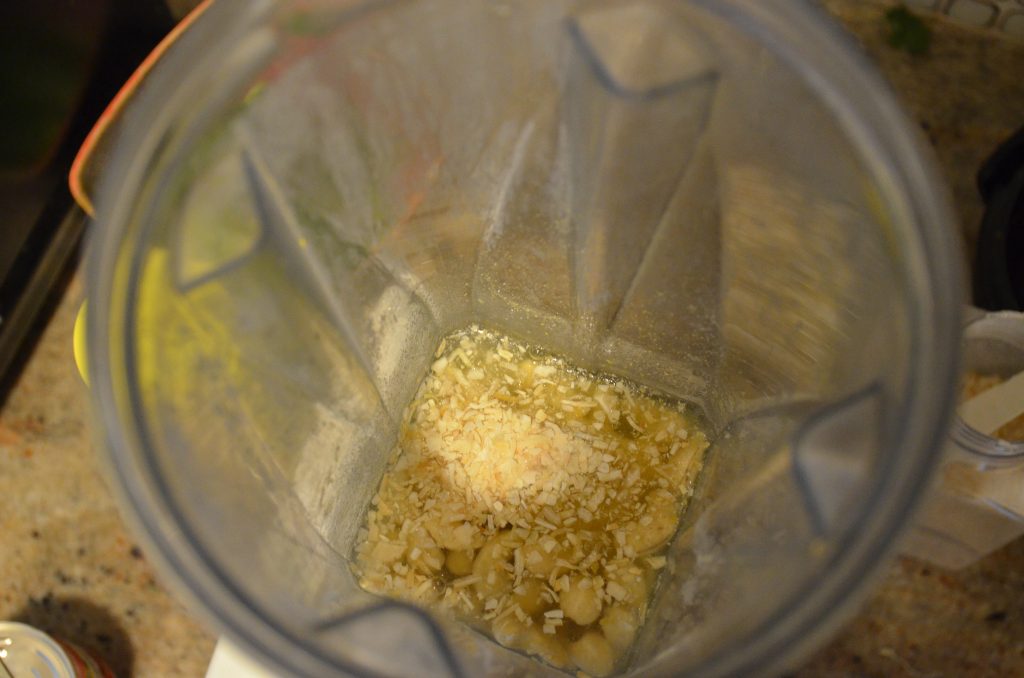 Blend one cup of cashews in a scant cup of water with the nutritional yeast and the dehydrated onion. (NOTE: If you do not own a high powered blender such as a Vitamix or a Blendtec, soak the cashews in water for a few hours. Drain the cashews before placing them in the blender.) Blend until completely smooth.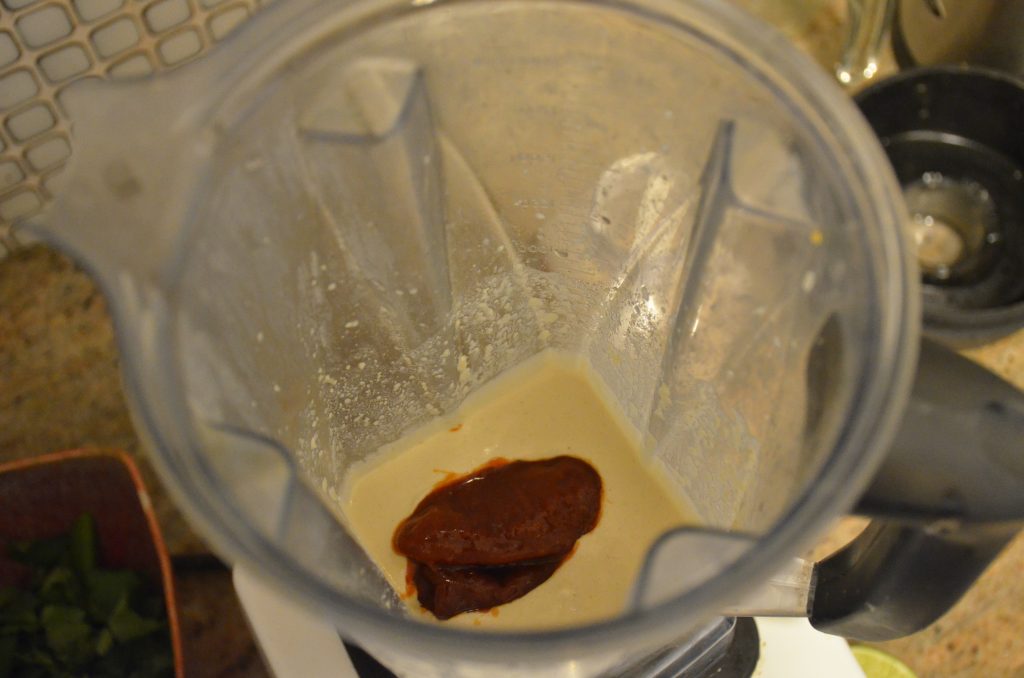 Add the chipotle peppers. Now… be careful… these guys are HOTTTT!!! If you want it mild/medium heat, use only two peppers.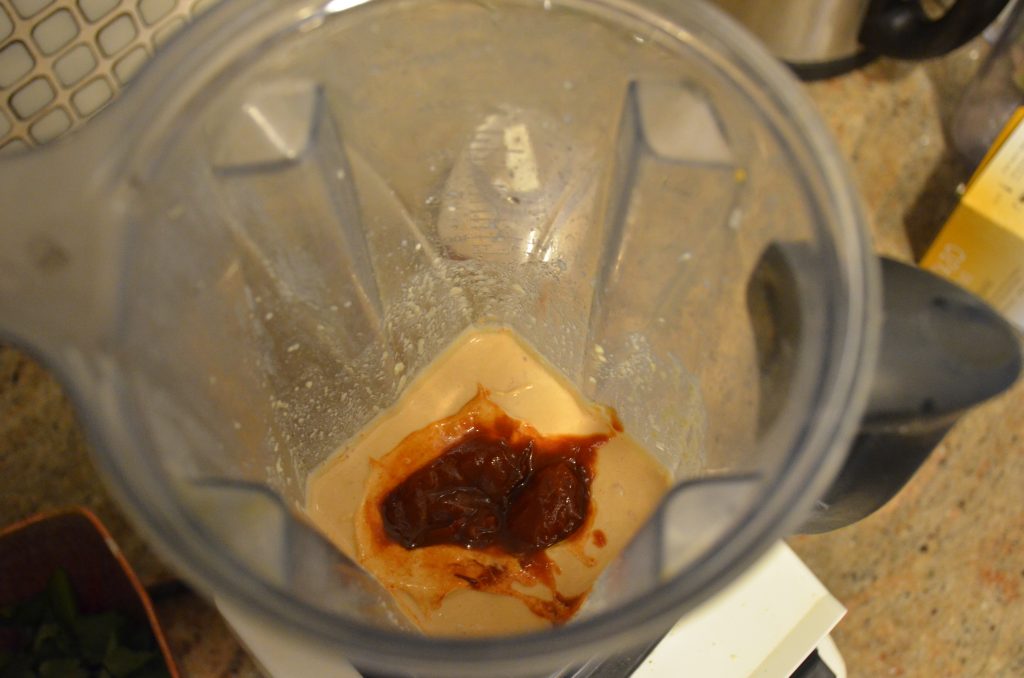 Now, my husband and I both love spicy food, so I used four chipotle peppers and about 1 1/2 tablespoons of the sauce from the can. That was pretty spicy, as in medium/hot heat. Blend again.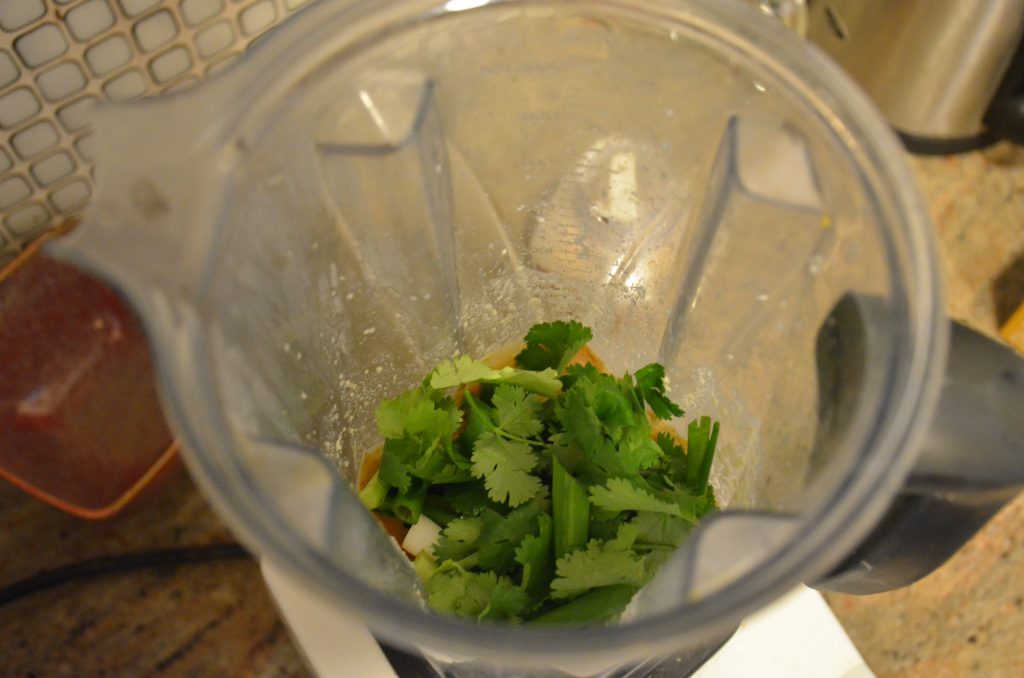 Once the chipotles have been added, and you've reached a level of heat that you can handle, put the cilantro, green onions and lime juice in the blender. Blend slowly. The idea is to break down the green stuff without pulverizing it and effectively turning into a smoothie. The green bits will look pretty… remember… we eat with our eyes first…
Time to set aside and get ready to assemble the salad.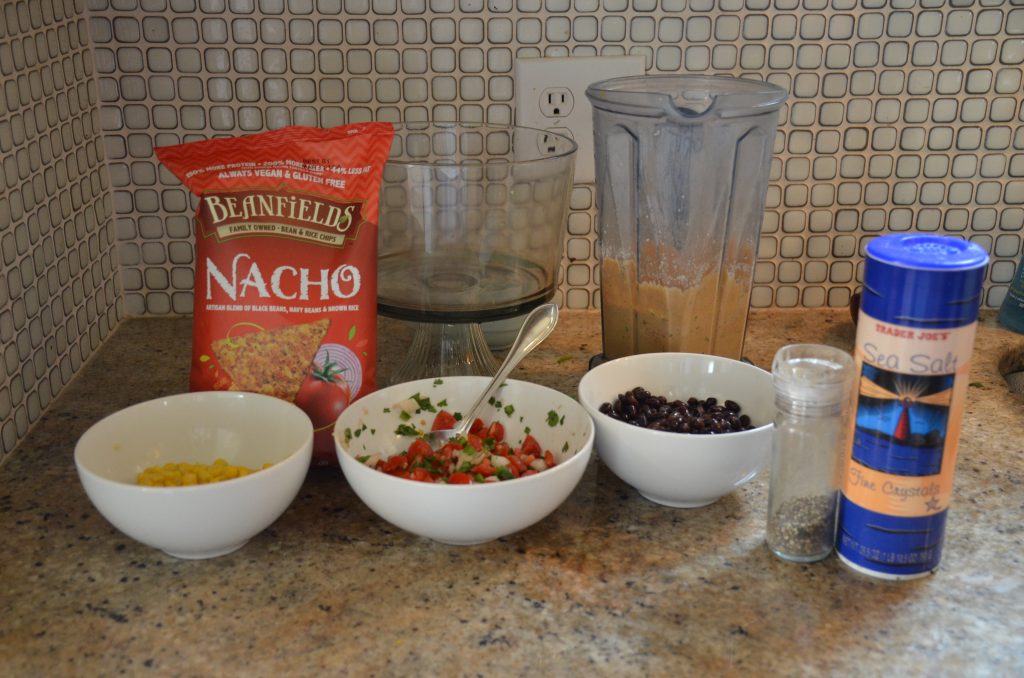 Besides chopping the lettuce (and I'm also using a bit of spinach), get the other ingredients ready for salad assembly. Ingredients include: fresh or (defrosted) frozen sweet corn, one can of black beans (rinsed and drained), and nacho chips.
Beanfields Nacho Chips are gluten-free and vegan, and they will give the salad extra texture and crunch while also adding a cheesy flavor without the need for cheese… and on a complete side-note, as I wrote "need for cheese"… I'm saying it in my head like Maverick and Goose said, "need for speed" in Top Gun. (Gosh.. I realize just how dorky I am… while not ashamed enough to remove the evidence.) Moving on…
Now comes assembly time!!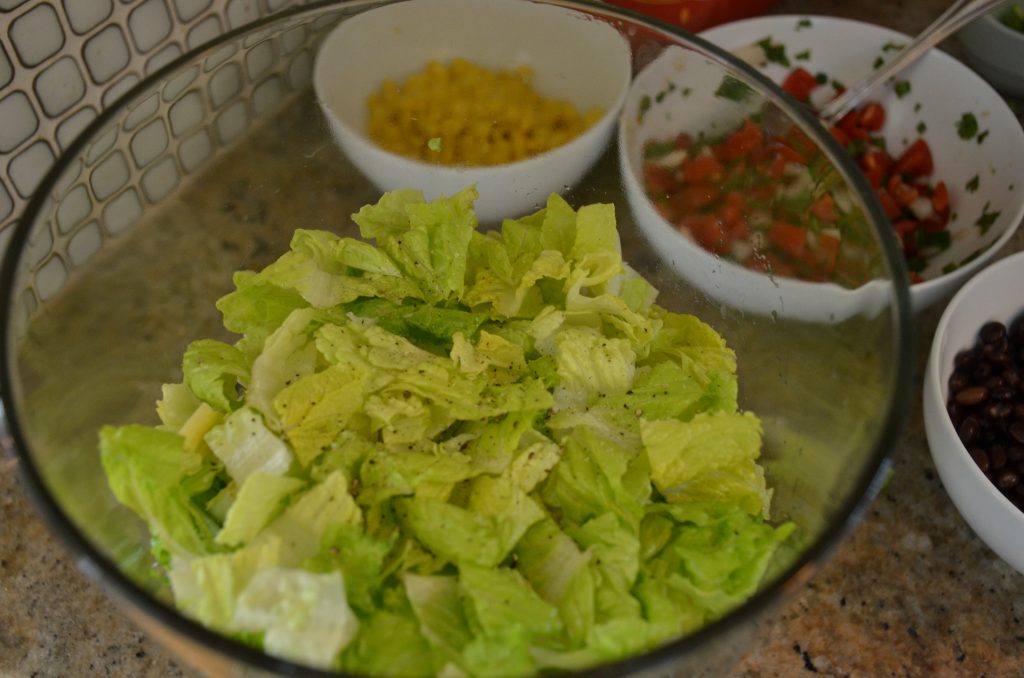 In a large glass bowl, add 1 1/2 to 2 heads of romaine lettuce. Sprinkle with a touch of salt and pepper.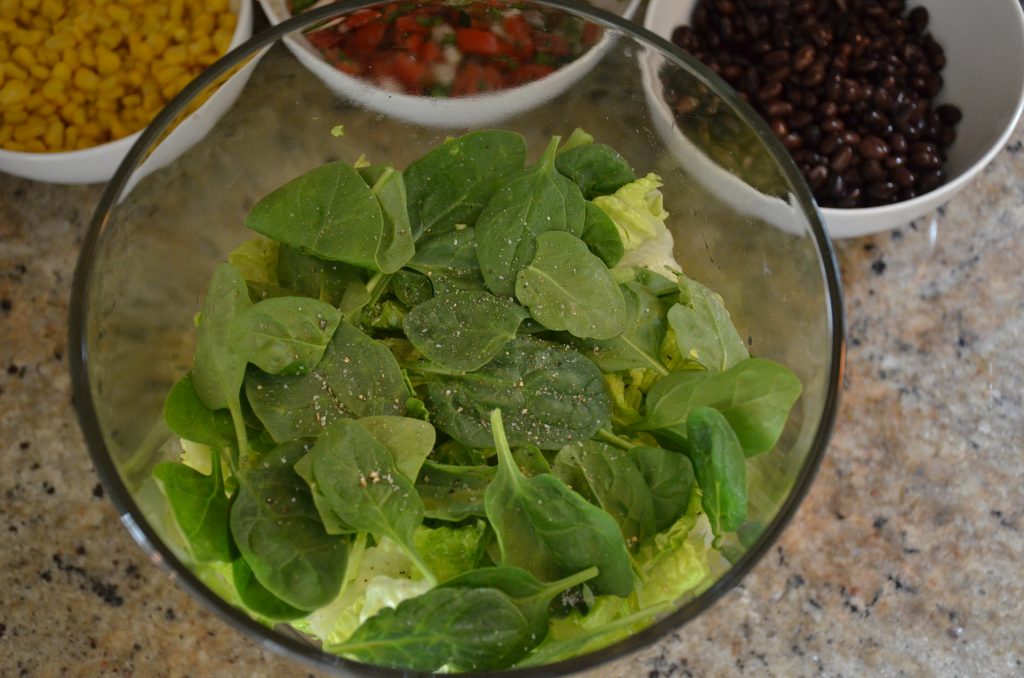 Add a handful of spinach. Sprinkle with salt and pepper.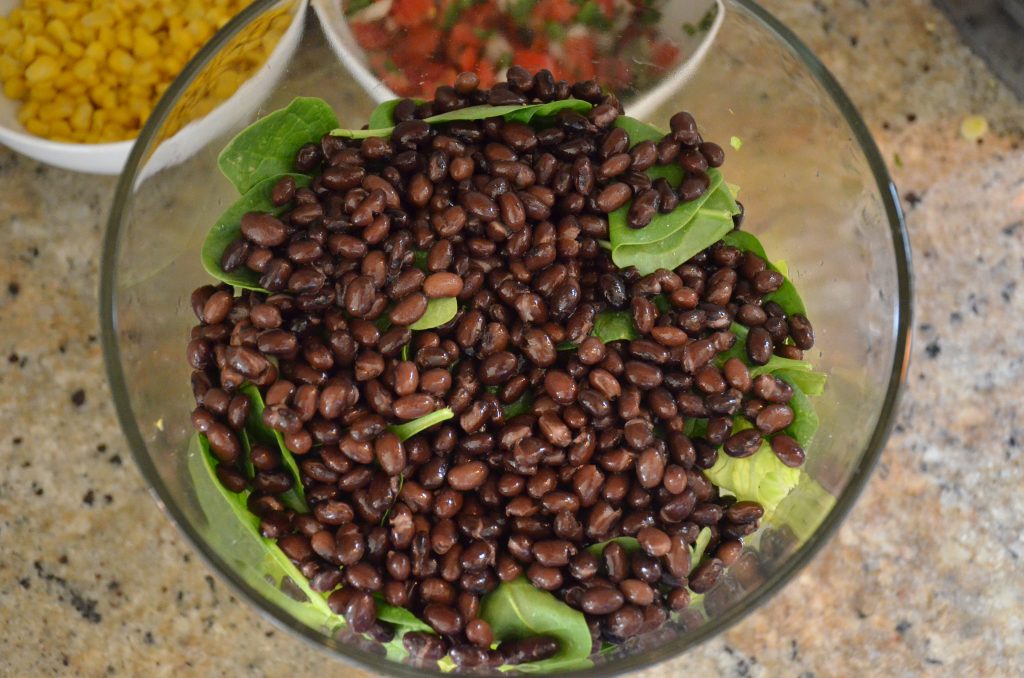 Add the black beans.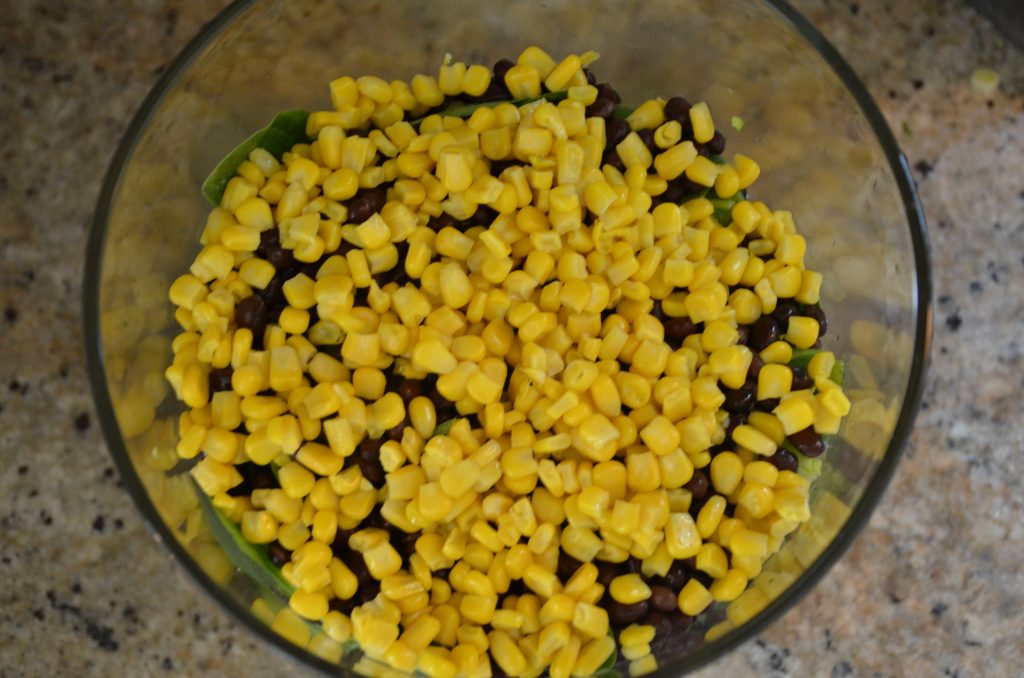 Now the corn…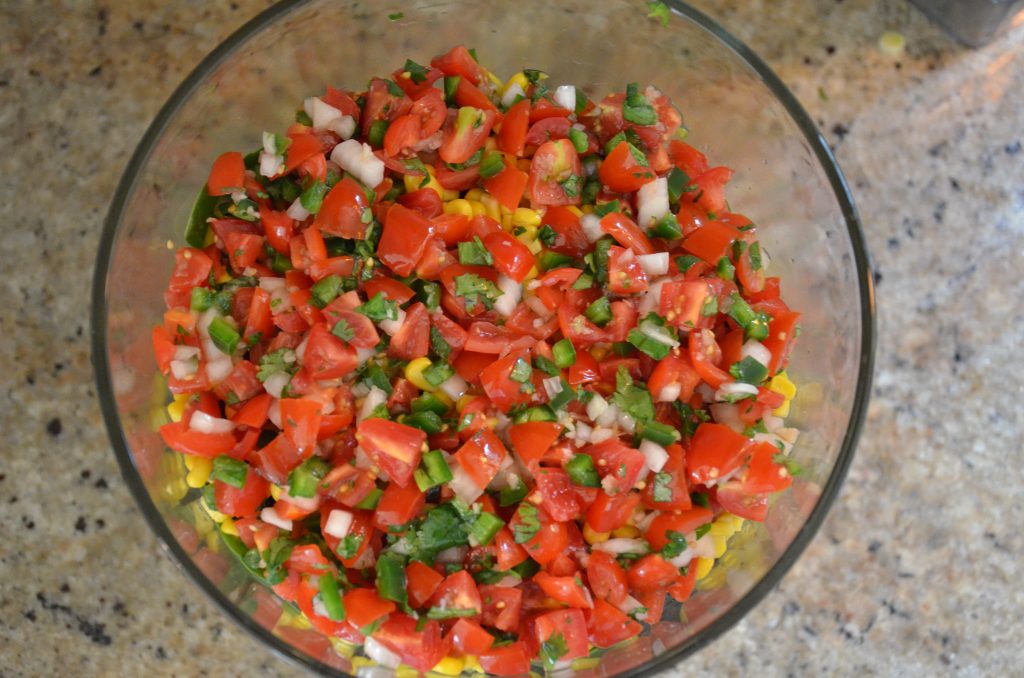 Here comes some flavor for the salad… the pico de gallo. Add all of it, using a slotted spoon.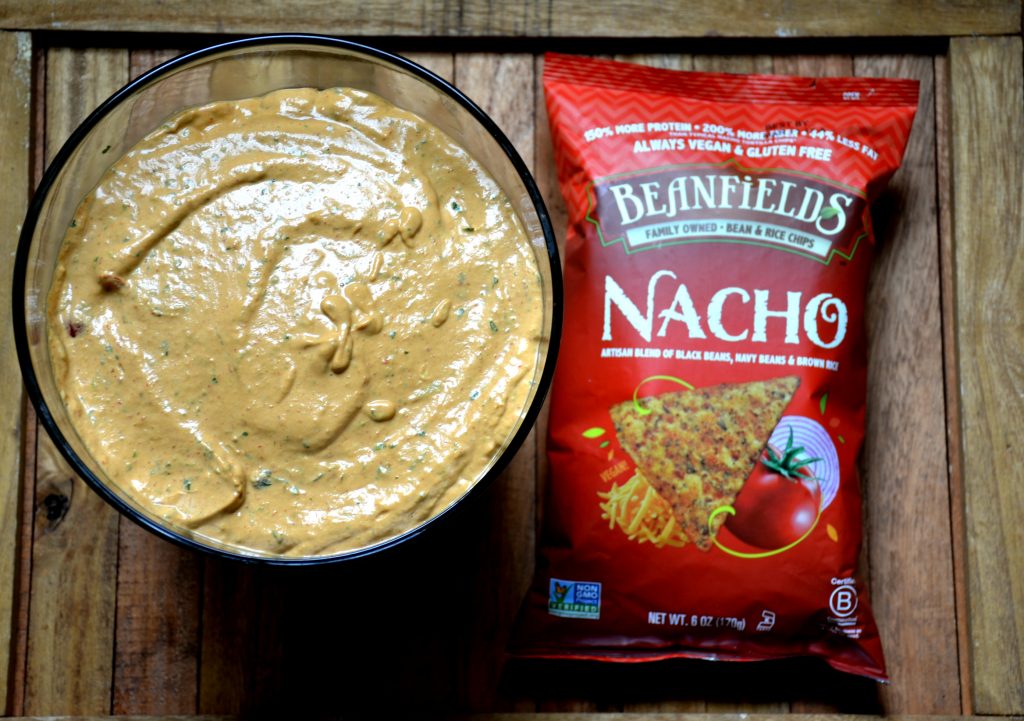 Now it's time to add the chipotle sour cream. Pour all of it on top of the salad, making sure to spread it completely over the pico de gallo. If you are going to serve this at a potluck… stop here and bring the chips with you. Crush them up just before serving.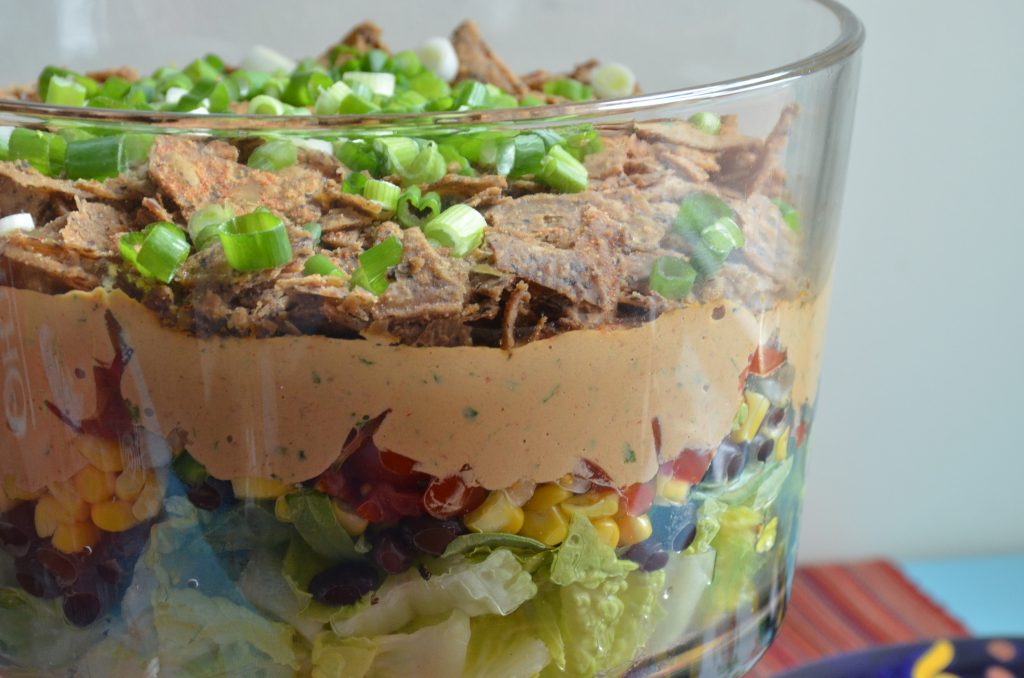 At serving time, sprinkle the crushed chips on top of the salad and garnish with chopped green onions.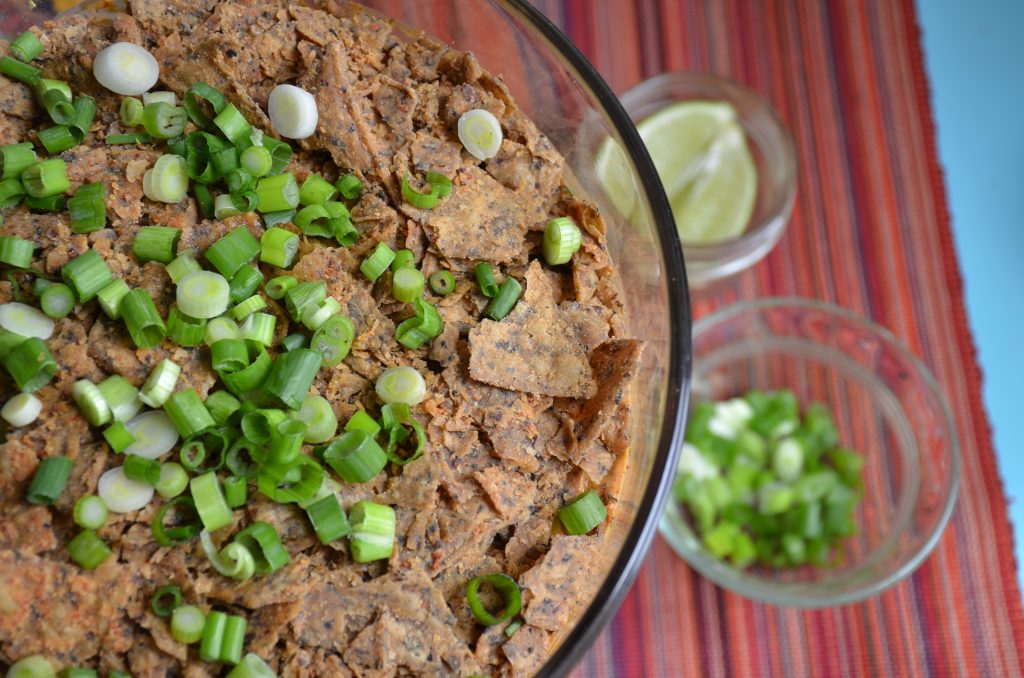 So pretty!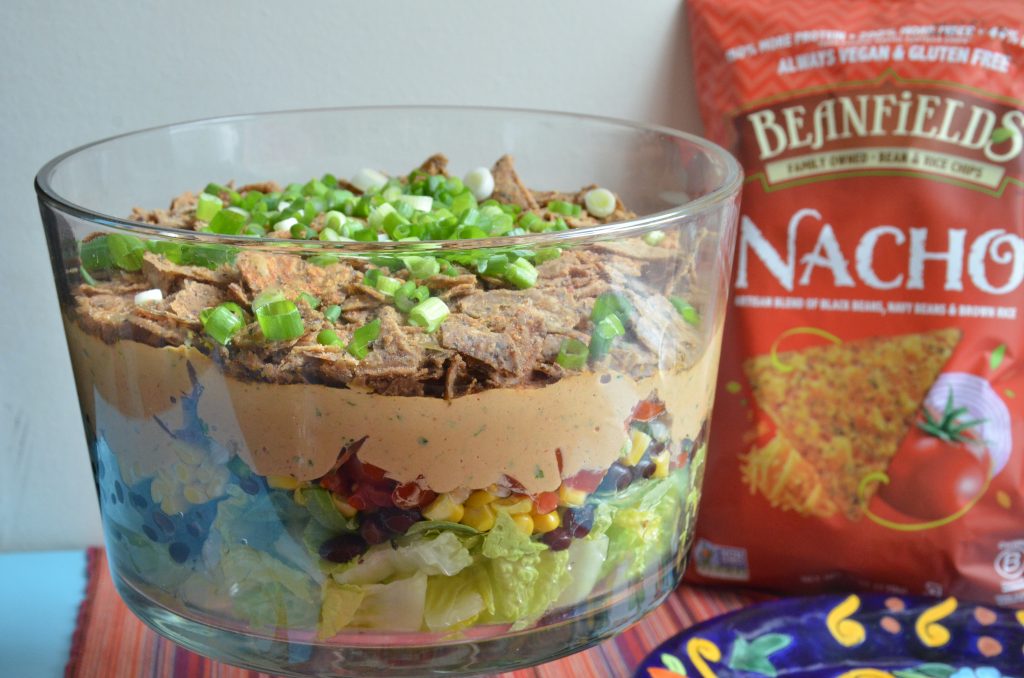 Handsome even…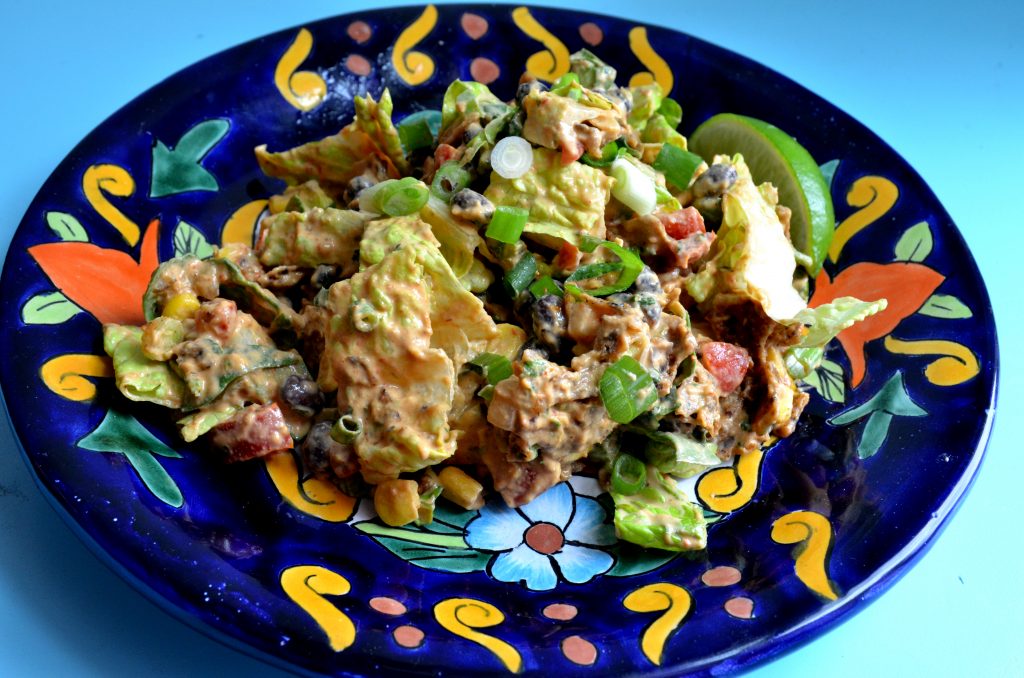 When ready to plate, feel free to mix up the salad. Garnish with additional green onions on top and serve with sliced limes. ♥
Layered Taco Salad Featuring Beanfields Nacho Chips
Ingredients
Pico de Gallo:

8 oz. tomatoes diced
1/3 cup diced onion
1/4 cup chopped cilantro
2 cloves garlic crushed
1 jalapeño seeded and diced

Chipotle Cashew Sour Cream:

1 cup cashews
1 scant cup of water (about 3/4 cup + 2 tablespoons)
2-4 chipotle peppers in adobo sauce
1/2 lime juice
1 tablespoon dehydrated onions
1 tablespoon nutritional yeast
1/4 cup cilantro
3 green onions roughly chopped

Remaining Salad Ingredients:

1 1/2 - 2 heads of romaine lettuce chopped
1 handful of spinach
1 1/2 cup sweet corn
1 can black beans (drained and rinsed)
2 green onions chopped (garnish)
lime wedges
1 bag of Beanfields Nacho Chips
Instructions
Make the pico de gallo by mixing together the tomatoes, onion, garlic, jalapeño, cilantro, lime juice, and salt. Set aside.
Make the chipotle cashew sour cream by placing the cashews (soaked in water for 3 hours if necessary) in the blender with nutritional yeast and garlic powder. Blend until smooth. Add in chipotles. Blend until smooth. Now add in the cilantro, green onions, and lime juice and blend slowly until they are broken down, but not fully pulverized. Set aside.
In a glass bowl, add the chopped romaine lettuce and sprinkle with salt and pepper.
Place a handful of spinach on top of the lettuce and sprinkle with salt and pepper.
Next sprinkle the black beans on top of the spinach.
Now add the corn layer.
With a slotted spoon, place the pico de gallo on top of the corn layer
Lastly, spread the chipotle cashew sour cream over the pico de gallo.
When ready to serve, sprinkle the top of the salad with a bag of crumbled Beanfields Nacho chips and garnish with green onions.
Plate with a lime wedge.
https://www.sillylittlevegan.com/layered-taco-salad-featuring-beanfields-nacho-chips/