As I mentioned in my Longevity post, I enjoy practicing yoga as my form of exercise. I'm pretty ridiculous when it comes to my practice. I have given myself a workout budget of about zero dollars, so I continue to practice with a video that annoys me like no other. I am almost embarrassed to say what video I use. Forget it, I am totally embarrassed. The only clue that I will give you is that it has some (almost) celebrity in it. I find it completely ridiculous that I even own this DVD, because I don't actually like this celebrity. So maybe you're asking me why I torture myself with this video. I will tell you why… The actual practice is pretty good, and the production of the video is wonderful. It reminds me of the practice that I use to do at a yoga studio years ago. So, I turn the volume way down, and only look-up when I have to. That's how I solve that problem. It's free and I practice at my leisure. Done and done.
So, you may be wondering where I'm going with this and why this might interest you… Okay… I stumbled upon a little gem that I wanted to share with YOU. I found out that there is FREE yoga every week at Lululemon at Easton (and Polaris). Every Sunday at 11am, the store turns into a little yoga studio. Before the store opens for business, the employees move all of their floor displays back and they bring in a yoga instructor. They provide the instructor and the mat, you just need to drive yourself (and a friend) and show up. I tell you, it's been fun and challenging and often times thought provoking. The classes really vary because they showcase different studios from around the city. It's such an excellent workout, that I'm usually spending the next day recovering.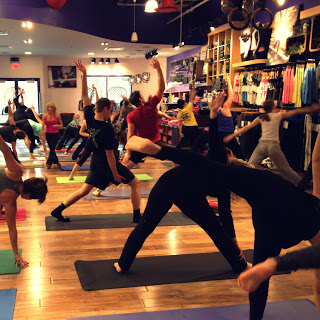 Photo from Lululemon's facebook page. I'm in there somewhere 🙂
Look at all of the men who showed up!
Anyways, hope to see you there!.. and if you know any other FREE activities in the area, post it in the comment section below! Also, if you guess the video that I use… I'll… hmmm… I guess I will tell you! So, leave a comment. Happy guessing!…
To find a Lululemon near you, click HERE!
-XOXO