I love tofu…. I love tofu scramble in the morning, I love baked barbecue tofu with greens, I love plain tofu dipped in soy sauce and garlic, and I love a nice Asian inspired tofu dish with yummy gravy. I have spent many, many, many, many years trying to find an AMAZING recipe for a Chinese-style tofu dish, but I could never get it right. I mean, I am part Chinese (by way of Taiwan), I should have this… right?… Okay, maybe that's a ridiculous statement, I was born in Chicago after all. My mom is an excellent cook, but I have never learned how to make an awesome tofu dish from her. Getting a recipe from her is something that I have on my to-do list…. but maybe I don't have to. I finally stumbled upon a little gem of a recipe that is beautiful and so delicious, and it's so wonderful that I just had to share it. This recipe is not my own. I found it on Weekly Vegan Menu. I did change it just a little bit, but I'm sure the original is just as tasty.
So, here we go… it's called, KUNG PAO! Tofu.
Here is the type of tofu that you will want to use. You can use silken tofu, but the consistency will resemble Ma Po Tofu.
Water packed extra firm tofu
So, first things first… If you have never drained tofu, make sure to give yourself an hour of inactive preparation time to drain it. You will want to wrap it in a kitchen towel and place something heavy on top.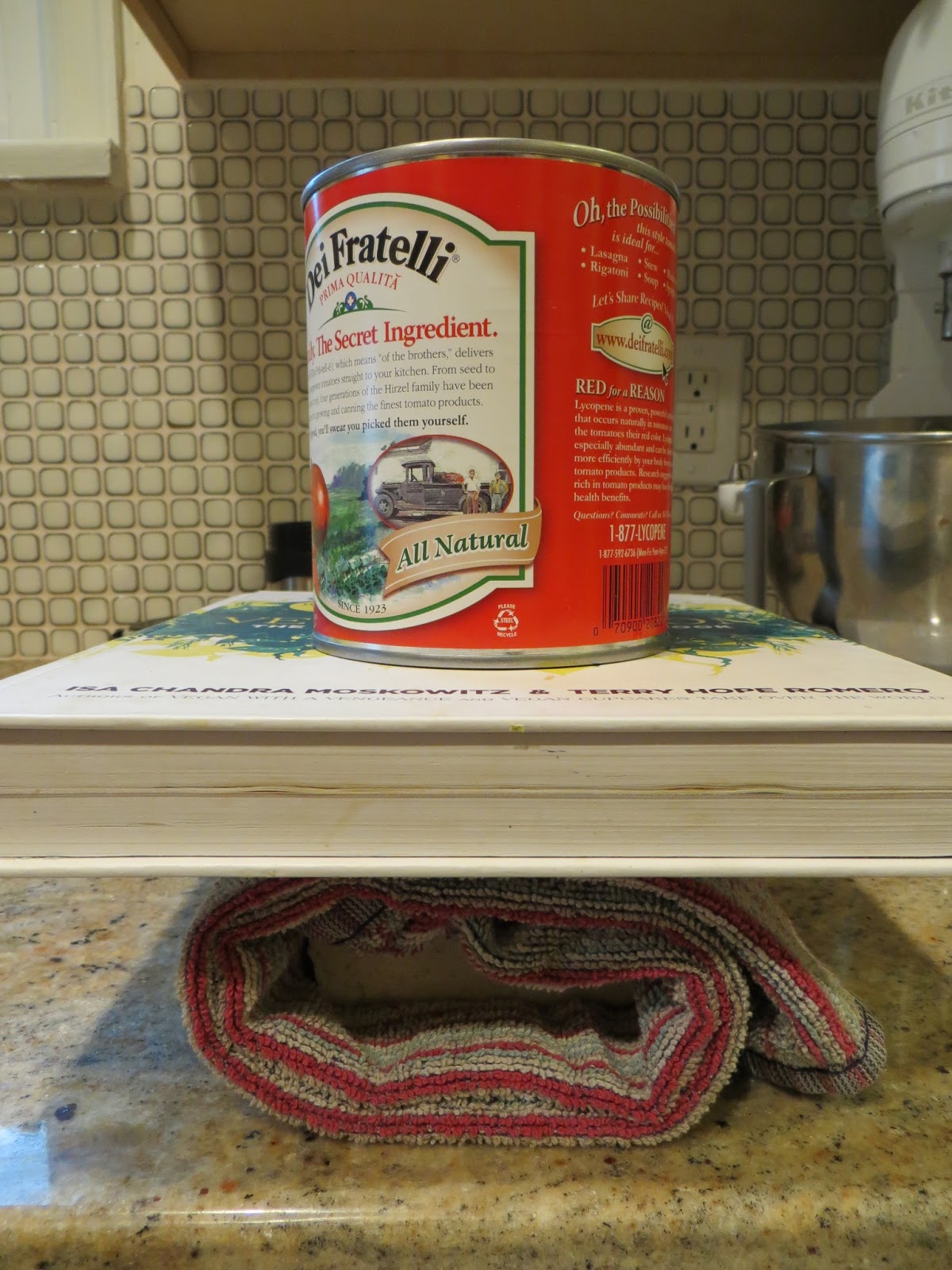 One of my favorite cookbooks, Veganomicon, was used for draining my tofu!
After wrapping it for a half-hour and weighing it down, re-wrap it in a new kitchen towel and set your heavy stuff back on top for another half-hour. Total drain time is approximately an hour. You can actually drain the tofu longer. The original recipe suggested draining it for 2 hours, but I don't think that it's necessary. You may be surprised by just how much water content is in a brick of tofu after just an hour. Once it's drained, it will be able to absorb flavor.
Note: If you used silken tofu, DO NOT try to drain it like this!
KUNG PAO! Tofu
This dish is savory and sweet. It has a lot of flavor and is wonderful served over brown rice. This recipe is actually a half of the original recipe. I used two seperate pans to make this dish. I used a deep wok-like skillet to stir fry the vegetables, and then a non-stick skillet to cook the tofu.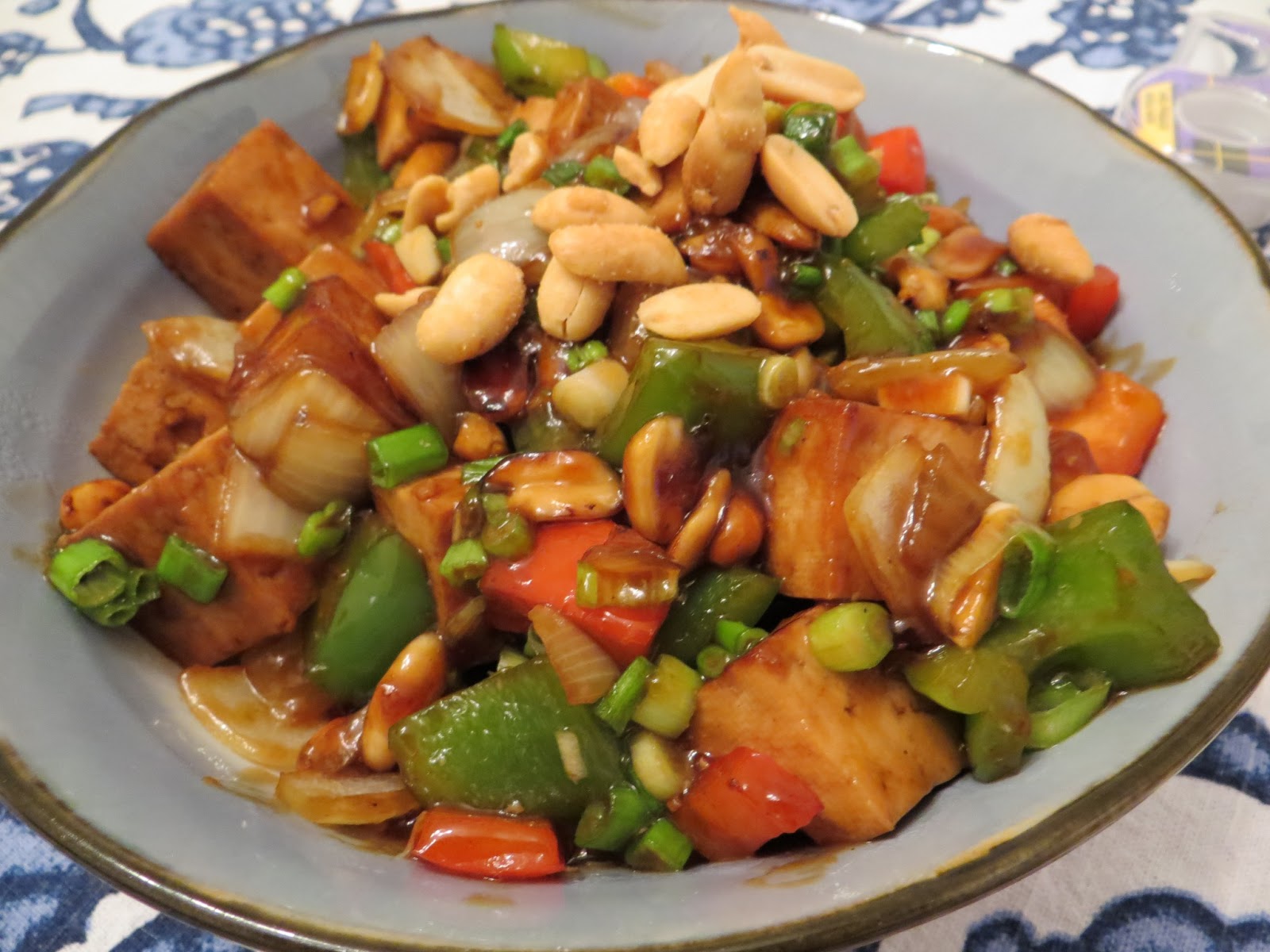 Click
HERE
for printable version of this recipe.
Ingredients:
Tofu Marinade
1 block tofu drained for an hour
1/2 cup soy sauce or tamari
1 and 1/2 tablespoons brown sugar
1 tablespoon canola oil
1/2 teaspoon grated fresh ginger
2 cloves garlic minced
Stir Fry
1 tablespoon canola oil
1/2 teaspoon chili flakes (optional)
1 cloves garlic, minced
1 medium onion diced
1/2 green bell pepper, diced
1/2 yellow or red bell pepper, diced
1/2 cup peanuts (optional)
Sauce
1/4 cup agave
2 tablespoons rice vinegar
1 tablespoon cornstarch
1 teaspoon sesame oil
3 scallions or green onions for garnish
Preparation
Cut tofu into 1 inch cubes. Mix up the marinade in a large dish, and place the tofu in a dish to marinade. After 15 minutes, flip them so they can soak on the other side. When the tofu is about 5 minutes from being done, start your stir fry.
Place garlic in a heated pan with oil (a wok works nicely for this!). Be careful not to burn the garlic. Put in the rest of the ingredients (peppers, onions, and peanuts). Let them cook for about 5 minutes at medium-high heat. You want them to brown a bit. Do not over cook. Take the stir fry off of the heat. Prepare your agave and vinegar sauce in a small bowl or cup. Mix the sauce well and let it sit.
Heat your other pan with a bit of oil. Place tofu into the pan and let brown on medium-high heat. Turn your tofu, and brown the other sides. When you are finished, place tofu in the pan with the stir fry. Add your agave sauce to your tofu and veggies then stir. Now, add the remainder of your marinade into the pan and stir. Let it bubble and thicken. This will not take long. Garnish with green onions.