Oh boy!… This one is a doozy! I admit that I went into planning this trip as a tutorial on: How To Succeed at Camping with Kids… Vegan Style… but yeah, WRONG. Nope. Nada. Didn't happen. We came home from this trip realizing that we were lucky to only get kicked out of ONE campsite.
I am ready to admit defeat, and this is how it happened. Our demise started before even leaving our home.
The day before our trip, we spent a half a day shopping. We purchased camping supplies… like a hot dog roaster, sleeping bags for me and the girls, batteries… and we also stopped by Earth Fare (it's kind of like Whole Foods) for graham crackers, marshmallows, and dark chocolate for the ever needed campfire s'mores.
This is what our groceries look like… do you see the first problem?…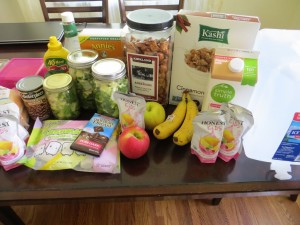 Let's take a closer look…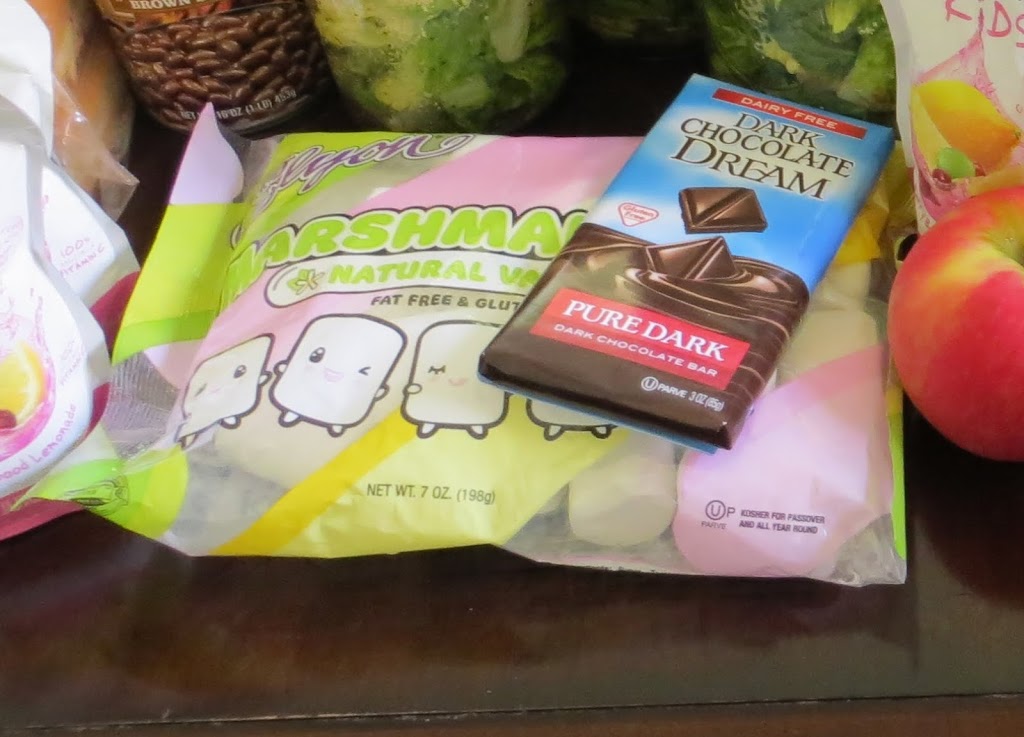 Laying right under the dark chocolate is a bag of marshmallows… I thought that I had picked up
Dandies
vegan marshmallows, but nope… I picked up marshmallows with FISH GELATIN (still super expensive)!!!…. YUCK!!! This is what happens when you rush!!!… Always double-check!!!!
So let's continue with the story.
27331 State Route 278
McArthur, OH 45651
We pack-up all of our food (including the fishy marshmallows) and camping gear and hit the road. Our destination was Lake Hope State Park which is about an hour and a half away from home. On the way, we see some camp fire wood for sale with a box to put in money. So, we stop and pay then grab some wood.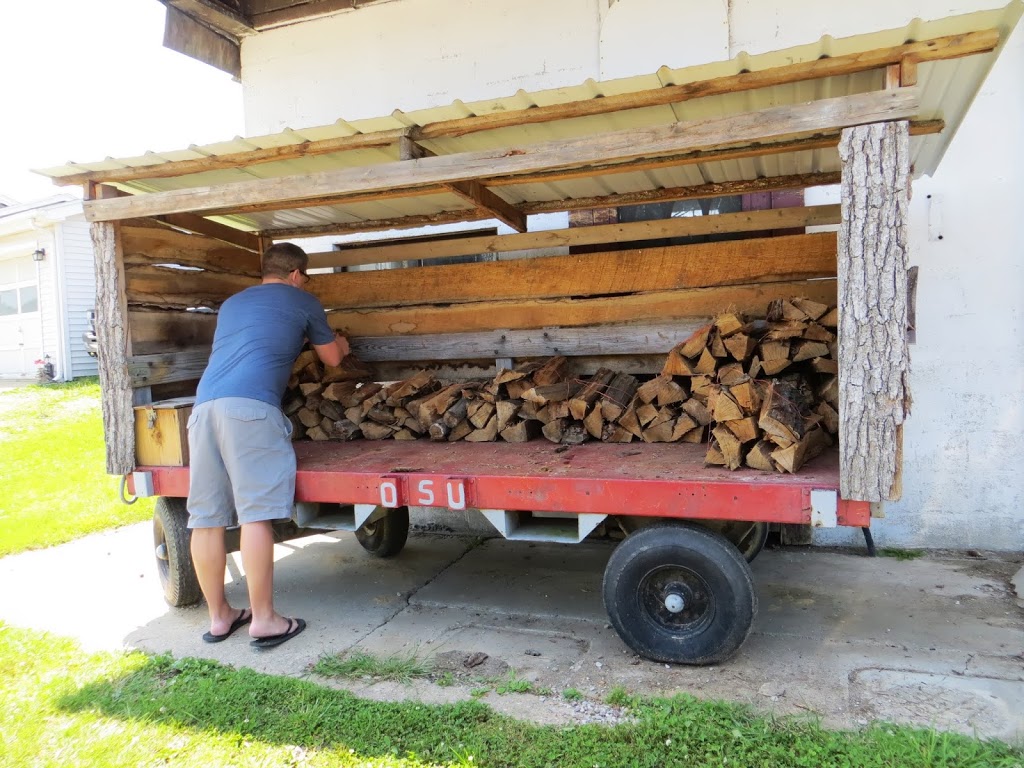 When we arrive at the State Park, we realize that we have don't have enough cash to pay for a campsite, but we have our fingers crossed that they take credit cards in the middle of nowhere… luckily they do!… (I guess not all bad). We talk to the person behind the desk and tell them that we would like a site that is non-electric that is near the playground. So, she tells us to scout out the area and then come back and pay for our spot. The playground is around site number 150, but it was a bit too slope-y so we continue to look around. I tell my husband to upgrade to an electric site if they are better locations. My husband goes back to the office and decides to pay for site number 146 located just across from the playground. He sets up our camp and then we take off and hit the beach.
When we start to get hungry, we come back to our site and hang up all of our wet belongings on our clothes line. My husband uses his "infamous" one match technique (with no fire-starter) to set-up the kindling and logs to get the fire going.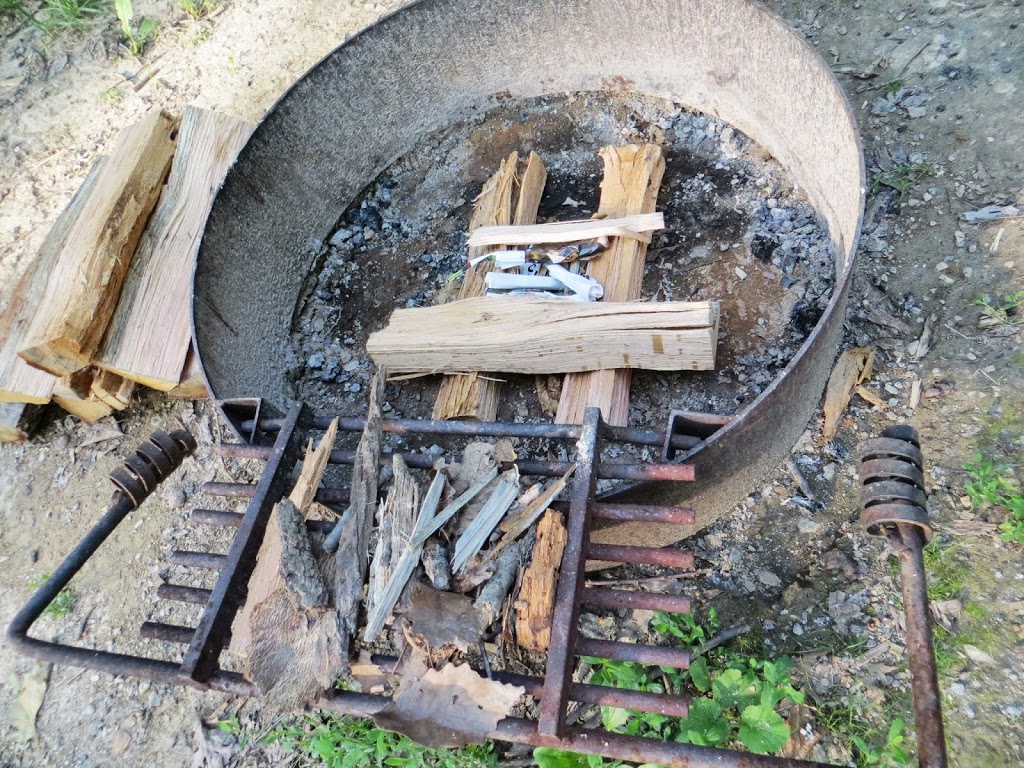 Don't look too closely… this is his secret technique…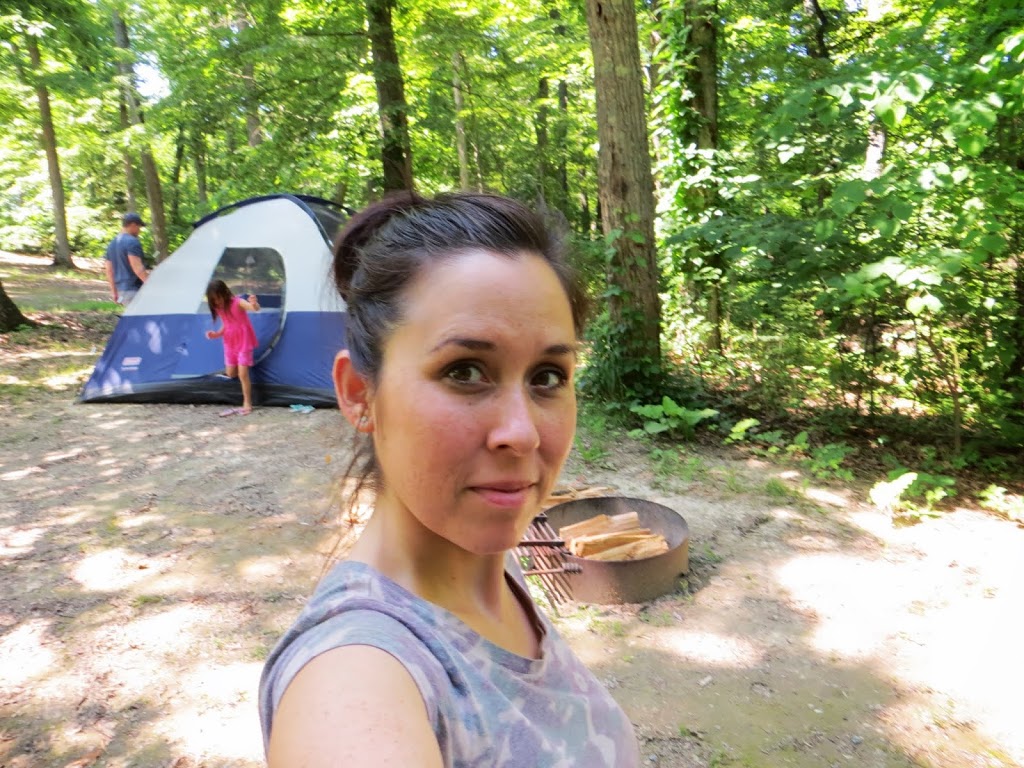 Waiting for the fire… our nice campsite! Not too slope-y… just right!
The
Ummm… for some reason it's not working. The logs won't light, but boy is it smoky!
The logs finally light!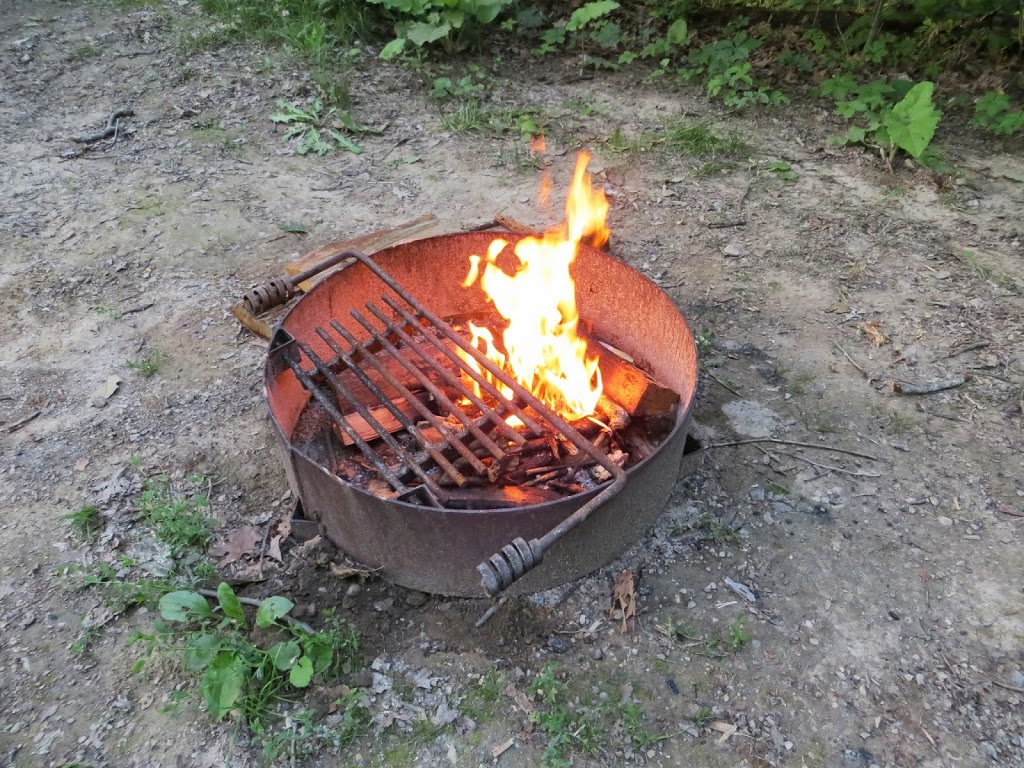 Laney got to roast some more veggie dogs!.
After eating our dinner, it was time for dessert. Our fire was still giving us some trouble, but we managed to get it going enough to make our s'mores. It wasn't until after I ate one that I started looking at the ingredients. Then it hit me like a ton of bricks… THEY AREN'T VEGAN!!! I felt horrible and I wanted to cry. I kept it together so that we could enjoy the rest of the evening. I got up, threw them away, and then we walked back over to the park to play. It was a really beautiful evening, and there were plenty of other kids for the girls to play with. While the girls were playing, my husband walked back to our site to check on things… and yes.. our fire had gone back out!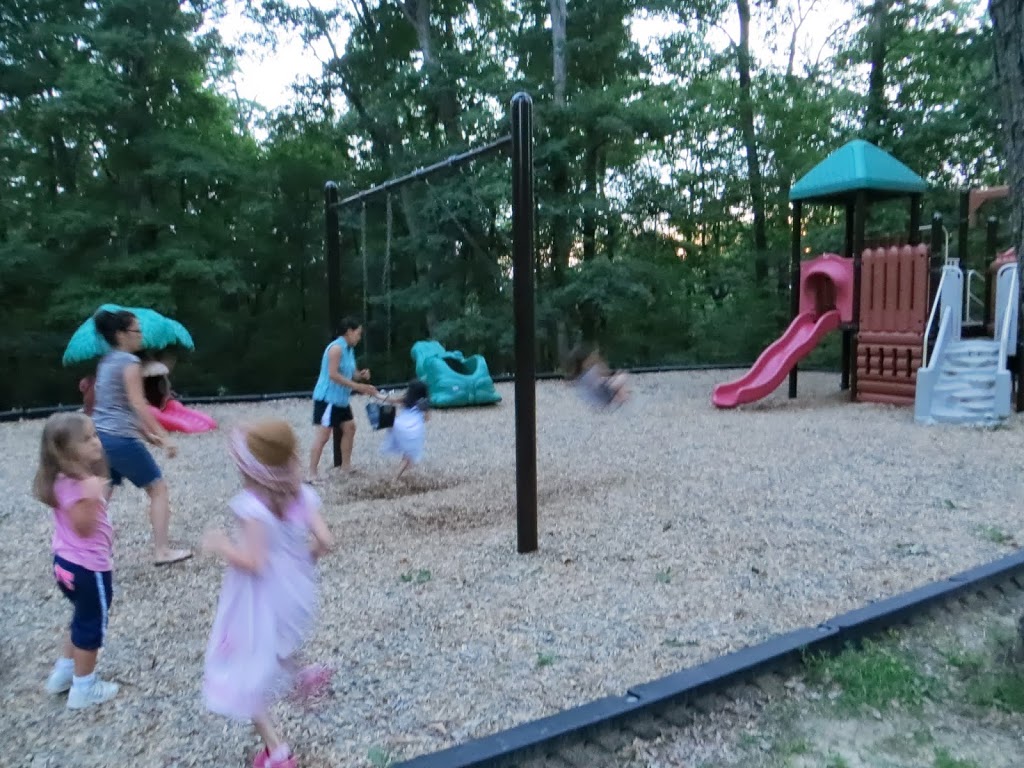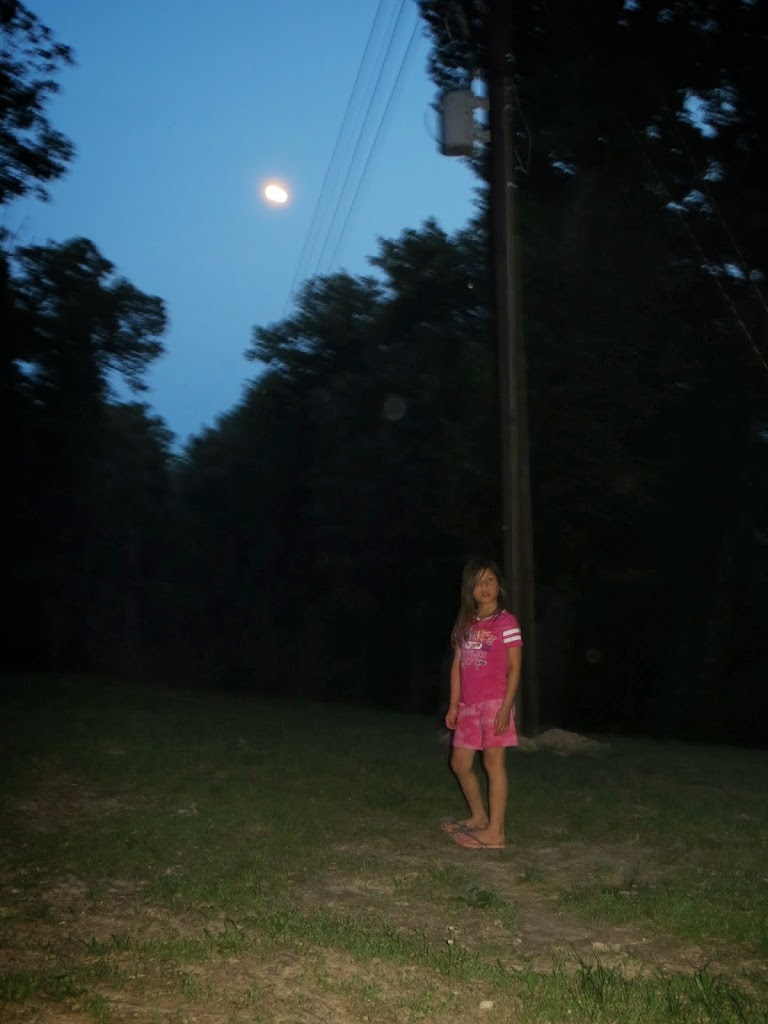 Laney catching lightning bugs
It's about 9 pm when we walk back to our campsite. It's dark and we're all ready to start settling in, and we notice a young couple standing near our car. They approach us and ask us if we paid for our campsite. Ahhhhh…. Yeah!?!?!.. The girl then goes on to tell us how they had booked this very same electric campsite online two days ahead of time, and they had reserved site number 46. Wait a second… site 46 is across from site 148?… What?!? They were right. The numbering at this campground is completely screwy! My husband had not paid for an electric site, and I didn't think anything of it. Our non-electric site was way down the road from where we were, and this couple refused to let us stay because they said they absolutely NEEDED electricity. HUH?… the night is already half over! So, now we have confused and crying children, and we have to figure out how to move and re-set up everything in the dark… including our air mattress… and boy did I not want to deflate that thing and blow it back up again with its foot pump! I was so mad at this couple. I know we made a big mistake, but come on! I wanted to find some water to completely douse the fire pit. I mean, we had a good smoke going on… but my husband (being the better person) asked me not to be vindictive. So instead, I settled for cursing under my breath while spitting on the fire pit a few times.
We packed the car as quickly as we could, and then my husband un-steaks the tent and just lays it on the roof of our car. We have to hold this six person tent on the car with our arms as we disgracefully drive slowly down the rode to find site 146… with fingers crossed that we don't loose the tent with the air mattress still inflated inside of it.
We make it to our new site, and quickly unload all of our things. My husband puts up a new clothes line and then heads back to the old camp site to get the belongings that we couldn't fit in the car. The girls are still upset, but I pull out my Nook with a loaded audio book, and we listen to that way past bedtime. I think that by the time the girls settled down and fell asleep it was close to midnight.
In the morning, my husband realized that we had monopolized a total of three sites while setting up in the dark. We had the tent on the site next to ours and all of our food on a picnic table two sites away from ours. Ooooppps! So, we were lucky that no one else came to kick us off of the other two sites!
After our breakfast of cold cereal, we headed over to Hope Furnace for a little nature walk and scavenger hunt. My little one, Penny, wanted nothing to do with this little expedition. The grass was freshly mowed and wet, and she did not want to get her shoes dirty. She insisted on being carried, but I think at that point… I was ready to go home, and that is what we did. One more time playing at the park, and we packed up and left.
It was nice to go home. Driving back we noticed that all of the un-burning wood was gone from the trailer, and I felt bad for all of the other people who got suckered like us. Although, this trip was pretty ridiculous, it hasn't completely ruined me from camping. Maybe next time we should go camping with friends…. Any takers?
Till next time,
Silly Little Vegan