I must say that we had a great trip to Chicago, but all good things must come to an end. Our trip visiting family was eventful, wonderful, and we had lots of great food. I think the trip was almost too good in terms of the food. By the last morning, my pants were a bit hard to button!… OUCH! However, that wasn't going to stop us from hitting one more restaurant before leaving town…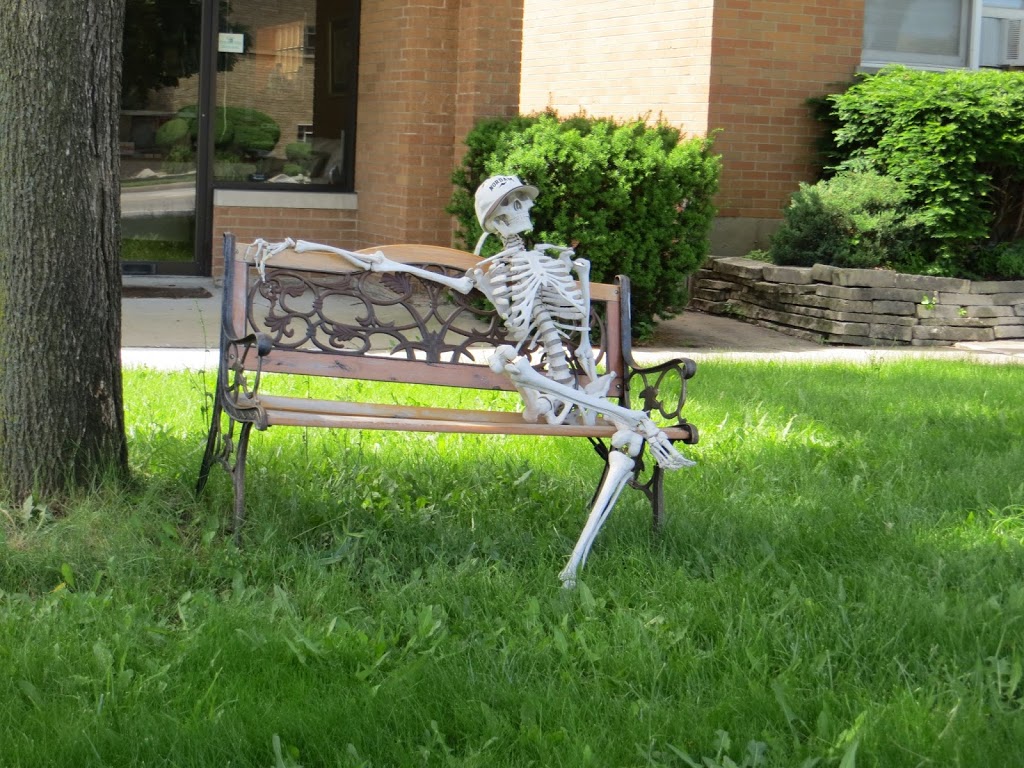 See ya later Mr. Skeleton! It's been great, but we're off to get more food!
218 South Clark Street
Chicago, IL 60604
(312) 332-6332
Our last stop before leaving Chicago was Native Foods on South Clark Street. I had heard of this place and knew that it was a vegan chain restaurant. That's about all that I knew, well that and that their menu looked soooo good!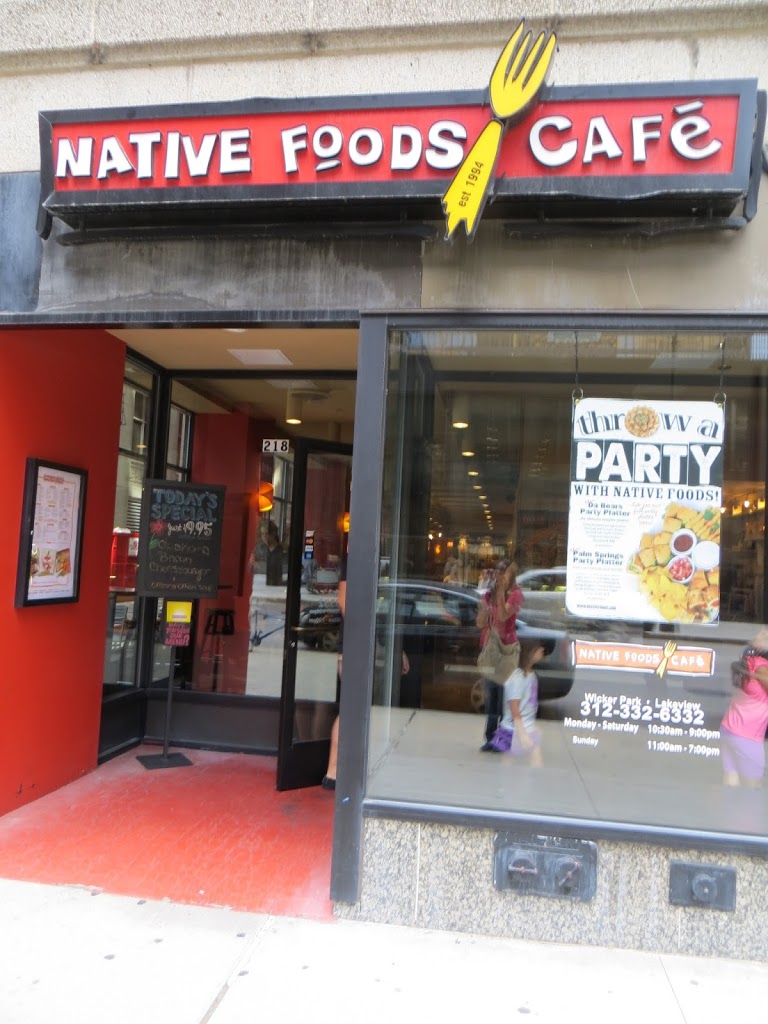 We arrived just after opening, and there was no line (yet). The staff was extremely nice, especially the cashier. Since I was overwhelmed by the choices on the menu, I asked the cashier what to order and she suggested the Twister Wrap with the blackened Native Chicken. As a bonus, since I mentioned that it was our first time there she offered me a FREE DRINK!!! Why yes! I would love one! She also gave me a rewards card for future benefits. If only we had a Native Café near home…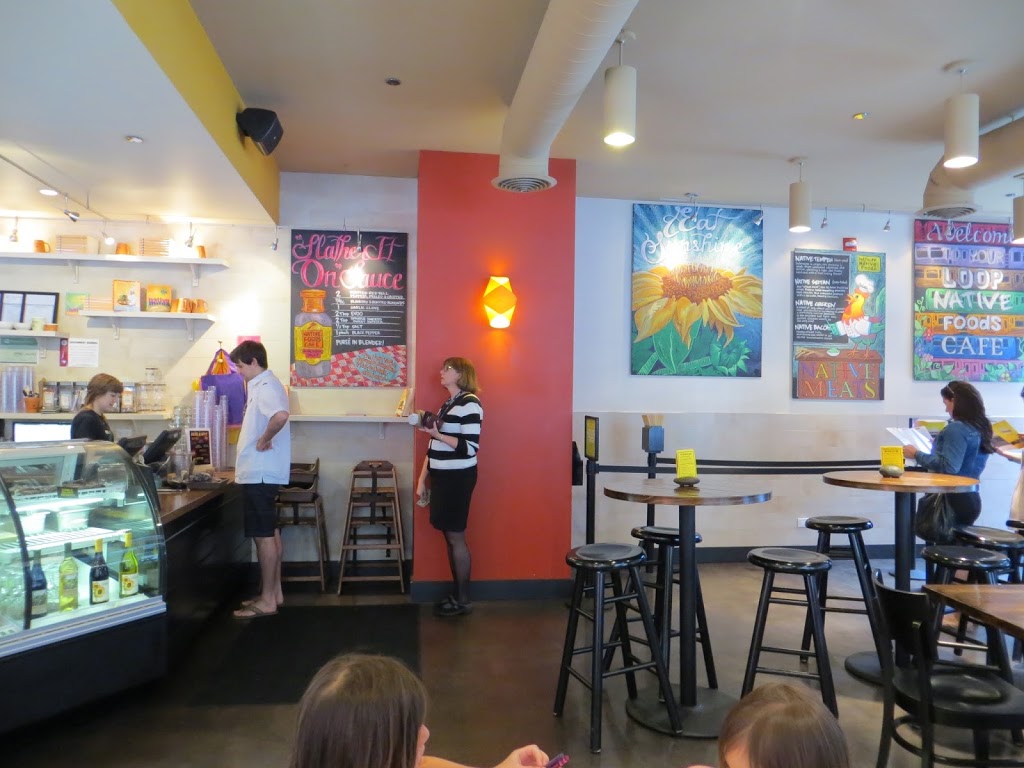 What a cute little restaurant!
When I sat down at the table, they brought out a soup for my husband. Wait, they had soups?!?!… He ordered the Creamy Onion Bisque. It was nice and creamy and had a noochy spicy flavor (nooch AKA nutritional yeast).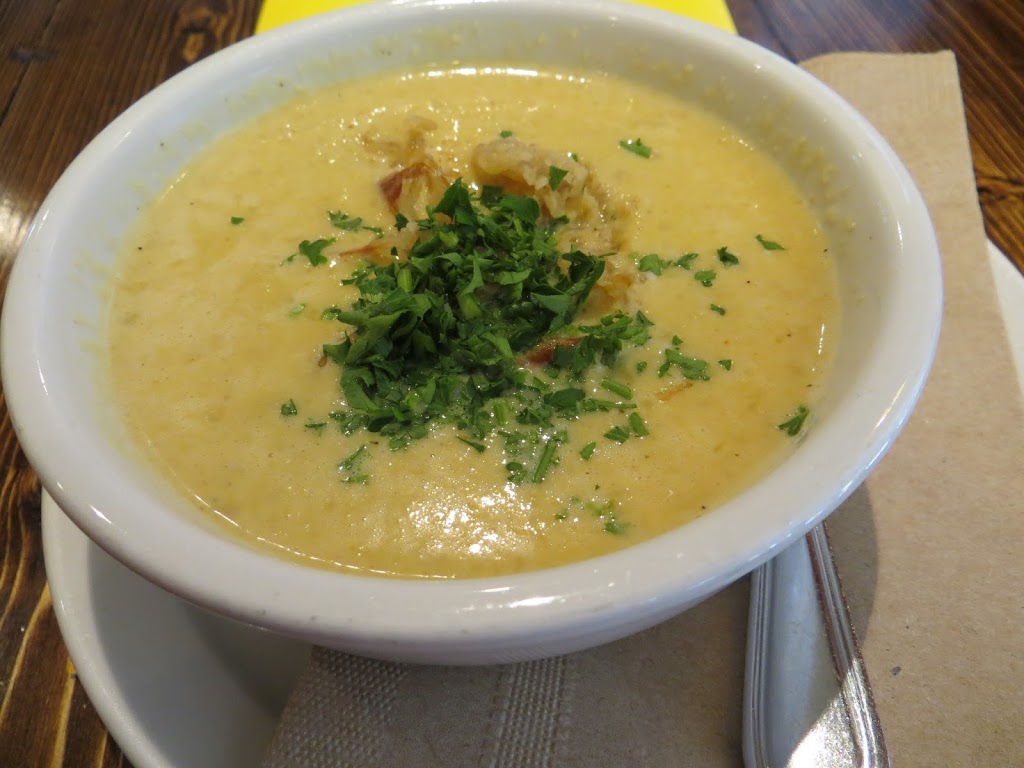 Creamy Onion Bisque
Both of my girls ordered the Native Nuggets and it came with a side of brown rice and veggies and vegan ranch for dipping. It's nice to see a kids meal that doesn't include French fries. The nuggets were delish. I wish that the girls had ordered different items on the menu so that there would be more to try… but at least they were happy and ate their lunch. Really… what more could a mother want! My husband ordered the Oklahoma Bacon Cheeseburger. His response to trying this burger was… "This is the best burger that I've ever had at a restaurant, ever." I must admit, it was pretty darn good! This burger had all of those yummy toppings like barbecue sauce, smoky veggie bacon, ranch dressing, melted cheese, caramelized onions, and, to really put it over the top, crunchy deep fried dill pickle chips. Really, how could he go wrong picking this as his first meal here. Although his burger was good, it was hard to judge against the Twister Wrap. They were equally delicious! The cashier suggested the blackened Native Chicken over their grilled because it gives it more flavor, and she was right! Between the chick, veggies, avocado, and creamy chipotle sauce.. I was in wrap heaven. It was definitely one of the best wraps that I've had.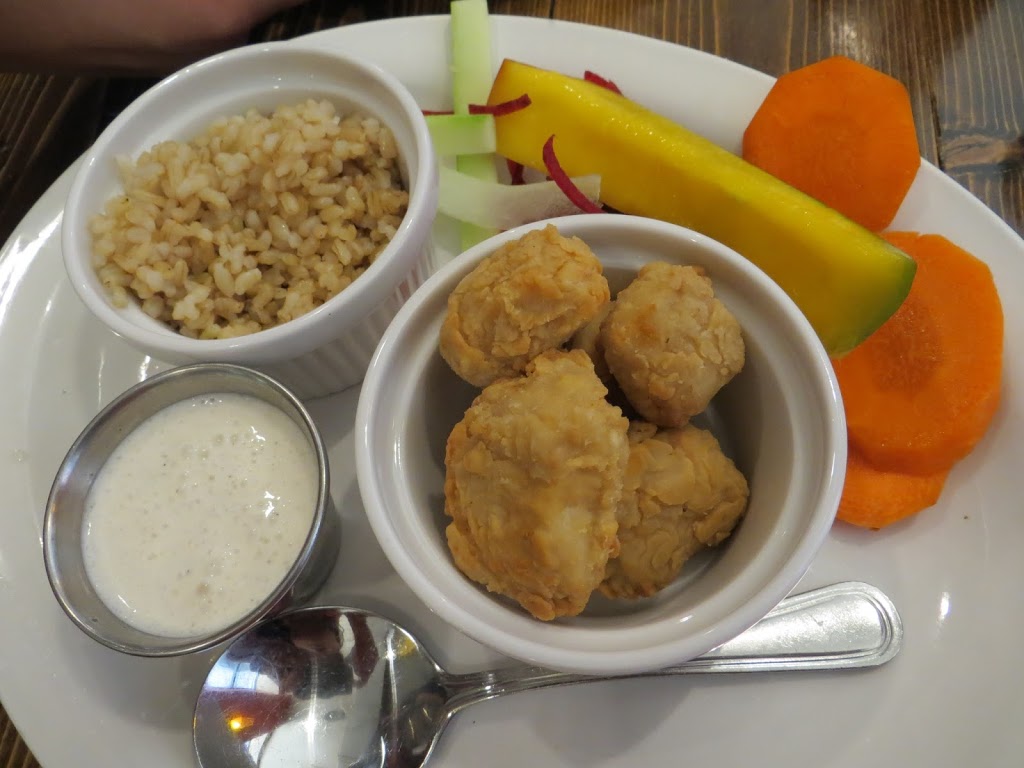 Native Nuggets kids meal
Oklahoma Bacon Cheeseburger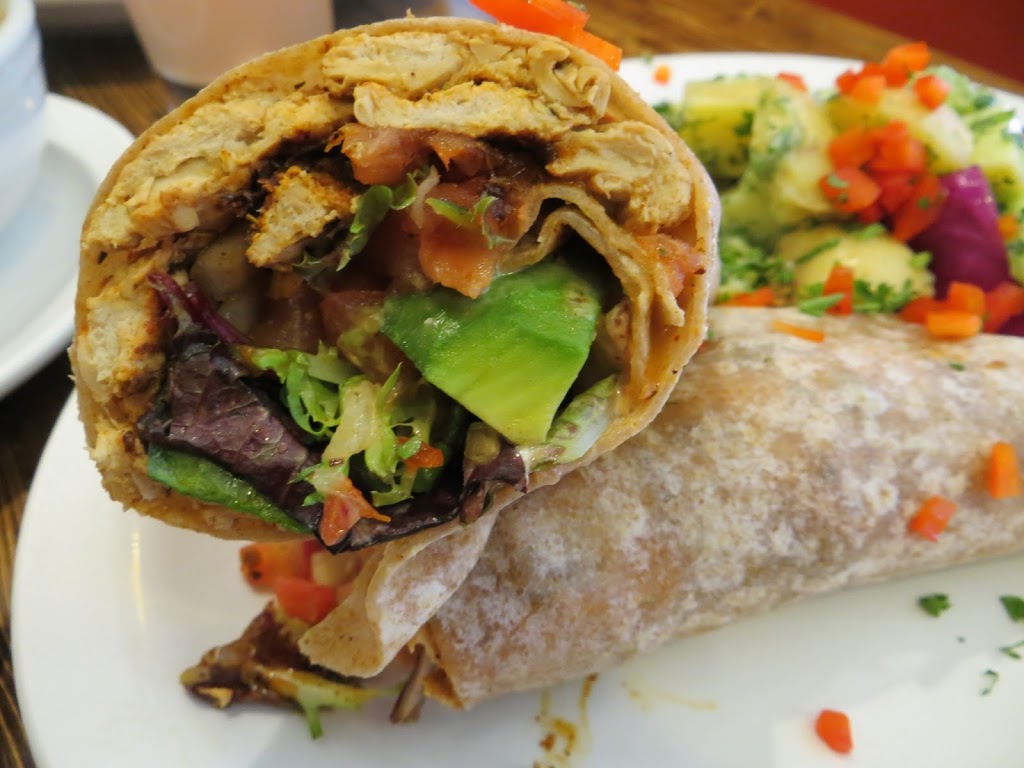 Twister Wrap with blackened Native Chicken
I couldn't leave without getting dessert. However, from that filling lunch there was no way I could fit any more in my ever expanding belly. My pants were fitting tight as it was. So, I took an order of their homemade apple pie, strawberry shortcake parfait, and their peanut butter parfait to go.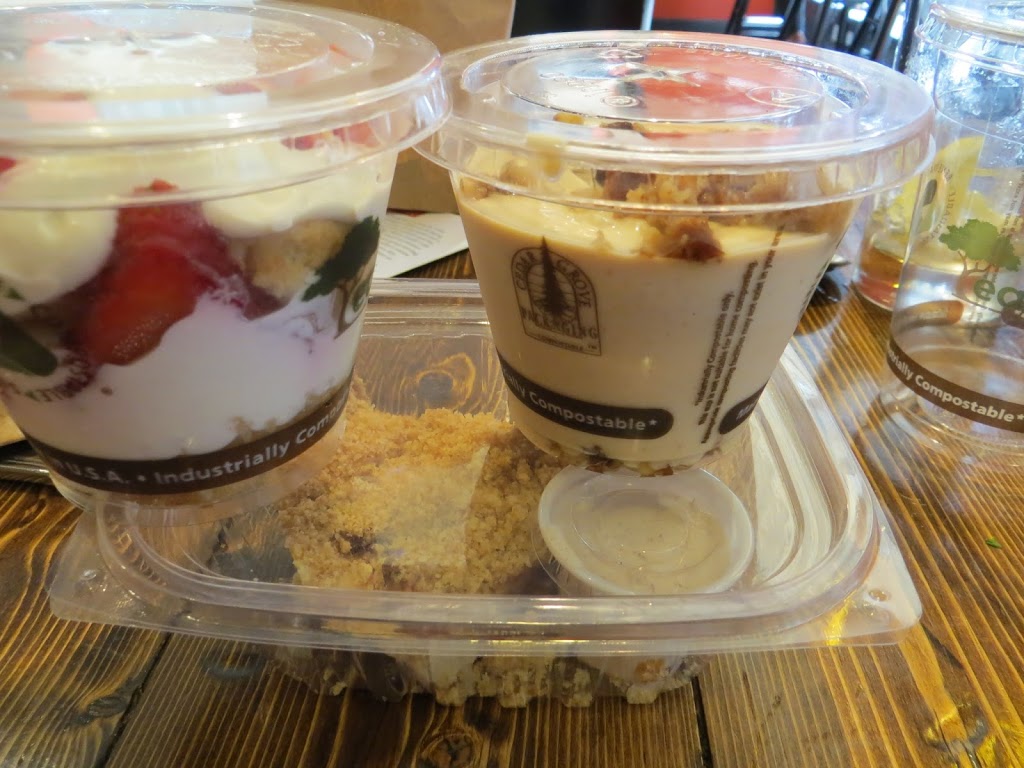 You will be in my belly…. not yet, but soon!
On the way out of town, my husband started talking to me but kind of to himself about Zombie Dust at Three Floyds Brewery.
We knew from our trip into town
that they would be bottling and probably sold out by Sunday. On a whim (it was now Monday), I told him that I would call anyway and check to see if they had any left. We totally scored! They had a few cases left, but they would not hold any for ANYONE!!! So, we reset our GPS, and we were off for the ever elusive ZOMBIE DUST. We made it in time to get two six-packs.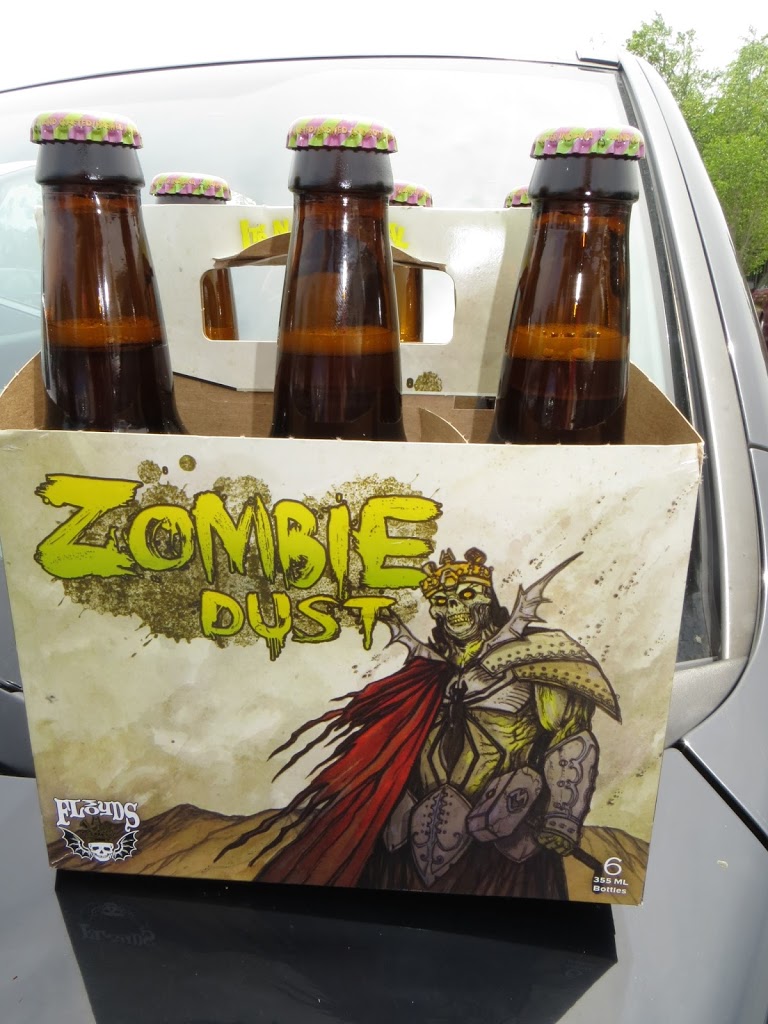 Zombie Dust = Happy Husband
The rest of our driving trip was pretty uneventful. We ended up having Chipotle for dinner on the road. To be honest, I was still full from lunch and maybe from the past few days of overeating. So, I shared a salad bowl with my husband. I do really like this simple meal. It's just romaine lettuce, rice, beans, fajita veggies, corn salsa, red salsa, and guacamole. Yummy!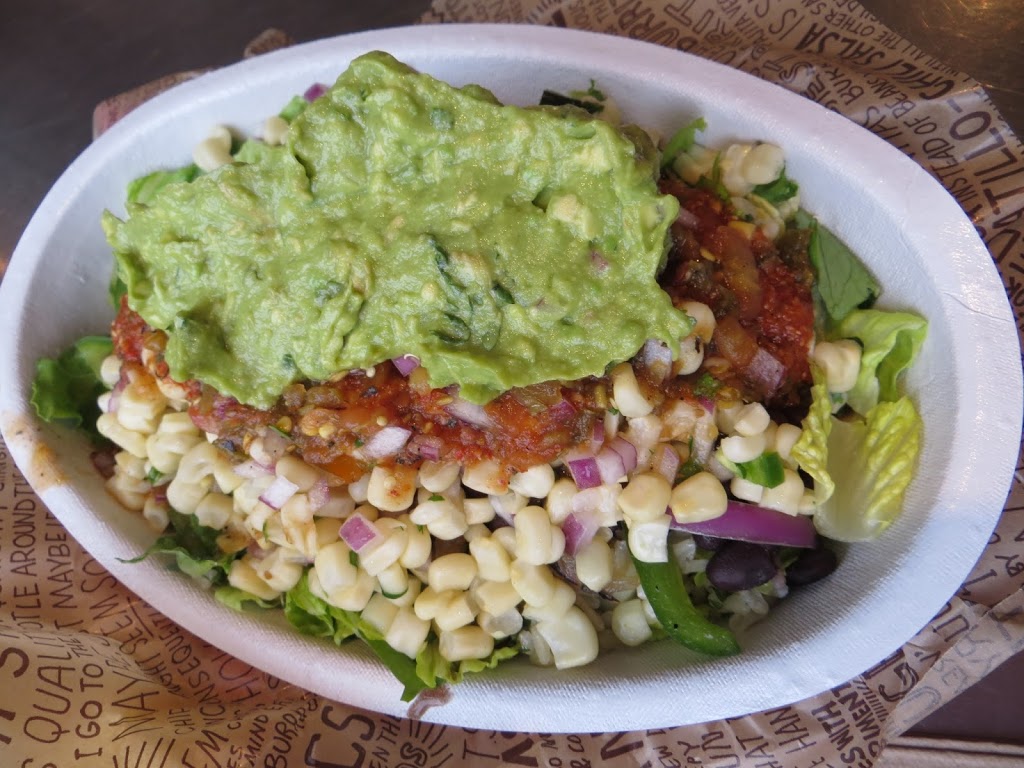 Salad Bowl
That's it for our trip! I hope you enjoyed following along with our little family. There are more trips to come…
Note: I want to give a special shout out to Mike and Kinsey!… Thanks for hosting us for this trip. Our family had such a great time. It's always a blast visiting with all of you. Our girls love it, and we love it, too. The two of you are such gracious hosts! Also, I just want to say that I really appreciate your support, and I appreciate that you read all of the stuff that I write. That means to world to me. Love you!