Militant is usually used to describe a person engaged in aggressive verbal or physical combat (e.g. an activist, revolutionary, terrorist or insurgent).

Veganism (/ˈviːgənɪzəm/) is the practice of abstaining from the use of animal products, particularly in diet, as well as an associated philosophy that rejects the commodity status of sentient animals. A follower of veganism is known as a vegan.
*as defined by Wikipedia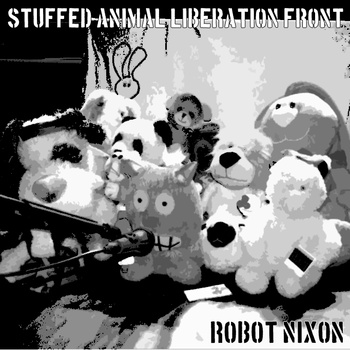 Stuffed-Animal Liberation Front
I wrote this post well over a month ago. This event took place at an end-of-school year celebration at a friend's house. At the party, I found out that some of the ladies had checked out my blog. Maybe I wasn't ready to share my perception of this experience with them, knowing that they may read this. It's different speaking one-to-one with an individual and even more different speaking to another vegan. Anyways… here is my story…
I was recently invited to a party at a friend's house. I, being a bit shy, wasn't sure if I would go because I didn't know that many of the people that were invited. At the last minute, I decided to go. I figured it would be a great opportunity to share some vegan sweets (awwww… food advocacy) and meet some of the other moms at my daughter's elementary school. So, the hostess introduces me to another mom something like this… "This is Cindy. She's vegan. Really vegan, like militant vegan". I was kind of struck by this, and it made me laugh. Militant?… I mean, I get it. I'm not a part time vegan, but vegans get a bad rap. To be honest, this name calling was why I was so scared of calling myself vegan for so long. People think vegan, and it's almost a dirty word. Over the course of my transition to becoming vegan, I've come to see it as an important thing to use this term (versus plant-based). What veganism actually stands for is something so beautiful, that it's something that we should be proud of. The root of veganism is compassion towards everyone. It's about opening your eyes and your heart to the innocent animals that are exploited and killed every single day. It's just strange that people who live within their values of compassion are seen negatively and are even considered militant. Me militant? Honestly, I'm more silly and ridiculous. I mean, I walk into the party… probably the most under-dressed person there, I was ready to PAAARRRTTYYY… Regardless of the little militant comment… it didn't stop me from having a great time and doing a little advocacy…
Okay, so I've probably mentioned my love for Colleen Patrick-Goudreau in previous blog posts… (and if you follow my Facebook account there's a picture of us). She is so fundamental to my understanding and application of effective communication. Her podcasts have been so helpful in preparing me for the things that people say when they find out that you're vegan. So, here is how her podcast helped prepare me for an interaction with someone new: The mom that I was introduced to said that she was interested in a vegan diet. Our discussion at the party went something like this:
Me: I brought my vegan wine… I'm ready to open this thaaang!
Non-vegan: Wait! Wine isn't vegan? I could never be vegan if I have to give up wine.
Me: It depends on how it's filtered, but you don't have to be strict about that. Do what you're comfortable with and work from there.
Non-vegan: Hmmmm…. okay.
See…. easy peasy. She was ready to give it up before even trying. I think that people get so stuck in this all-or-nothing ideology. I want to support people in the change and encourage them. People have to start somewhere, and it may seem daunting to think of all of the things in life that get changed when you become vegan. Don't let one hang-up stop you from an overall goal, because once you get there it is totally worth it!
The party was great. I had only one major conversation about being vegan which lasted maybe 10 minutes, and then I drank my whole bottle of vegan wine (nope… didn't share that!) while successfully chatting and eating most of the veggie tray. It was a great night.
See you later, you little militant vegans!