I decided to dedicate an entire post to our meal at Trail's End at the Fort Wilderness Resort at Disney World. It was such a glorious meal, and I want to show you just how well you can eat at Disney World.  My family thoroughly enjoyed this experience, and if you make it to Disney World, I hope you get to dine here, too! (To make reservations go to:  My Disney Experience )♥  
From following the veg Disney Facebook page, I found out that it was a MUST to eat at the restaurant Trail's End at the Fort Wilderness Resort. This one sit down meal was the only Disney restaurant for which I made a reservation.  On the online reservation itself, I noted that we didn't eat dairy or eggs, just to give the kitchen staff a bit of warning.  While Trail's End serves a buffet, there is a special chef named Chef TJ who goes out of his way to accommodate vegans and others with a specialized diet.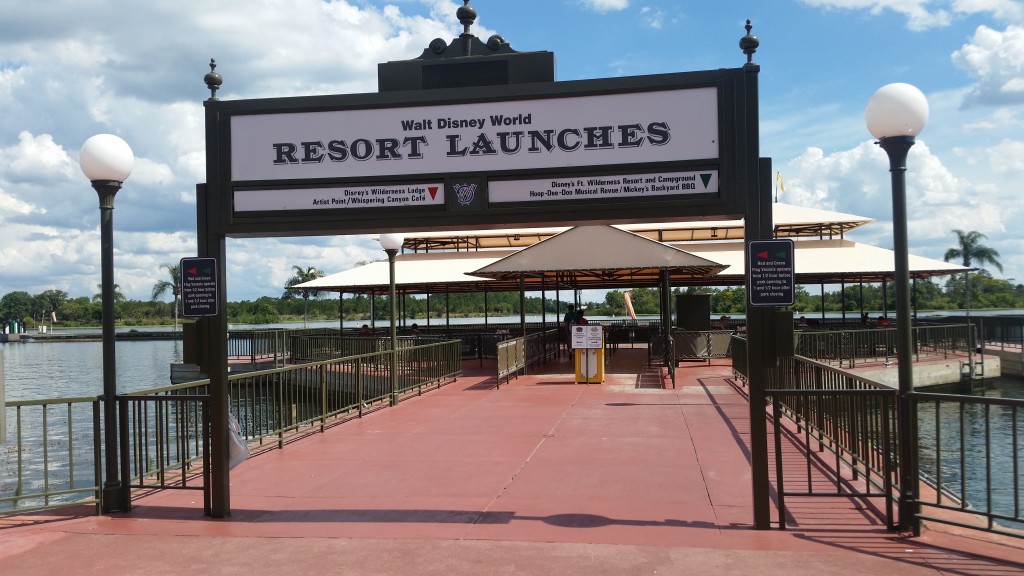 When we arrived at Trail's End, I reminded the staff of our dietary needs, and I asked for the chef by name.  They let him know that we were there, and that he would be out to greet us. It was such a special experience. Chef TJ took us through the entire buffet to point out the things that we could eat.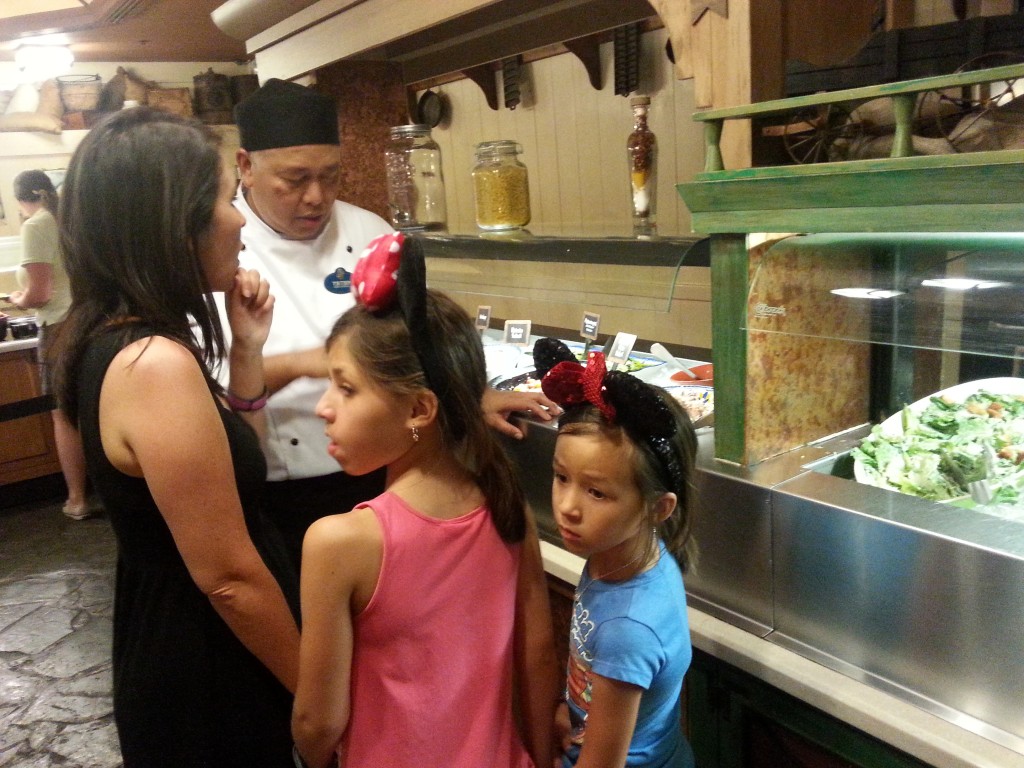 On the buffet itself, there wasn't a lot of options. HOWEVER, it didn't matter. We were taken care of.  I mean… completely taken care of. Chef TJ personally brought us a 5 course meal. I don't think I've ever felt so spoiled at a restaurant.  It was just such a wonderful experience.
Our first three rounds were all spectacular. It's my understanding, that no two experiences are exactly the same with Chef TJ.  All three of our appetizers were served with a coating or drizzle of barbecue sauce (with the exception of the samosas), which totally catered to my husband!  He is an avid barbecue sauce enthusiast! The appetizers were all delicious. Our first dish was a plate of roasted potatoes in barbecue sauce and samosas with sweet chili sauce.  Then came a large plate of nachos made with Chef TJ's homemade vegan cheese sauce and topped with fried onions and jalapeños which was then followed by an asparagus soup topped with a cheesy tomato bread.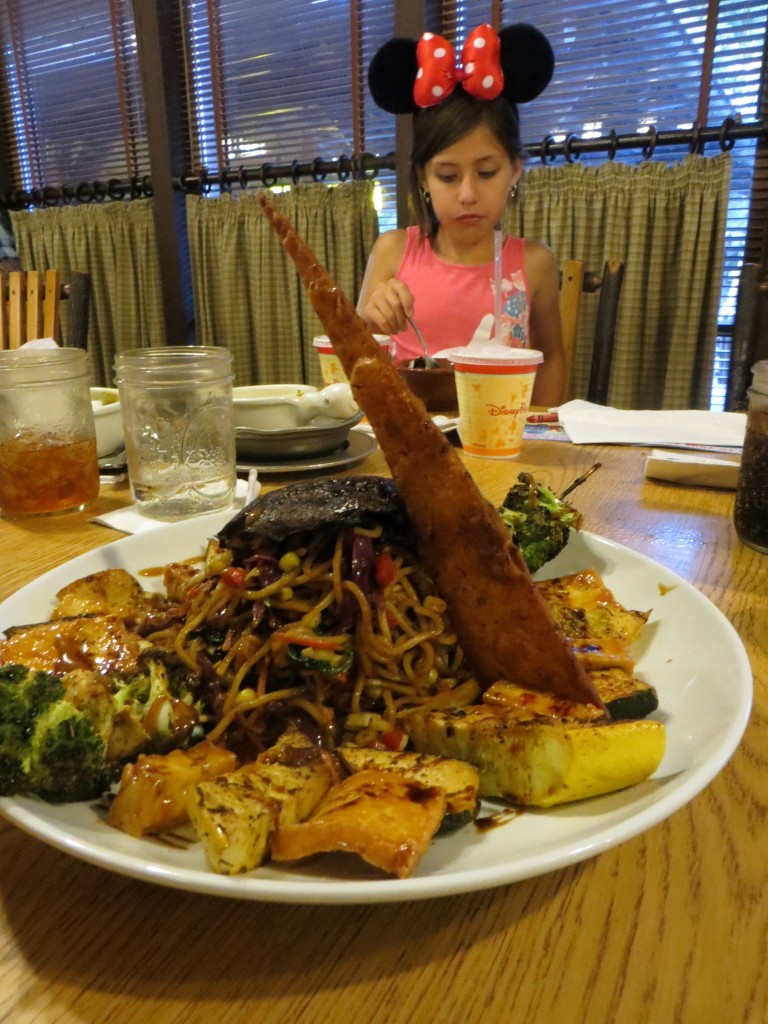 After three amazing starters, I was stuffed… and then Chef TJ brought over our main dish.  It was a gorgeous platter of noodles topped with a roasted portabella mushroom and decorated with grilled broccoli, grilled squash and zucchini, and fried tofu. The garnish was a savory deep fried tortilla. What a beautiful and well done dish.  Gosh! To say that we got enough to eat is an understatement. I was so full at this point, that I had a hard time eating much of this, and I knew that there was still a dessert coming.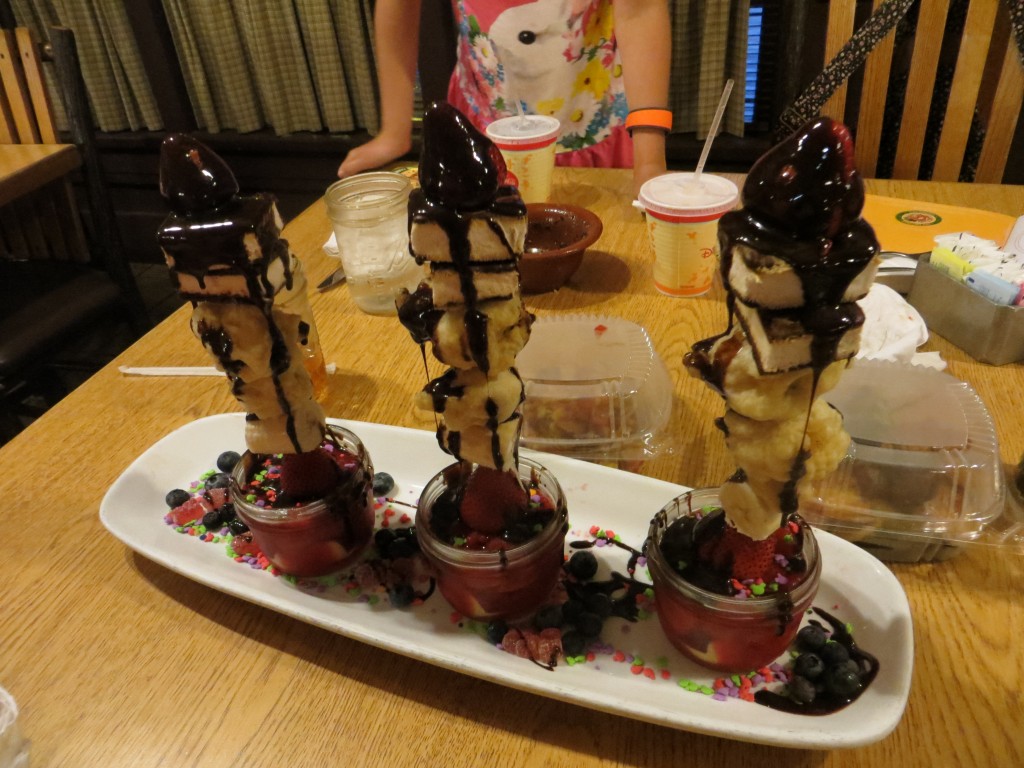 When dessert came, my mouth dropped. It was a beautiful skewered masterpiece of fresh strawberries, battered fried bananas, and vegan ice cream sandwiches. Chef TJ put the plate down, and then proceeded to pour chocolate sauce all over everything.  Talk about an experience! I don't think I had ever eaten this much… ever. My husband told me that our meal at Trail's End was one of the best meals of his life, and I may have to agree with him. Between the wonderful care by Chef TJ and the beautifully presented delicious food, I really can't think of a better dining experience. ♥