Most of the recipes that I post on Silly Little Vegan are methodically planned out. I make sure to carefully measure ingredients to ensure that they are near perfect before posting.  However, I thought that it would be fun to show the meals that I make for my family where I just kind of wing-it.  Tonight's dinner would be a classic example of how things work…. I must admit, I broke my own rules of home cooking by breaking out my measuring spoons…BUT… I forgot to write down the measurements in my notebook.  Oops!
Here's a bit of truth about my family.  My husband and I really enjoy lasagna… our daughters do not. So, to get around this little conundrum, I made a little lasagna for my husband and me to share and reserved some sauce to serve over spaghetti for the girls. Now, if you asked my mother… making two separate things would be a crime… but luckily… no one asked her (please don't tell mom!).
There are several ways to make a vegan lasagna. Some people use a store bought vegan mozzarella, vegan cream cheese, a creamy cashew filling, or even crumbled tofu. Take your pick… so many ways… with great outcomes. Today, I choose crumbled tofu to make a spinach and basil tofu ricotta, but since I was making a small lasagna, I only used 1/3 of a brick of tofu.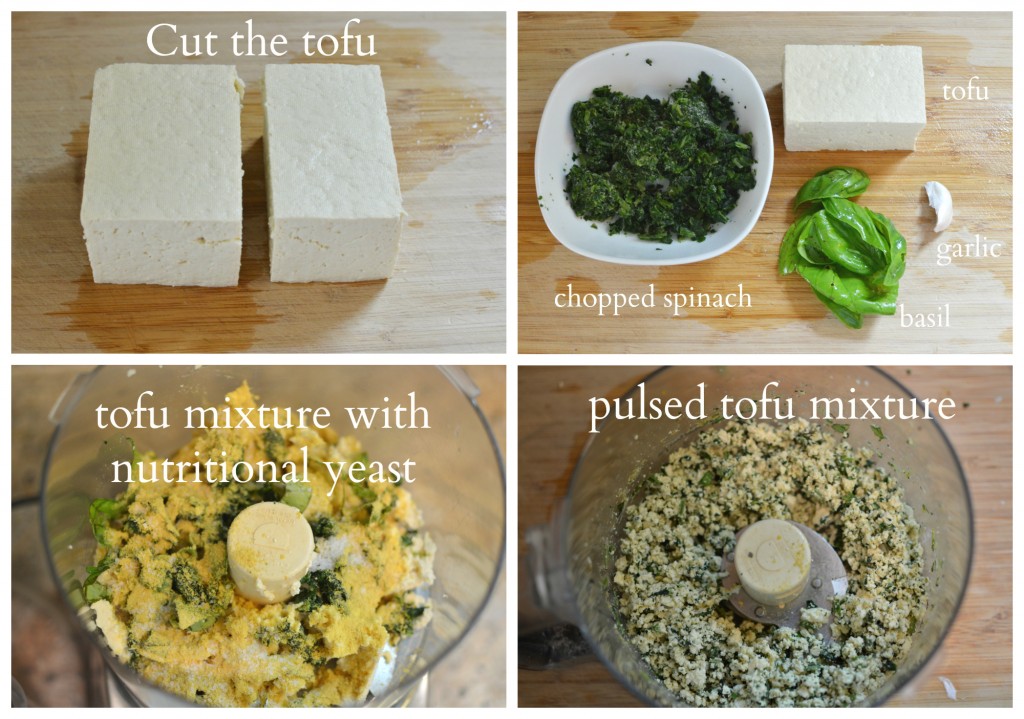 For the tofu ricotta filling, I pulsed the tofu with the other ingredients (chopped spinach, fresh basil, chopped garlic clove, and 1 1/2 tablespoons nutritional yeast).  If you prefer a smoother ricotta, blend the tofu in the food processor until smooth, and then pulse it with the remaining ingredients.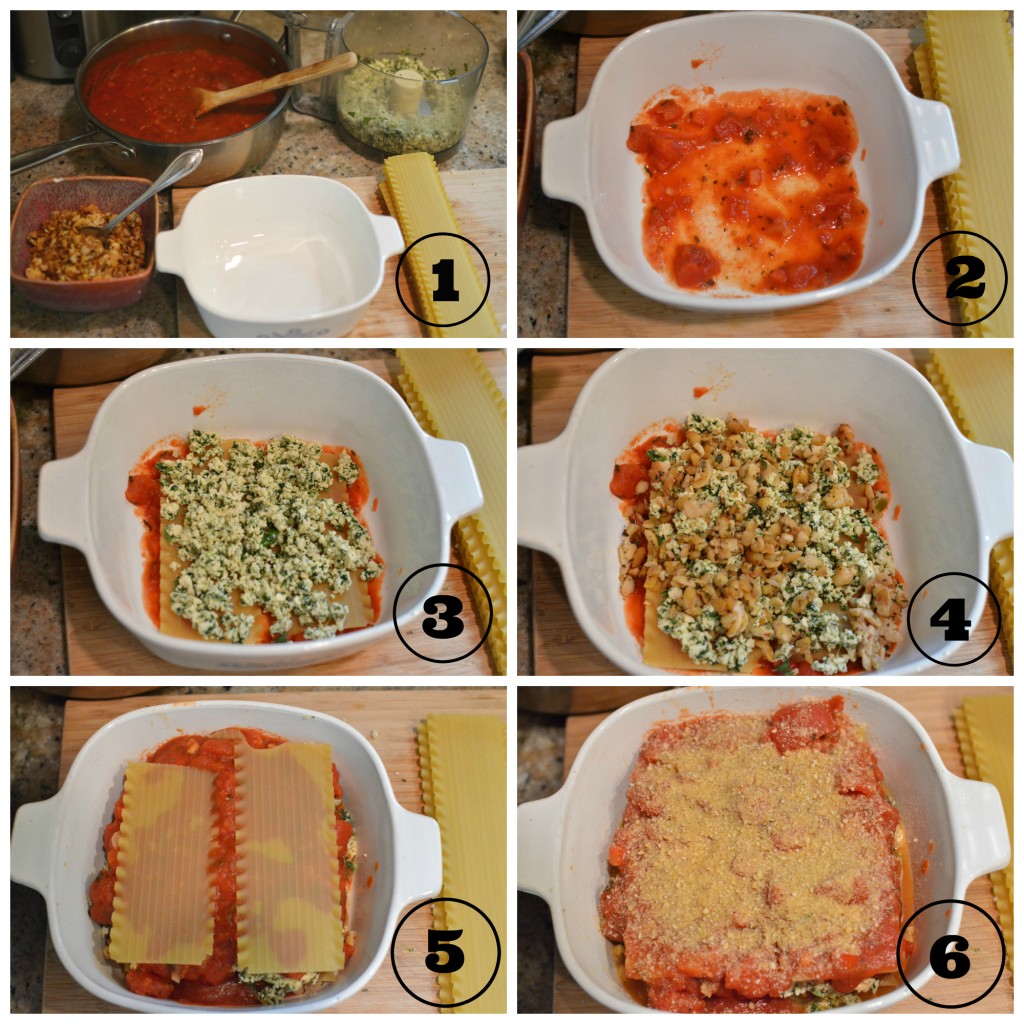 Assembling a vegan lasagna is just like making any lasagna. Start with the sauce, then pasta, then ricotta (or whatever non-dairy cheese you prefer), and sauce.  For a little something special, I added a layer of tempeh Italian sausage (recipe here) that I whipped up while my sauce was simmering.  I only needed a little tempeh, so the rest will be stored in the fridge until pizza night. Then the lasagna baked at 375 F for just under an hour while covered with foil.  Let sit for about 10 minutes before serving.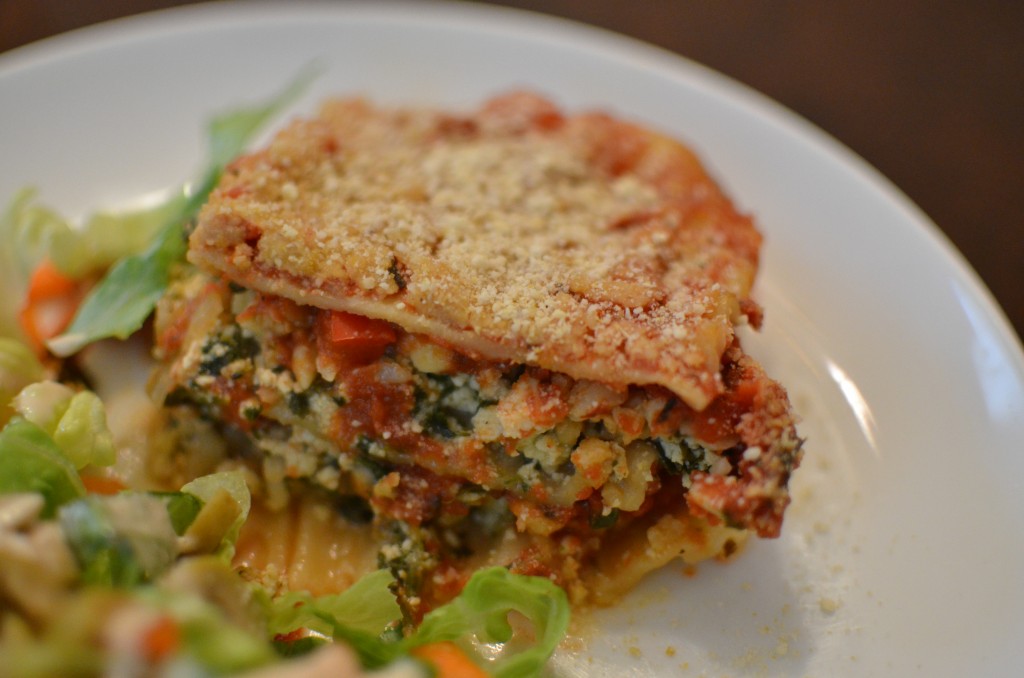 I made a bonus dessert for the family tonight.  Since I had leftover coconut whip cream in the fridge, I made a dozen chocolate cupcakes to eat it with.  When the cupcakes came out of the oven, I broke them in half and put fruit and the coconut whip in the middle and then served it in a little glass (with more whip, fruit and mini chocolate chips on top). Basically, I made little personal sized trifles. How Food Network of me! Tehee  ♥