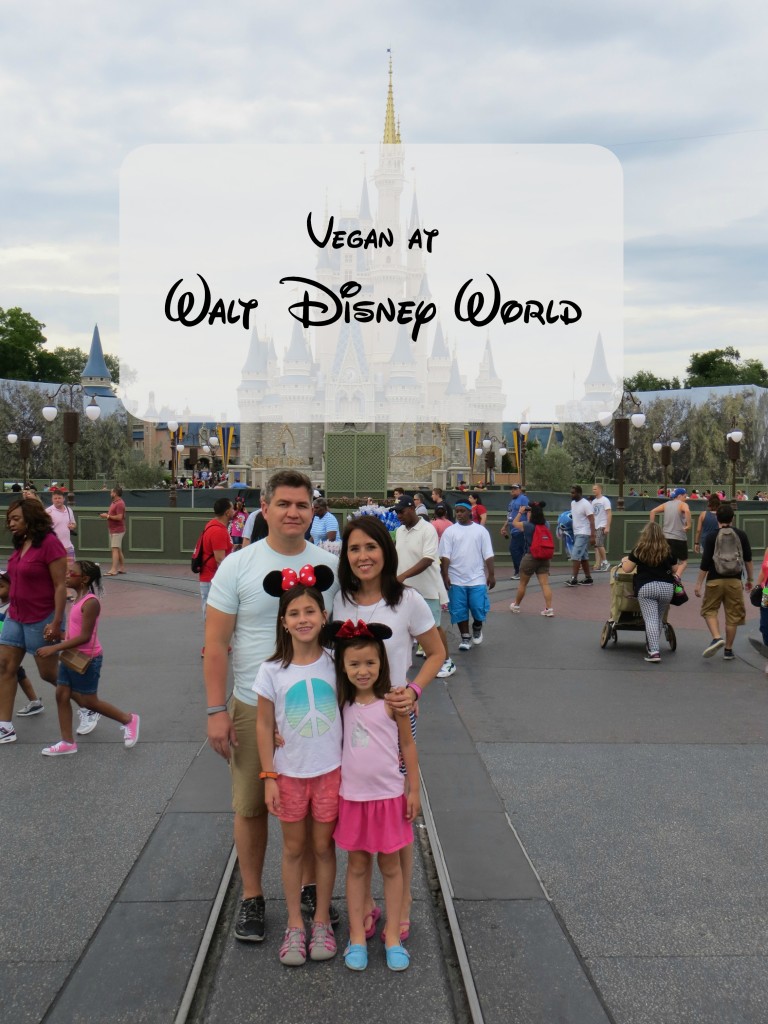 As I write this post, I can't believe that our trip to Disney World is over.  After months of preparation, our family spent just under a week at Disney World.  I collected ideas from Pinterest, started following the blog Vegan Disney World,  and became a member of a veg Disney group on Facebook… all to figure out how we would survive several days as vegans.  What I realized from researching this trip was that it was definitely do-able.  Disney World has vegan options throughout their different parks.  After I got my bearings, I decided to not sweat it, and just go and have a great time.
Before leaving for our trip, I packed nuts and dried fruit, Cliff Bars, and Fig Bars to use as snacks at the theme park.  Also, when we got into town, we stopped by Whole Foods to pick up some breakfast staples. 
Every morning we started our day by eating cereal and fruit in our hotel room. In addition to breakfast foods, we purchased peanut butter, jelly, bread, vegan bologna, hummus, and carrots, for the days that we didn't feel like eating Disney World food.  (Note: we did not purchase condiments like ketchup and mustard, because we were able to find packets of these at the park)
I must admit that snacks were fun at Disney World.  My favorite treat for those hot and humid afternoons was Dole Whip. If you've never tried it, Dole Whip is sweet pineapple soft serve found in Adventureland, at a quick service spot called Aloha Isle. To kick it up a notch, my husband and I had it as a float which meant that it was served over pineapple juice.  We also enjoyed other snacks at the park like popcorn, pretzels, and fruit.
In addition to snack foods at Magic Kingdom, we were able to find vegan meals. For example, at Pecos Bill Tall Tale Inn and Café in Frontier Land, they offer a mushroom sandwich (pictured below) and fresh fruit (not pictured). We only had this sandwich once… it was decent, but not worth having twice.  Also, we stopped at Cosmic Rays Starlight Café for lunch and dinner, and dined on their vegan burger (not pictured) and piled it high with topping at their toppings bar.  Besides quick service meals, we made one reservation for a sit down meal and enjoyed one fabulous meal at Trails End at the Fort Wilderness Resort (review coming soon!!!).
While we spent most of our time at the Magic Kingdom, we spent a few hours one afternoon at Epcot and were able to find meals that contained GARDEIN!  That was so exciting!… In particular, in the building The Land at the restaurant Season's, they offer a Tamarind Vegan Stir-Fry that has Gardein beef. It was gingery and very tasty! Besides the Gardein dish, we bought some fresh fruit and chocolate soy milk.  It was a nice little quick meal/snack. I was really pleased with the options at Epcot, and I wish that the other Disney parks had more options like this (and clearly labeled as vegan).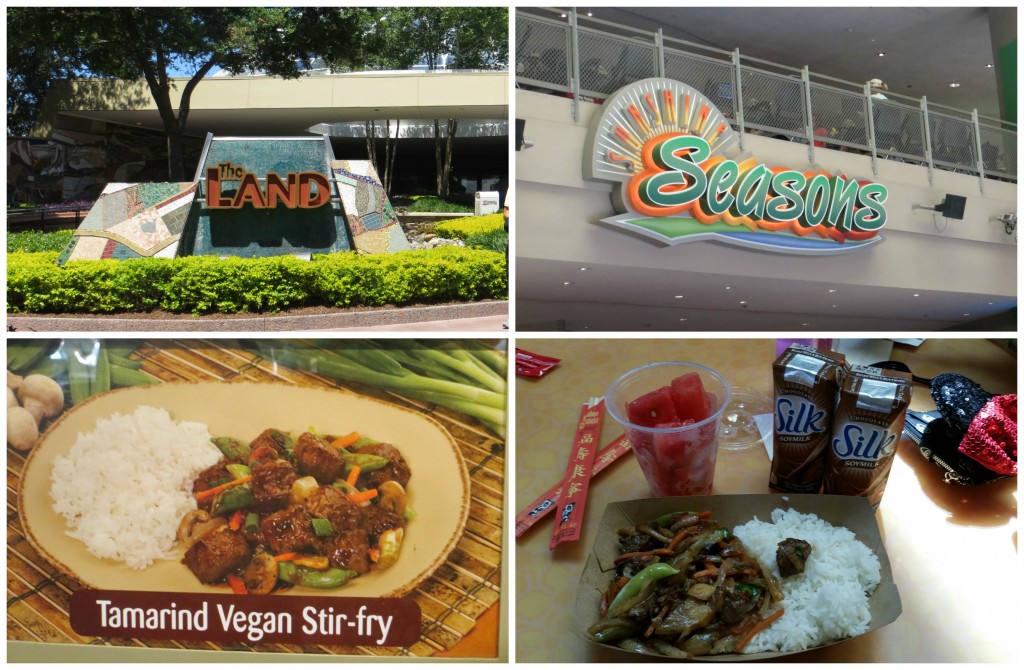 While at Epcot, we also ate at Tangierine Café.  This restaurant is a counter service spot that specializes in amazing Mediterranean food.  I ordered the Vegetarian Platter, and it came with falafel, lentils, tabouleh, couscous salad, olives, and pita bread. Everything on the plate was delicious, and since getting back home I have been inspired to make tabouleh!
Overall, I loved our visit to Disney World and would jump to do again.  To walk around without a care in the world and just watch my children have this experience is something that I will forever hold dear. Happy Summer Everyone!!!   ♥