The eggs came to my daughter's school in a cardboard box. There were a total of 75 eggs. and they were distributed between the second and third grade classrooms. The children were really excited.  Me… not so much.  The thought of hatching chicks in an incubator, away from their mothers just seemed so wrong and artificial.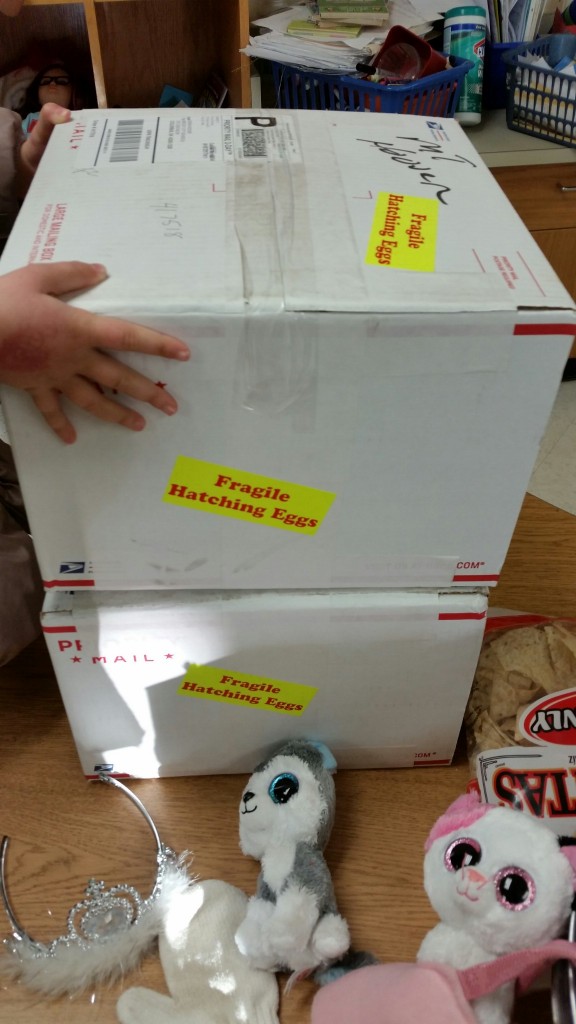 My daughter's teacher had expressed his excitement about the lesson and sent an email to the parents to let us know that the chicks were up for adoption when the lesson was completed.  There was one stipulation…. ROOSTERS are not allowed in our community.  We were informed that any unwanted chicks would go to the local university's extension program and placed at local farms.  Essentially… a death sentence for all of the males. 
The children anxiously waited for the chicks to hatch through one of the harshest winters, and within a few weeks… 7 chicks hatched in my daughter's classroom. All of the children were so excited about the little fluffy animals. They held them, named them, and they taught the younger kids in the school about them. My oldest daughter fell in love with one chick in particular, and she named it Brownie.
The class was able to keep the chicks for a total of 2 weeks at school, and then they were distributed among the families.  Against my daughter's wishes, our family opted out of adopting a chick (she soooo wanted one!).  I was never a fan of this project, and I know absolutely nothing about raising chickens. However, I was thankful that Brownie was adopted.
Last week, my daughter and I were walking home from school, and she sadly told me that Brownie is a boy along with Tyson, the other chick adopted by the same family (at this point, the chicks were about 5 weeks old). My children know the difference between a farm and a sanctuary; we've had this talk several times, so she knew that Brownie would not get to live very much longer. I told her that I would do my best to rescue Brownie and secure a home for him at Sunrise Sanctuary. While I knew this could be difficult, I also knew that it was possible….
Before I had a chance to contact the mother who had Brownie, she sent along an email to invite the children over before the chicks were sent away. I immediately emailed her back and asked her if she would give me both of the chicks. She responded that it was still too early to sex them and that they would be going to a relative's house. The chicks would be kept as long as they were laying, and then the chickens would be eaten. My heart sank, and I cried quite a bit that afternoon. I had become emotionally attached to animals I didn't know because I knew that the chicks were important to my daughter.  It was such a difficult afternoon because I had actually secured a home for Brownie and Tyson only to be told that those chicks already had their deaths planned. I felt like the school had betrayed my daughter. They brought these chicks in, they let her name him… they let her fall in love with him… and this love and trust was about to be shattered.
I spent the afternoon emailing the mom back-and-forth trying to convince her to let me have them and also emailing the ladies at the sanctuary (to keep them in the loop).  I was so determined to save Brownie and Tyson. In the end, the mom said that there were actually four chicks, not two, and that she would ask the relatives if they would release the chicks to me. She expressed that it was ultimately up to her relatives as to whether or not I could give them to Sunrise.  I spent all of Friday freaking out every time my phone went off nervously waiting for an email from the mom…. and then the next day… still freaking out…the whole thing of not knowing was really upsetting.
…. and then we went to their house to see the chicks for possibly the last time…  and that's where we were told… WE COULD HAVE THE CHICKS!!! To say that I was happy is an understatement. Persistence, in this case, paid off! ♥
It was such a nice moment for my daughter to see and hold her favorite chick again. However, I noticed that the talons were deformed on one of his feet and he hobbled a bit, and it made me wonder if his deformation had anything to do with being hatched in an incubator.  This was a really cold winter… did the teachers bring home the chicks every weekend or return to school regularly even during our snow days to make sure the eggs were constantly rotated?… I don't know.  I know that deformities can happen when chicks are raised in an incubator, but like I said… I don't know chickens… and I will never know why it happened.
While this story has a happy ending… it makes me wonder how many chicks from this school program are not so fortunate?… How many parents before me went scrambling to find a safe place for their roosters to live? How many parents got in over their heads with these chickens and ended up financially responsible for a class project they didn't properly prepare for? For me specifically, how many more chicks like Brownie will there be?…because I know that I  can't rescue a beloved chick year after year with both of my daughters.
These hatching programs are a burden to animals rescues across the country, and at my daughter's school, the teachers send them off after completing their lessons to an uncertain future. Out of sight, out of mind… I suppose. I only wish that the very teachers that try to teach kindness and responsibility with the care of animals would take deep consideration about what responsibility means.  Instead, they have essentially burdened people and organizations who actually care about the animals' welfare. I will say this, while we adopted none of the chickens, I took the responsibly of rescuing four of them, our family will financially support these chicks through monthly donations to help take care of each them… animals that I never wanted brought into the school in the first place….
So, while I feel like this lesson showed my daughter that we live in a world of contraditions where animals are concerned, I think it more importantly showed her the lengths that we should go to protect our children and other living creatures. ♥  *vegan for the love of this world 
Note: Children love animals. Plain and simple. While the parents of the student told their child that their chicks would become supper, and they assured me that their child knew the difference between food animals and pets… this child asked his/her father if the sanctuary could save ALL of the chicks. If that doesn't show the school how difficult discarding these animals is to these children, what does?…