Yes, I did this. I felt like I had to. It has all of the makings of a perfect protein rich meal. It even looks beautiful. Just look!… By the way, on top of the protein rich quinoa (9 grams per cup) and adzuki beans (17 grams per cup), I pumped up the protein content even MORE by adding walnuts and a little ground flax for good measure (Omega-3s baby!)… and people wonder where we get our protein!?!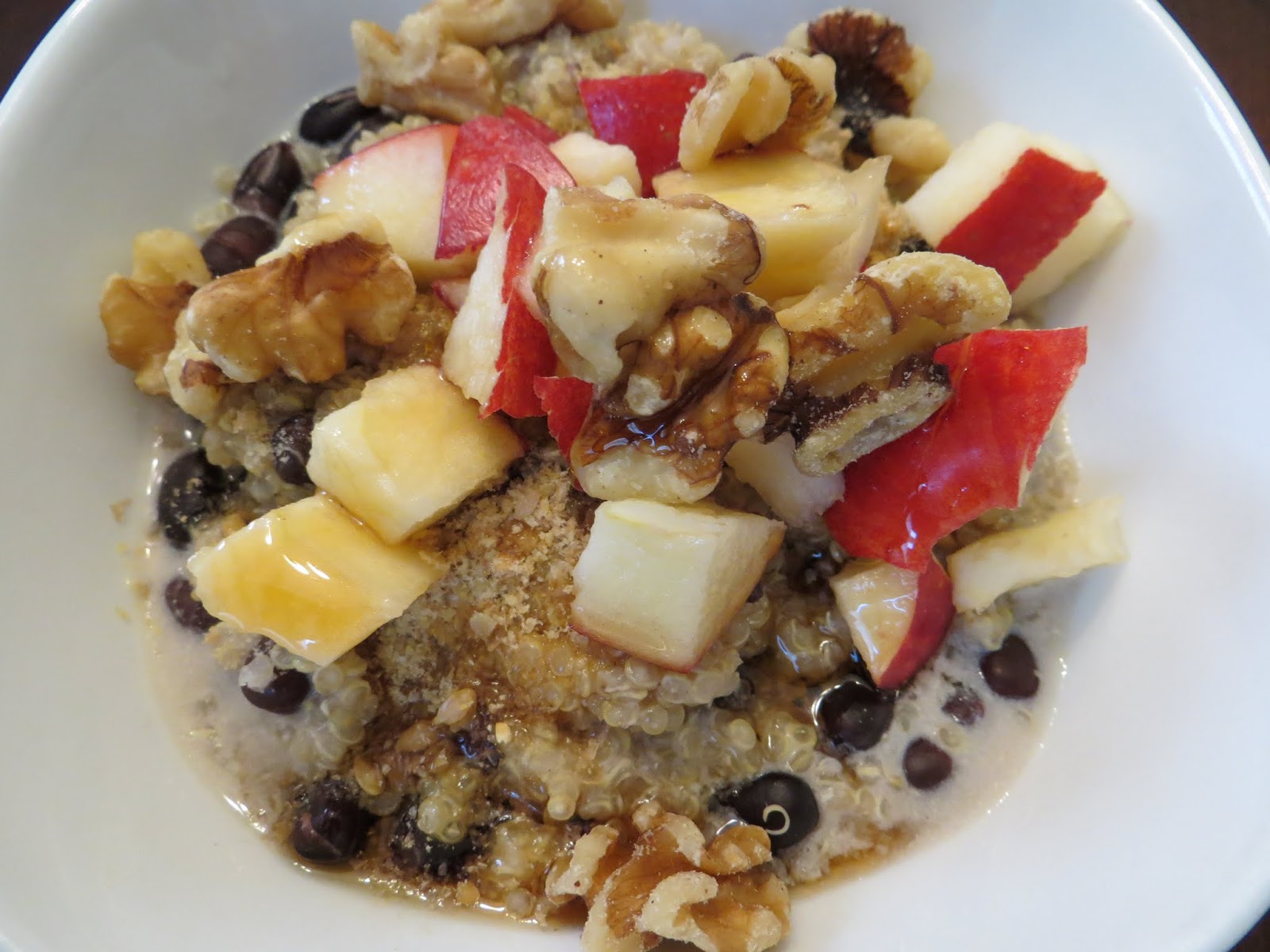 This is the food of Super Vegans. Come on… believe me, it is. You have your quinoa… this perfect little gluten-free protein that no one's parents can pronounce. Say it with me dad, "KEEN-WAH". Just kidding. Then you have adzuki beans. These really just look like little back beans, but they have a rockstar name. Who would combine foods like this, but a Super Vegan?
Okay, so maybe you're wondering how and why I came up with this idea. This is my thought process. Are you ready? This is a example of how my mind works… On Pinterest (I'm on there… look for me!), I've seen many pictures of quinoa being used to replace oatmeal. So, that's just been bubbling in the back of my mind for ages waiting for inspiration. Here comes the adzuki bean part… I saw Dr. Fuhrman talk about the wonderful benefits of these little beans. I won't go into detail, but think health and weight loss. When I think of these beans, I think of my childhood eating red bean paste pastries from Chinatown. They're yummy and sweet and seemingly perfect for breakfast. Somehow these trains collided to create this breakfast.
The most important thing about this is the outcome… Was it good?… Yes. However, let me be honest, I do have a little complaint. I think it lacks the creaminess that oats provide, but that didn't stop me from finishing my bowl and eating it again the next day. I gave my husband a bite to try and he said, "It needs pineapple." That's a totally different adzuki bean story that I might share later that involves shaved ice and food carts in Taiwan.
Adzuki Bean Preparation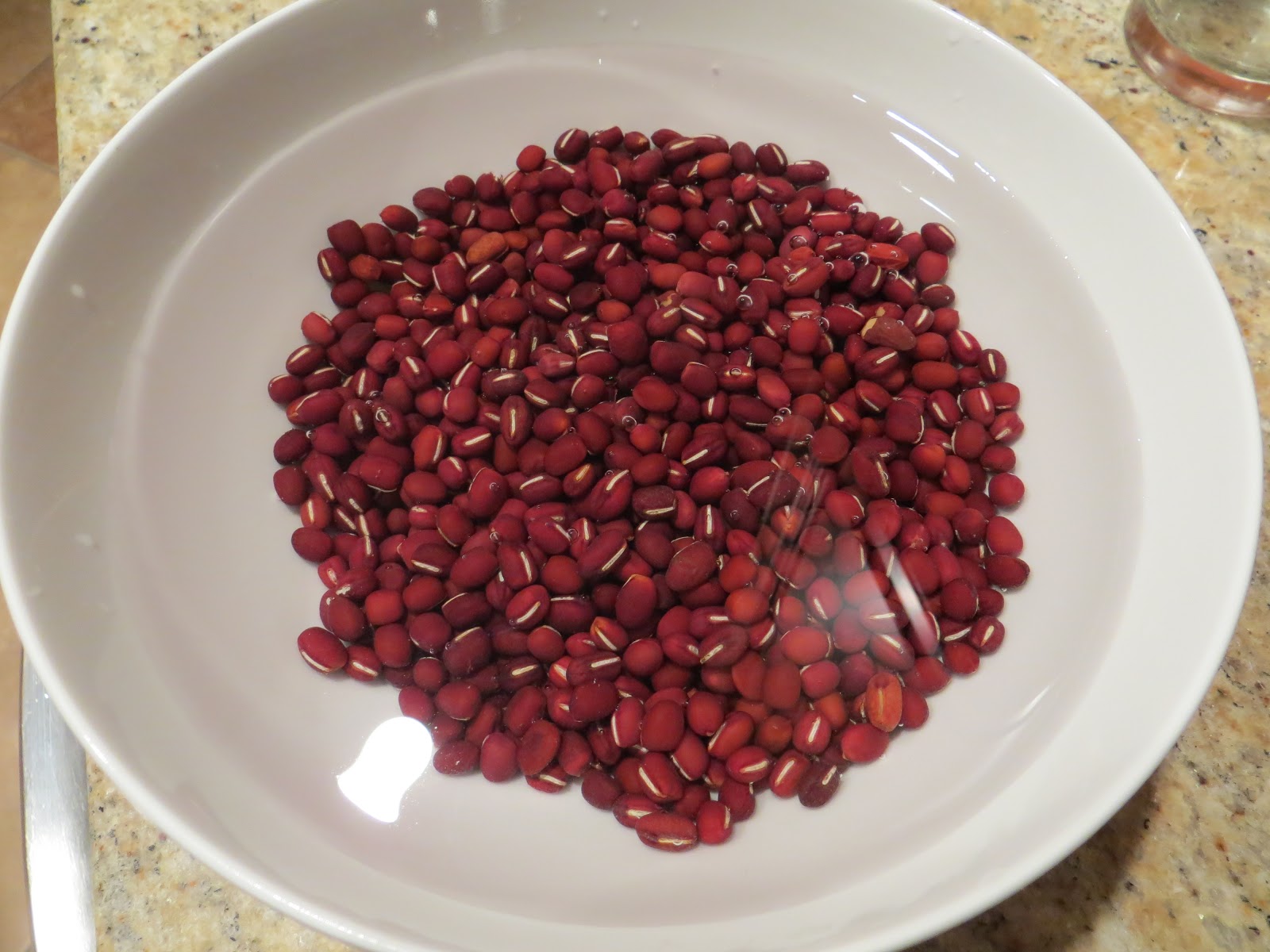 So, before my breakfast recipe, why don't I start with, "How to Cook Adzuki Beans." These beans can be found in the bulk section of your local health food store. For this recipe, you will not be using that many beans, so keep that in mind when soaking.
Place the beans in a bowl and fill it with enough water to cover it by an inch or two. Let them soak in the refrigerator overnight. Drain beans in the morning, and place them in a pot. Cover beans with fresh cold water so that it covers them by 2 inches and let them come to a boil. After boiling, lower heat to a simmer with the lid cracked for ventilation. Simmer for 1 hour. I like these beans more on the REALLY tender side. I probably cooked mine for about and hour and a half.
I use a 1:1 ratio of dried quinoa to cooked beans. So, for 1 serving of quinoa it was 1/4 cup dried quinoa and 1/4 cup cooked beans. I would make more than one serving of adzuki beans, because cooking dried beans takes a lot of time for only using 1/4 cup.
Breakfast Quinoa with Adzuki Beans
This dish is a great way to start your day! It tops out at about 20 grams of protein, making it perfect for all of you vegan weightlifters (both of you)!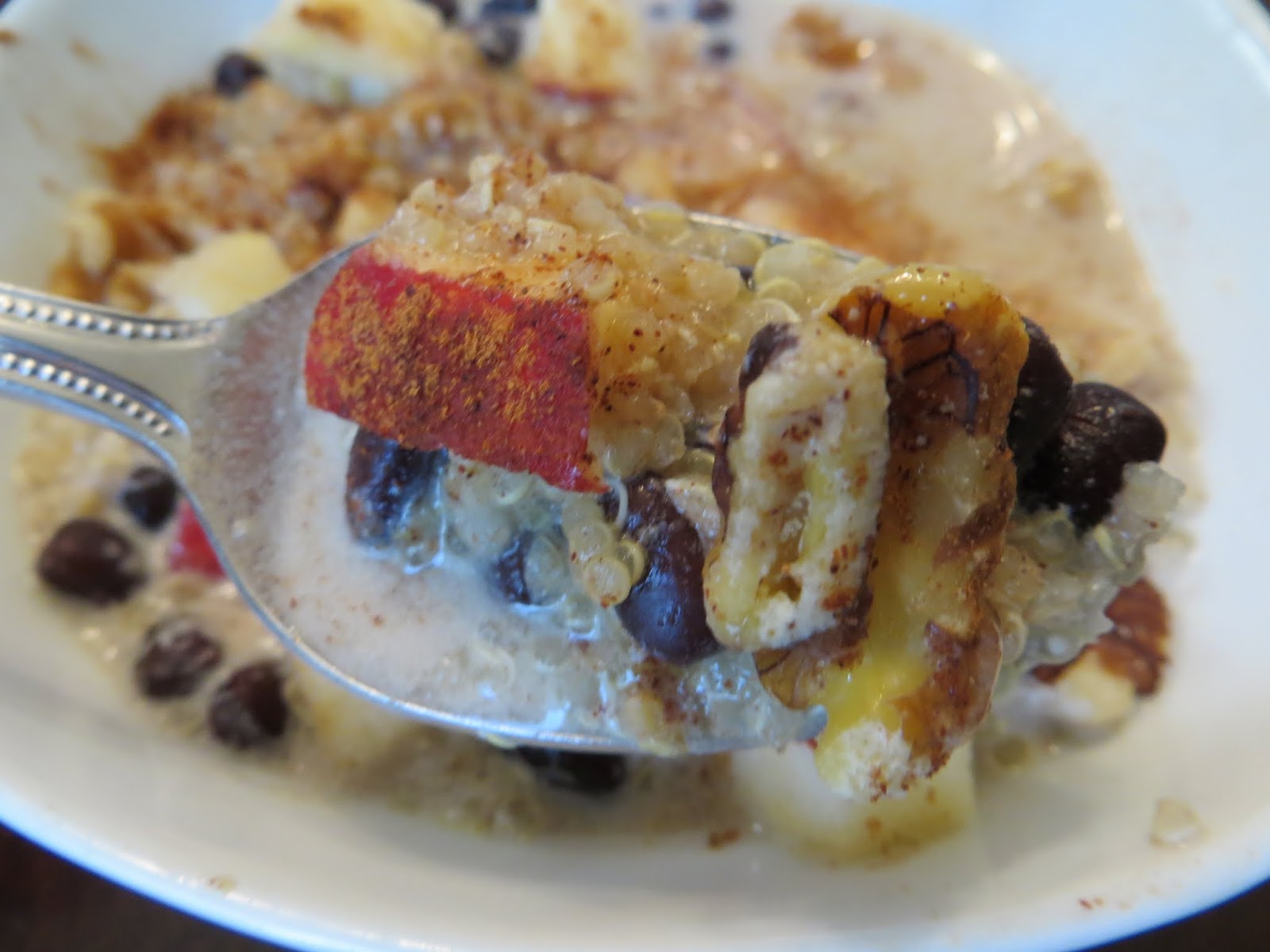 Click HERE for printable recipe.

Ingredients
Serves 2
1/2 cup quinoa
1/2 cup cooked adzuki beans
1 cup nondairy milk
1 teaspoon vanilla extract
Toppings per bowl
1/4 cup chopped walnuts (optional)
1/4 cup chopped apples
1 tablespoon ground flax
cinnamon (to taste)
drizzle maple syrup (to taste)
additional nondairy milk for serving (Optional)
Place quinoa, adzuki beans, vanilla, and milk in a pan and bring to a boil. Turn down the heat to simmer and cover the pan with a lid. Let simmer for 10-15 minutes, until most of the liquid has evaporated. Place cooked quinoa in two serving bowls and top with the remainder of the ingredients.
Note: I realize this dish is kind of weird but, I really hope you like it! Bon apetite!


Follow me on Facebook and Instagram !!