This blog is part of a series that followed my journey of eating vegan on a budget for an entire month. My goal was to only spend $15 per person for a family of four each week. This left me with a grocery budget of $60 per week. I was allowed to use any items already in my refrigerator or my pantry to accomplish this goal.
Okay. Here is my looooong overdue wrap-up of my month long experience living on a $60 a week food budget. The whole process was really eye-opening. During my third week on the budget, I stayed within the $60 by a couple of dollars (either over or under… I LOST SOME OF THOSE RECEIPTS!!!…). However, I caught a really bad cold that week. It was difficult to keep track of everything while I was sick. I was sick enough to want to curl up in bed for about five days. I did not get to do that. I think I got to live on the couch for a day. So, staying near budget was a great feat considering my condition. I only wish I knew how well I did. All of those receipts probably got lost with my cloud of crumple tissues.
On week four of my budget, I went WAY over budget. The amount over was about ten dollars. To me, that was extremely high, but I accepted it for what it was. My scenario went something like this:
Laney: Mom… I like hummus with pretzles, now.
Me: What???!!?? Really?.. Okay. Let me buy the largest tub I can find.
Then, off to Costco I went.
So, you see. I really had no choice, I was under the influence of my children. For our fourth week, we had some really delightful meals. There were some ingredients that came directly from my pantry and some fresh items from the grocery store. Pantry items included: pasta (of different shapes and sizes), vital wheat gluten (for making seitan), flour (for pizza dough), fried onions (for barbeque pizza), and canned beans for chili. We were also still taking advantage of our backyard garden. Our garden was still giving us zucchinis and tomatoes.
Take a looksee of the dinners that I prepared for week four: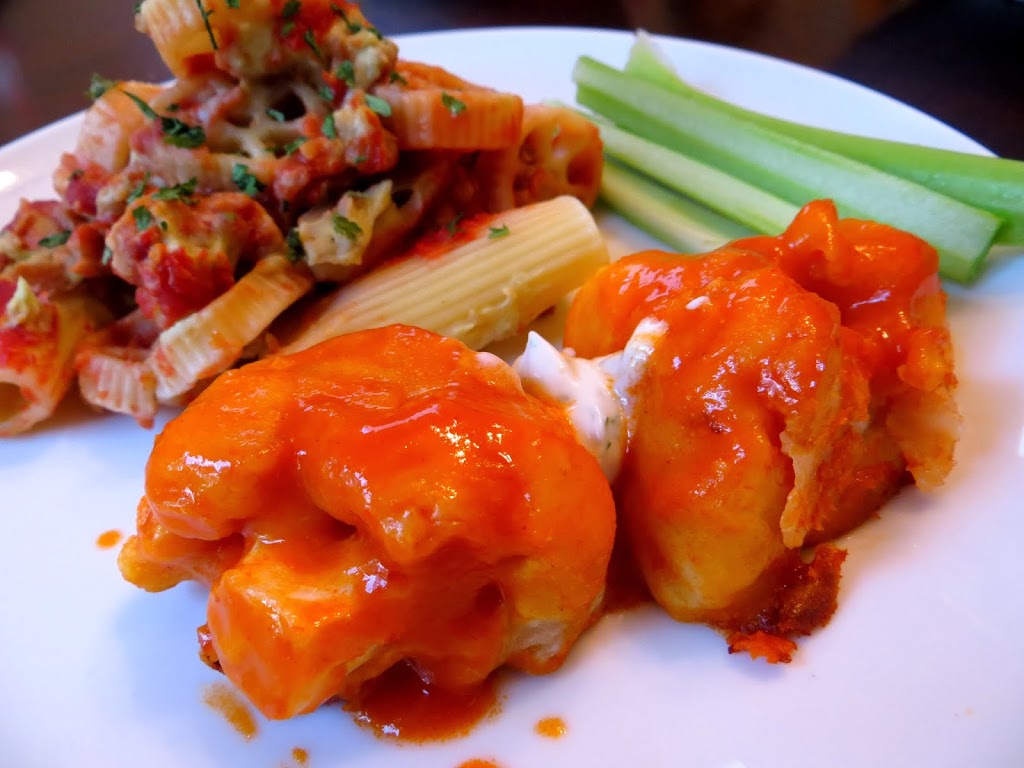 Country Casserole, Buffalo Cauliflower, and Celery Sticks
The Country Casserole, was a meal that I just put together. I'd say that it was a bit of a pantry meal. I used up whatever noodles that we had in our pantry (you can see at least two kinds of pasta if you look closely). The pasta was layered with cashew/raw zucchini cream sauce, seasoned tomato sauce and sautéed TVP with onions. (TVP = Textured Vegetable Protein… bought dried and in bulk from Whole Foods).
Buffalo Pizza with Cesar Salad and Fried Green Tomatoes
For this meal, the green tomatoes came from my garden. The pizza is really affordable because I used my own recipe for pizza crust. The sauce for the pizza is just store bought barbecue sauce. Then it was topped with onions, red peppers, homemade seitan, and fried onions.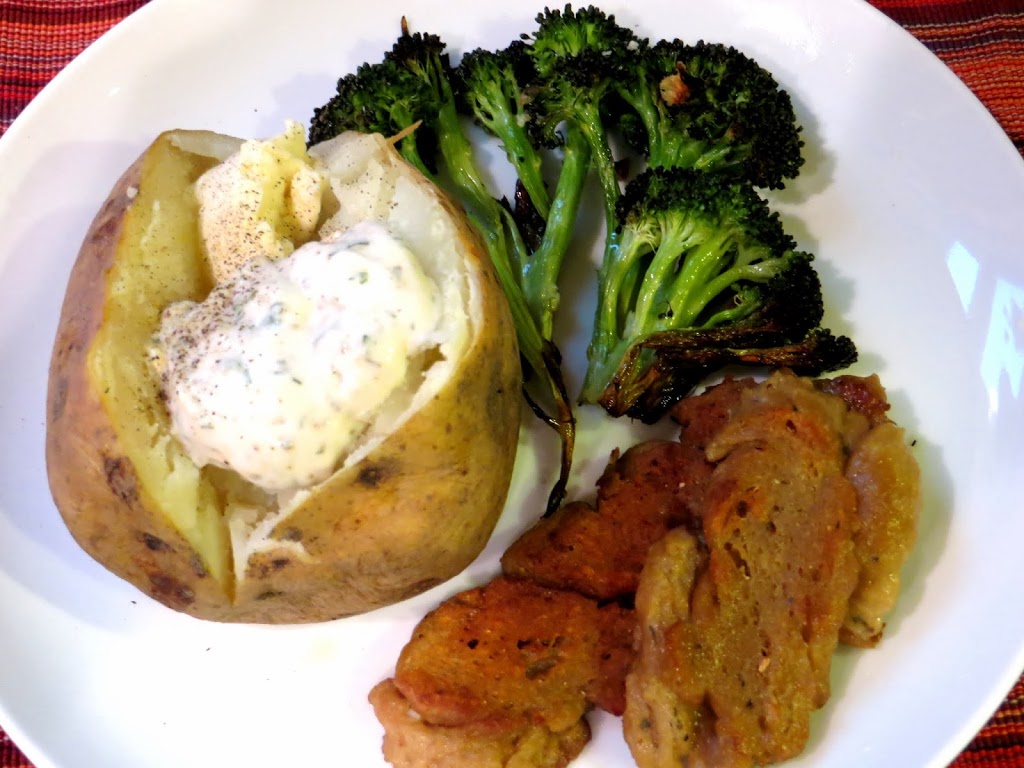 Pan Seared Seitan, Oven Roasted Broccoli, and a Baked Potato with Homemade Vegan Ranch Dressing
I made the seitan from vital wheat gluten in my pantry. Actually, making seitan at home is really affordable. I use the "Subscribe and Save" program through Amazon.com to purchase a 4-pack of seitan that I have shipped directly to my house every few months. The sour cream was made from Vegenaise, raw apple cider vinegar, and spices.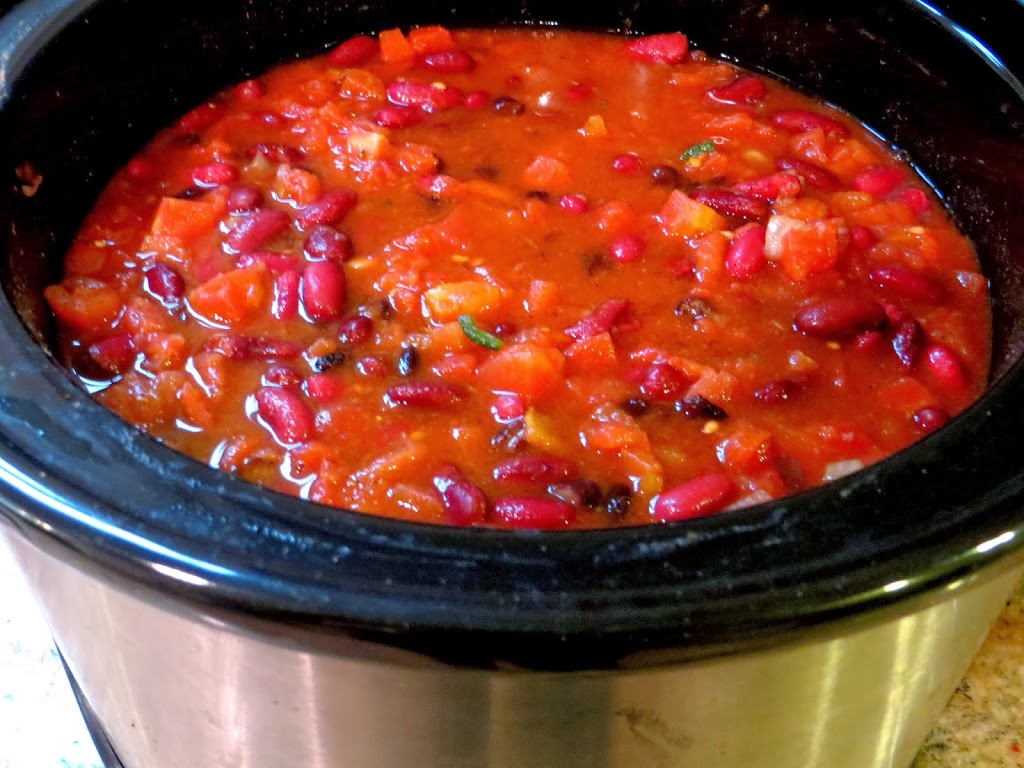 Crockpot Chili
Chili is always a great meal to make. Most of the items came directly from my pantry. It consists of canned tomatoes, beans, onions, peppers, and spices. We served the chili with oven fries, cheese sauce, and macaroni noodles. The cheese sauce recipe that I use is a modified version from the cookbook, "Vegan Comfort Foods," by Alicia Simpson.
I must admit that I'm really happy to be done with this budget. I realize that I stunk at staying within budget during my last week, but I did what I could. I still felt like we ended up a bit short for food sometimes. There were definitely complaints, but we made do as best as we could.
If there was anything that I learned from this experiment is the importance of menu planning. Just going to the store with a list of EVERYTHING that we needed, made a huge difference. It was also important to stick to that list. It was hard at first to resist buying extra items, but during this process I realized that we were just wasting food when I bought things that we didn't actually "need". We ate pretty well, and saved quite a bit of money…. which is always a good thing. This is something that I think that we will be doing again now that we are heading into the holiday season. We could definitely benefit from eating frugally during a time of holiday spending!
Thanks for following my journey!…