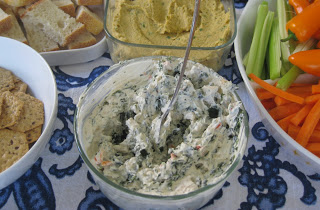 If you're like me, you have memories of having spinach dip in a bread bowl. You know that classic stuff that you add your mayo, sour cream, and your dip mix… then…POOF!… you're done. Well, I recently had vegan spinach dip and it instantly brought me back to the past. I couldn't figure out how they made it. Was it tofu and soy milk?… It was just so rich and creamy, and if I hadn't have been at a vegan potluck I would've seriously thought that I just had dairy and egg products. I took a look at the recipe card, and it was just simple substitutions. As I mentioned in my previous post about making vegan substitutions, the substitutions are pretty-much 1:1 (vegan for non-vegan products).
This recipe takes no real cooking ability. It really takes no creativity. All that this recipe really takes is your ability to STIR…. and WAIT. I am posting this recipe to show you just how easy these substitutions can work.
Here we go:
Ingredients:
1 – cup Vegenaise
1 – 12 oz. container of Tofutti Sour Cream
1 – 8 oz. can of water chestnuts (chopped)
1 – 1.8 oz. package of vegetable soup mix (Kors)
1 – 10 oz. package of frozen spinach (thawed and squeezed dry)
Directions:
Thoroughly mix all ingredients together. Let sit for 30 minutes. Serve with bread or crackers. This is also really delicious with veggies. Bon apetit!
Click HERE for printable recipe.