I love just how economical it is to make pizza. It is a perfect meal if you're on a budget. Homemade pizza is definitely a family favorite meal at our house. This recipe enough food for a couple of nights. The pizza dough only consists of a few ingredients: flour, sugar, yeast, and water. If you'd like, you can even flavor the dough. When I want to change things up a bit, I'll add some garlic powder to the dry ingredients.
I'm sharing with you all of my recipes for pizza night. Which includes the dough, sauce, and tempeh sausage. ENJOY!
Pizza Dough
Be prepared. This recipe requires letting the dough sit through two rises. Total preparation time is approximately three and a half hours. Below is my recipe for making two 12 inch and two large sheet pizzas. Despite the time, this method of dough preparation is really easy because it uses a food processor. The food processor will do the kneading for you. This recipe will feed a VERY hungry family of four for two nights.
Ingredients
4 cups unbleached all purpose flour
3 teaspoons active dry yeast
1 1/2 cups water
1 teaspoon salt
2 tablespoons extra virgin olive oil
1 abundant teaspoon sugar
Preparation
Note: for this recipe, I heat the oven to 500 degrees. You will not need to preheat the oven until the dough has sat for over two hours.
In a mug or small bowl, add yeast, sugar, and 1/4 cup hot water (approximately 105 degrees). Let sit for 10 minutes. The yeast water should get frothy and have doubled. If it's not frothy, check your water temperature or you may need new yeast.
In your food processor, add the flour, salt, 1 tablespoon extra virgin olive oil. Process for a few seconds to mix ingredients. Add in your yeast mixture and pulse a few times. Next, turn your processor on and slowly add water through the feed tube of your processor. You may not need all of the water or you may need a few more tablespoons. Your dough will first be crumbly as it processes. Then, as you gradually add water, it will combine into a hard dough. Total process time is approximately 2 minutes.
Prepare a large glass bowl with 1 tablespoon of extra virgin olive oil. Take the dough out of the food processor and make into a large ball. Place pizza dough into the bowl and spin it around in the oil until all of it is covered by oil. Place a damp kitchen towel over the bowl with the pizza dough and let it rise for two hours. After two hours, put the dough on a floured work surface and cut dough into 4 or more pieces. First I cut the dough in half, then each half is cut so that one dough is cut into 1/3 and the other into approximately 2/3s piece. Roll each piece of dough into a ball, and leave some space between each dough ball to rise. Place damp towel over the rolled dough balls, and let them sit for one hour. After an hour of sitting, roll out dough directly in your pizza pan. I generally use corn meal instead of flour to roll the pizza dough, but use flour if you prefer. Any unused dough can be wrapped in plastic wrap in stored in the refrigerator for two to three days. When ready to use refrigerated dough, let it sit on the counter at room temperature for an hour or so.
About twenty minutes before you are ready to bake your pizza, heat your oven to 500 degrees. After your pizza is rolled and topped with your toppings, place the pizza on the middle rack of your oven. After baking for 5 minutes, place your pizza on the top shelf. Let bake for about 4-5 minutes. Keep an eye on your pizza so that it doesn't burn. Total bake time is approximately 10 minutes for a nice crispy crust. Just keep an eye on it, it cooks fast.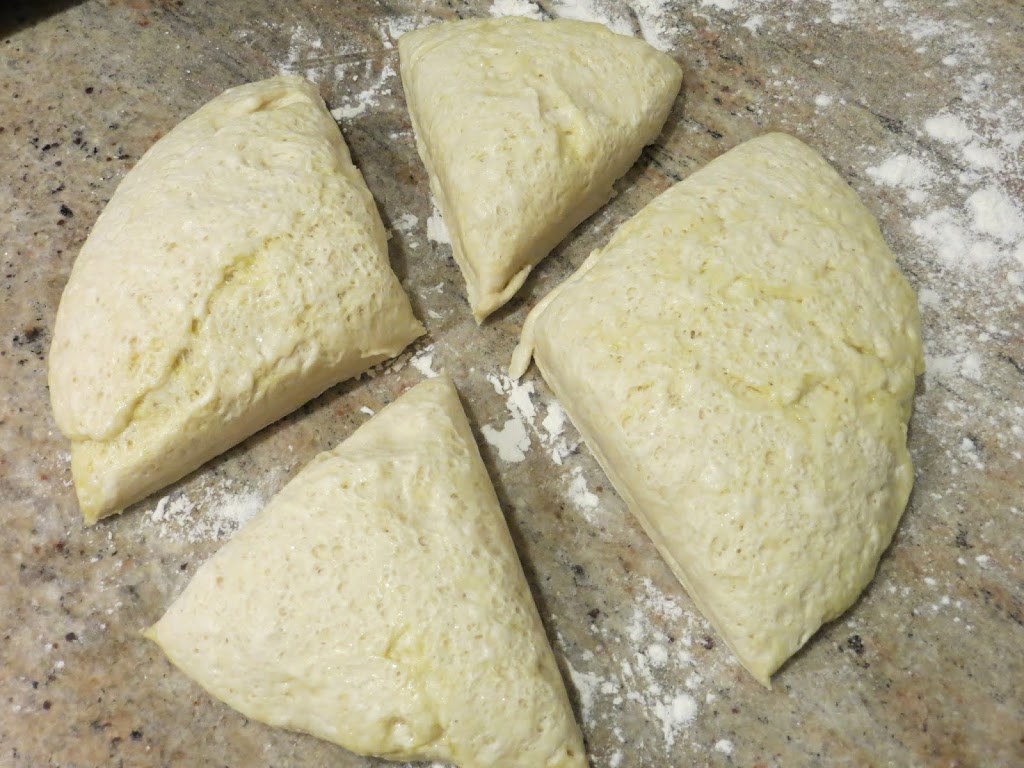 This is cut for two 12 inch doughs and two sheet pans doughs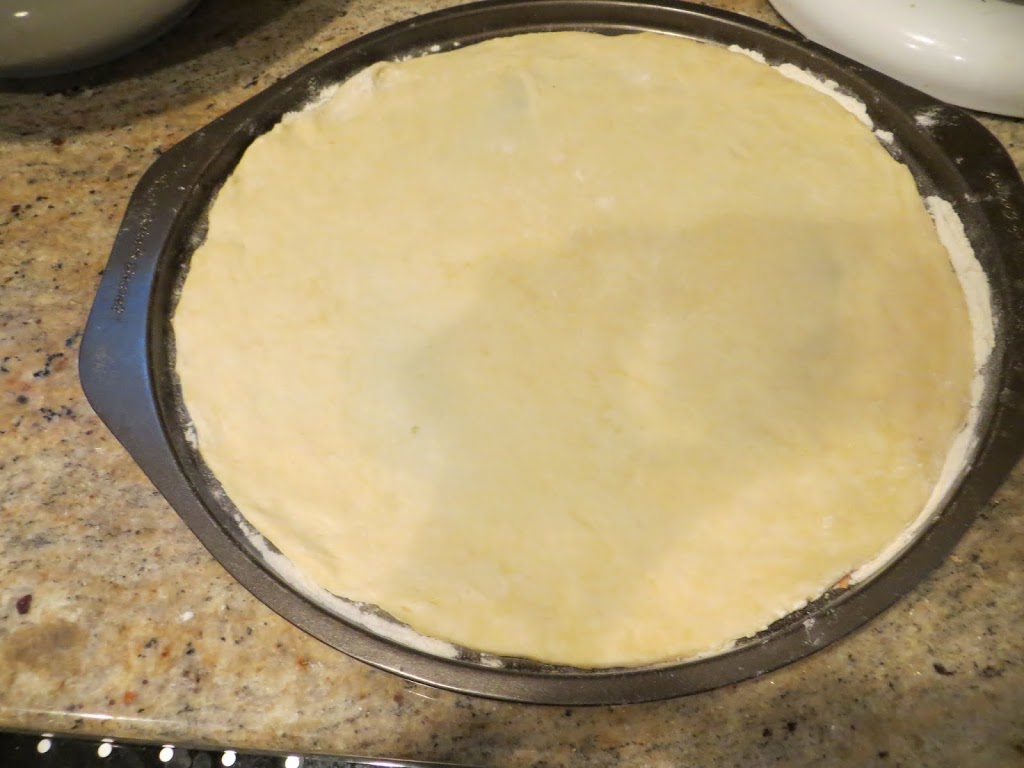 Twelve inch dough rolled out in pan with cornmeal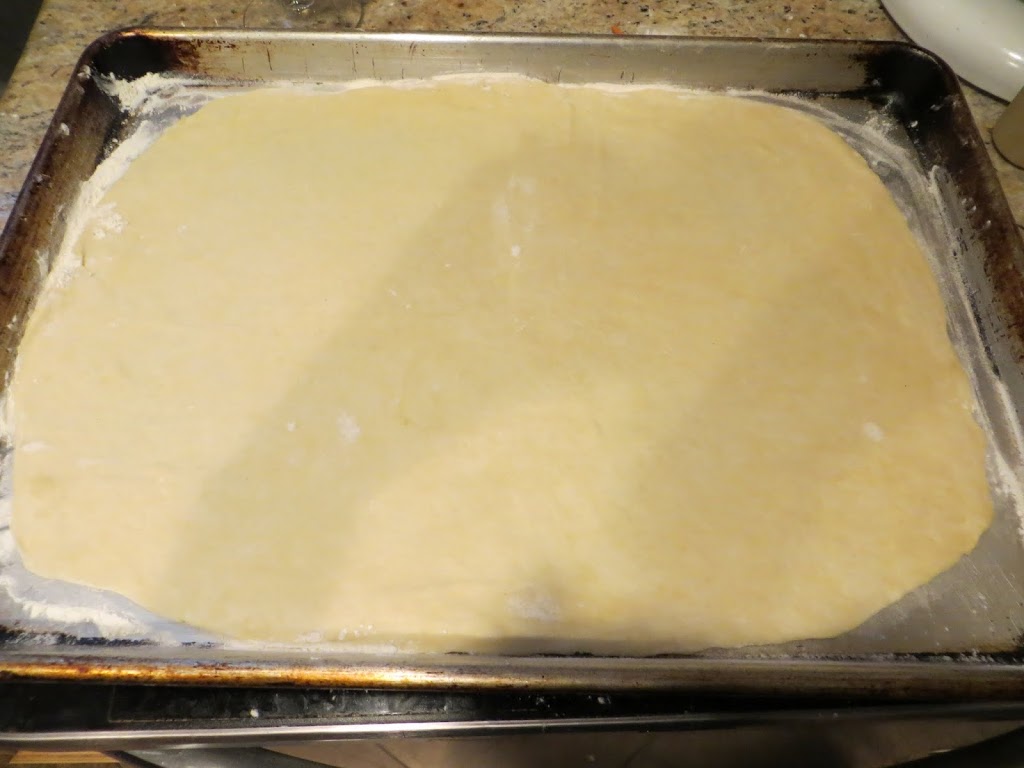 Dough rolled out on cookie sheet with cornmeal
Pizza Sauce
I personally think that homemade pizza sauce tastes better the next day. Don't get me wrong, it's delicious the first day, but day two… talk about WOW! So feel free to start this sauce when you start the pizza dough, and let it simmer for an hour (then shut it off until it's time to make the pizza). You won't be sorry!
Ingredients
1 28-oz can crushed tomatoes
3/4 cup water
1/4 cup diced onions
2 cloves garlic diced
1 tablespoon olive oil
1 tablespoon dried oregano
2 teaspoons dried basil
1 teaspoon garlic powder
2 bay leaves
1 teaspoon salt
1/2 teaspoon sugar
Preparation
Heat a large pan with olive oil. Add diced onions, fresh garlic, oregano, basil, and bay leaves. Let cook until fragrant. Don't let those babies burn! Pour in the crushed tomatoes, water, garlic powder, sugar, salt and pepper. Stir. Bring sauce to a boil then bring down the temperature to simmer. Let simmer for 45 minutes to 1 hour.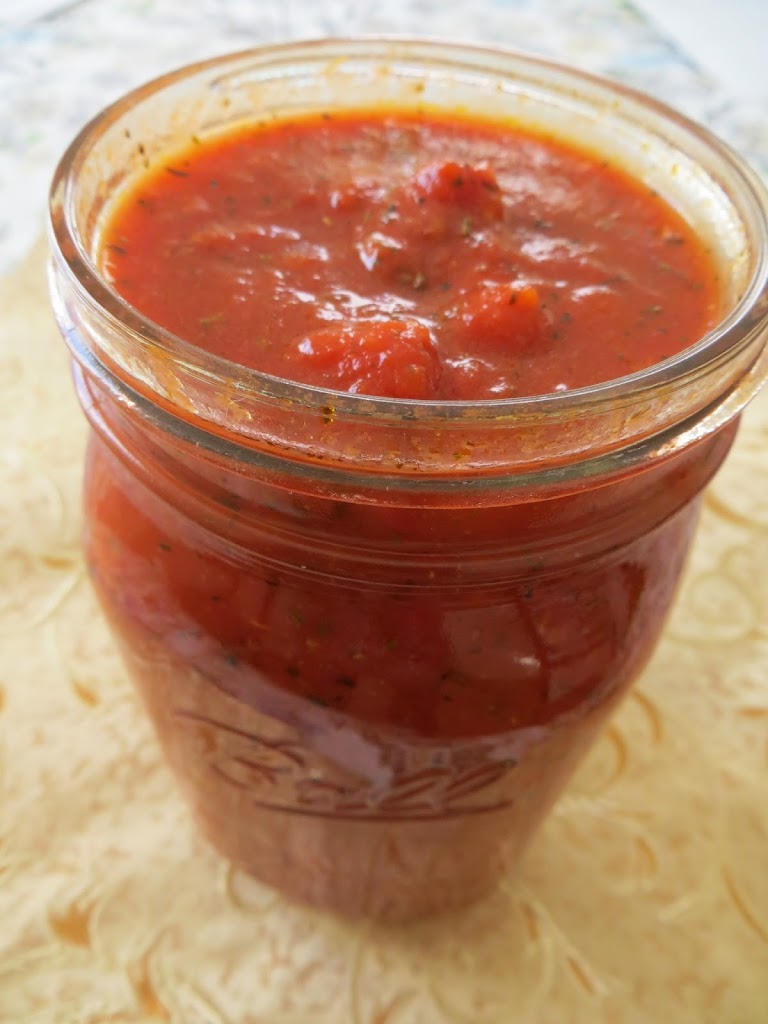 Tempeh Sausage
This recipe is inspired by Isa Chandra Moskowitz's recipe in Vegan with a Vengeance. Unlike the original recipe, I steam the tempeh instead of boiling it. I have also edited the spices to make the sausage quicker and easier to put together.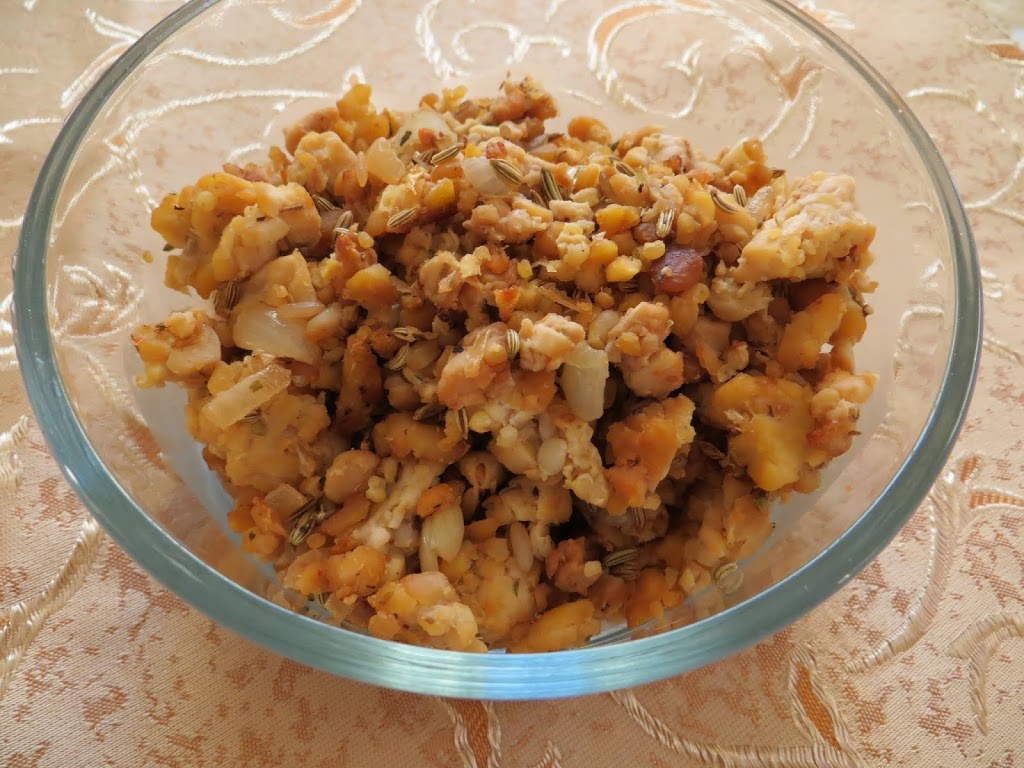 Ingredients
1 8-oz package of tempeh
1 teaspoon of fennel
2 cloves of garlic (optional… I've used 1/2 teaspoon of garlic powder in a pinch)
1 teaspoon oregano
1/4 teaspoon crushed red pepper (or more if desired)
1 tablespoon soy sauce or tamari
1/8 teaspoon salt
pepper to taste
Preparation
Cut tempeh into 5 pieces and place into steam basket. Steam for 10 minutes. After steaming, heat a sauté pan with oil, fresh garlic, fennel, oregano, and red pepper. Cook the ingredients until fragrant. Crumble the steamed tempeh into the sauté pan and stir. Add in the soy sauce, salt, and pepper. Add more salt if necessary. Cook tempeh for 5-10 minutes. Stir occasionally.
The CHEESE!
So, you may be wondering what we do for cheese. This is totally up to you. If there is a vegan cheese on the market that you love… use that. We generally just use homemade vegan parmesan as our only cheese topping. This stuff is a staple at our house! We use lots of this, and it pairs nicely with this pizza recipe. Click
HERE
for the recipe!
Putting it all together
As a side note on timing… if you time this right, you can get everything made and ready by the time you need to roll out the dough. So, this is how I do it….generally, we plan to have dinner at 5:30, so I will start the dough preparation around 2:00 in the afternoon. You can start the sauce then, or you can wait. However, you want to let your sauce simmer for at least 45 minutes. During the dough's second rising is a perfect time to get the steam basket ready for the tempeh. After the tempeh is done steaming, I will start cooking it. Be careful when you crumble it, it's really hot! By the time the tempeh has been seasoned and sautéed, it's time to put the pizza together. My girls are really into just sauce and vegan parmesan, but my husband and I love olives, onions, banana peppers, mushrooms, and sausage. Really, this part is up to you!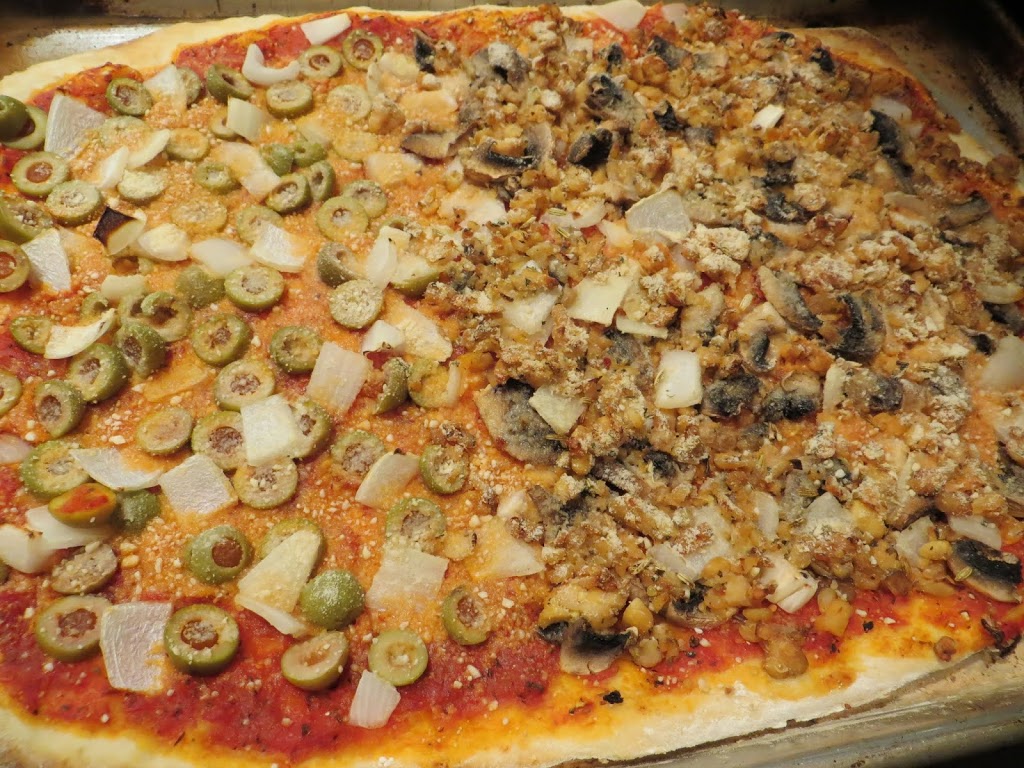 Our typical pizza
I use this same dough to make stuffed crust pizza!!
Note: To cut this dough for stuffed crust pizzas: First cut the large dough in half, then cut the half into thirds. One dough can be used for a 12 inch pizza and the other two will make a 12 inch stuffed crust pizza. Roll out a dough, and fill with any thing you like.