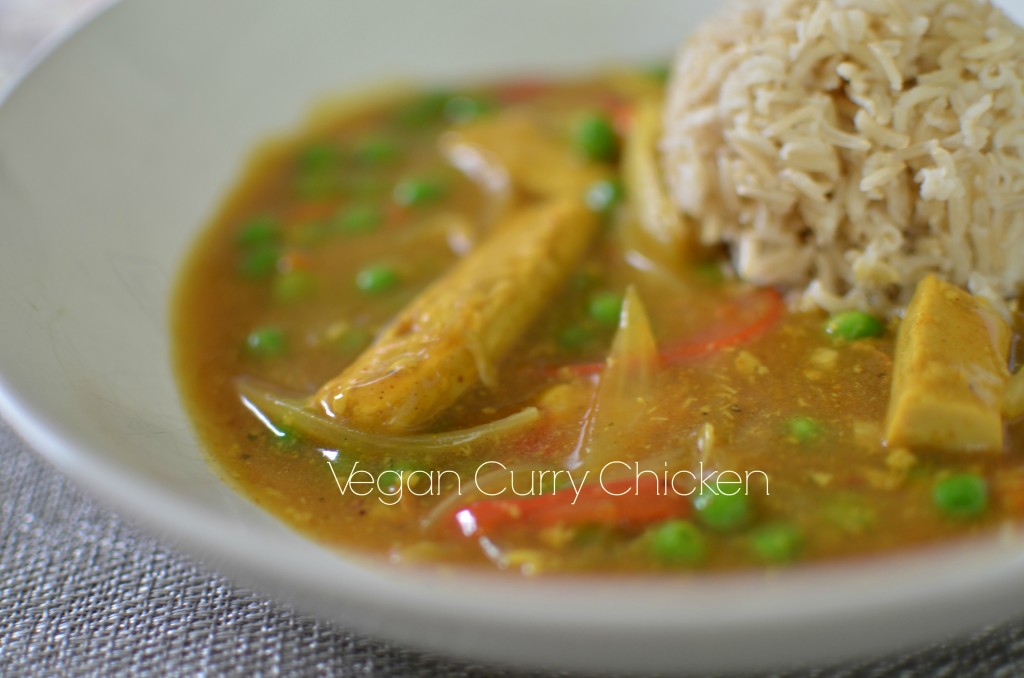 Gosh!… This title makes me giggle. There is an obvious contradiction with the name of this dish. For one, the dish is vegan. I am vegan… and this is a vegan site. The second thing… the contradictory thing…there is no chicken in this dish! However, it would be the worst title ever to call this dish, "Curry Protein". What would that even mean? So, here I am… making a dish reminiscent of the Curry Chicken that I use to eat with my family years ago as an omnivore, that is curry without the chicken… but with a chicken-free chicken. Hmmm….
This dish is easy and flavorful. The chick that I use for this recipe is Beyond Meat's Chicken-free Strips (Grilled). I found this in the freezer section at my local Target. (If you go to Beyond Meat's website, they have a $1 off coupon good until 8/01/15 !)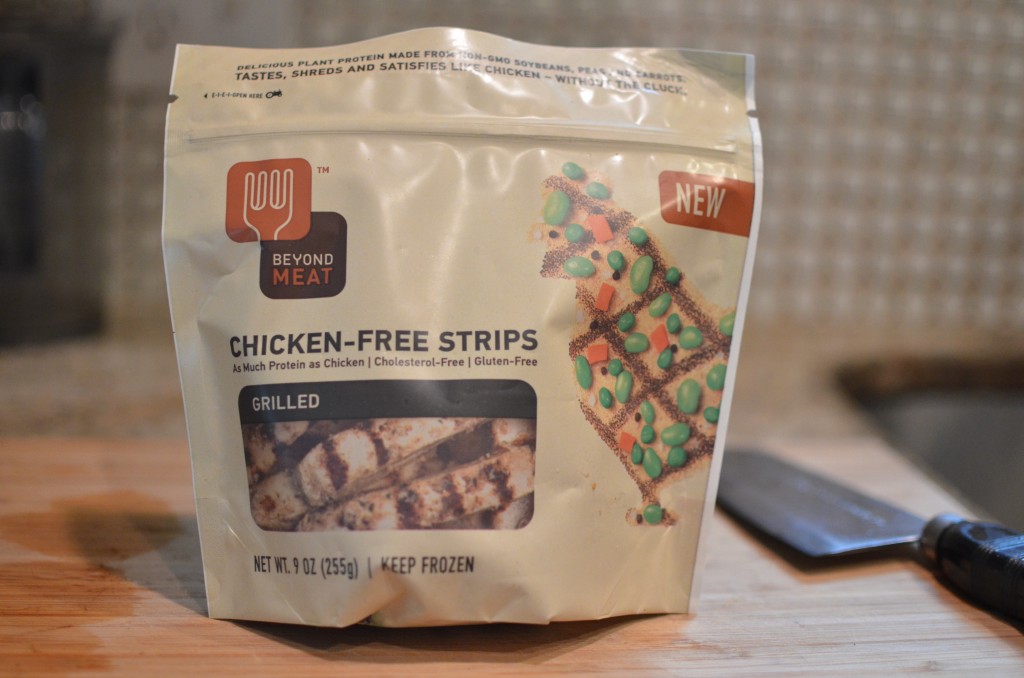 There aren't too many ingredients necessary for this dish… a little bit of red bell pepper, onions, garlic, peas, and a carrot (somehow 1/2 of my carrot rolled off of my cutting board and missed its photo op!…oopsies!).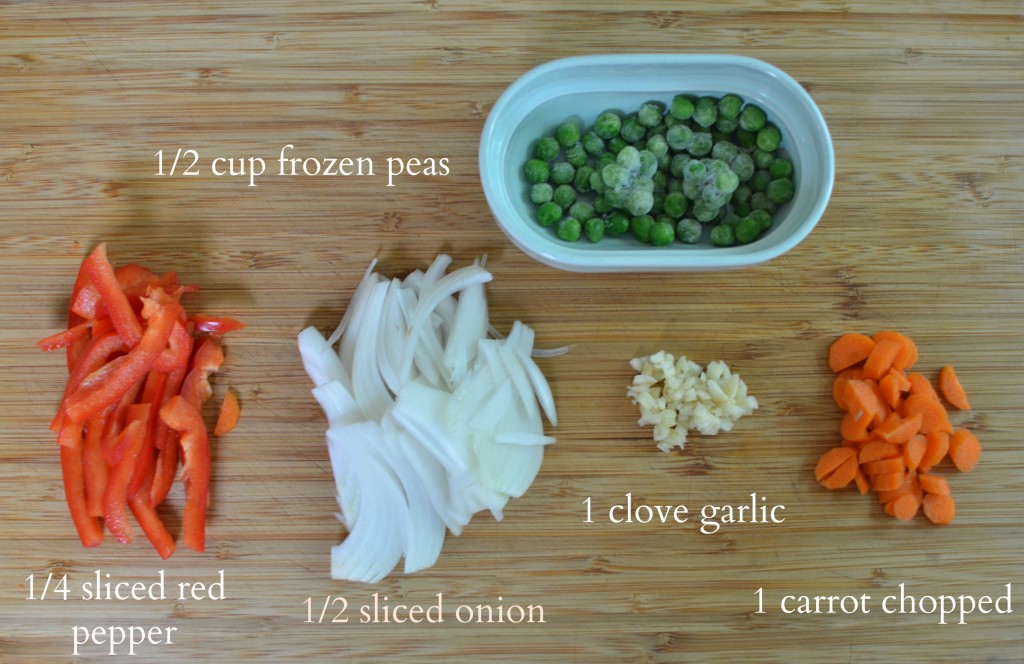 Fry the peppers, onions, and garlic up a bit… add the Beyond Meat, and then this dish is almost done.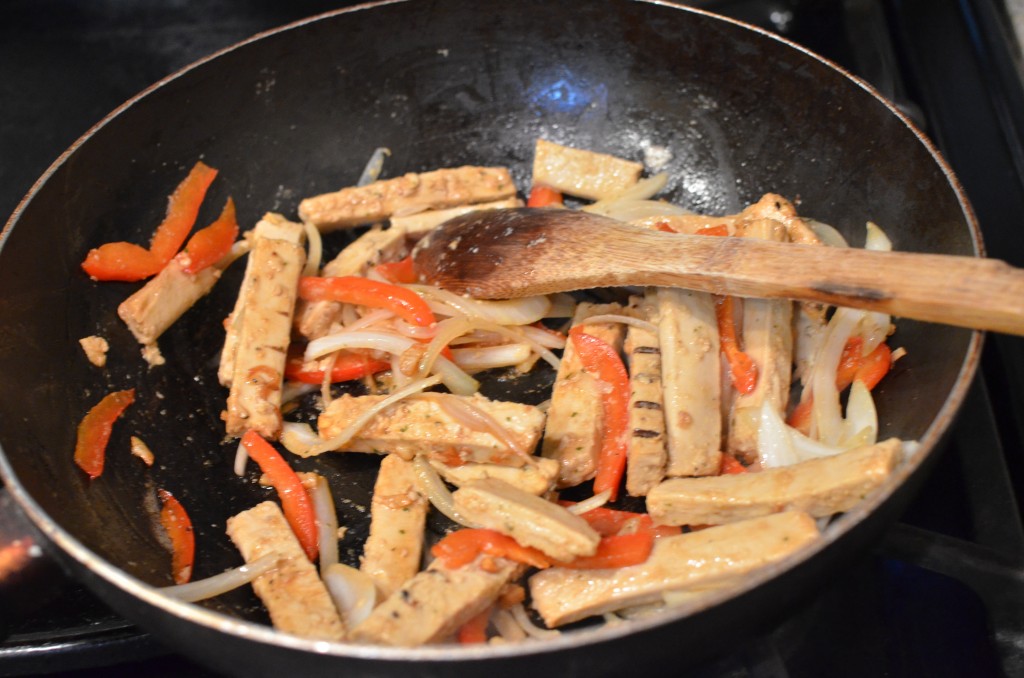 The spices for this dish are pretty minimal, too. The main spice needed is a good curry powder. There was a time when I was using a curry powder that my mother gave me from an Asian market. Now, I'm just using the curry powder from Trader Joe's. So, really… just look for a yellow curry powder and you should be fine. Although… a true spice expert may disagree.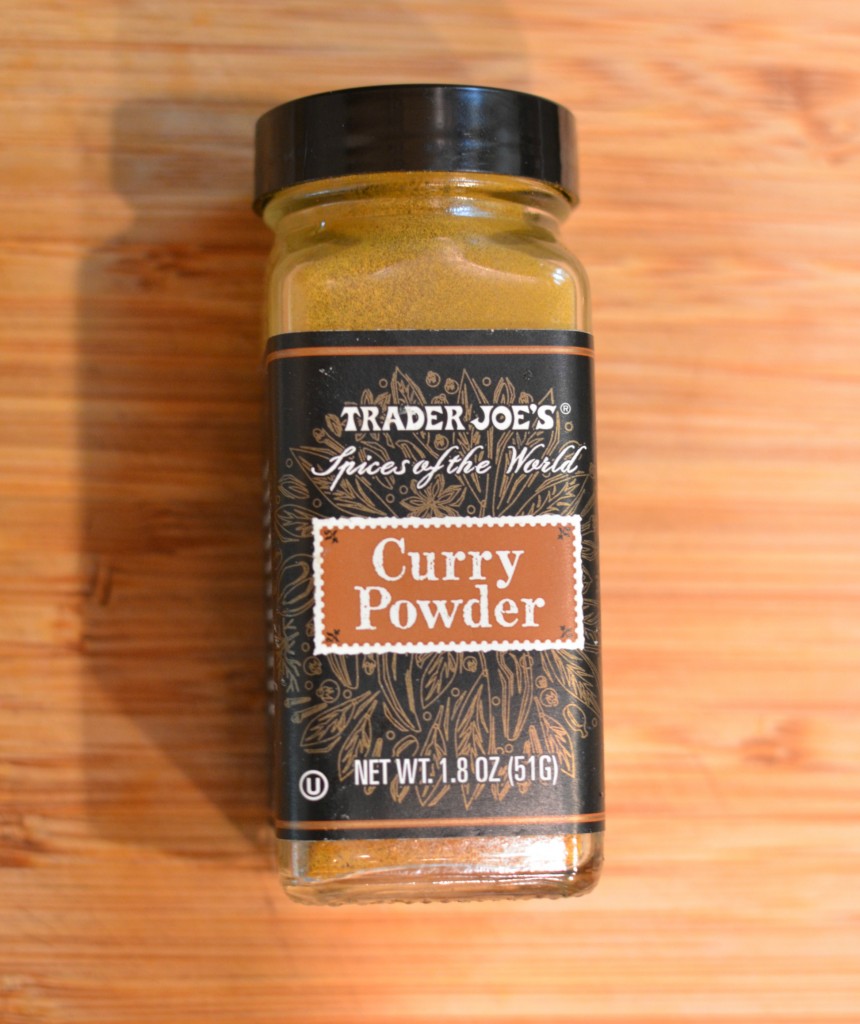 Lastly, broth and corn starch is added. When cornstarch is added to a sauce and it boils, it will thicken the sauce to turn it into gravy. It really is a neat trick… but just make sure to whisk the cornstarch in water before adding it to the broth. Lastly, add the frozen peas, and cook until heated. Serve with your favorite rice. ♥
Ingredients
1 bag Beyond Meat chicken-free strips
1 carrot chopped
1 clove garlic finely chopped
1/2 cup frozen peas
1/2 sliced onion
1/4 sliced red pepper
2 cups broth (or 2 cups water + 1 cube Edwards & Sons not chick'n bouillon)
2 tablespoons cornstarch dissolved in 1/4 cup water
1 tablespoon curry powder
1 tablespoon soy sauce
2 teaspoons agave nectar
*Note: This dish can easily be made gluten-free by using a gluten-free soy sauce/tamari
Instructions
To prepare this meal, start by slicing the peppers and onions. Then, finely chop one clove of garlic, and chop one carrot. Place the carrots in a shallow pan of boiling water. Cook until soft.
Heat a deep non-stick pan, or wok, with enough oil to lightly coat the bottom of the pan. When the pan is hot, add the chopped garlic and cook until it becomes fragrant. Then add the peppers and onions and cook for a minute. Add the soy sauce and stir. Cook until the onions start to become translucent and brown a bit. Next, add the frozen Beyond Meat to the pan, turn the heat down to medium, and cook it until it begins to thaw. Add the carrots to the pan, and then add the curry powder and stir. Next, add the vegetable broth (or water and Edwards & Sons chicken free bouillon cube), and bring to a low boil.
Whisk the cornstarch with 1/4 cup water until incorporated, and add to the pan. When the curry sauce starts to thicken, add the peas and cook until the peas are heated through. Serve with brown or white rice.
https://www.sillylittlevegan.com/vegan-curry-chicken/