The idea of transitioning my dog's diet to a vegan one has been in the back of my mind for a long time. More recently, this idea was brought to my attention after watching a cooking video made by The Vegan Zombie. In a recent episode, the host, Jon, prepared vegan dog food for Indy, a healthy German Shepherd. Indy's been on a vegan diet since he was a pup. So, it made me think more about this…. why can't my dog eat vegan, too?… and is this a safe option?
My dog, Dickie, is quite old. That may have been one of my main reservations for putting him on a plant-based diet. Dickie is both blind and deaf and has quite a bit of tummy troubles. So, in my quest for knowledge on this topic, I was very concerned for his health. I really want to keep my dog as happy and healthy as possible for the remainder of his doggie life.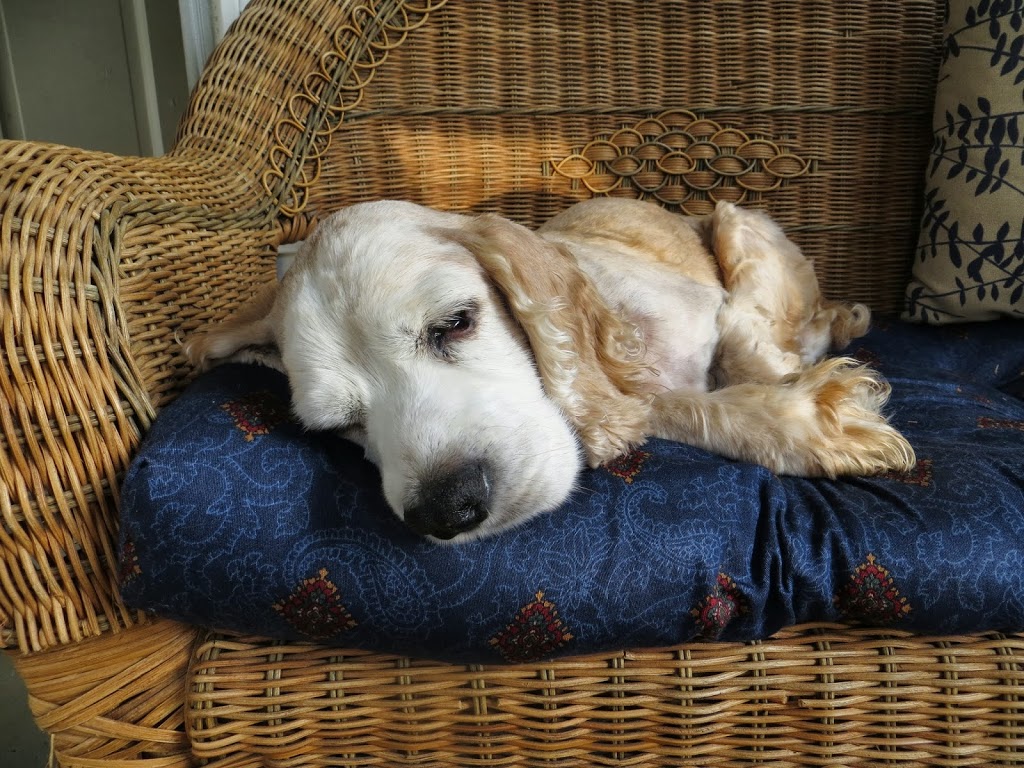 This is Dickie…. He's old and sleeps a lot!!!!
I walked into a pet specialty store and started the hunt for vegan dog food. In this hunt, I found an employee who was very knowledgeable about pet nutrition. As it turned out, he is a certified pet nutritionist, and received his certification through the Ohio State University. His company actually paid for his education (how cool is that!). So, here we go. The pet nutritionist/employee actually recommended a vegan dog food for me. He said, not only was it completely healthy for my dog, but it was better than his current non-vegan food. The thing is, I thought I was doing well by buying a well-known dog food that is sold at plenty of vet offices. However, the food that I was buying was still made with fillers such as corn and animal by-products. He suggested that Dickie's tummy troubles are likely due to his current food, and that most tummy issues can be fixed by changing a dog's diet. Meeting this gentleman made me feel great about changing Dickie's food. Not only can my dog transition to a vegan food, he will likely be healthier for it!
So, the next question is…. How do I safely transition my dog's food?
This will take a little bit of time, but it's really simple. For the first couple of days, mix the dog foods (old and new) in the ratio of 75% old food to 25% new dog food. Add a couple of scoops of canned pumpkin. The canned pumpkin will help your dog's tummy. Then, for the next couple of days, you will mix the food in a ratio of 50/50 of old food and new food while still adding pumpkin to the mix. Lastly, for the final couple of days of the transition, mix the food in the ratio of 25% old food with 75% new dog food with the added canned pumpkin. Then VOILA!!… you can remove the old food from your dog's diet. VEGAN DOG, baby!
Maybe you're wondering how dear old Dickie is doing?… We are in the end stage of this process. So far, so good! His tummy seems to be better than it's been in a long time, and that, my friend, is a wonderful thing!