I was fortunate enough to be on the planning committee for Sunrise Sanctuary's fundraiser in honor of Wesley's fifth birthday. Wesley was rescued as a calf. Like most male calves in the dairy industry, his fate was to become veal… until he met Mindy (the founder of Sunrise Sanctuary). Wesley now lives among 170 other animals at the sanctuary (this includes other farmed animals and companion animals), and he and all of the other animals at the sanctuary will be fortunate enough to live out the remainder of their lives free from harm and exploitation.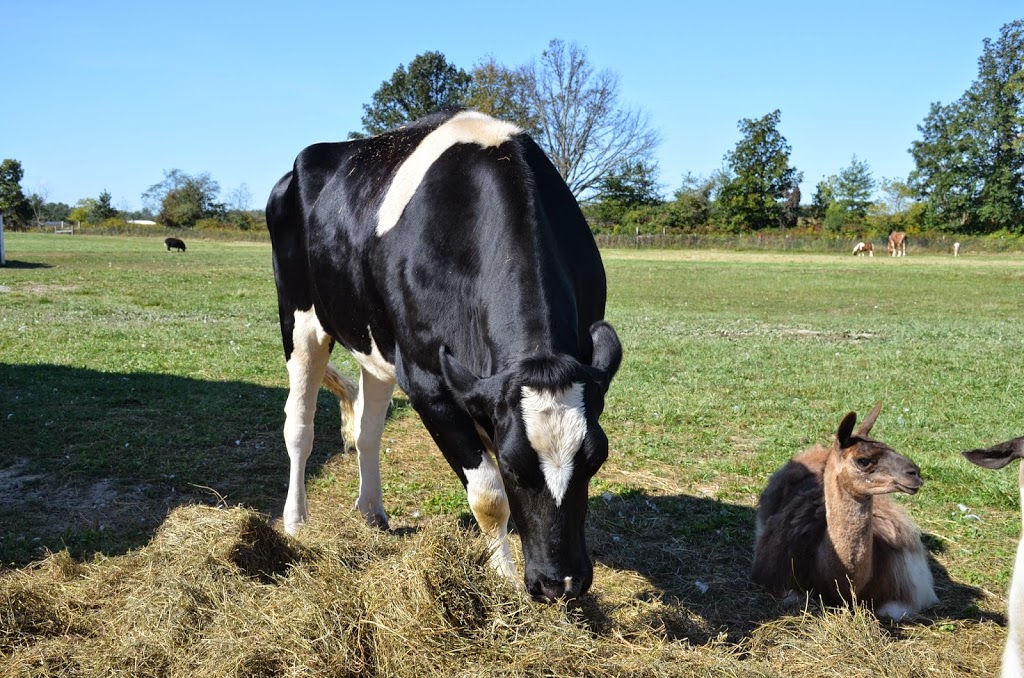 Wesley and a llama!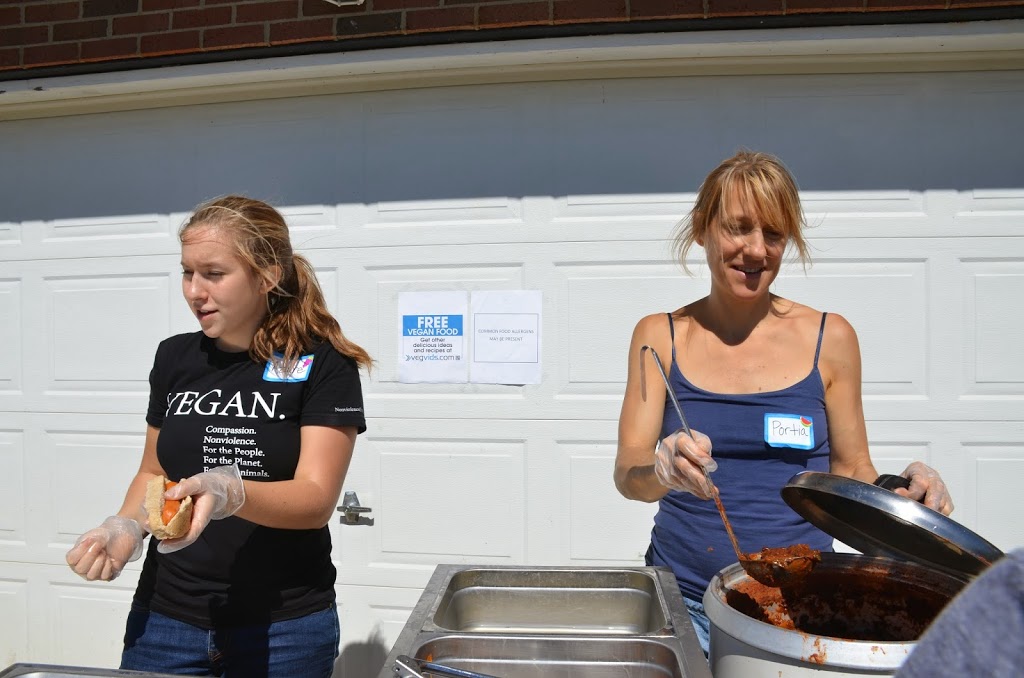 Portia and her daughter
There were a few ways that we were able to raise money at this event. We held the admission tickets at $10 per adult and $5 per child. The ticket price included lunch and birthday cake. What a great deal! However, we kept a table open for people to bid on items (silent auction), and we also had a 50/50 raffle in which people buy a ticket to split the winnings with the sanctuary. The winner of this raffle (our local Loving Hut) actually handed their winnings back to the sanctuary.
I saw so much generosity at the fundraiser that my eyes were at a constant state of near-tears-of-joy! It was pretty amazing how well our silent auction did. I actually couldn't afford any of the items that I wanted… and I wanted a LOT!!! To name a few, we had items donated to us from Herbivore Clothing Company , Earth Balance, Vegucated, Virtue Salon (the vegan salon in Columbus, Ohio), The Vegan Zombie, and Evolved Body Art.
One of the items that was on the silent auction was a painting of Wesley. Loving Hut won this auction item and then handed the painting over to Portia of Portia's Café! That was just so amazing! Seriously, there's nothing sweeter than vegan businesses sharing the love!.. and I LOVE both of these businesses!!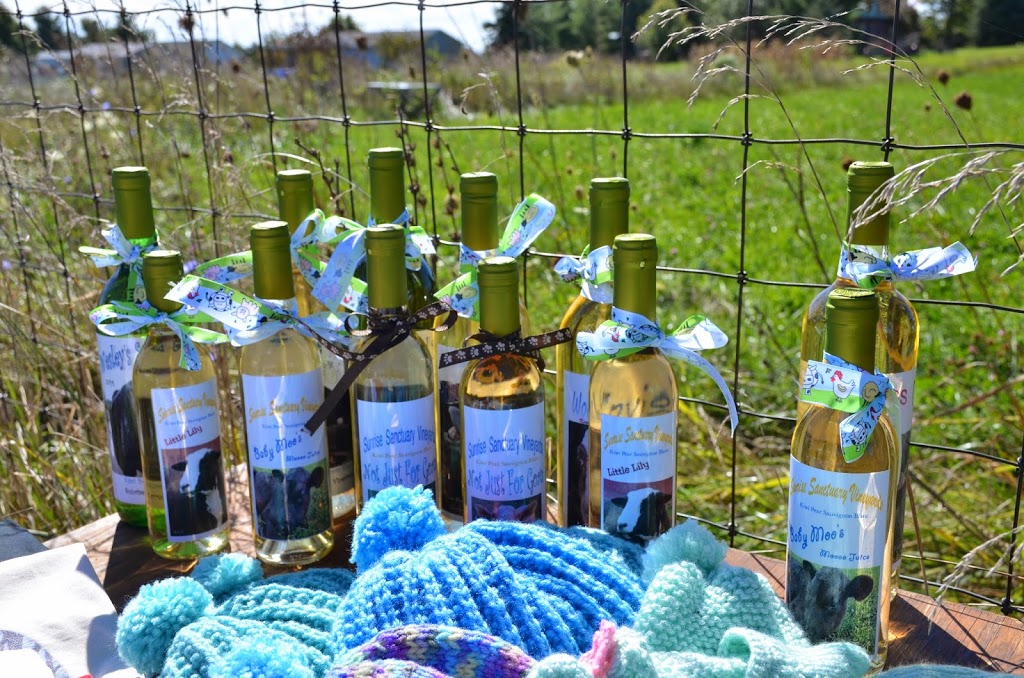 Sunrise Sanctuary wine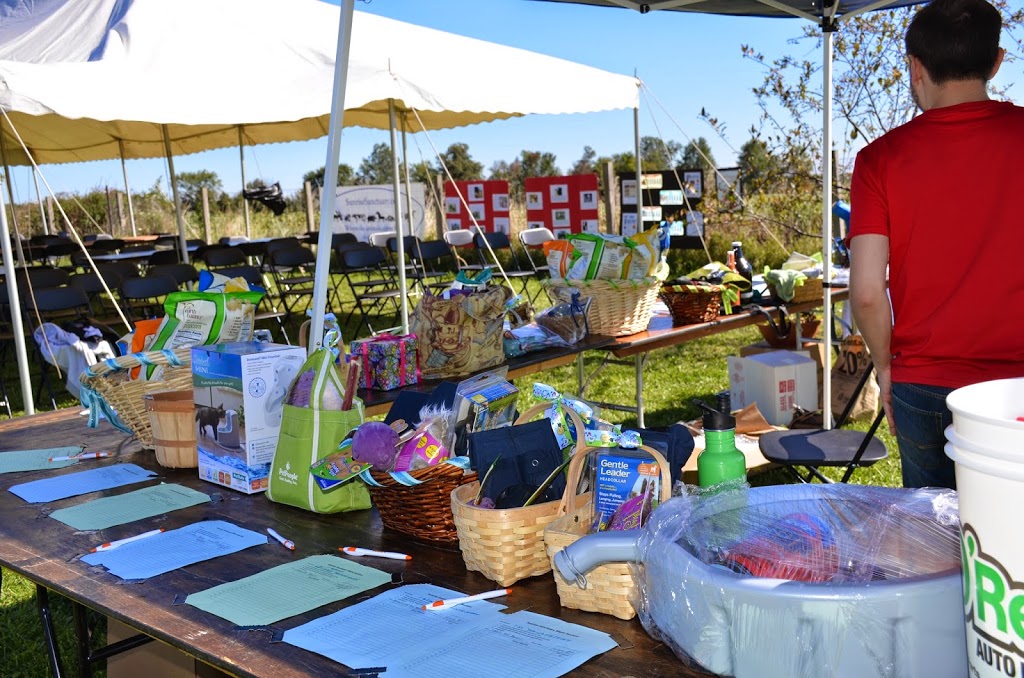 Silent auction table
It was just such a wonderful day! I spent the afternoon at the tent with Wesley's birthday card, and boy was that a big card!!!
Since the party, I ran into Megan (also from the fundraiser committee), and she said that someone anonymously donated $5,000 afterwards because they were so impressed with the event!! WOWZA!!! Talk about tears of joy!!! In total, we raised over $12,000 for the sanctuary! What can I say, but this has been one of the most rewarding experiences of my life. I had the chance to work with some amazing and brilliant people and help raise money for a WONDERFUL cause! ♥