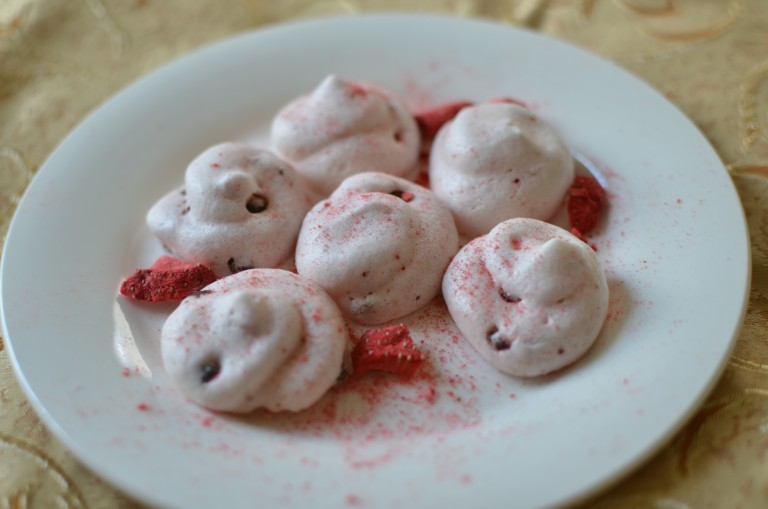 Looking for an oil-free Valentine's Day treat?.. How about a sweet and airy cookie to share with your loved one(s). This recipe is a derivative of the classic aquafaba meringue cookies.
While technically these are strawberry meringue cookies, the strawberry flavor is subtle. However, the natural pink hue is such a sweet tint. The meringues themselves are made from the liquid found within a can of chickpeas. That glorious liquid has been coined the term, aquafaba. It has the miraculous ability to whip up to the consistency of an egg meringue.
I remember the first time that I whipped up the aquafaba… I was so shocked that it worked that I started screaming and cussing with joy. Who knew I was the type of person to cuss with joy! Ha! Anyways, I was thankful that I was home alone with no children nearby… mommy would've had to put LOTS of money into a swear jar.
To make these cookies: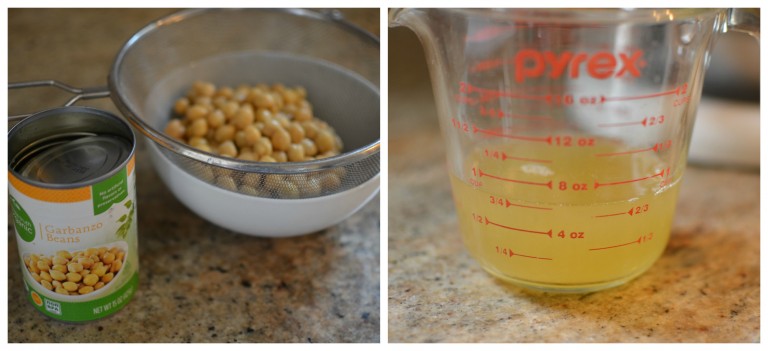 First, drain the contents of one can of chickpeas. Reserve the liquid and store the chickpeas for later use… HA!… I find that funny… for once we're saving the chickpeas instead of the liquid!
The liquid should come out to about 3/4 cup, which is the perfect amount for this recipe.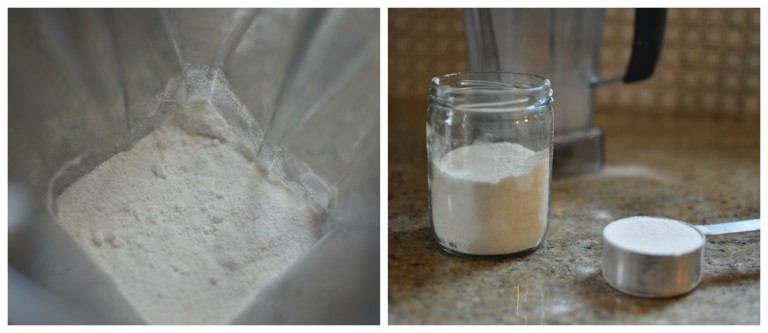 To ensure that the sugar is super fine to combat any grittiness, I place organic granulated sugar in a blender. Just pulse the blender a few times. The goal is to make the sugar fine without turning it into powder sugar. For this recipe, you only need 1/3 of a cup of find sugar.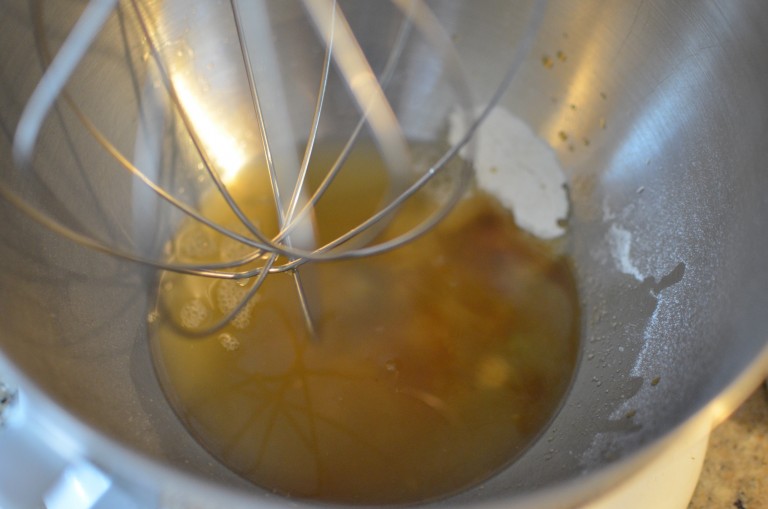 Next, pour the chickpea liquid into a stand mixer and add the sugar and a teaspoon vanilla, 1/2 teaspoon almond extract, and 1/8 teaspoon of cream of tartar. Turn the mixer to medium-high to high speed (with a whisk attachment). You really need to whip the dickens out of this stuff.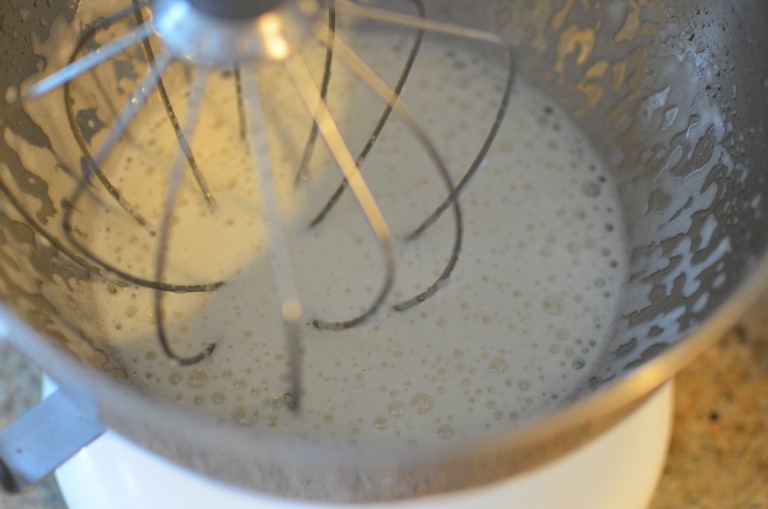 Are you ready for some food magic?… Air is starting to be whipped into the liquid…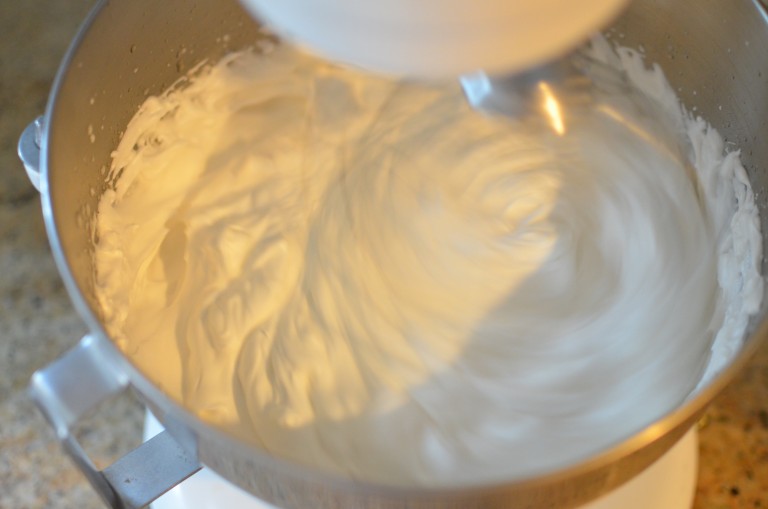 It's really working!… Do you see?… Seeing is believing, right?… I'm not cussing this time 🙂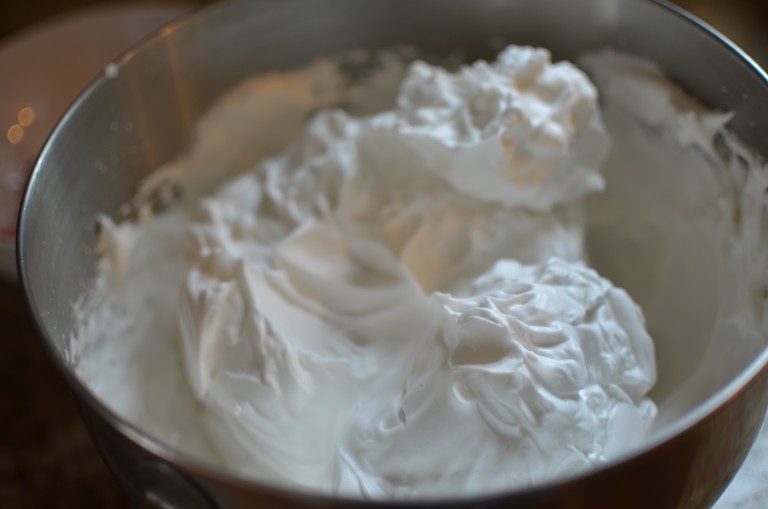 After the full 10 minutes, it is simply beautiful! Can you believe that this is the liquid from a can of chickpeas?… It still shocks me every time I whip it up.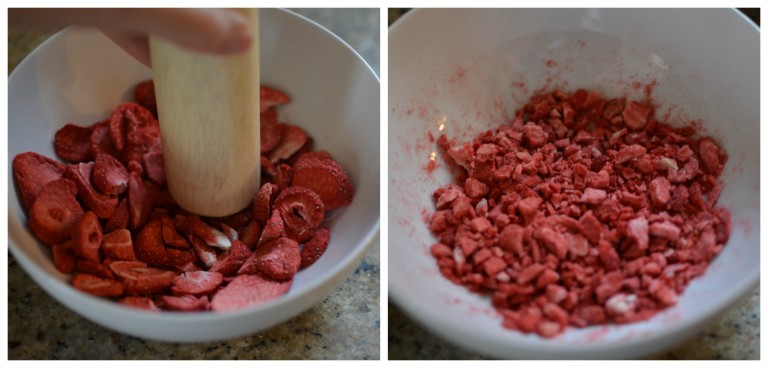 Now, it's time to prepare the strawberries. Measure out 1 cup of dehydrated strawberries, and mash them. I used the back of a small rolling-pin. The goal is to make crumbs and larger pieces. Using freeze dried strawberries will naturally tint the meringues which is a nice alternative to conventional food coloring.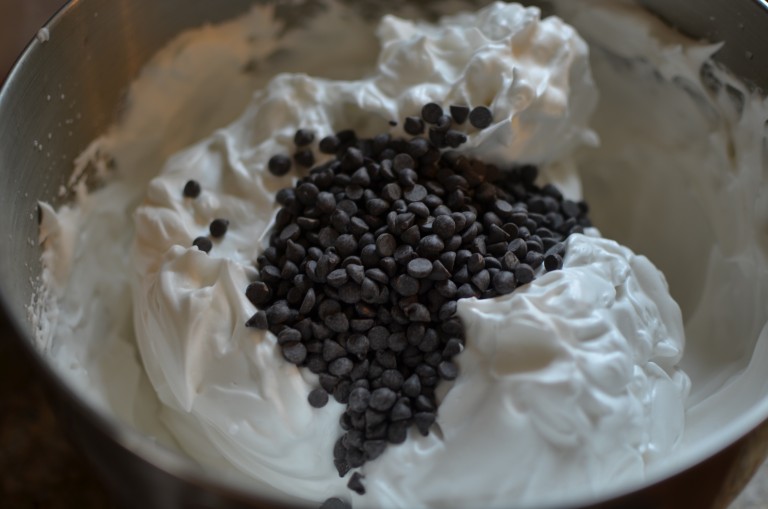 Next, dump in about 1/2 cup of mini chocolate chips. I used the Enjoy Life brand. It's the only brand of mini chocolate chips that are vegan that I know of. I think I found these at Target or maybe it was Kroger..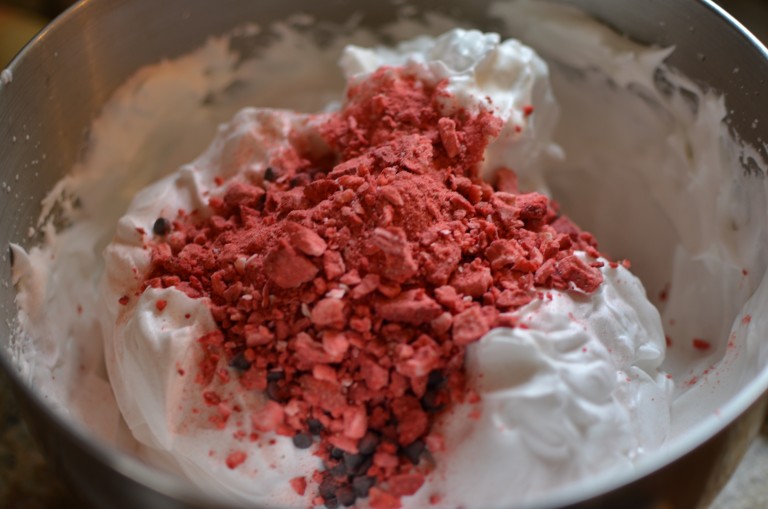 Now, add in the crushed strawberry crumbs. Gently fold the chocolate and strawberries into the whipped meringue with a rubber scraper.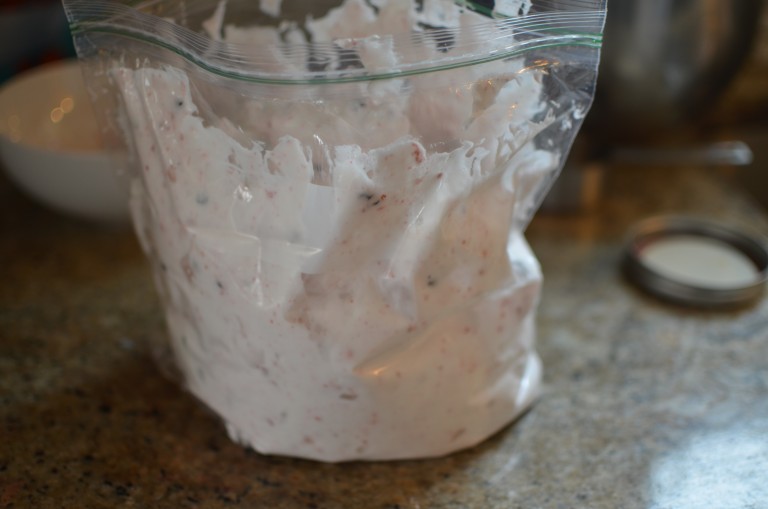 Place the whipped meringue into gallon sized food storage bag (or use a piping bag), and cut a small opening in one corner.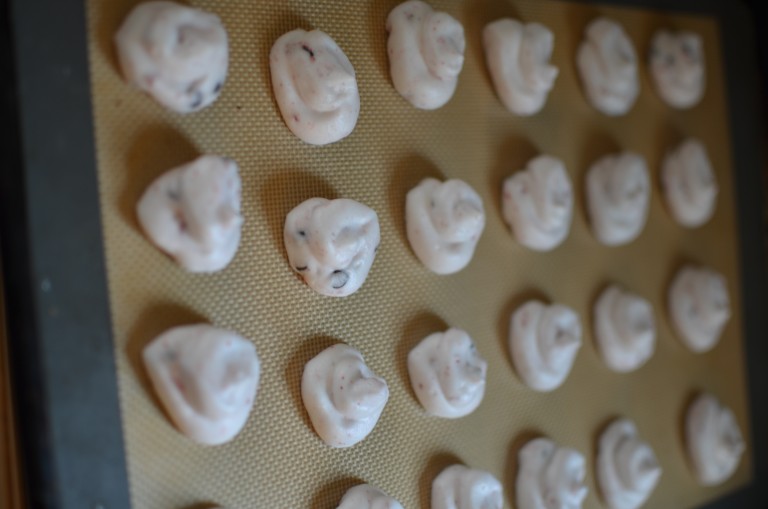 Pipe small circles onto parchment paper or a silicone baking pad (they sure are handy!.. I own a couple of them). The meringues should be about 1 1/2 inches in diameter. You can pipe them close together because they will not rise or expand like conventional cookies. Place them in an oven preheated to 200 F degrees. Bake for 1 1/2 hours. This will make at least two baking sheets worth of cookies, with meringue left over. You can use the leftover meringue in hot cocoa or use it a topping for chocolate mousse.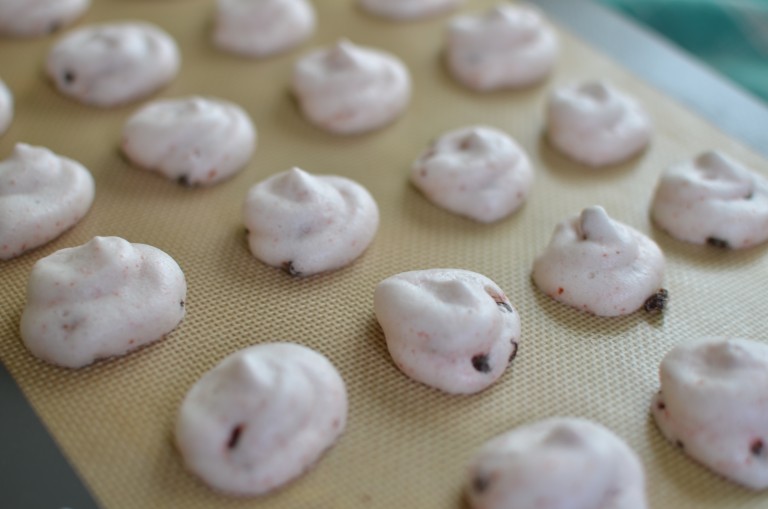 Let them sit to cool before plating.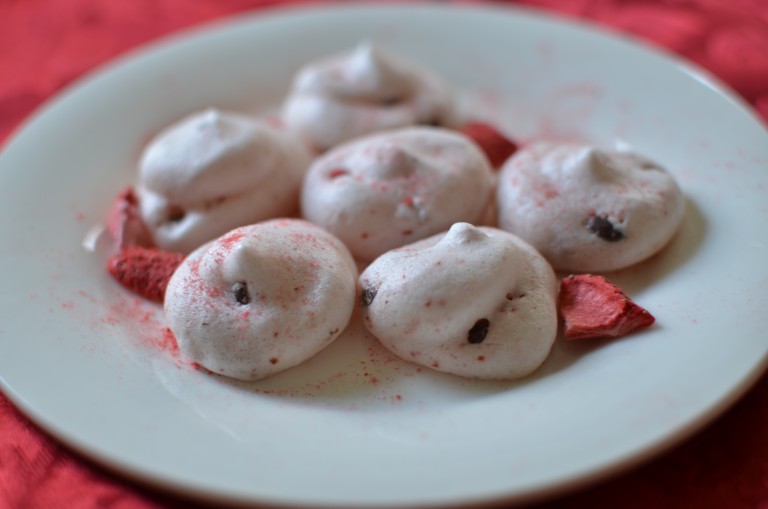 Lastly, dust with additional crushed strawberries. Enjoy! ♥
Stawberry Chocolate Chip Meringue Cookies
Ingredients
1 cup dehydrated strawberries (crushed to small pieces and crumbs)
1/2 cup mini semi-sweet chocolate chips
3/4 cup liquid from a can of chickpeas
1/3 cup sugar (ground finely with a blender)
1 teaspoon vanilla extract
1/2 teaspoon almond extract
1/8 teaspoon cream of tartar
Instructions
In a stand mixer fitted with a whisk attachment, pour in chickpea liquid, sugar, vanilla extract, almond extract, and cream of tartar.
Mix on medium-high to high speed for 10 minutes.
Preheat oven to 200 F.
Once the liquid has been whipped into meringue, add the chocolate chips and strawberry crumbs.
Gently fold them into the meringue.
Place meringue in a piping bag (or gallon size plastic bag with a small hole cut in the tip).
Pipe small rounds about 1 1/2 inch in diameter on a baking sheet lined with parchment paper.
Bake for 1 1/2 hours until light and crisp.
Let cool before serving.
https://www.sillylittlevegan.com/strawberry-chocolate-chip-meringue-cookies/