Things that happen when you have a STRICT grocery budget:
You become creative! Who needs fresh onions when you have dehydrated onions in the cupboard! (Oops… forgot to budget in onions)

Your husband puts snacks back at Target because… well.. uhhh… NOT IN THE BUDGET! AWKWARD!!!

You find yourself eating leftover crockpot oatmeal with water because you can't spare the kids' almond milk. Did I mention that I don't really like crockpot oatmeal?…(DON'T WANT TO WASTE FOOD…).

Your husband realizes that you were serious about this budget thing and begins to regret being supportive. (Really… you can't use your own money to buy snacks!)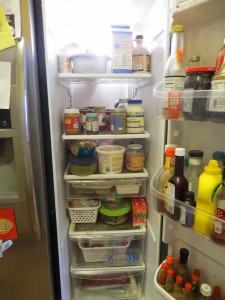 This may look the same… but I can tell that it's getting roomier in there!
I must admit that the challenge of spending only $15 per person on vegan food for the week has been a lot of fun! Right now, it's become a bit of a game. How can I incorporate the food that we already have with the food that I purchase at the grocery store to feed my family healthfully and deliciously for only $60? I've mentioned this challenge to a couple of parents at Laney's school, and they have no idea how to do this. I think that's why this challenge is so important. Families need to know how to save money on groceries. So, I will show you how this worked for me and our vegan budget. I took more time than normal planning. So, that's key to this exercise, plan ahead. I made a spreadsheet of an estimated cost of all of the items that I purchased, and while I was at my first store, I wrote down the actual price. I tried to over-estimate prices when planning my shopping trip to give myself a little wiggle room. This actually worked out pretty well. By the time I ready to make my shopping trip to my second store, we needed some new things that were not on the original list. Before leaving for Kroger, I checked for coupons for the items on the list, and I found a couple! SCORE!
Here are my new spreadsheets which show my estimated prices versus the prices that I actually paid. In the end, I was really amazed by how much I was able to get with my $60.
| | | | | | | |
| --- | --- | --- | --- | --- | --- | --- |
| | | | Actual Price Before Coupons | | Actual Price After Coupons | |
| | | | | | | |
| | | | | | | |
| | | | | | | |
| | | | | | | |
| | | | | | | |
| | | | | | | |
| | | | | | | |
| | | | | | | |
| | | | | | | |
| | | | | | | |
| | | | | | | |
Trader Joe's: Spent $18.27
Additional Trader Joe's Items

(Items not on my original list):

Spent $15.94
*We also spent an additional $4.50 buying some soft taco tortillas and salad dressing for the girls.
If you add up all of my grocery items (including the additional $4.50), for our vegan shopping budget our grand total is:

$59.80
There are so many nice things about doing this grocery challenge.

It has really made me think about where I spend every penny and about ways to use items that I already had.

We've been cleaning old stuff from the fridge, and we've been finding new items in the pantry.

It's been a great experience so far.

However, I am worried that this challenge will get harder as I go. The good news is that I will give myself and additional $.20 for my next week since I was under. So YAY!… my new budget is $60.20!