My go to recipe for chocolate chip cookies is from The Joy of Vegan Baking. While the cookies are delicious, they can be a bit hard if you bake them until golden brown. Not hard enough to break a tooth… nor too hard to enjoy them… just not soft like my husband likes them.
I've heard from cooking show personalities of the importance of carefully measuring ingredients while baking. I MOSTLY do that… MOSTLY. Back during our kitchen remodel a few years ago, I was left with a 1/2 cup measuring cup as my only measuring cup, so either I was an excellent eye-baller…. OR… I learned it was okay to be a little off. So…. maybe this whole precision thing is no big deal.. and maybe it can lead to better COOKIES!!!…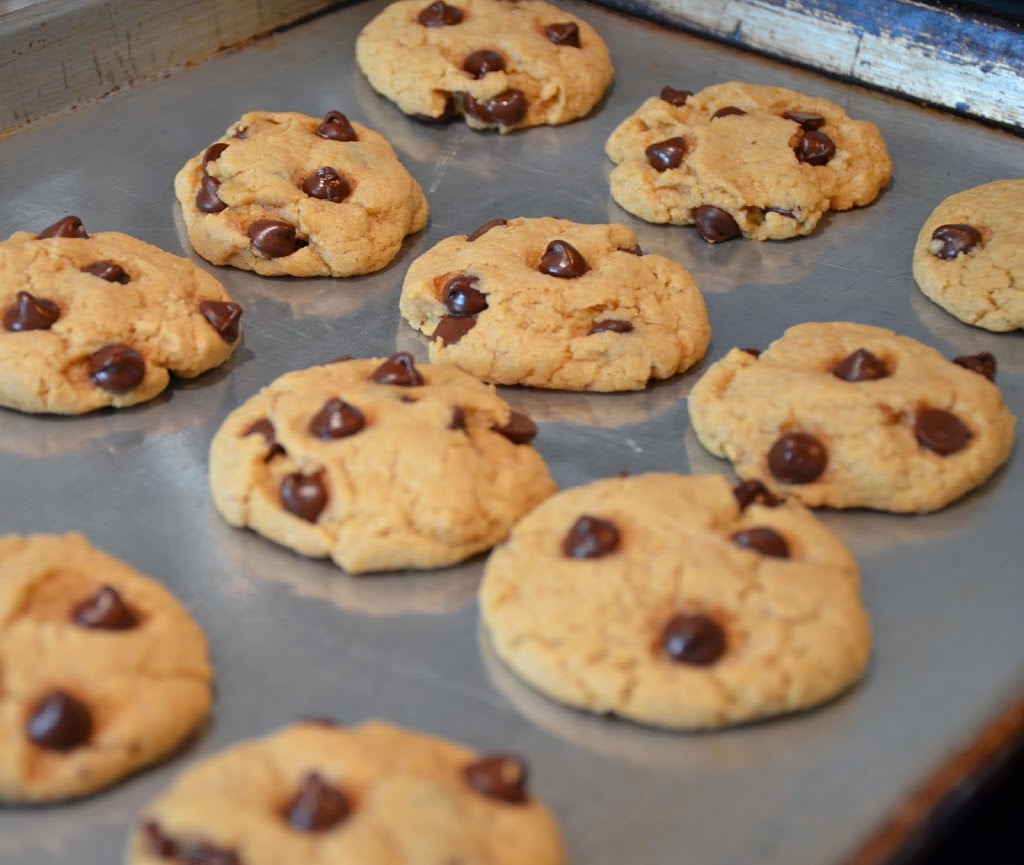 In your face celebrity chefs!… I just made better cookies by not measuring properly!!
I think the biggest pain is measuring the non-dairy butter (we use Earth Balance buttery spread). I barely ever buy the sticks, so when it comes to baking I always have to guess-timate the amount I take out of the (BIG) tub. Lately, I've been underestimating (I've been watching my fat intake so I err on the low side). The problem with that is… the dough is too crumbly. It's possible to still form the dough into balls, but not so easy with all of those delicious chocolate chips that I throw in.
Instead of just trying to work with the dough, I decided to pour in some vanilla soy milk. I had no idea how this would change the cookie in the end, but I had no desire to put in more butter…. do you see where I'm going here?…
Can I give you the recipe so that you can achieve softer cookies?… no… I didn't measure it!!!… The recipe called for 1 cup of butter, but I'll guess-timate that I used about 3/4 cup. For the milk, I slowly poured it in while my stand mixer was doing its thing until it came together. It was probably a bit short of 1/4 cup, but if you try this experiment… just SLOWLY pour in the milk until the dough is no longer crumbly and resembles cookie dough.
So… are you ready to be a REBEL in the kitchen?!?… Go ahead… try it! It's liberating!… and you may just make a favorite recipe even better.