My girls love noodle dishes, and it's fun when I can come up with a dish that will get them to eat KALE. To me, getting them to eat this nutrient-rich vegetable is a big deal because it is not a food that they love… but maybe one day…
This dish is gluten-free. However, if you don't have tamari you can use soy sauce which contains gluten (it will be just as tasty).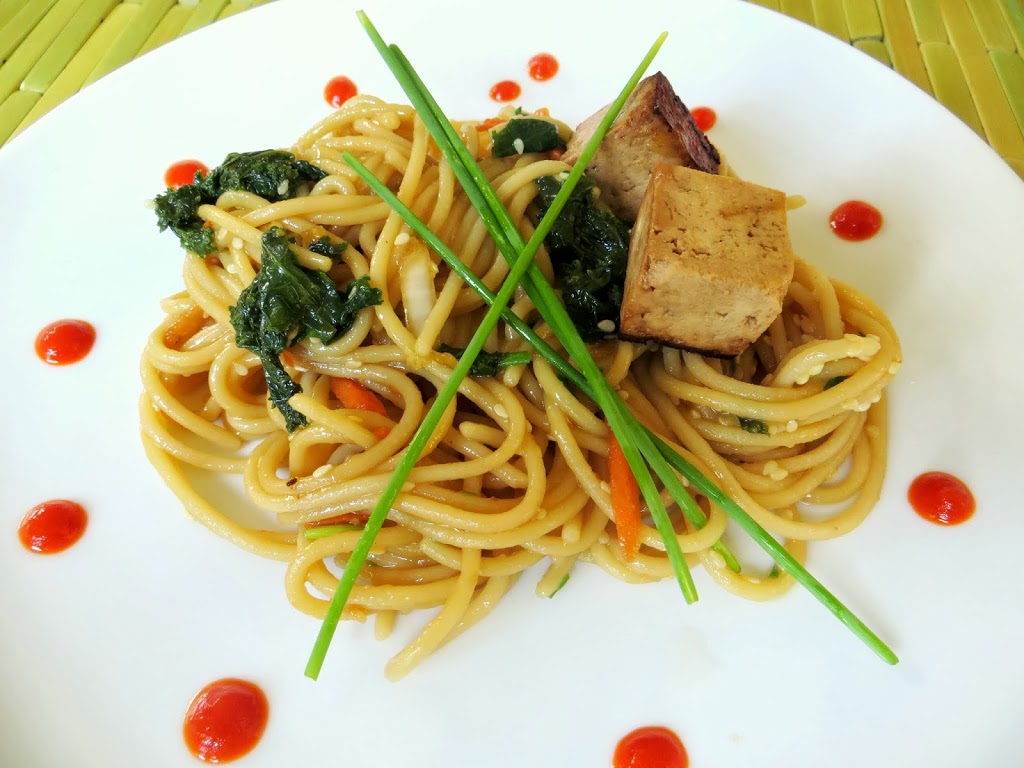 Note: Before starting this recipe, drain your tofu. Wrap the block of tofu in a kitchen towel, and place something heavy on top. After a half an hour, get a new towel and re-wrap the tofu to drain for another half hour.
Ingredients
1/2 – 1 bunch of kale torn into bite-sized pieces
1/4 cup tamari (gluten-free soy sauce)
1/4 cup diced onions
1 carrot (grated)
1-2 cloves of garlic (pressed)
1/2 inch ginger (grated with a microplane)
1 tablespoon rice wine vinegar
1 tablespoon toasted sesame oil
2 teaspoons agave nectar
1-2 tablespoons sesame seeds
2 tablespoons diced chives and more for garnish (optional)
1 tablespoon of water
Siracha for adding spicy heat (optional)
8 oz rice noodles
Directions
Place kale in a steam basket, and steam for 5 minutes. While the kale is steaming, start making the sesame sauce. In a large bowl, mix tamari, garlic, ginger, vinegar, sesame oil, agave nectar and water. When the kale is done steaming, drain excess moisture from the kale and place in the sauce. Add the diced onions, and mix. Let the kale and onions sit in sauce to marinade while preparing the noodles.
Boil noodles according to the directions on the package. When the noodles are finished cooking, place into the teriyaki sauce. Add the shredded carrots and sesame seeds. Mix everything together. Serve with Tamari Tofu.
Tamari Tofu
This can be made while the noodles are boiling.
Ingredients
1 15 oz block of extra-firm water packed tofu (found in the refrigerator section) drained
1/4 cup tamari sauce
1 tablespoon oil for pan frying
Directions
Cut the drained tofu into 1 inch cubes.
Place tamari in a dish. Roll the little tofu blocks in the tamari to coat each side of the tofu. Heat a non-stick pan, and add oil. When the pan is hot, add the tofu and cook each side until lightly toasted. Serve!
Bon apetit!