Did you know that A1 Steak Sauce is not only accidentally vegan, but the company that makes it recently took the word "Steak"
out of it's name
? That's pretty cool! The company wanted to remind people that their sauce goes with EVERYTHING… so now it's called A1 Sauce. In honor of this little name change, I thought that I would post a recipe to pair with this tasty condiment. However, in total (vegan) irony, the recipe is for a steak… a polenta steak that is! Fabulous.. huh?!
For this recipe, I highly recommend NOT using pre-made polenta. Polenta in a tube just doesn't have the consistency and grill-ability (making up my own words!) as it's homemade counterpart. Don't worry though, making polenta is as easy as boiling water and stirring…. That's really all that it takes.
I made my polenta the night before, so that it had plenty of chilling time before we grilled it. We used no oil for this recipe. The polenta itself didn't stick to our grill, but if it starts to stick to your grill… you can do a light basting with olive oil.
For the topping, we made enough mushrooms and onions for approximately 3-4 steaks, please feel free to double the recipe and drink any of the extra beer used for cooking (we used a tall can).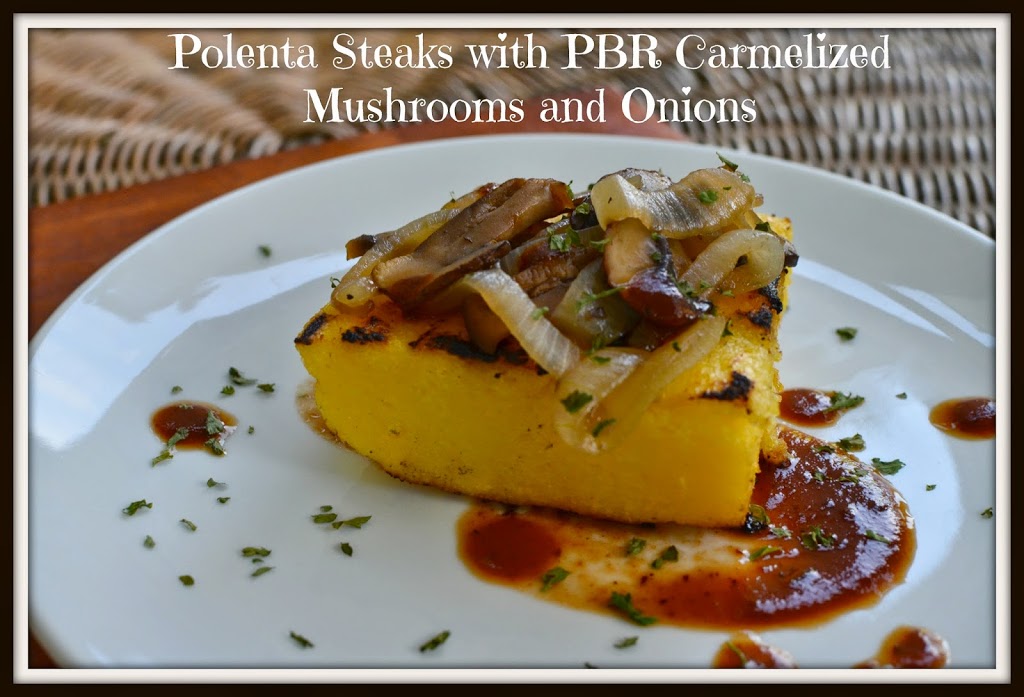 Polenta Steaks
Prepare polenta according to directions on the box and pour into a dish to sit for several hours or overnight (Ingredients: water, polenta, and salt). Polenta should be approximately 1 inch thick.
When ready to cook, cut the sheet of polenta into approximately 4″x 4″ pieces. Place polenta over a prepared grill and cook until heated through and it forms nice grill marks.
PBR Caramelized Onions and Mushrooms
The mushrooms and onions are caramelized in beer instead of oil or vegan butter so that the topping for this dish is fat-free. Also, it adds a nice subtle flavor to them! Just think… this is a totally fat-free steak with fat-free toppings!
Ingredints
1 cup crimini mushrooms sliced
1 medium onion sliced into half-moons
3/4 cup of Pabst Blue Ribbon (or beer of choice)
1 teaspoon water
1/2-1 teaspoon salt (to taste)
Preparation
In a pan over medium heat, place water and mushrooms in and stir. Let cook for approximately one minute. Add onions and stir. Pour in 1/4 cup of beer. Cook and stir for approximately 5 minutes until all of the beer has cooked out. Continue to add beer in 1/4 cup increments until all of the beer has cooked out and evaporated. Total cooking time is approximately 20 minutes. Serve mushrooms and onions over the grilled polenta steaks with A1 Sauce for dipping. Pair with grilled veggies. I recommend grilled asparagus.
Enjoy!