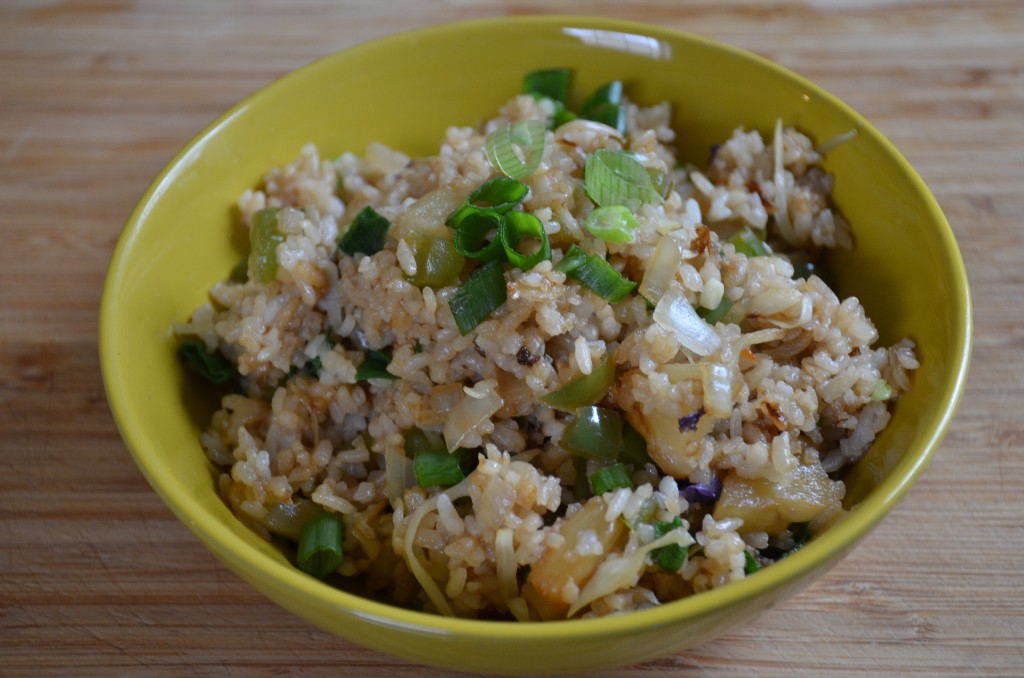 Here comes another recipe from my mom. It's no secret that the origins of my cooking comes straight from her, and my mom was taught how to cook by her grandmother in Taiwan. So, in fact, there are generations of teachers that have led me to where I am as a home cook.
One dish that was commonly made by my mother was fried rice. Since, it is best to make with rice that is a day or two old, it's a great way to use up leftovers…. like leftover white rice from making Tomato Egg.
To make this easy dish…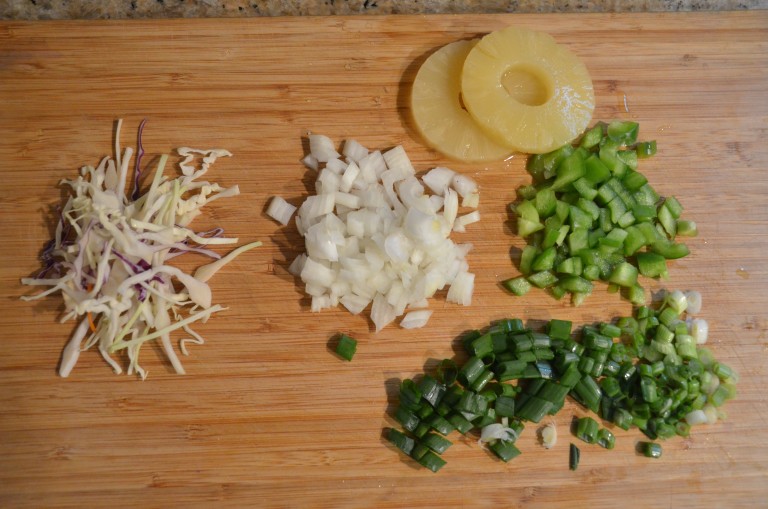 Dice a bit of onion, green pepper, green onions, and shred a little cabbage. I used two pieces of canned pineapple for this, but fresh ripe pineapple would be nice, too… I usually use a bit more cabbage, but the little that I could find was picked out of a kale salad in the fridge. Shhhh… don't tell my husband, that was his salad I picked from… so sneaky!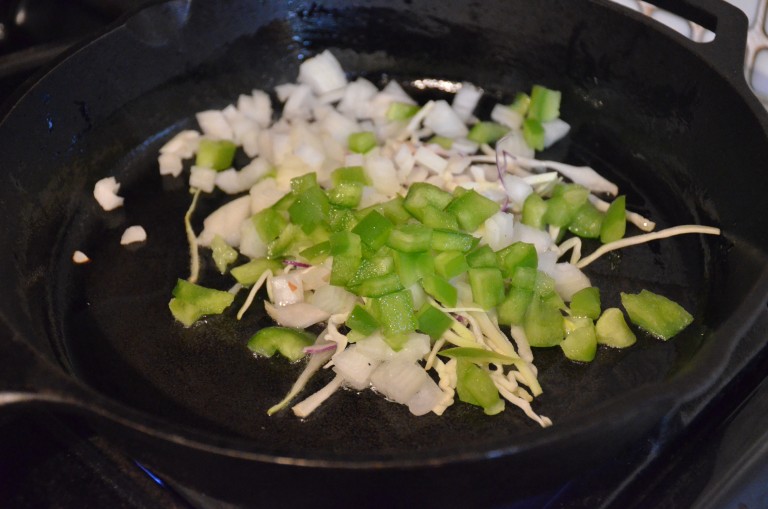 Add the onions, green pepper, and cabbage to a greased non-stick pan. I use canola for this recipe. Cook until the veggies start to brown. This only takes a few minutes, and the veggies will start to get so fragrant! Use your eyes and nose, it's a great indicator of time while cooking.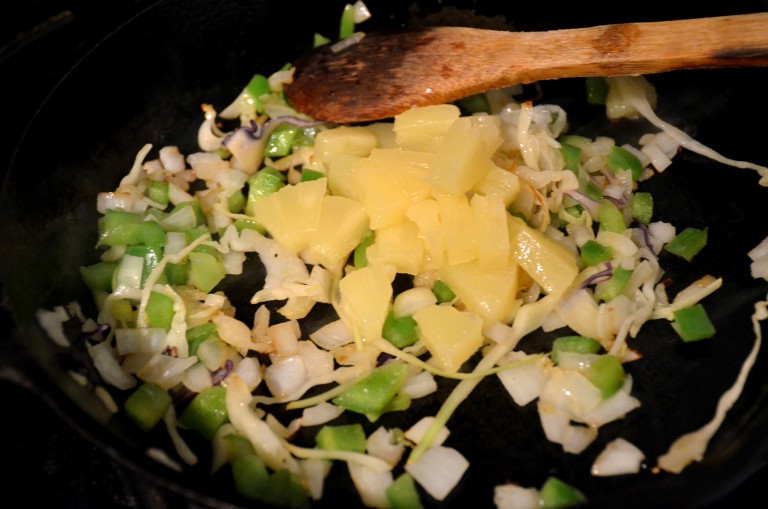 Add the pineapple to the pan, and cook for a few minutes. The pineapple will begin to brown a bit.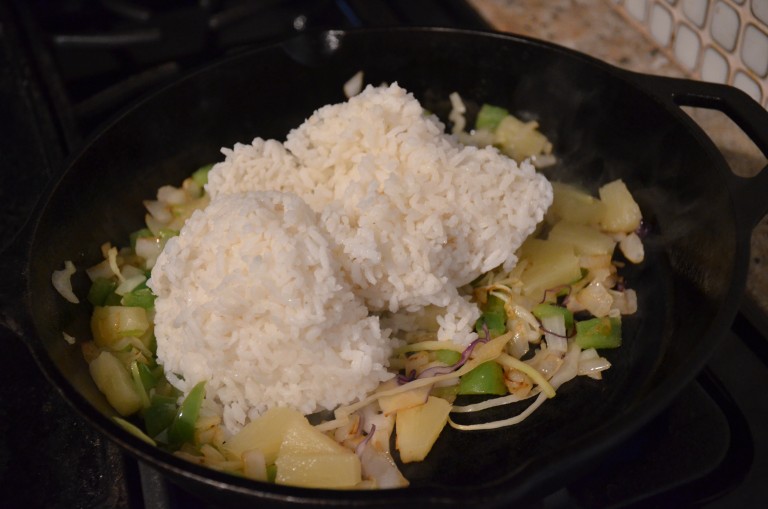 Next comes the leftover rice. Leftover really is best for this dish because it's usually nice and dry. Dry is good in this case. It will fry better and absorb the lifeblood (soy sauce) better. *a reference from Tomato Egg recipe… tehehee…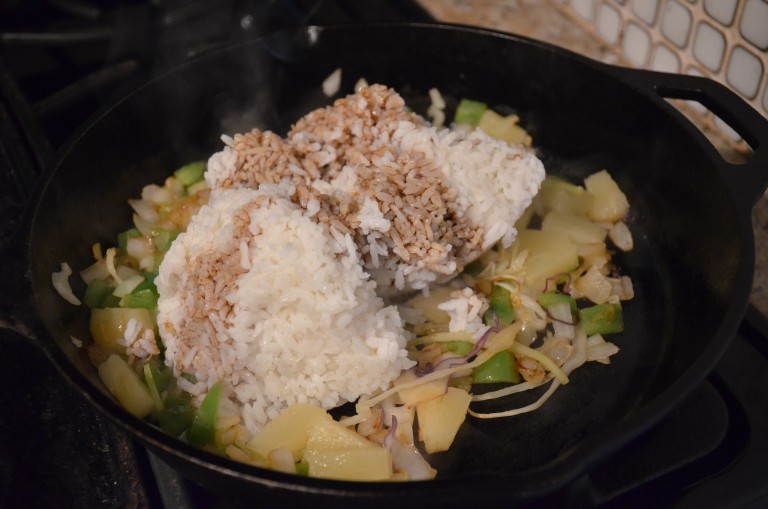 Here comes the soy sauce, or tamari if you want a gluten-free version of this dish. Pour it directly over the rice. This single sauce will be the only thing used to flavor the fried rice. Really!.. between the veggies and the soy, it will be delicious. Trust me…this will be tasty!..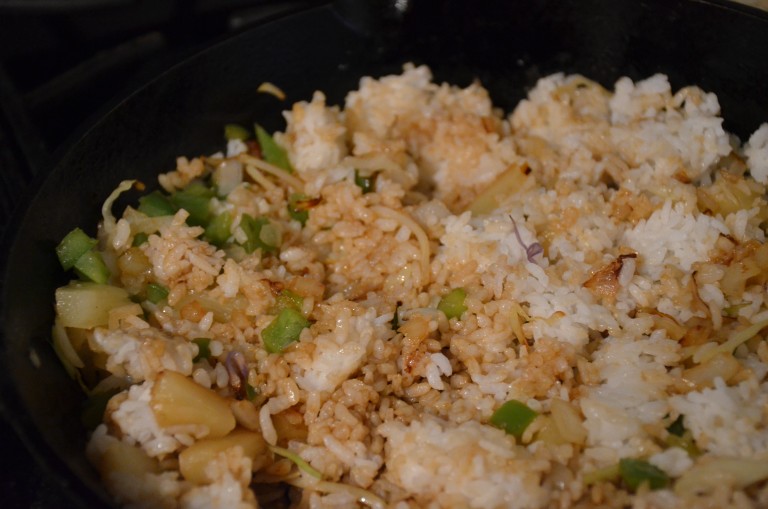 With the back of a wooden spoon, smoosh the rice down so that it covers the entire pan. I like that word, smoosh. So yes, smoosh away!
Let the rice cook for a minute or so to let it brown. Stir the rice to mix it up, getting the bits off of the bottom of the pan, and re-smoosh(!) it so that the rice covers the pan again. This is where I'm regretting using my cast iron pan.. my rice started to stick horribly to the bottom of the pan. Not ideal, but it will still be delish… Let everything cook for another minute or so.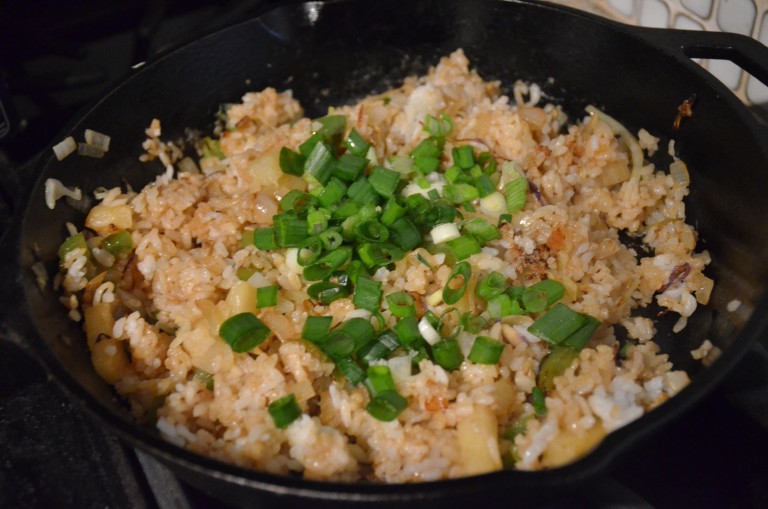 Add the green onions to the rice. Then stir. Salt to taste (if needed).
Serve with additional green onions as garnish. By the way, other veggies work great in this recipe, such as mushrooms, shredded carrots, broccoli, or green peas. However, do not add too many different veggies to it, or it won't be as good. I know… my mom told me so, and being the rebel that I am, I ignored her advice and learned that she was right (again!). Chī fàn!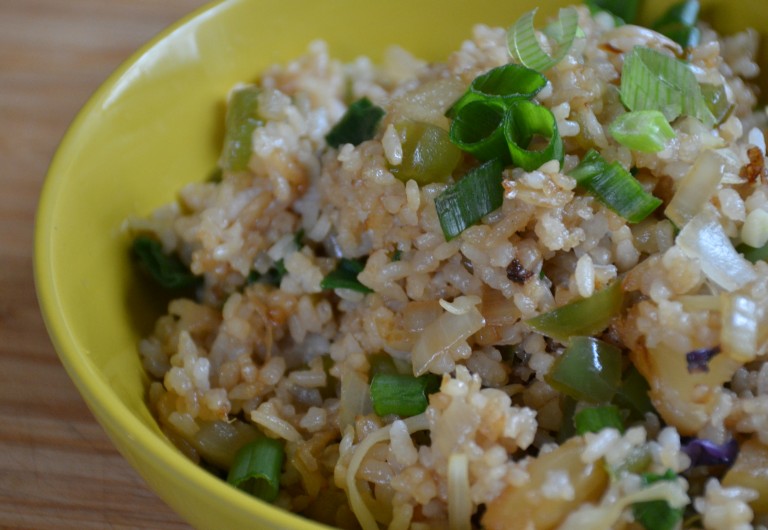 Ingredients
2 cups leftover white rice
2 green onions diced (plus more for garnish)
2 slices of canned pineapple cut into chunks
1/4 cup chopped onion
1/4 cup chopped green peppers
1/4 cup shredded cabbage
1 1/2 tablespoons soy sauce
salt to taste
Instructions
Place the onions, green peppers, and cabbage in a hot non-stick pan and cook for about 3 minutes, until the onions start to brown.
Add the pineapple and cook on medium heat for about 2 minutes.
Put the rice in the pan and add the soy sauce.
Smoosh the rice to break it up and to mix up the soy sauce. Cover the pan with the rice. Cook for a couple of minutes.
Stir the rice, scraping any bits of stuck rice off of the pan (with a wooden spoon). Re-smoosh the rice to cover the pan. Let cook for another few minutes.
Stir the rice. Spread the rice to cover the pan once again, and let sit for a minute.
Add green onions. Stir.
Serve. Garnish with additional green onions.
https://www.sillylittlevegan.com/pineapple-fried-rice/