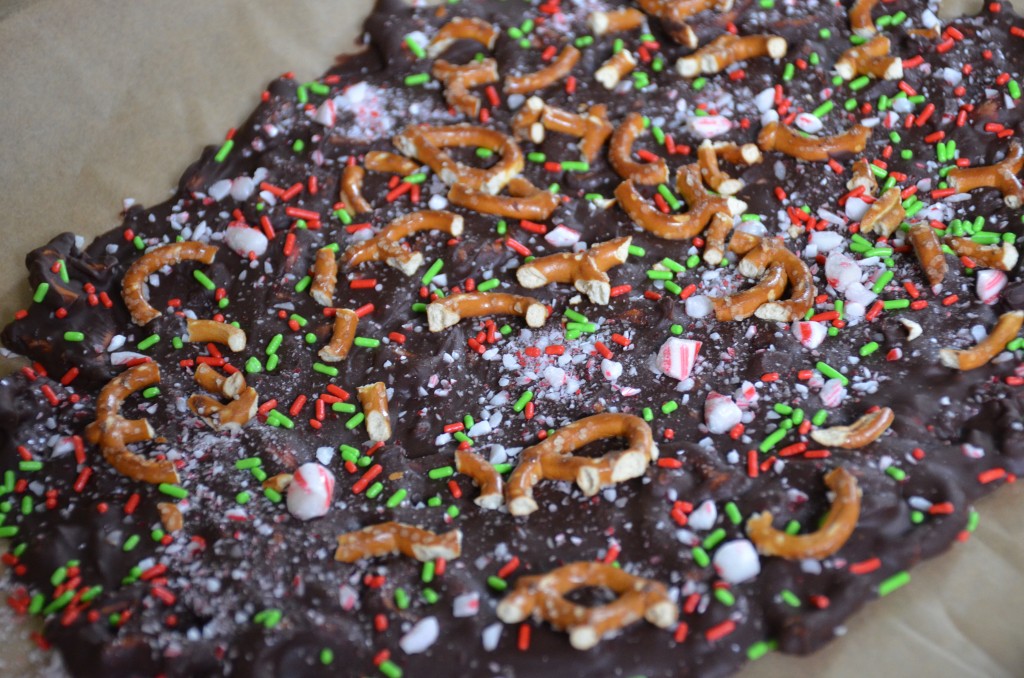 Goodness! The holidays are here!… and in our house, that means treats for the teachers!
This year's treat is Peppermint Pretzel Bark, and it is soooo easy to make… and if you're like me… you'll already have most of the ingredients in the pantry. The inspiration came from a shopping trip to Whole Foods. I saw a tin of peppermint bark… and I resisted the urge to buy it as my cart was already too full… so I decided to try to make it at home instead!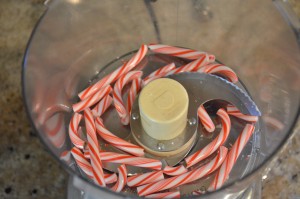 I started by putting five candy canes in a food processor…. now, you could put the candy canes in a storage bag and beat beat the dickens out of them with a rolling pin… but I opted to not waste a bag. Talk about eco-friendly!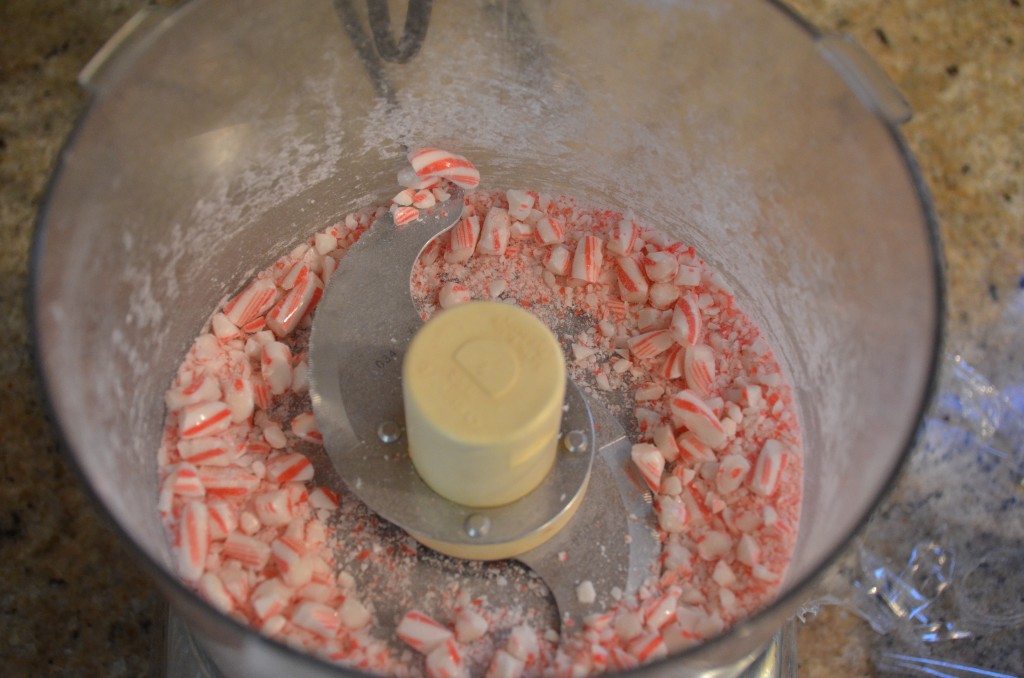 Pulse the candy canes several times until they are broken up into little pieces. Don't over process them… you want to leave some larger pieces.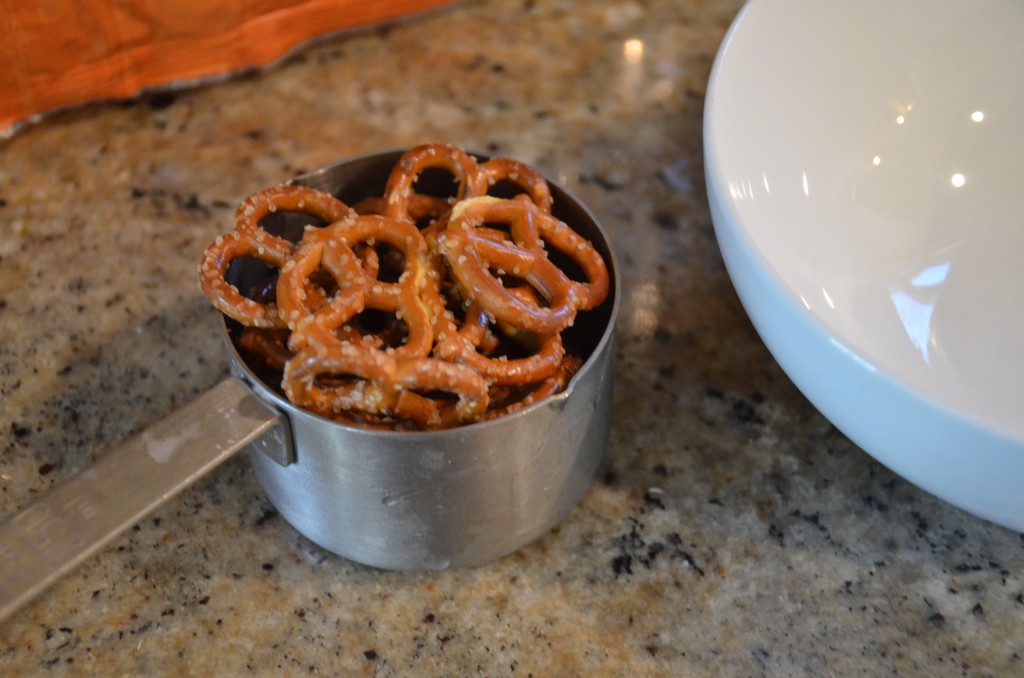 Measure out a heaping cup and a half of pretzels. Break them into pieces by hand.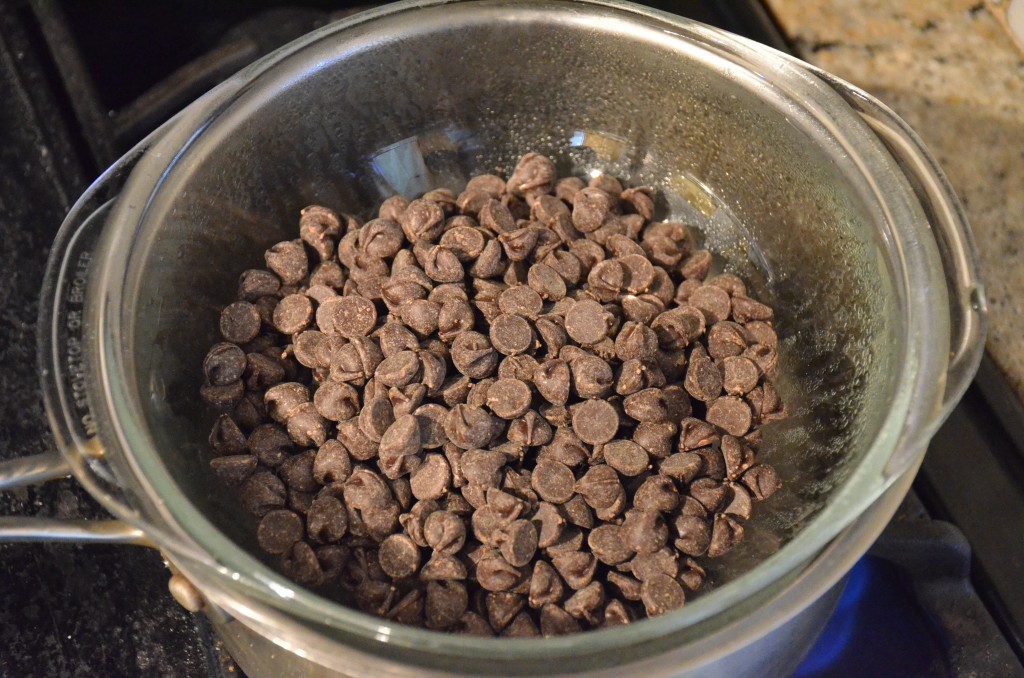 Melt a bag of non-dairy chocolate chips. I used a double boiler for this today… however…feel free to use the microwave. I use the microwave to melt chocolate all of the time.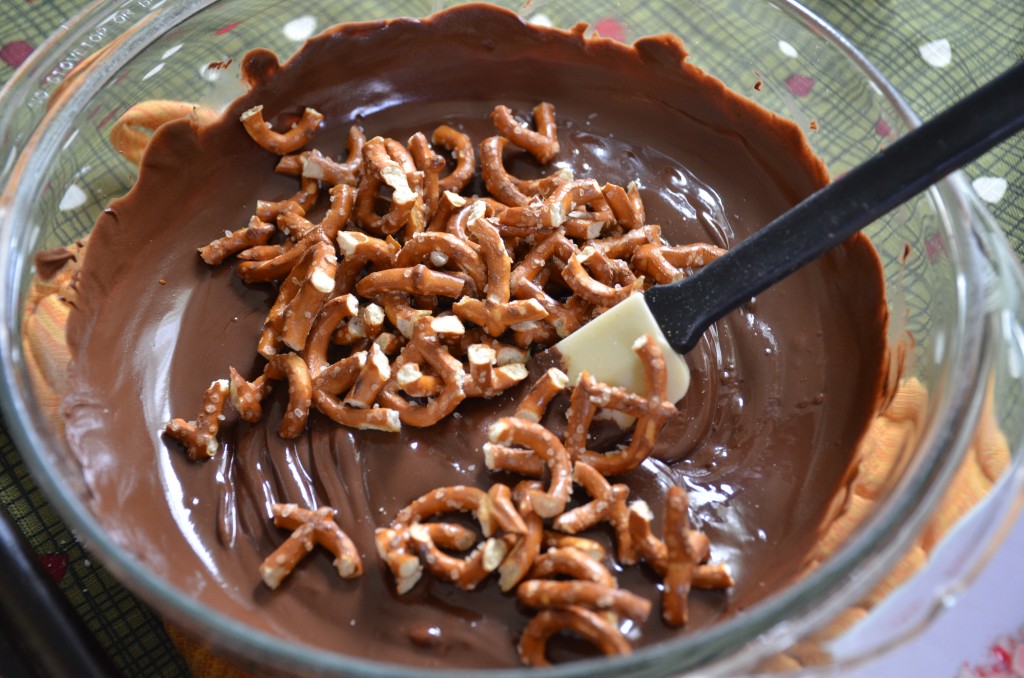 Add most of the pretzels to the melted chocolate, reserve about 1/4 of them for later.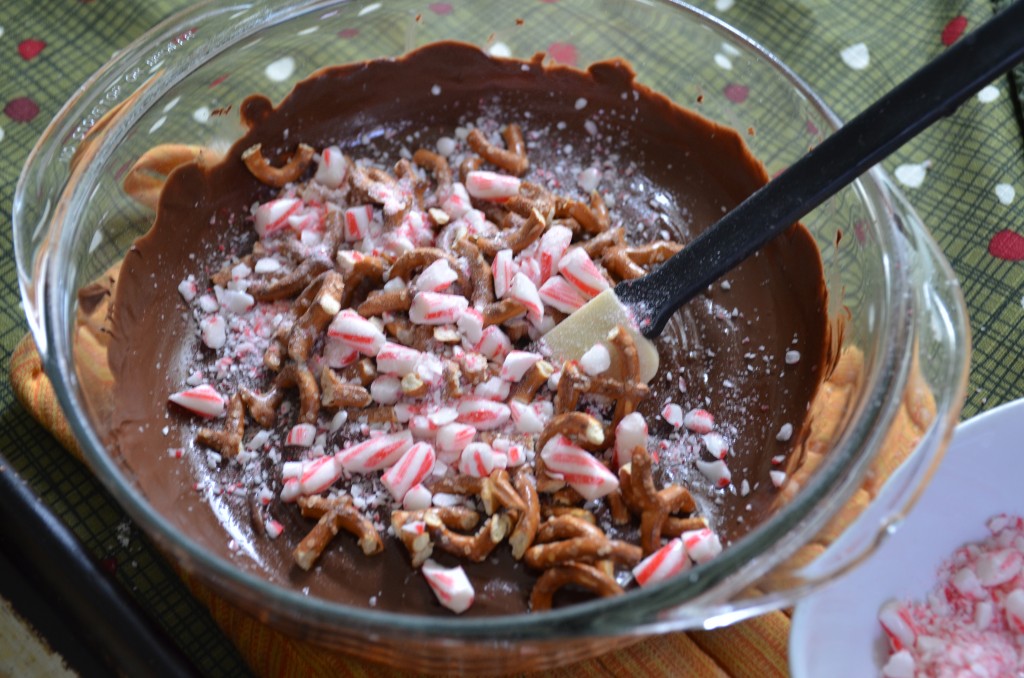 Now, add in most of the peppermint pieces, reserving about 1/3 of them for later…. Mix everything together to fully coat the pretzel and peppermint pieces.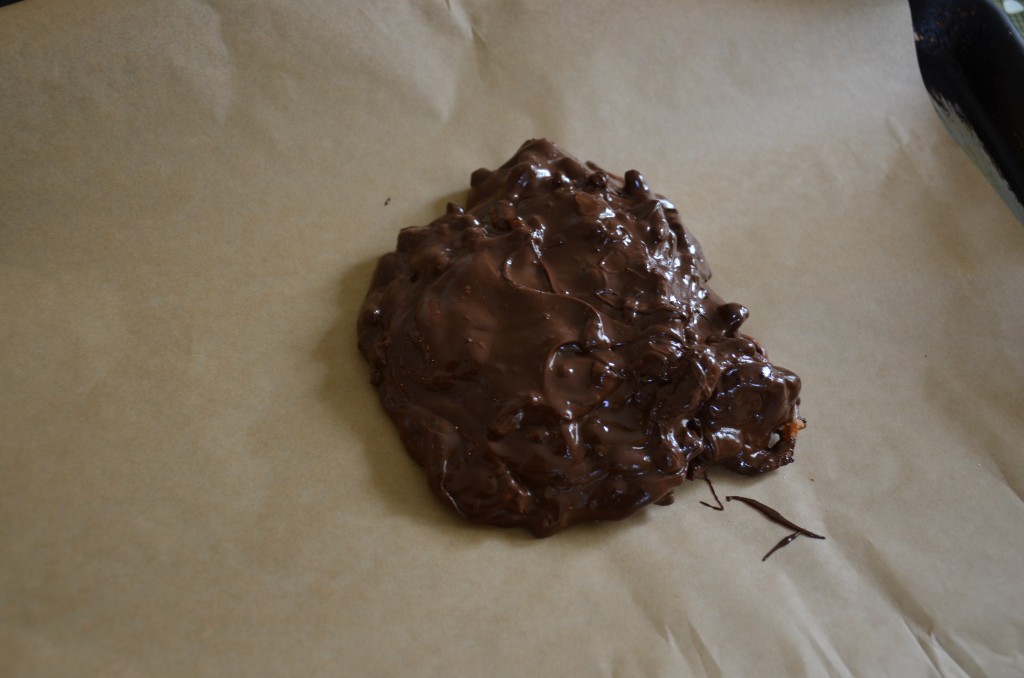 Pour the chocolate on a baking sheet lined with parchment paper.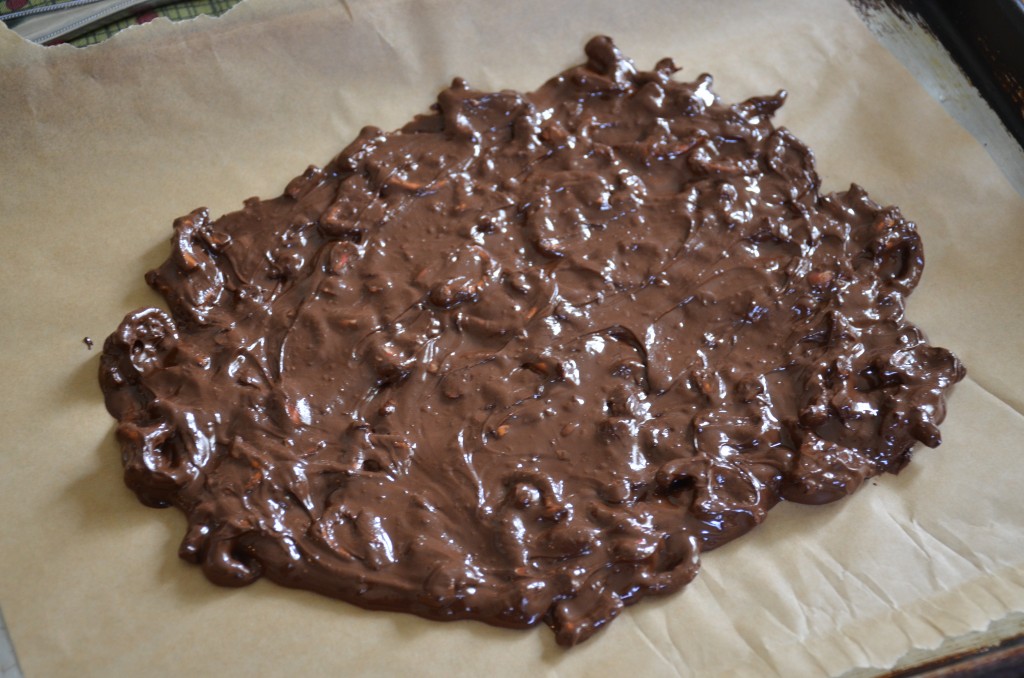 Spread the chocolate on the parchment.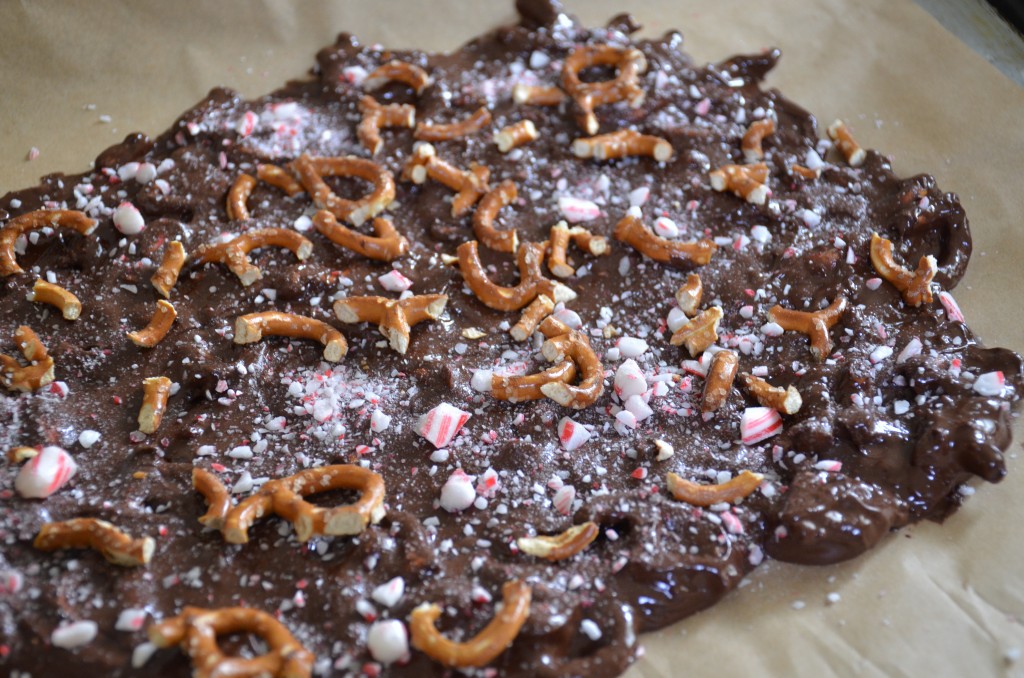 Sprinkle the reserved pretzels and crushed peppermint on top of the chocolate. I had some left over peppermint after this step. You can use it all or… hold yourself back a little. It's up to you!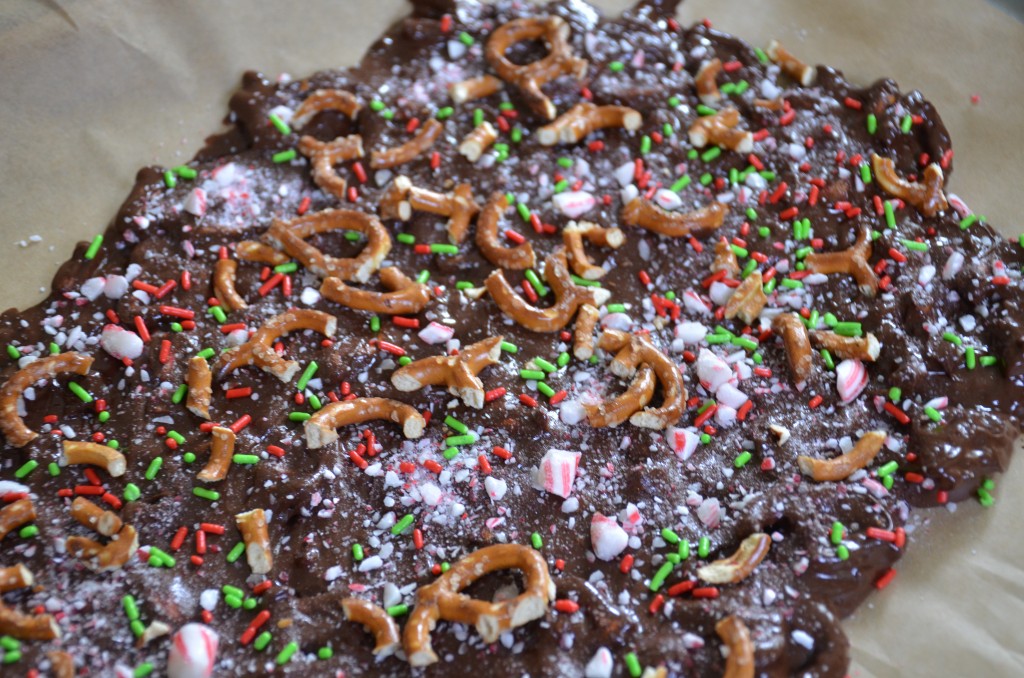 … and if you're feeling extra festive… sprinkle on some holiday jimmies. My kids love jimmies!… so, in my house, this step is NOT optional.
Before sticking the peppermint pretzel bark in the refrigerator, gently press the big pieces of pretzels into the chocolate.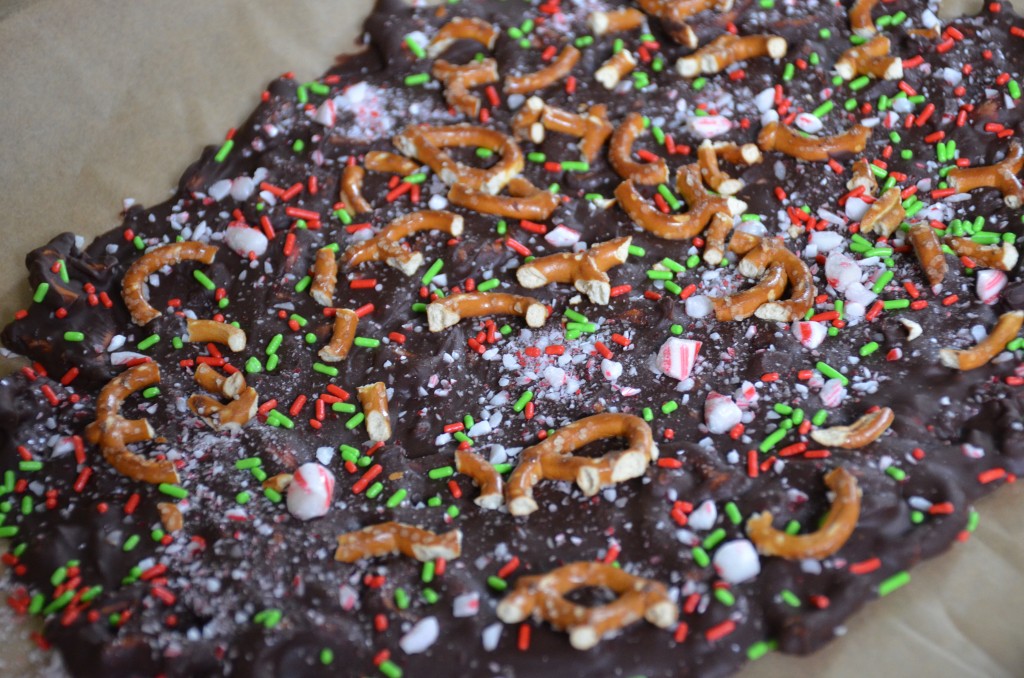 Refrigerate for about 30 minutes…or if you're in a crunch for time, stick it in the freezer for about 10 minutes to set.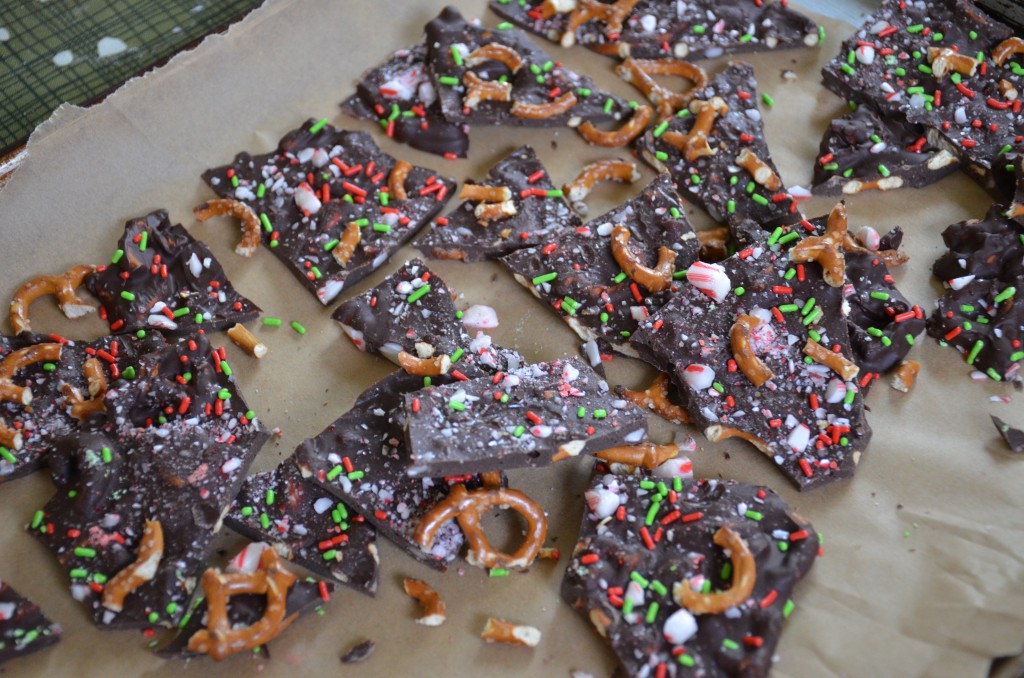 Carefully, break the chocolate bark into pieces. Large… small… medium… whatever you like. I went for a mixture of all different sizes.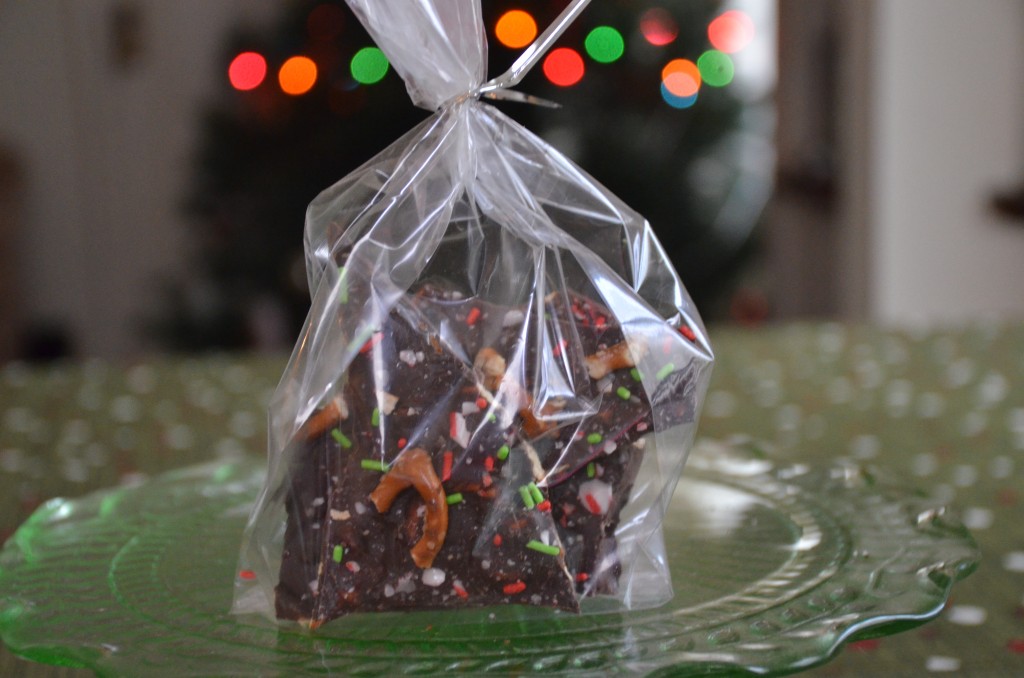 Since this is a teacher treat, I packed them in clear treat bags. I didn't want any designs to get in the way of this beautiful bark! See… easy peasy! ♥
Ingredients
1 bag non-dairy chocolate chips
1 1/2 cups mini pretzels
5 candy canes
festive sprinkles (optional)
Instructions
Break the candy canes into little pieces by pulsing with a food processor.
Break the pretzels into pieces by hand.
Melt the chocolate in a double-boiler or by microwave.
Pour in 2/3 of the peppermint pieces into the melted chocolate.
Add 3/4 of the pretzel pieces into the chocolate and mix.
Spread the chocolate on a baking sheet lined with parchment paper.
Sprinkle reserved peppermint and pretzel pieces.
Sprinkle the festive sprinkles over the chocolate.
Press the large pieces of pretzels into the chocolate.
Put the baking sheet in refrigerator to set. Approximately 30 minutes.
Break into pieces before serving.
https://www.sillylittlevegan.com/peppermint-pretzel-bark/