Day 2
So, vegan traveling with children is totally doable. Once you get one good day under your belt, you can start branching out. Let everybody relax, and check out a few vegan restaurants!!!
The Chicago Diner
3411 North Halsted St.
Chicago, IL 60657
My sister-in-law was kind enough to suggest that my husband and I go out to lunch alone, and we jumped at the chance to have a mini date at
The Chicago Diner
. What can I say other than I love this place. We went to the location on North Halstead. We still haven't been to their Logan Square location. The atmosphere at the Halstead location is diner cool, and so is the food. We started our lunch with an appetizer and chocolate peanut butter cookie dough milkshake. Can you believe they make such a monstrosity? Talk about a rich and tasty way to start our meal! Maybe that combination was a bad idea in terms of starting our lunch. It made it a bit tough to eat the rest of our lunch. For our appetizer, we ordered the loaded poutine. It consists of their waffle fries smothered with their country gravy, melted vegan teese (cheese), vegan bacon, jalapeños, and sour cream. It was really delicious. I almost didn't want to share. Almost…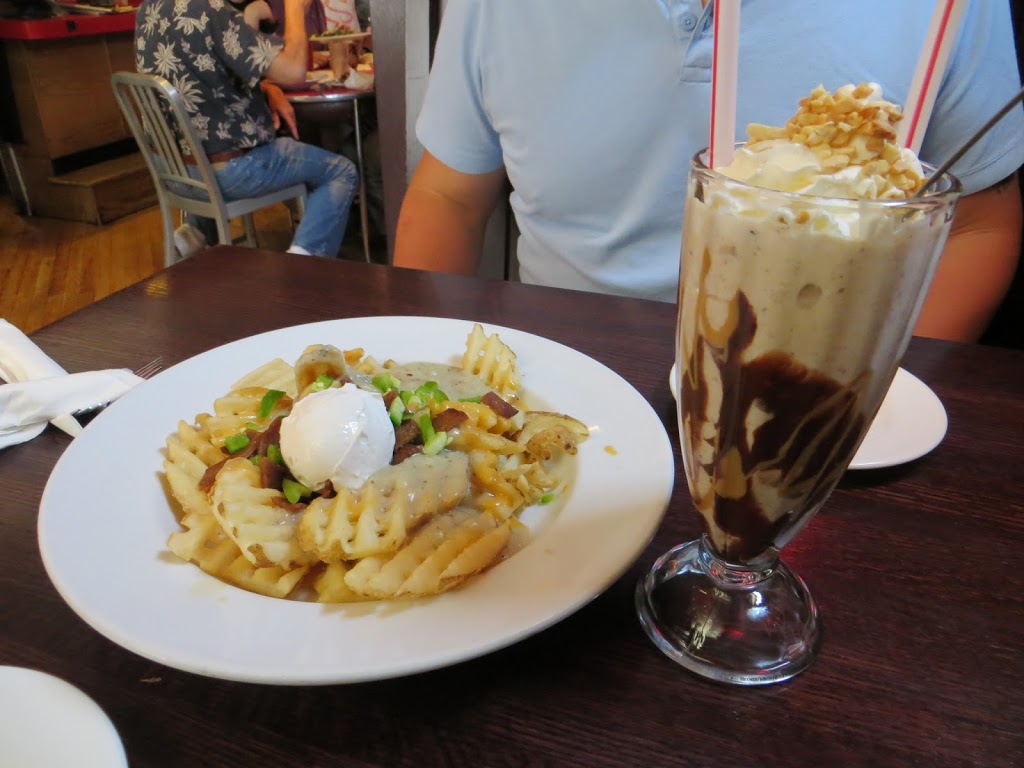 I have to admit that this was the BEST milk shake that I've ever had. It was perfectly sweet with a nice peanut butter flavor. At the bottom of the glass, I had a bonus bite of the cookie dough. Yum! I felt a bit guilty for enjoying this without my girls, but I wasn't about to eat here without trying a shake. The poutine was really good, too. I loved their seitan bacon.
For lunch, I ordered the Philly Cheese Staek sandwich. I thought it was a pretty decent sandwich. I thought that the flavor of the seitan overpowered the veggies and cheese sauce a bit. Maybe it just needed more peppers and cheese. Ooooo… I just noticed that you can add spicy giardiniera!… Man!… that would've been fantastic! The side salad was delicious. I had their Southwest Spice dressing that reminded me of this dip I that used to make as a kid. It was kind of like sour cream with taco seasoning, and for all I know that may have been the inspiration for this salad dressing. I was too full from our appetizer and shake to finish my sandwich, but I did finish my salad. It's good to make sure to eat all of your greens!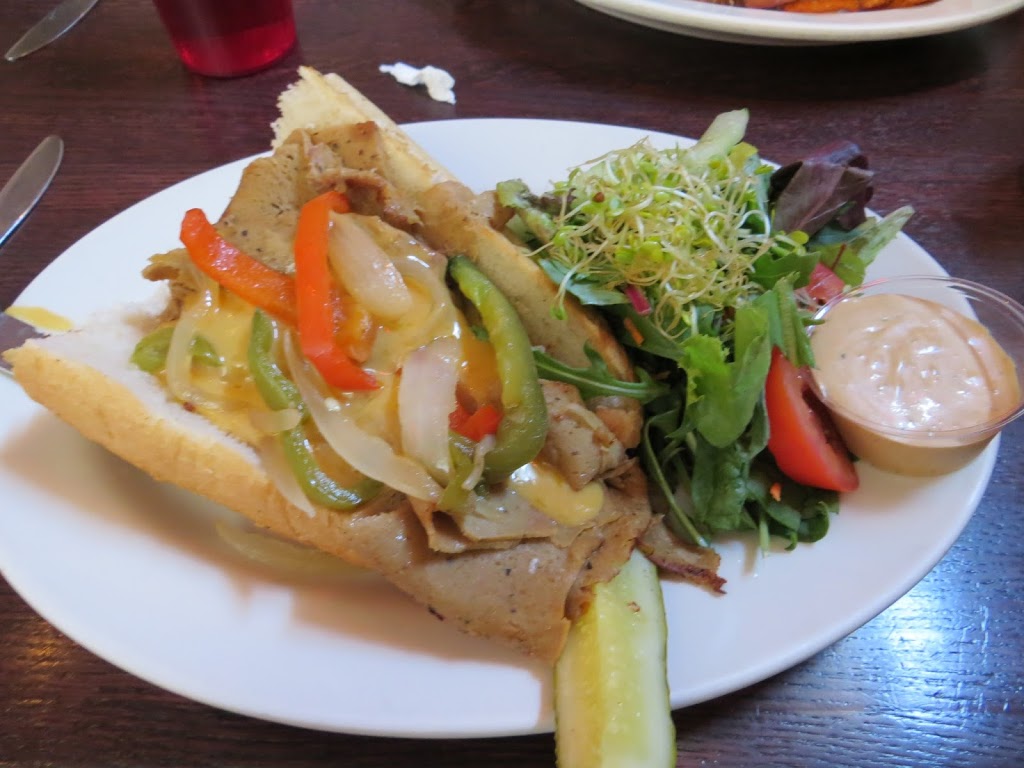 Philly Cheeze Staek
My husband ordered the Radical Ruben with a side of sweet potato fries. I loved his sandwich. The meat of this sandwich was a corned beefed seitan. If I had to order again, I would've picked the Ruben!… I take that back. The menu looks amazing. I just want to try everything!.. and more milkshakes, please.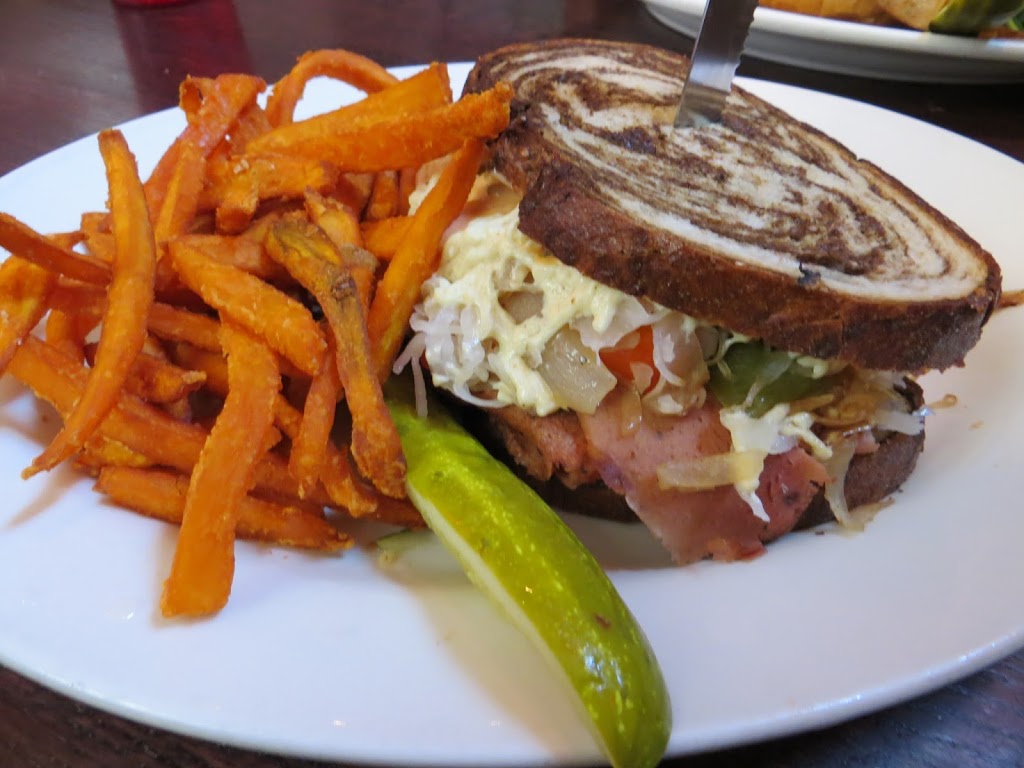 Radical Ruben
Driving back to my brother's house, we were stuck in traffic. You know what?… we were stuck in traffic on the way out to lunch, too. I feel like this trip has been especially bad in terms of congestion in Chicago. I don't remember being stuck in traffic so much when visiting. I guess you just have to anticipate sitting in the car in a traffic jam as part of any trip into or out of the city.
By the time we got home from our lunch, it was around 4pm. We were waiting for my brother to get home from work to have a cook out. It was hard to even think about food after that amazing lunch, but such is life. Earlier that day, we had made a trip over to Costco with my sister-in-law and all of the girls (together there's 5 of them… they have 3 girls and our 2) to pick-up a pack of Field Roast sausages. The pack comes with 12 large links for $11.99. It's a really good deal, and it's a variety pack. The good thing is that there are sausages in the pack that everyone likes.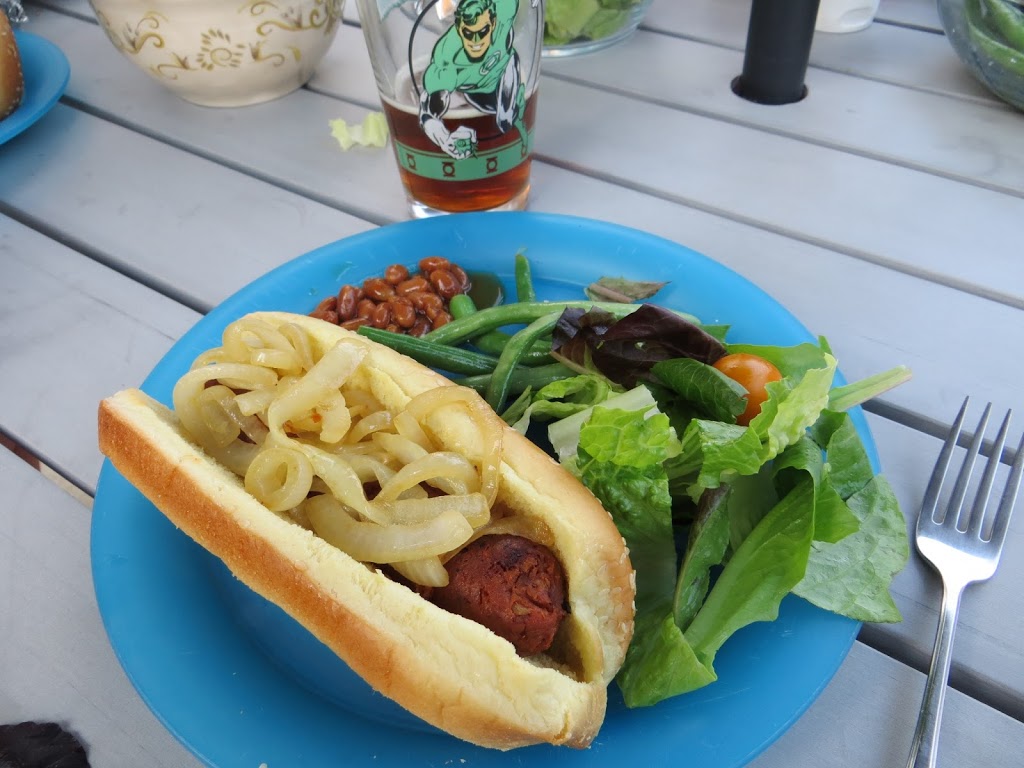 Grilled Mexican Chipotle Field Roast with baked beans and a side salad
Day 3
This was the big day of
The Warrior Dash
for my husband, brother, and sister-in-law. They got up and joked around a bit then left around 8am. They had contemplated having some type of group costume theme, but never came up with one in time for the race. Their wave of the race wasn't until 10am, but it would take an hour to get there. I stayed home with the girls. It was a bit of a rainy day, so we mostly stayed indoors. The girls and I did take one little trip to Target to shop for Father's Day presents. Since there were so many kids, I did give them some ground rules before entering the store (I do this often with my girls before walking into Trader Joe's). Our rules were something like this,
1. No acting crazy (Laney gave us that rule)… I like this rule… It covers, no running, dancing, being loud, and no messing around. 2. Stay together 3. No asking for things not on our list.
These rules worked well, and no one went crazy… including myself!
After walking around the store with them and finding some little things, we ended up getting the dads t-shirts. My nieces got their dad a Millennium Falcon shirt, and my girls got a Captain America shirt my their dad. I'd say that the girls did really well.
By the time my husband, brother, and sister-in-law got home it was about 3pm. By their stories, it sounded like they had a blast. I think I will do it next year.
Munch
104 N Marion St
Oak Park, IL 60301
For dinner, we were all going to dine at a Vegan/Vegetarian restaurant. It was a treat for me for looking after all of the girls while they were out together. Looking at the menu online, it seemed like most things could be made vegan, so I was thrilled that we would get to go somewhere new. This may be the first veg restaurant that I've gone to with my brother. It's nice when friends or family are open to veg dining.
The restaurant is really cute. They have adorable outdoor seating, and the indoor décor is whimsical yet simple. Even the bathroom is picture worthy!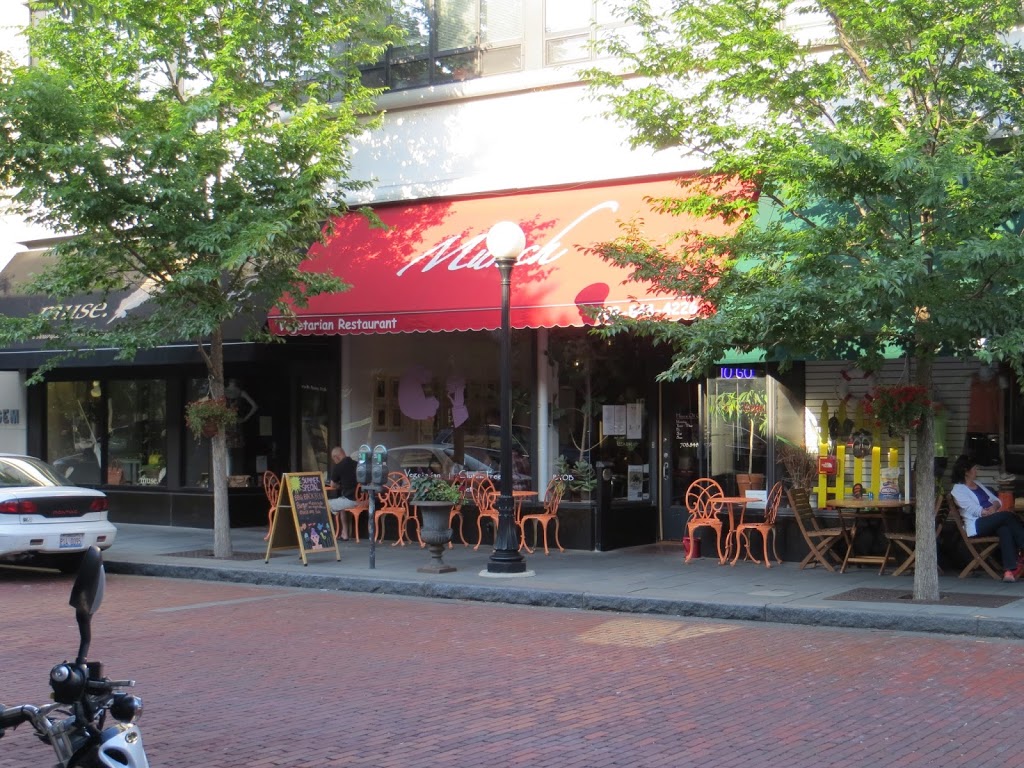 Outside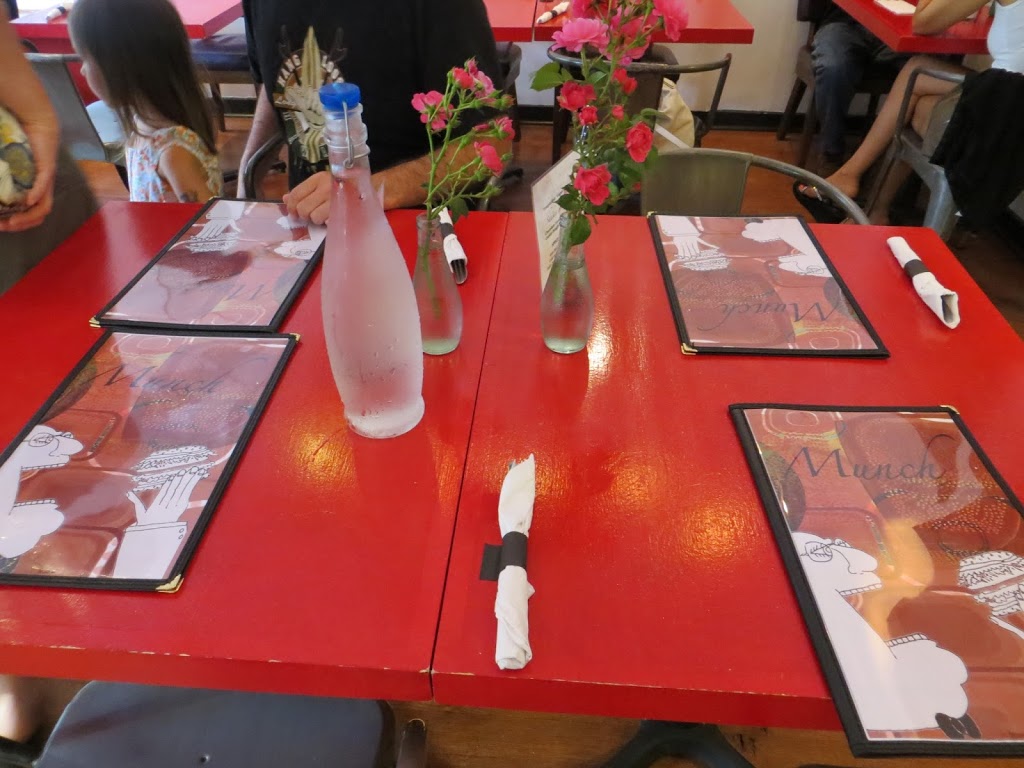 I loved their table water decanters!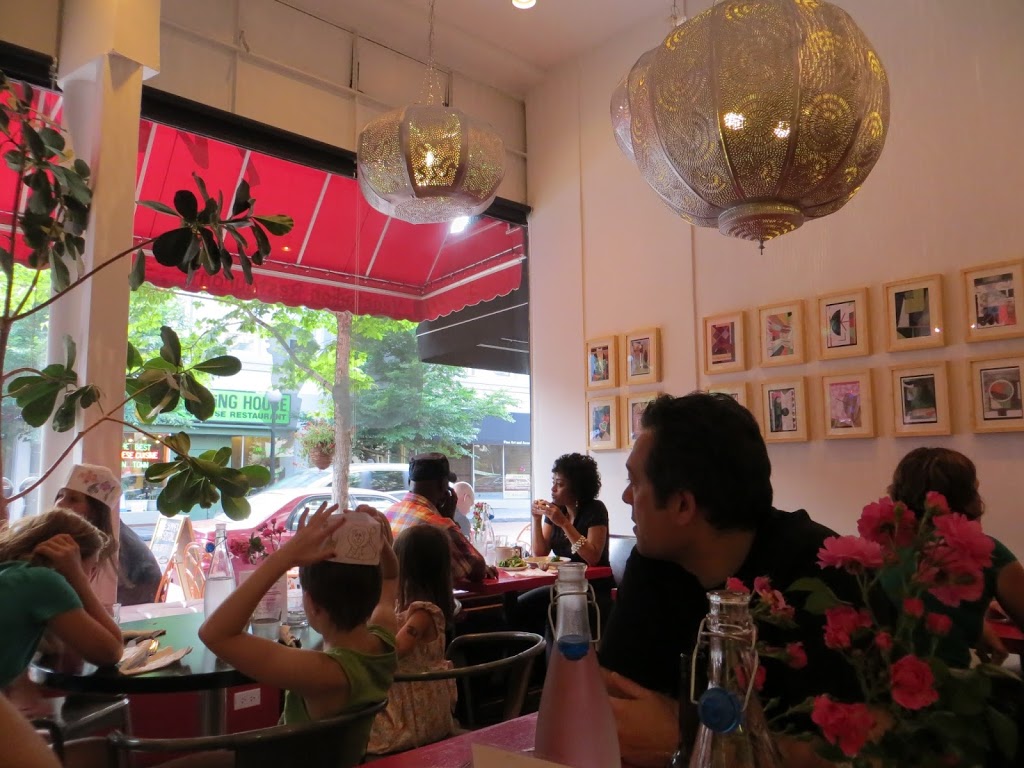 Indoor seating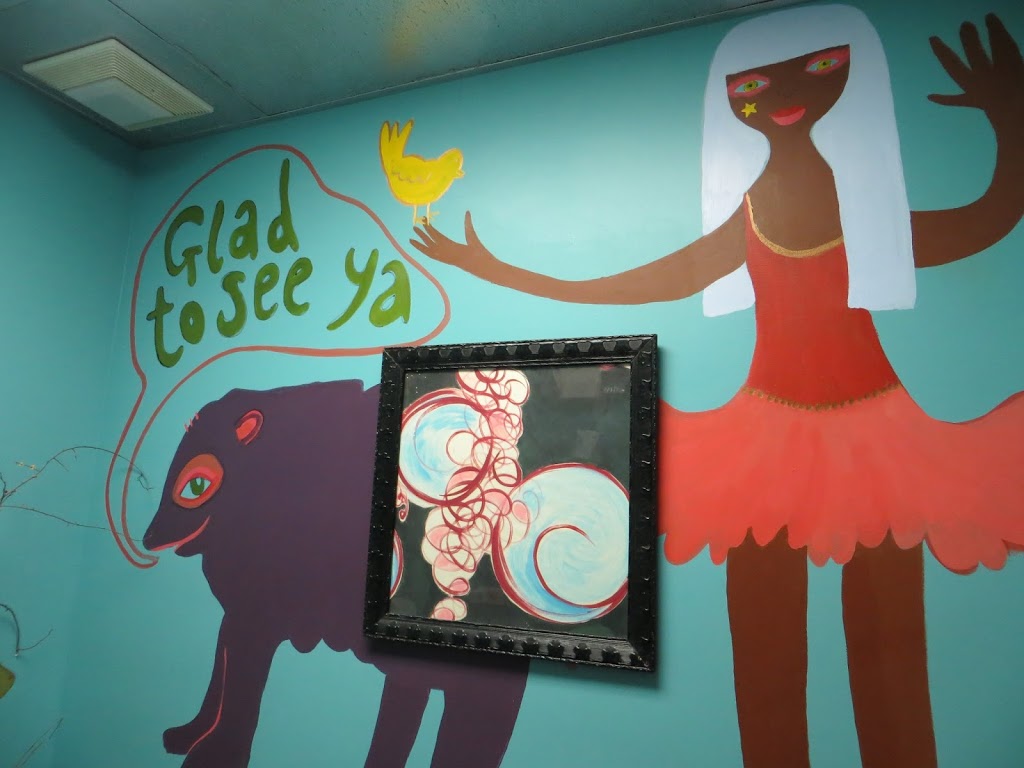 One of the bathroom wall murals,
The menu was loaded with options, from sandwiches to wraps to entrees. When ordering our meals, we had to indicate that we wanted our dinners vegan. I ordered the enchiladas with mole sauce and it came with black beans and rice and a side salad. The enchilada was stuffed with tofu and veggies. The flavor of the mole was a bit muted, but a little hot sauce makes everything better. My husband ordered the Philly Cheesesteak sandwich. I think that I liked it better than The Chicago Diner's… gasp! The dessert was a bit of a disappointment. I ordered the coconut lime cake. While the flavor was nice, it was one of the driest cakes I've ever had. It's unfortunate that they were selling this cake to customers. I think that if you had never had a vegan cake and this was your first one, it may leave a bad impression of how amazing vegan baked goods can be. I'm familiar with the workings of a restaurant, and I understand that sometimes things get overlooked. So, maybe it was just a bad day for that cake, because it has major potential!
One other thing to note that was a total bummer was that this restaurant was CASH ONLY! I was paying for dinner for everyone, and I definitely didn't have enough money on me to cover dinner for nine people. They do have an ATM in the restaurant, but it stinks to have to take out all of that cash. So, be warned. If you ever go to this restaurant… bring your dollar bills.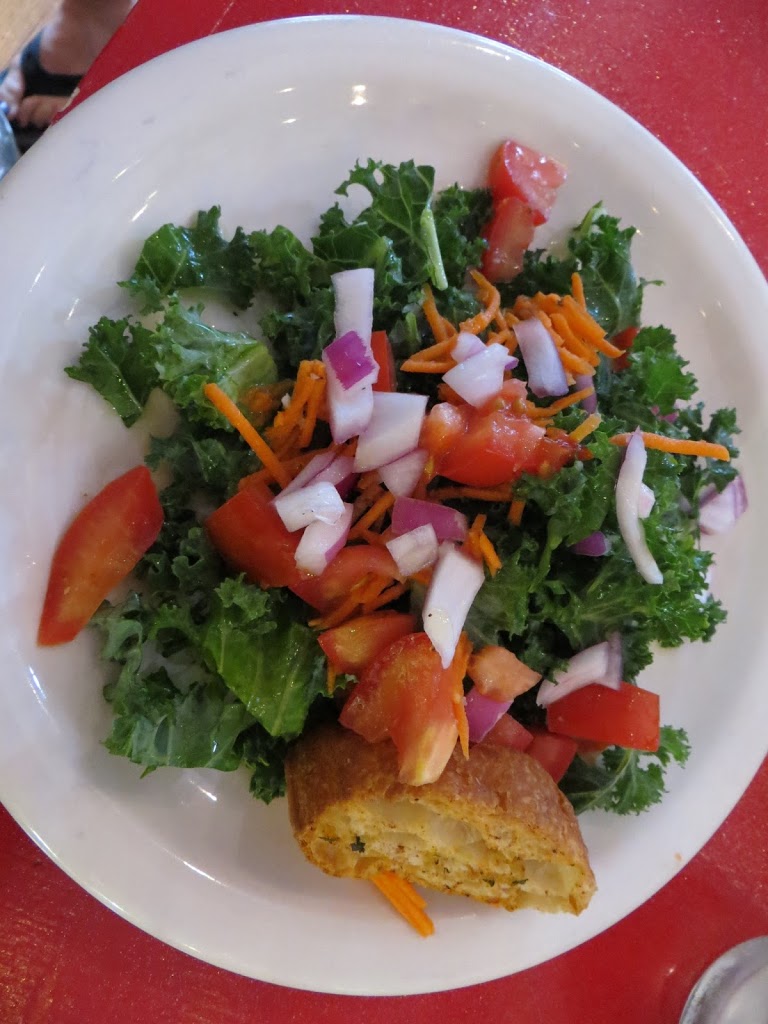 Fresh kale salad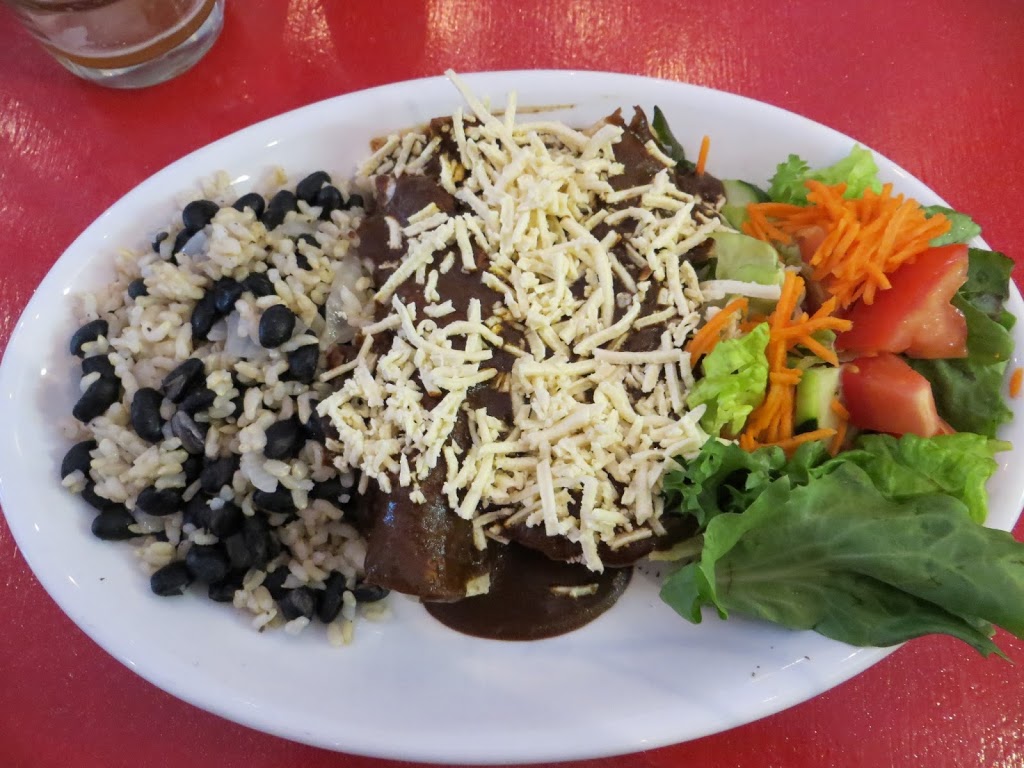 Enchiladas mole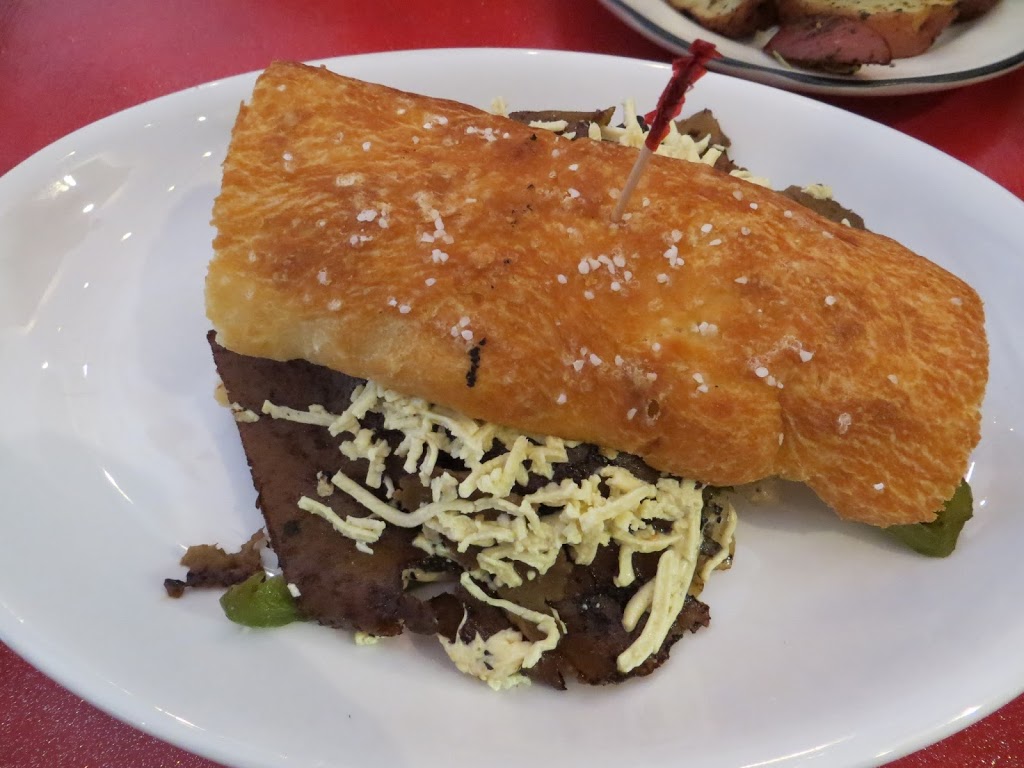 Philly Cheesesteak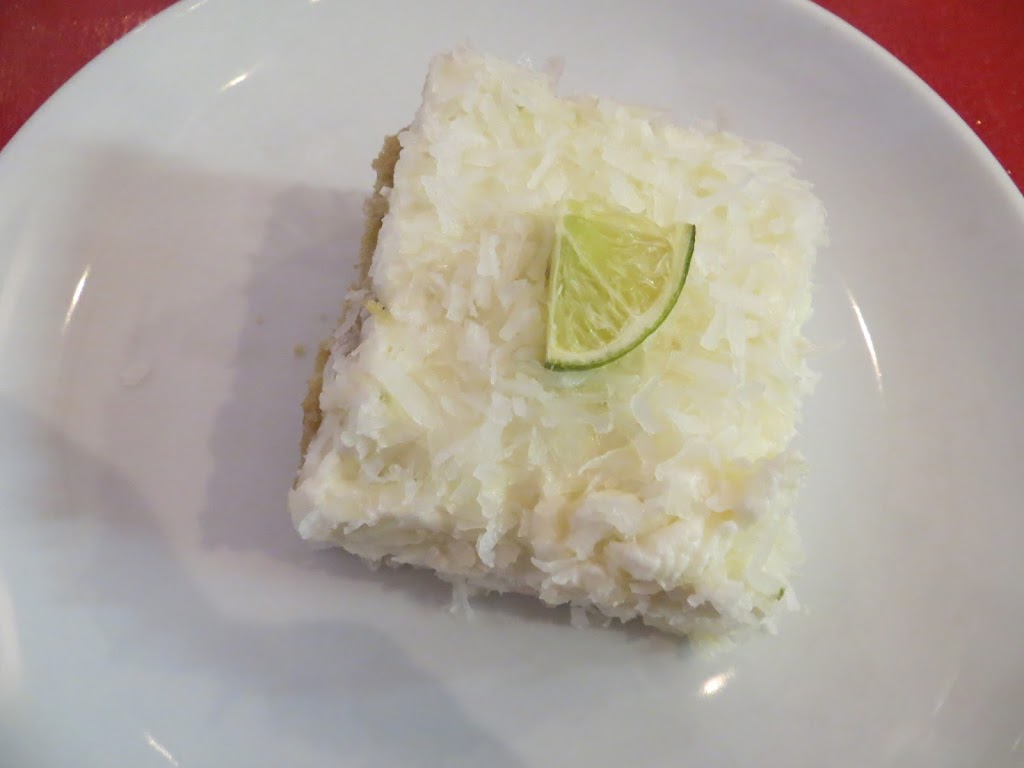 Beautiful and tasty… yet dry 🙁 Boooooo
After dinner, we walked around a bit, then we went back to my brother's house. Penny fell asleep in the car…. and Laney stayed up and played some more with her cousins. Then off to bed for everyone. We had planned a big day for our final full day together. So, everyone turned in relatively early. No late night parties for us!
*For the privacy of our of our family and my brother's family, I have removed some of the pictures from this post.