How hard is vegan traveling with children? Vegans visiting and staying with non-vegan relatives? Let's find out!
We have been excitedly preparing for our trip to Chicago. I grew up in a southern suburb of Chicago, and I still have family still living in the area. So, we make trips to Chicago once or twice a year. This summer's trip was planned around my husband's enrollment in The Warrior Dash with my brother and sister-in-law. I'm still wondering why I didn't sign-up. Maybe I'm a bit of a scardy cat, but I know that I do like a challenge… Next year? We'll see!
So, our trip was only scheduled for a total of 5 days. It's a bit short by my standards, but that's how our schedules worked this time. Before leaving, my mother had told me that my sister-in-law was stressing a bit over our visit because of our diet. I was a little surprised to hear that because we've visited them before as vegans, but at the time she was anticipating yet another (unrelated) family staying the same week to compete in the Warrior Dash. Yeah.. so I get it. I understand the stress. There's a lot of mouths to feed, and one family (ours) has a different dietary preference. Knowing this, I went into making sure to make this trip as easy as possible for everyone.
Traveling with Children
Our girls are 4 and 6 years old, and they don't like long car rides. So, my husband and I like plan to be on the road anytime between 3am – 5 am. Our hope is that by leaving this early, the trip will be easier on the girls because they may sleep for a few hours. Most trips they don't go right back to sleep in the morning. However, they often nap a little bit in the afternoon.
Before becoming vegan, we would rely on fast food for breakfast. Now, it's quite a bit different, because finding vegan food is inconsistent. I started making food to eat on the road. One of our favorite things to eat for breakfast while traveling is tofu scramble burritos. In addition, I'll pack fruit, almond milk, and dry cereal.
My breakfast burrito was filled with scrambled tofu, onions, mushrooms, spinach, hash browns, and siracha ketchup. YUM!
This time, we played a little bit at the rest stop after eating breakfast. We had a total stick fight between the girls and my husband. The family jumped me after hiding behind a tree when I came to look for them after washing all of our bowls and cutlery.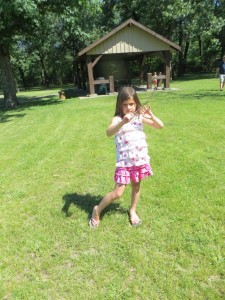 After breakfast, we were back in the car. I am very gifted at falling asleep in the car. I'm not sure how many short naps I took, but before I knew it we were in Indiana, close to our destination. My husband mentioned that he wanted to stop by a brewery. So, we took a little detour to Three Floyds Brewery.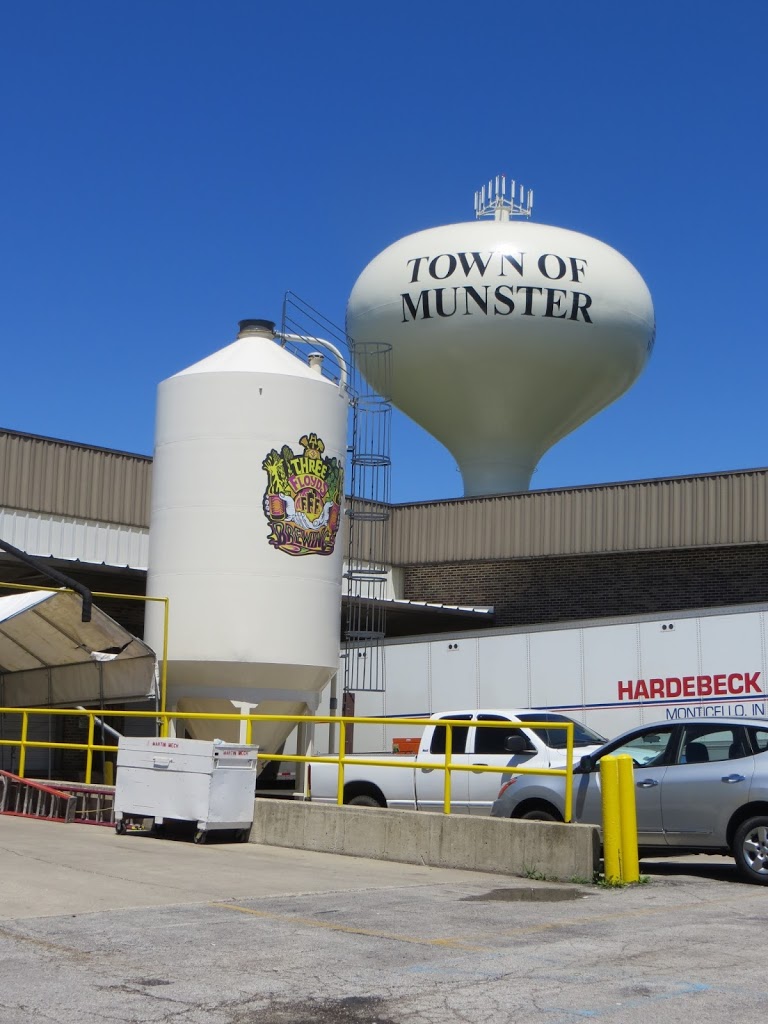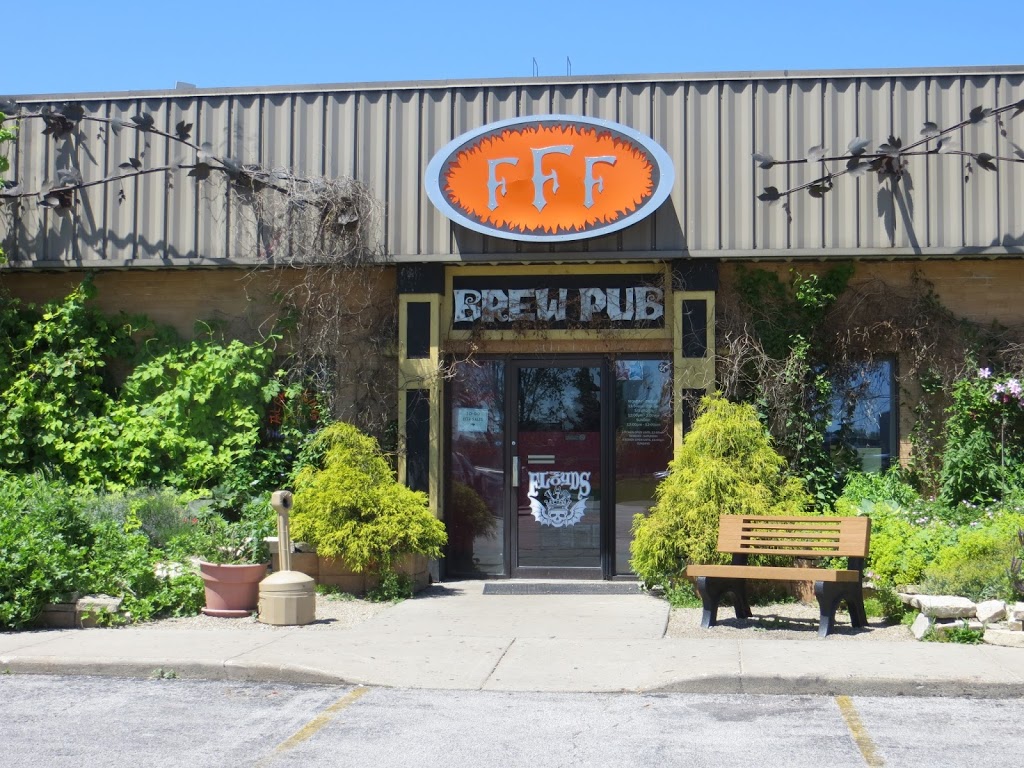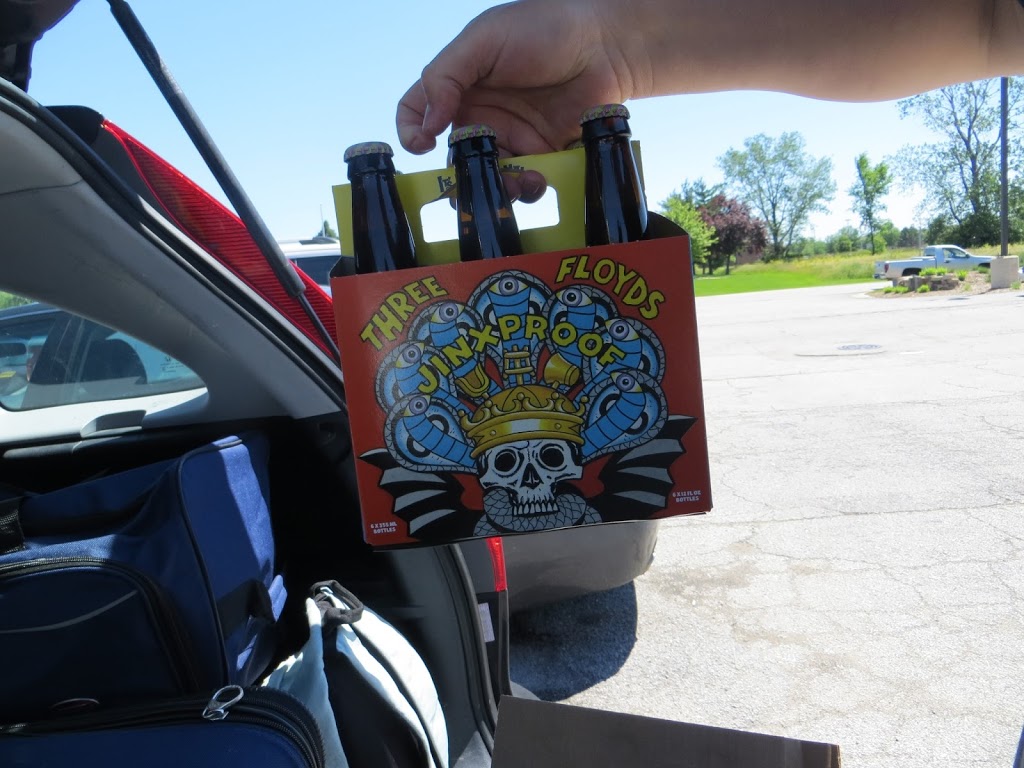 From Three Floyds, our next destination was La Bamba for burritos. This was something that my husband and I have been anticipating for a long time. We had a La Bamba near us (located by The Ohio State University), but it had closed down several months ago. There's nothing as sad as going to a beloved burrito joint only to find out that it was no longer there. So, we just had to go to the Chicago location. The restaurant was totally out of the way, but it really didn't matter. The funny thing is that when we mapped out La Bamba and we arrived, IT WASN'T THERE!!! The website said they had another chain, so I called ahead… and luckily there was one that was still open.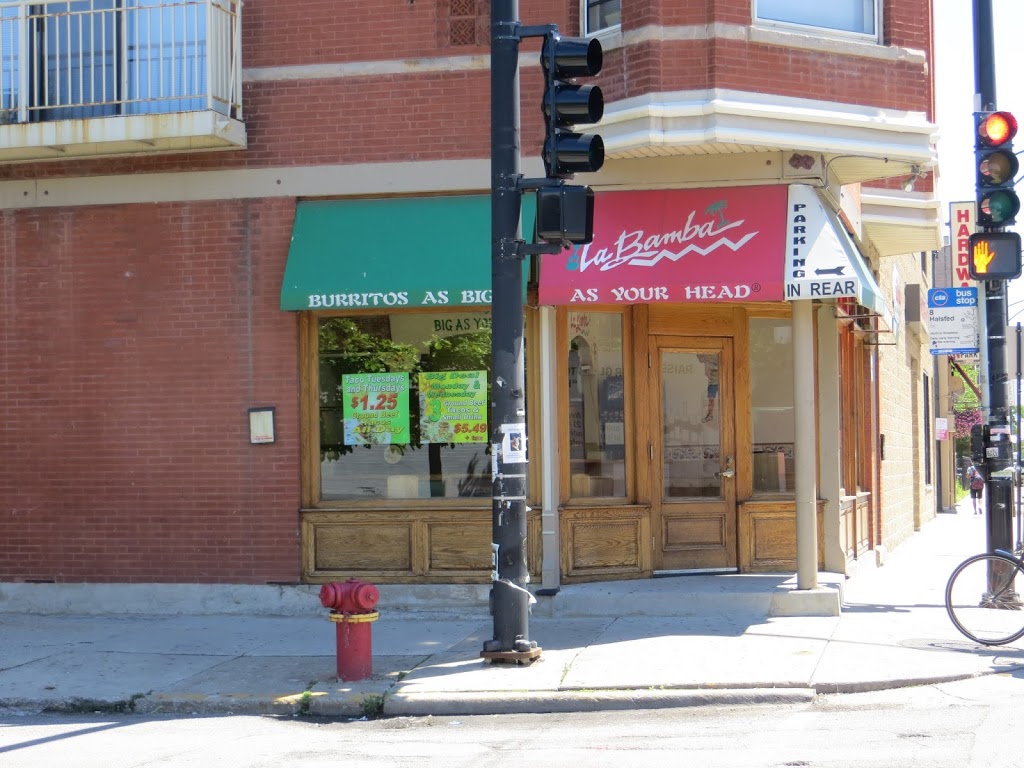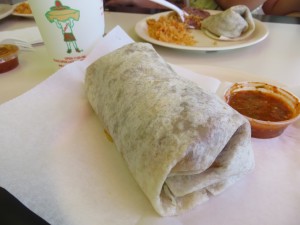 I think that people can be shocked by the accessibility of vegan food. I posted on Facebook that we were eating at La Bamba, and my friend was surprised that you could eat vegan there. My burrito was delicious. It had beans, rice, avocado, lettuce, onions, and jalapenos. Of course… don't forget the hot sauce!.. The hot sauce was a little bit different than what I remembered, but it was still delicious. It is just a nice solid bean burrito. Was it worth driving an hour out of the way and sitting in traffic to get a few bean burritos?… You betcha! I know we'll do this again.
When we finally arrived to my brother's house, we all were ready to be out of the car. Normally, the trip from Columbus, Ohio to the Chicagoland area takes roughly 6-7 hours. This time, due to our detours, the trip took close to 11 hours. Luckily, we left early!

For dinner, we took it easy. I picked up some Gardein nuggets for my family and some instant rice at their neighborhood Target, and then we just paired that with some fresh veggies including a Selfie Caesar Salad… in a jar! Super easy. No work for anyone! Like I said, we were doing easy meals for our visit.