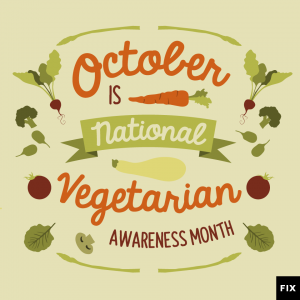 Source: Fix.com
I have to admit… I love social media!…  I love how easy it is to spread the word to like-minded folks! I just got word from the people at Fix that we are currently entering into Vegetarian Awareness Month! So cool!
          Vegetarian Awareness Month was established by the North American Vegetarian
          Society in 1977. You can make a difference this October by telling your friends and
          family about the benefits of vegetarianism, and encouraging them to try out a
         vegetarian diet, which can have health advantages.
         -Fix
You know what else?… World Vegan Month starts in November!!… November 1st marks the day that Donald Watson, his wife, and four of his friends founded The Vegan Society back in 1944. You can read the first issue of their Vegan News HERE. While some people think that veganism is a direct rejection of current factory farming methods of animals, the vegan ideology was actually started long before the industrialization of animal agriculture. The slaughtering of animals has always been dirty, and messy, and brutal regardless of the type of farming methods (small farm vs. factory farm).
          One of my earliest recollections is of holidays on my Uncle George's farm where
          I was surrounded by interesting animals. They all "gave" something: the farm horse
          pulled the plough, the lighter horse pulled the trap, the cows "gave" milk, the hens
         "gave" eggs and the cockerel was a useful "alarm clock" – I didn't realise at that time
          that he had another function too. The sheep "gave" wool. I could never understand
          what the pigs "gave", but they seemed such friendly creatures – always glad to see me.
          Then the day came when one of the pigs was killed: I still have vivid recollections of the 
          whole process – including the screams, of course. One thing that shocked me was that
          my Uncle George, of whom I thought very highly, was part of the crew. I decided that
          farms – and uncles – had to be reassessed: the idyllic scene was nothing more than
          Death Row, where every creature's days were numbered by the point at which it was
          no longer of service to human beings.
So, I just want to say that I went vegetarian almost 20 years ago (vegan 3 years)… and while I'm just learning about the importance of October and November..  I am so excited to be sharing with you that we are entering two months devoted to meat-free living!  ♥