Update:  I did send the letter a day or so after writing this post.  However, I found out that it was my daughter's entire grade that was involved with this hatching program, so I redrafted my letter and sent it to all of the second grade teachers (along with the school principal) encouraging them to end the program.  I then realized, after sending the letter, that this program was much larger than I had anticipated. It was actually the second and third grade classes and they were being sent 75 eggs to hatch between the 6 classrooms. At that point my heart sank as I realized this was much bigger of an issue than I was prepared for.
I will say this… my daughter's teacher was the only person to respond back to me…. and while I think he was trying to be nice in his email response back to me… he had insulted me in his note, and I did not want to write about it because of how upset I was.  This story is not done… To be continued…
*****************************************************************************************
Gosh!  Sometimes things suck!…
A few days ago, my daughter's teacher sent around an email to the parents informing us that the class will be hatching chicks in the classroom.  I can honestly say that I am not a fan of this project.  While I love the idea of getting children interested in science, bringing these animals into the school bothers me.  So, I wrote a letter to my daughter's teacher… but before I sent it to him… I sent it to my husband.  His response was.. What do I want out of it?…  Why even send an email at all if I don't have a next step…
This is my letter, and I don't know what to do with it.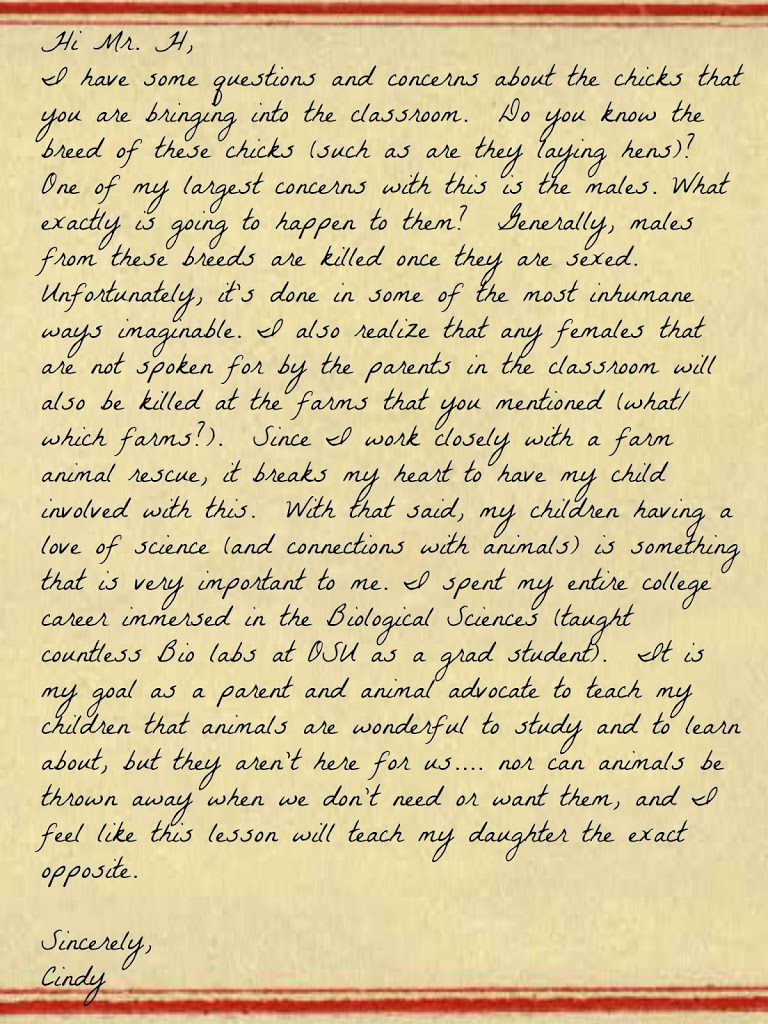 If you don't already know what happens to male chicks and need to see for yourself, click HERE.
One topic that I don't even bring up in my letter, deals with the strong maternal instincts of hens. Like humans, mother hens spend their time with their young teaching them life skills. Hens are also known for being extremely protective of their babies. So, with our class raising these birds, they will essentially be destroying the maternal bond between a mother and her young. This class (along with all of the classes before them) will be a part of the system that creates orphans, and then throws away the ones that aren't deemed valuable.
So… what do I do?… Try to find a sanctuary for the remainder of the birds?… Will a sanctuary want a group of male chickens?  Is there even room at a sanctuary for them? Our local sanctuary is at capacity.  This is all so upsetting to me, and I almost feel like finding refuge for these animals as just placating this whole problem. Like I said… sometimes things suck!
If you want to see how wonderful hens are with their chicks, click HERE. ♥