I'm happy to announce that a VEGAN chef will finally debut on a mainstream television network! The show is titled, "How to Live to 100", and is hosted by an amazingly delightful and funny chef named Jason Wrobel. You can check him out now on
YouTube
. He's all kinds of silly, and although I'm a bit overwhelmed by his recipes, I am completely in love with his personality. It's this kind of humor that will help me break through my rut of using the same ingredients to break into the SUPER FOODS.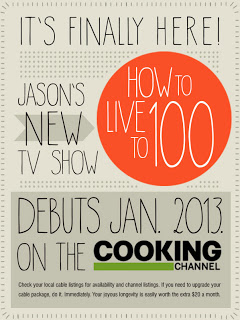 In the spirit of this new cooking show, I think it's a good time to share with you the idea of really LIVING. What I mean is, it's not just longevity, living is about the quality of life you're giving to yourself. So, let's start from the inside. Let's retain our youth by being the best we can to our bodies, and what better time than now. It is resolution time, isn't it?…
Drink WATER – Yes!!! Do it!…and make it 8 glasses a day. Think weight loss and hydrated skin! Not only that, but get the sodas and sugary drinks out of your fridge and out of your body. Maybe you're a several-soda-a-day kind of person… so, take it slowly. Do make it a goal, to stop drinking the stuff. It's no good for your body, and it will save you some dolla-bills!

Eat your greens. Eat them daily. Include a salad everyday and make friends with kale. Kale is one of those (super?) foods that is good to include in your diet monthly, weekly, … daily?.. yes. Kale is a good source of: fiber, calcium, iron, Vitamin K, Vitamin A, Vitamin C, and phyto-nutrients. It's anti-inflammatory food (it's easy on your body) and very low in calories.

Eat your nuts

. Nuts provide an excellent source of protein, fiber, unsaturated fats, and Omega-3s. I eat or drink them daily. Most mornings, I drink a smoothie with raw almonds (click

HERE

for recipe), but I also just like to snack on them throughout the day. My favorite munching nut would be almonds, but I love to put walnuts in my dishes.

Eat your berries. Berries are a good source of anti-oxidants and flavonoids. Think youth and longevity. Okay, so currently it's not berry season, so go to the frozen section. I buy my frozen strawberries organic because it's listed in the Dirty Dozen. However, the blueberries that I buy from Trader Joe's are the Wild Boreal Berries that are not treated with pesticides (I prefer no pesticides to organic… yes these are not mutually exclusive).

Kick dairy to the curb. I know… this is a tough one! I had a really hard time doing this myself, so I know that this is a BIGGIE!… I will probably do a blog entry on how I kicked my dairy habit, because I was a person that said, "I will never give-up cheese." Think about it though, if you feel like you can't live without a food, maybe that says something about the addictive properties of it. If a food is addicting, than maybe… just maybe… it's something that should be removed from your system. Anyways, let's be real. Dairy is baby food. It's loaded with fat….It's meant to grow a little calf into a thousand pound beast in about fifteen months. It's also loaded with hormones. I don't care if you're drinking rBST-free or organic milk, the stuff is loaded in hormones because milk is a mammalian secretion. It's also an allergen and causes inflammation in your system. Also, it's a leading cause of ear infections in children. I really can't think of anything good about consuming the stuff.

Reduce and Eliminate Meat Consumption.

This one is very loaded for me. Yes… I'm vegan. It is something that I really believe in for so many reasons. I won't go into the ethics of veganism. That's not what this entry is about… but just for a moment consider the health benefits. Again, think LONGEVITY and quality of life. Reduce or eliminate the pharmaceuticals and say yes to minimal need for doctors. Meat consumption is linked to so many health problems: heart disease, breast cancer, colon cancer, prostate cancer, type 2 diabetes, and…… the big doozie… IMPOTENCE. Need more inspiration? Check out the movie, "

Forks Over Knives

." This movie was a real starting point for me in changing my diet. It opened my eyes on what health care is really about. Watch the trailer above!

Get the junk out of your cabinets.

Those chips, crackers, and boxed meals are just not doing your body any good. Here's a little rule… This comes from

Kris Carr

, author of Crazy Sexy Diet.

If it took a laboratory to make it, it will take a laboratory to digest it

. That stuff has no business in your body. Think of fruits and vegetables as your youth foods, while the stuff in the boxes and bags as…. grumpy oldie foods.

Do something fun. Nothing says old like being grumpy and crochety! For me, it's getting together with friends who I can laugh all night with. That really brings me joy. I just want to be as strange and silly as possible withouth judgement.

Exercise. I said it. Yes… you have to. What can I say. You need to move your body around to keep yourself young. I personally like to do yoga. It's good for your ole mind and your YOUTHFUL body.
So, here's a starting point on getting your youth back. Just think, it's not how LONG you live, it's the quality of life you have. Forget the youth cream and just treat yourself well. Your youth will shine from within, and you can't bottle THAT.
-XOXO Silly