I'm almost done!!!! Tomorrow will be my last day of my 5 day Food Journal challenge!!!
On to breakfast!
I resorted back to my normal breakfast of oatmeal. I kept it simple with just ground flax seeds, apples, cranberries, walnuts, maple syrup, and almond milk. It was pretty good, but I felt like I was missing the peanut butter.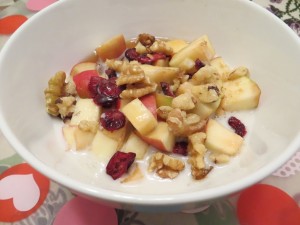 Here are my two children enjoying breakfast. Laney has requested cocoa-oats for four days in a row, now. That's pretty good, and I'm glad that she still likes it. Her bowl looks like such a mess, but it really does taste good!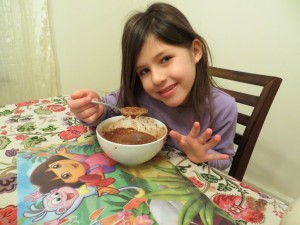 Here's Penny refusing to eat, again! It really is work to get her to eat things that aren't crackers!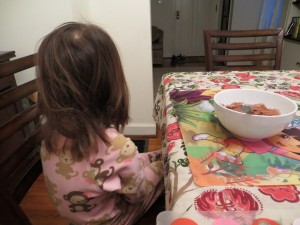 Mid morning snack
I couldn't resist having a cold piece of falafel while I was doing some work around the house. I don't think I mentioned how awesome this falafel recipe is. I've tried many recipes, and they have just been okay or complete failures. I think what makes this one stand apart from the rest is the texture. Basically, you fry raw chickpeas that have soaked over night. They are crispy and yet dense without being mushy. The recipe is from Epicurious, and it's called, "My Favorite Falafel," and I think that this name pretty much sums up how I feel about it. Like I mentioned before, I do change some ingredients and seasoning to suit me and my children.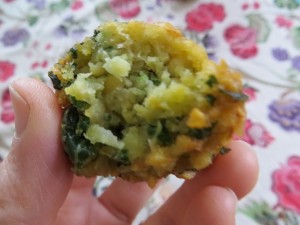 Lunch
I took it really easy for lunch. I can't say that I was that hungry, but I just wanted a little bit of something to tie me over until I picked up Laney from school. So, I stir fried the beansprouts that my mom brought me and had some cubes of cold tofu. Lunch was simple and hit the spot!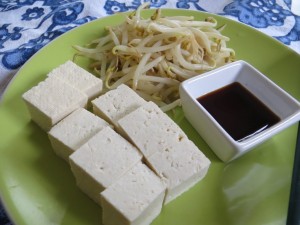 Afternoon Snack

Penny had the grand idea that we should make banana bread. We had plenty of brown bananas, so I was all for it! The recipe that I used was from "The 100 Best Vegan Baking Recipes", and the banana bread is outstanding. Besides the perfect flavor and texture, what I love is that it doesn't need any kind of egg replacer making it super simple and accessible.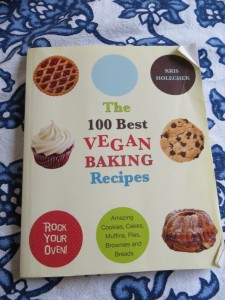 Penny was in charge of mashing the bananas. I've always loved baking with my girls, and it's a really nice way to spend time with them.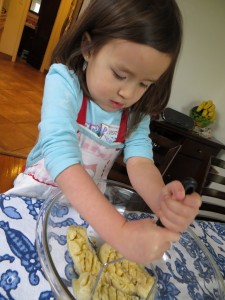 The bread baked for about forty minutes, so there was plenty of time for Penny to provide entertainment…. Press play below!.. She'll sing you a little song!
I made the bread a little different this time. Normally, I would use canola oil, but since I didn't have any, I used coconut oil instead. I was worried that the coconut oil would over power the bananas, but you could barely taste it. Everyone said that this was the best banana bread that I've ever made, so it was a good substitution.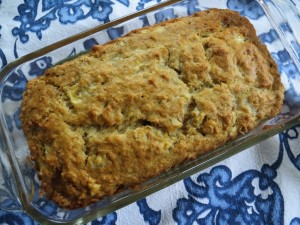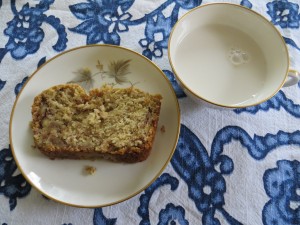 Afternoon snack: Banana bread and almond milk
On my menu tonight, I had vegan sausage reubens, but I just couldn't do it. I've just been eating too many rich foods. I knew that I had to use up the rest of the sausage that I made last week (vegan chorizo from "
Vegan Brunch
"), so I heated up the sauerkraut and made some vegan thousand island dressing for the family to eat rubens. I decided that I would just make a BLT from the tempeh bacon that I was making for our smokey sweet potato hash (from "
Crazy Sexy Kitchen
"). My BLT was really basic. It was more like a BLM… Bacon, Lettuce, and Mustard. It was delicious. My
tempeh bacon recipe
is just perfect for making sandwiches.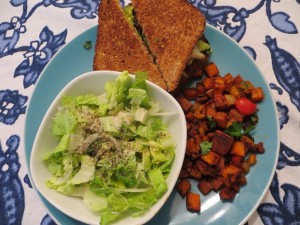 Dinner: BLT, sweet potato hash, and salad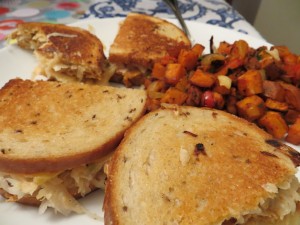 My husband's plate. Vegan rubens and sweet potato hash. Where's the green?
To end this delicious dinner, I had to have just one more piece of banana bread. I only ate a half of a slice because I felt like a tick about to pop! Boy, am I stuffed!… I bet I won't be hungry tomorrow morning, again!