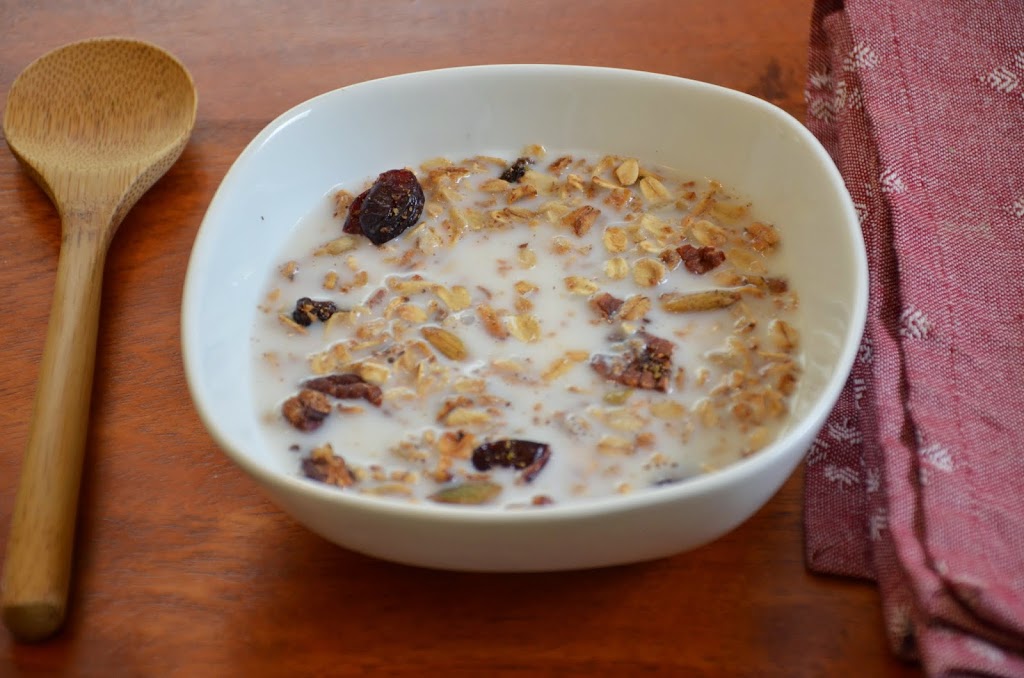 I absolutely love granola. It's really that simple. I love it. It's extremely easy to whip up, and making granola is a great way to get kids in the kitchen. The main ingredients needed for granola include oats, oil, sweetener, nuts/seeds, and dried fruits. Now, besides the oats, the question becomes… what should I use for the ingredients? I'll show you what I used. The cool thing is, you can make it my way… or your way. (If I made it Penny's way, it would only be toasted oats and syrup).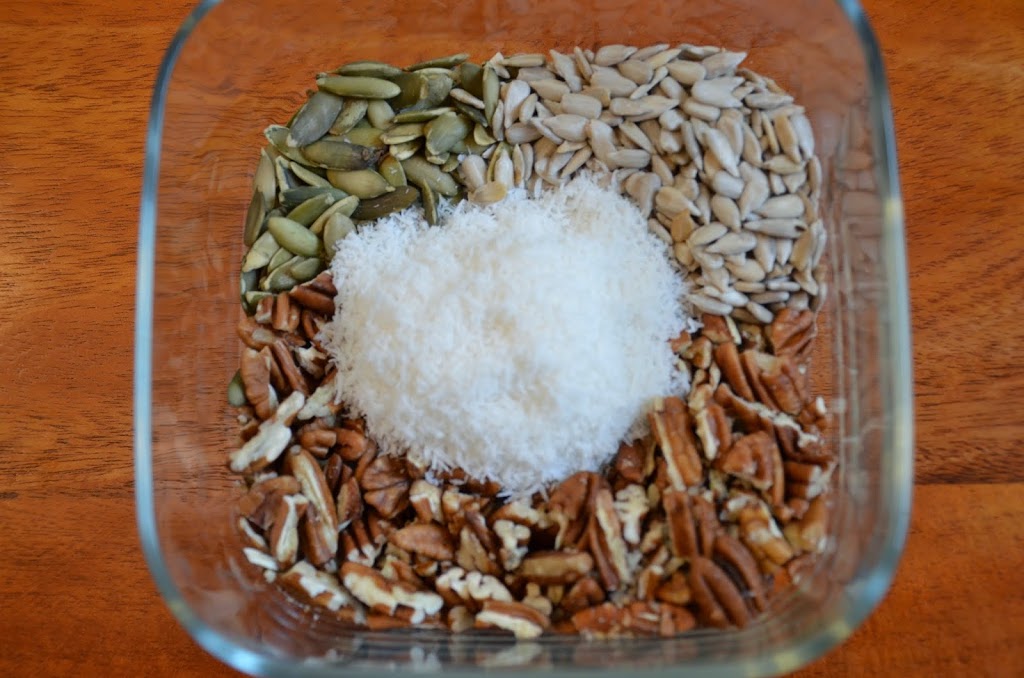 For the oil, I chose coconut oil because it's considered a healthier type of fat. However, in the past I've used canola oil. In terms of sweetener, I like to use maple syrup. It has a really nice flavor that complements granola really well.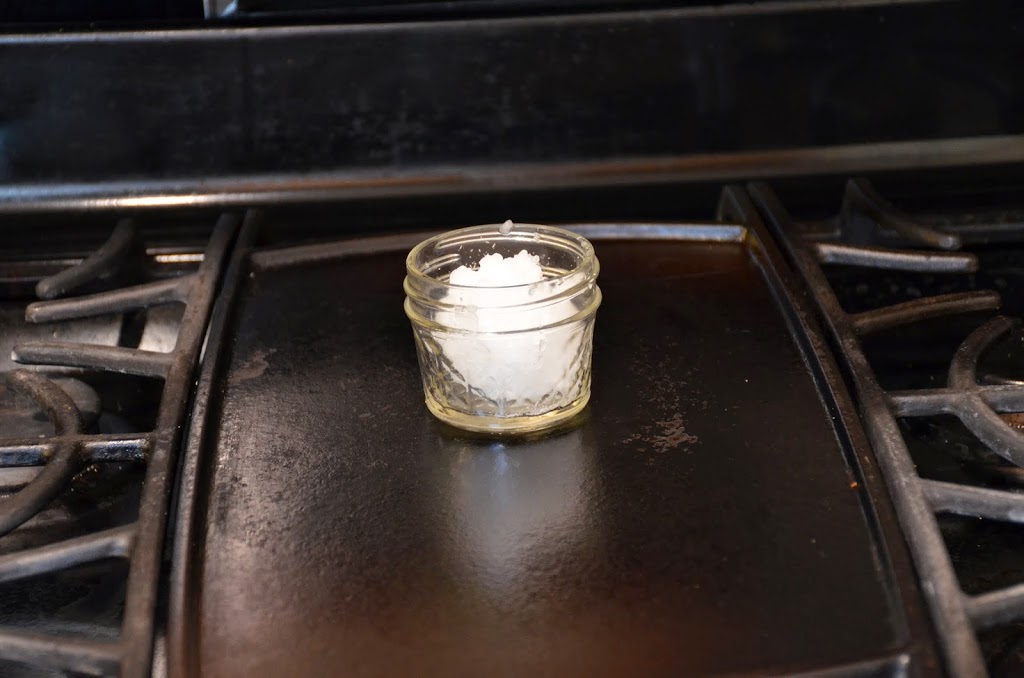 Since the coconut oil had solidified, I placed it in a mason jar on my griddle plate to heat it up. This method worked really nicely. It allowed me to avoid using my microwave.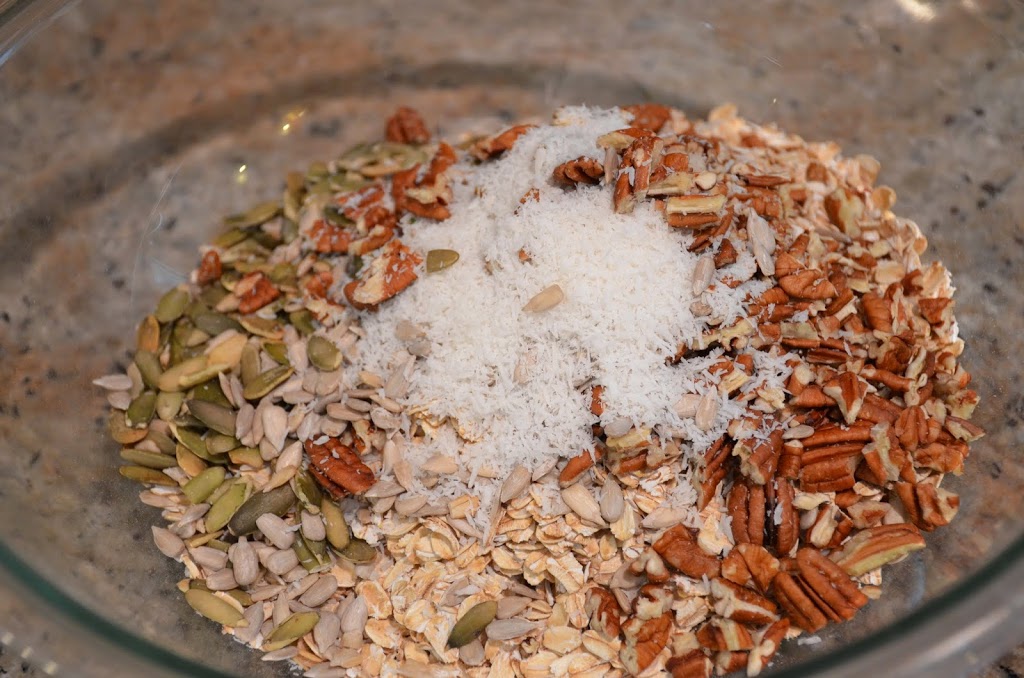 For the nuts and seeds, I used pumpkins seeds, sunflower seeds, and pecans. I chose the seeds for their health benefits. It seems like granola is the only way I can get myself to eat those seeds! On their own, I'm not a huge fan of them, but in granola, I like them!
Often times I use walnuts instead of pecans because walnuts are less expensive. However, I had leftover pecans from the holidays, so I used them. In the center of the picture, above, is unsweetened shredded coconut. It lends just a bit more flavor to the granola.

I poured everything in a large bowl (except the dried fruit), and then mixed it up.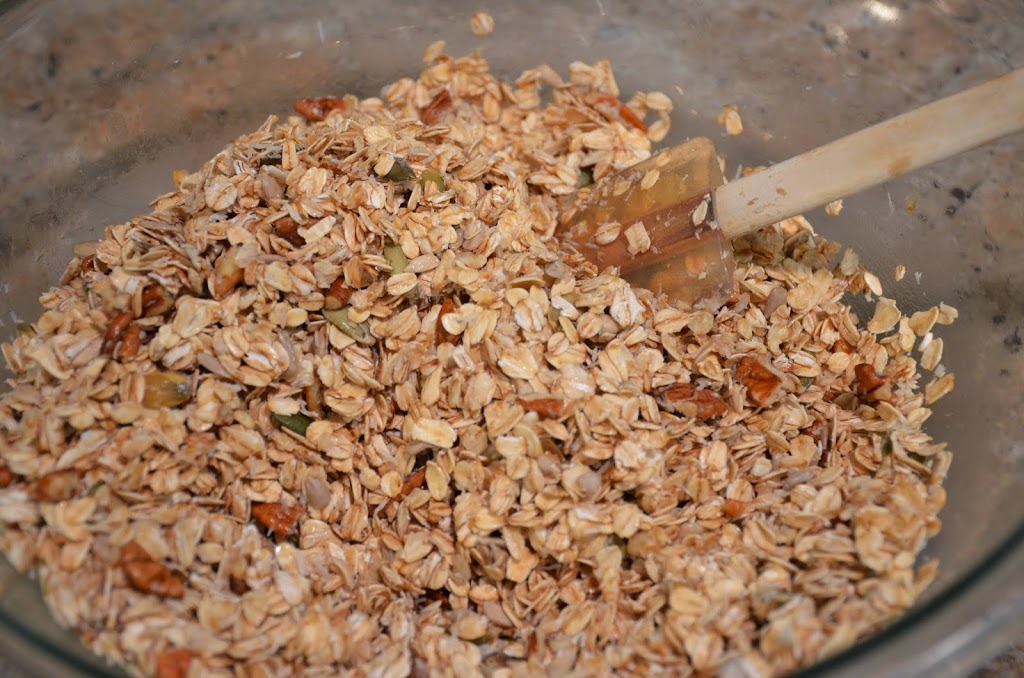 After I mixed everything, I realized that I forgot ground flax seeds!… oops! I add flax seeds for their nutritional benefits. It's one of the leading plant sources of Omega-3s. You can't tell that flax seeds are in there, but they are healthy, so in it goes! Mix again.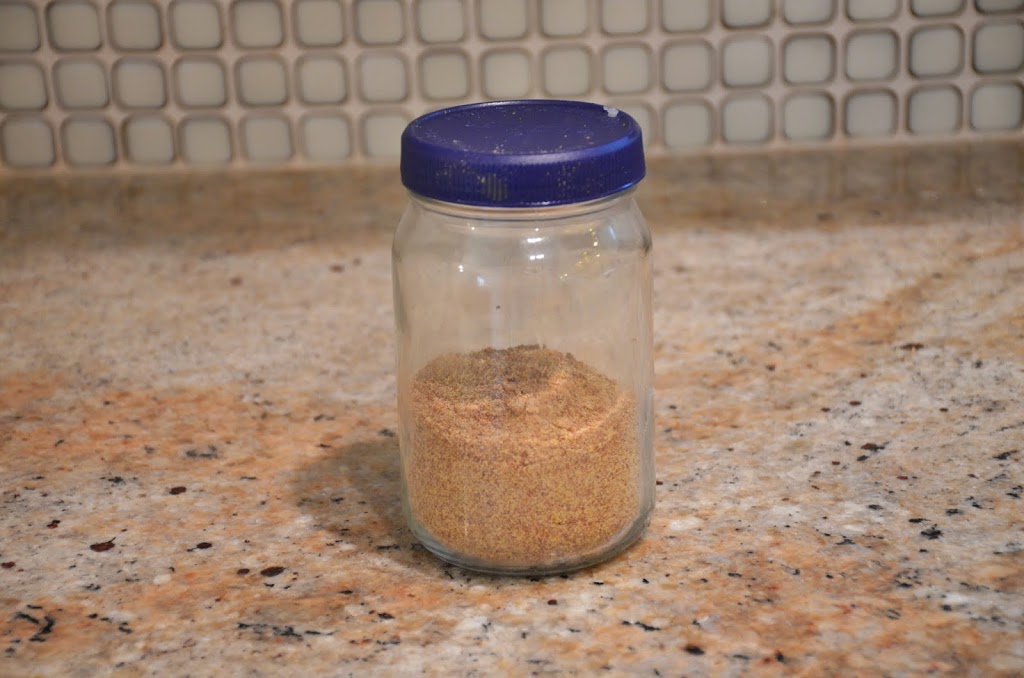 Ground flax seed that I store in my freezer.
Split the granola in half, evenly distributing it between two baking sheets. After baking for 10 minutes at 325 degrees, take out the granola and stir it. Bake for another 5-10 minutes. It should be toasted, but not burnt.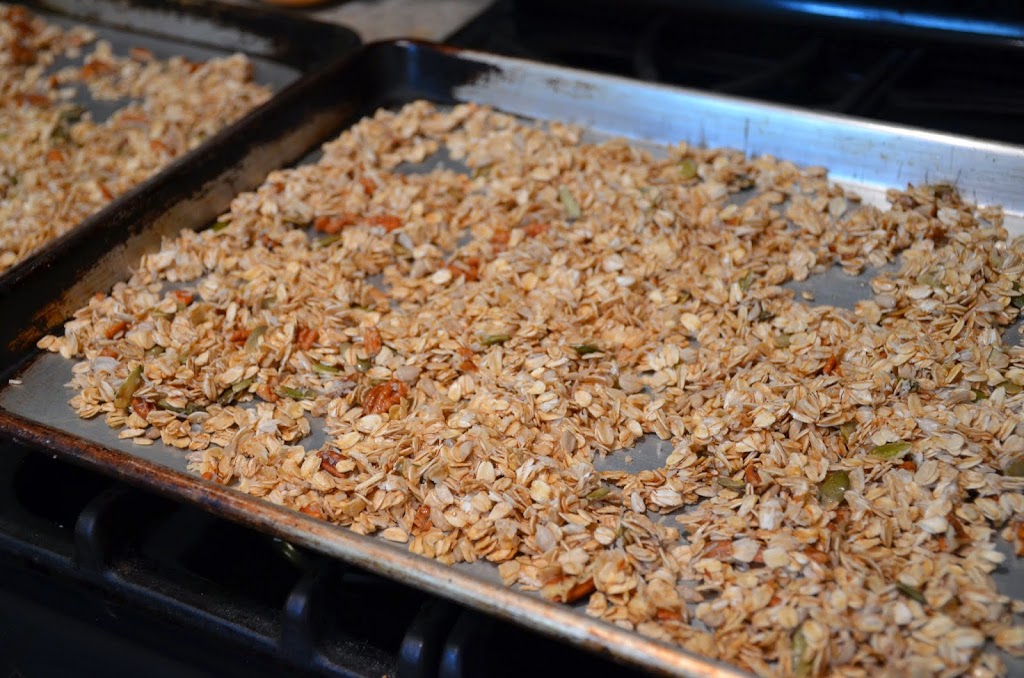 Place baked granola back in the large mixing bowl, and then add the dried fruit. I often use raisins and dried cranberries. Then mix again. Serve after cooling.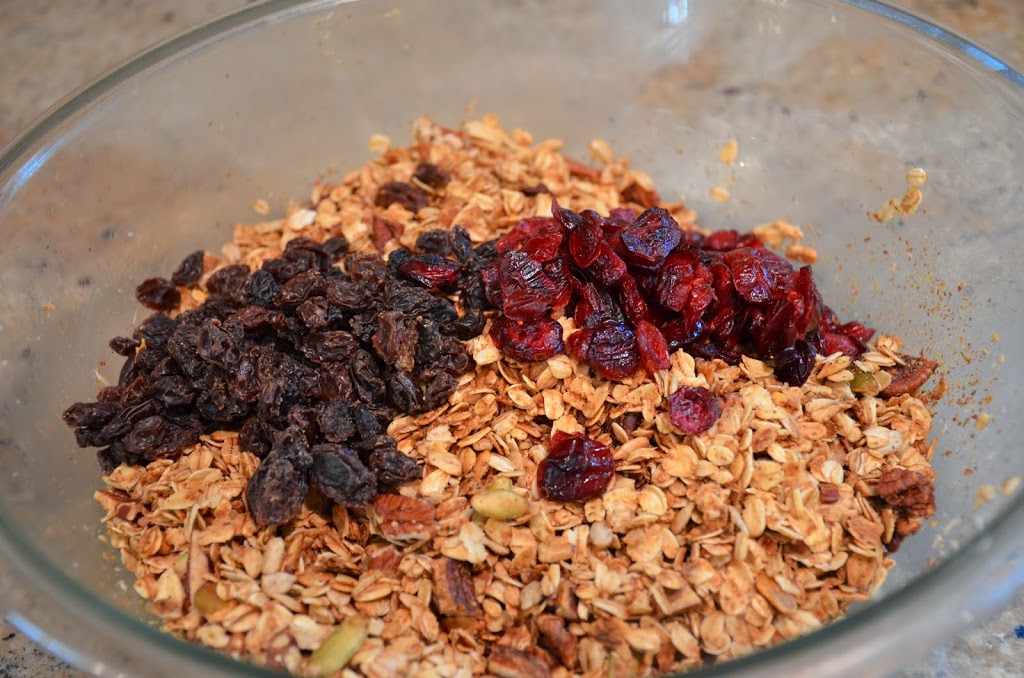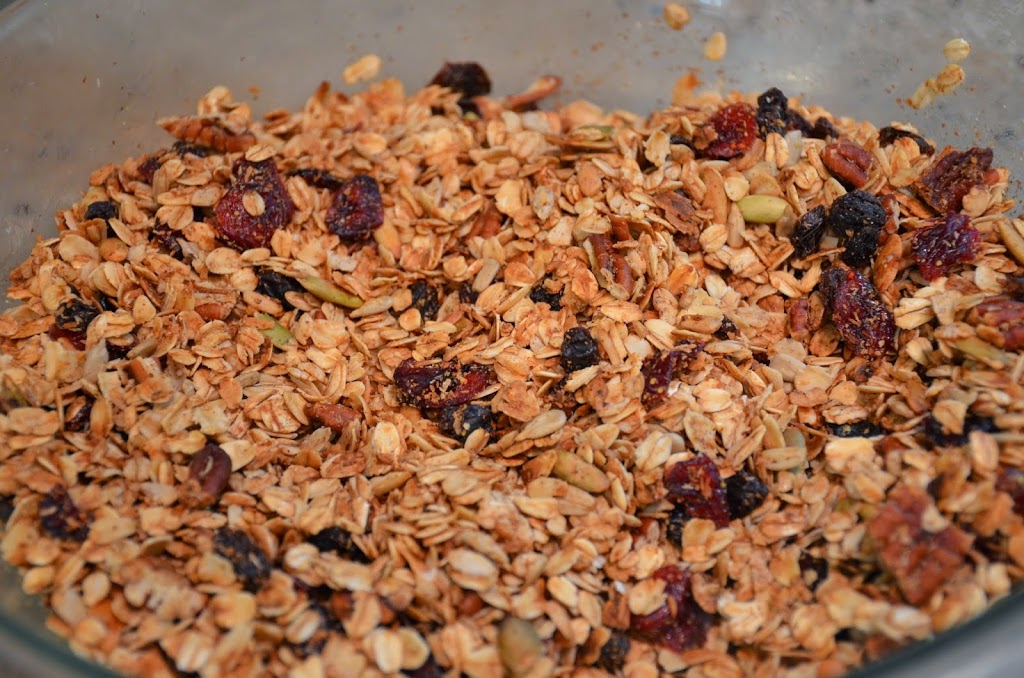 Ingredients to go in the oven
4 cups Old Fashioned Oats
1/2 cup chopped walnuts or pecans
1/3 cup maple syrup
1/3 cup shredded unsweetened coconut
1/4 cup sunflower seeds
1/4 cup pumpkin seeds
1/4 cup ground flax seeds
1/4 cup coconut oil
2 teaspoons vanilla
Ingredients for mixing in after baking
1/2 cup raisins
1/2 cup cranberries
Preparation
Preheat oven to 325 degrees. In a large bowl, mix all of the ingredients that will be baked (everything except for the dried fruit). Evenly distribute the granola mixture between two large baking sheets. Spread out the granola so that it cooks evenly. Bake for 10 minutes. Take out of the oven and stir the granola. After stirring, place back in the oven for an additional 5-10 minutes.
After baking, place the granola back in the large mixing bowl and add the dried fruit. Mix. Wait approximately 10 minutes before serving. Serve with your favorite non-dairy milk, yogurt, or ice cream. Store the remainder of the granola in an air tight container.
Follow me on Facebook and Instagram!