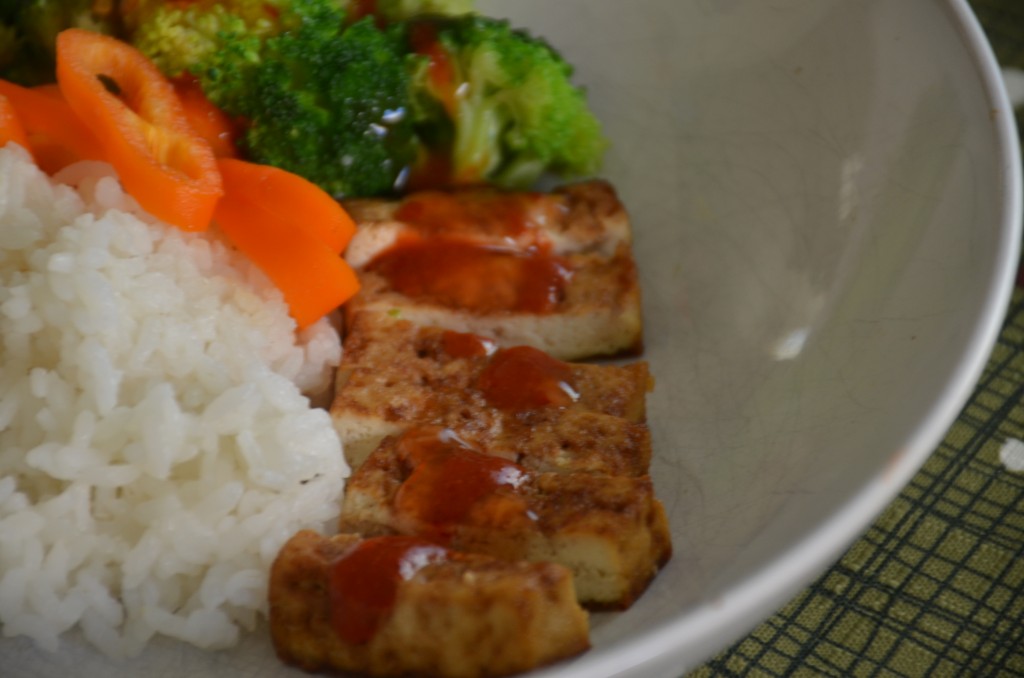 I titled this recipe Easy Baked Tofu, and I'm not kidding you… this recipe is SUPER EASY. There are only a few ingredients, and by baking the tofu, there's not much work involved. Honestly, I've made this for my husband for lunch early-early in the morning (before my brain was really working), and it's fool-proof. So, if you're scared of making tofu, and don't know where to start… here's a great way to jump in.
To prepare the tofu, wrap a brick of extra firm (non-silken) tofu in a towel. This will help remove some of the excess liquid to absorb the soy marinade. Now, turn the oven on to 450 degrees.
Next, put a heavy object on the tofu… I often use a cutting board or baking sheet and also books or heavy cans.
When the oven's ready, unwrap the tofu and slice it into eight pieces.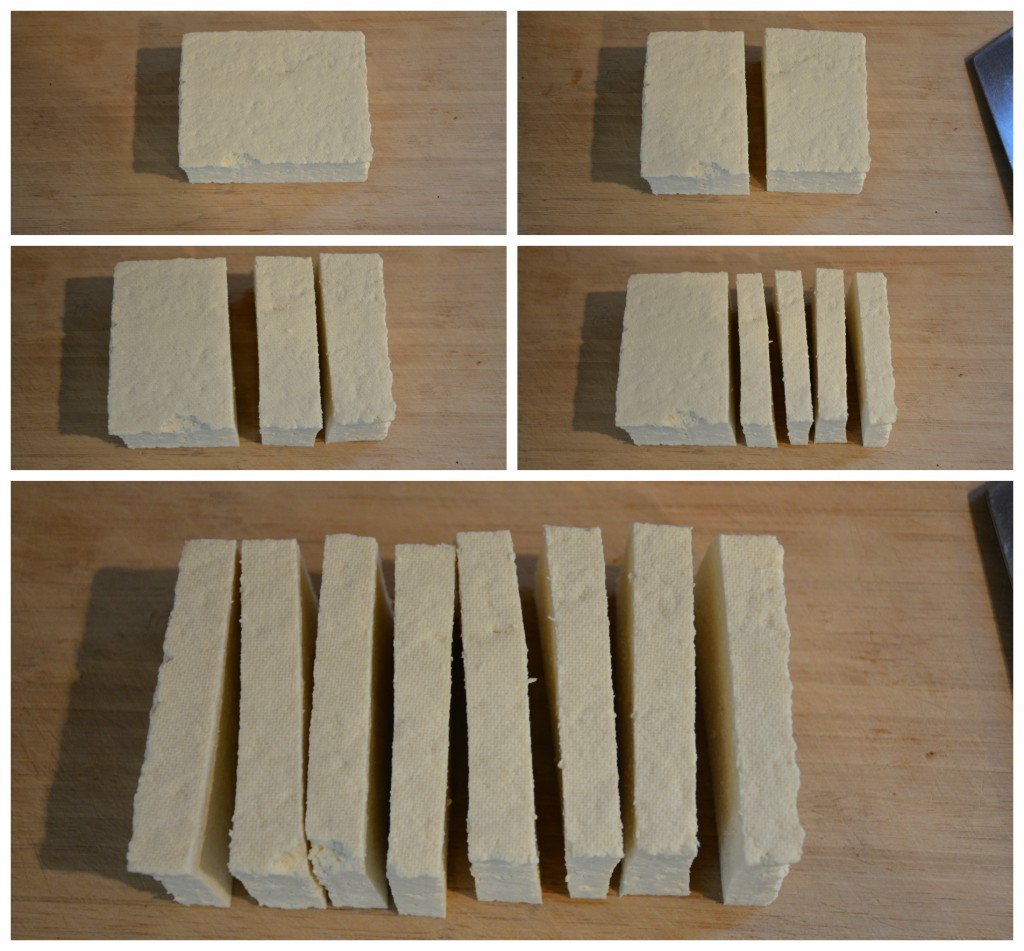 Next, dip the tofu in a mixture of soy sauce (1/4 cup) and sesame oil (1 tablespoon) on both sides. This is one of the EASIEST marinades ever!… However, feel free to add grated ginger and/or minced garlic to the marinade. The possibilities are endless!
Then, place it on a cookie sheet covered with parchment paper.
Place the tofu in the oven for 15 minutes. Then, take the tofu out of the oven, and baste it with the marinade. Flip the tofu, and baste the other side. Finally, bake for 5 more minutes.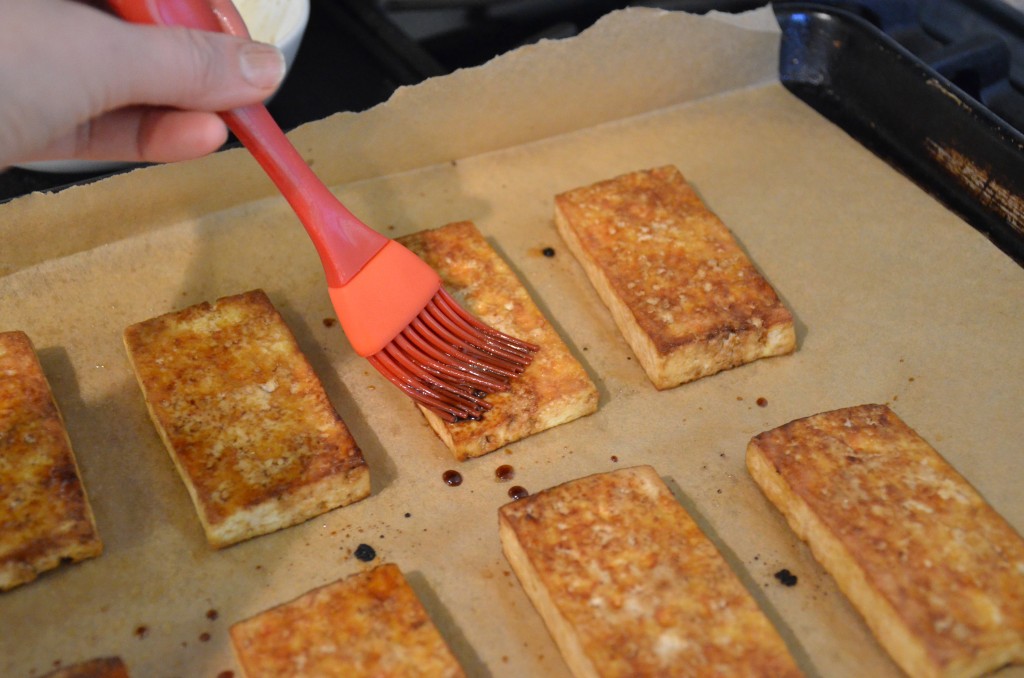 After taking the tofu out of the oven, it can be served right away or sat to cool. Incidentally, the texture will get firmer as it cools down. I really love the texture after cooling!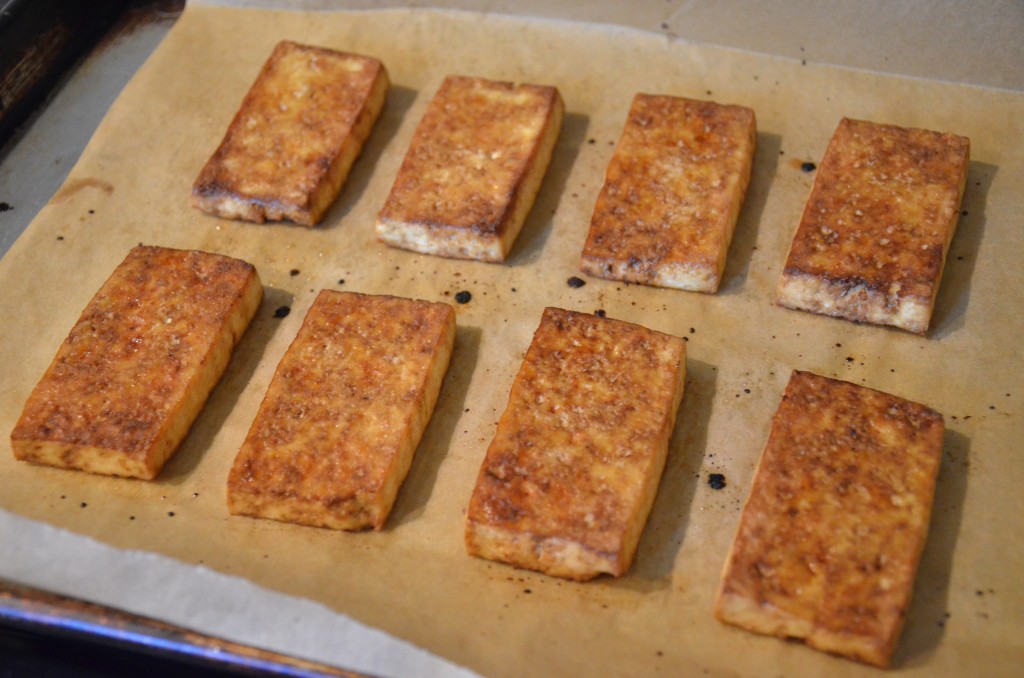 For lunch today, I sliced it into strips and served it with steamed broccoli, sweet peppers, and leftover rice…. and then drizzled with sweet chili sauce and Ninja Squirrel Sriracha Sauce. No doubt, this is such an easy lunch!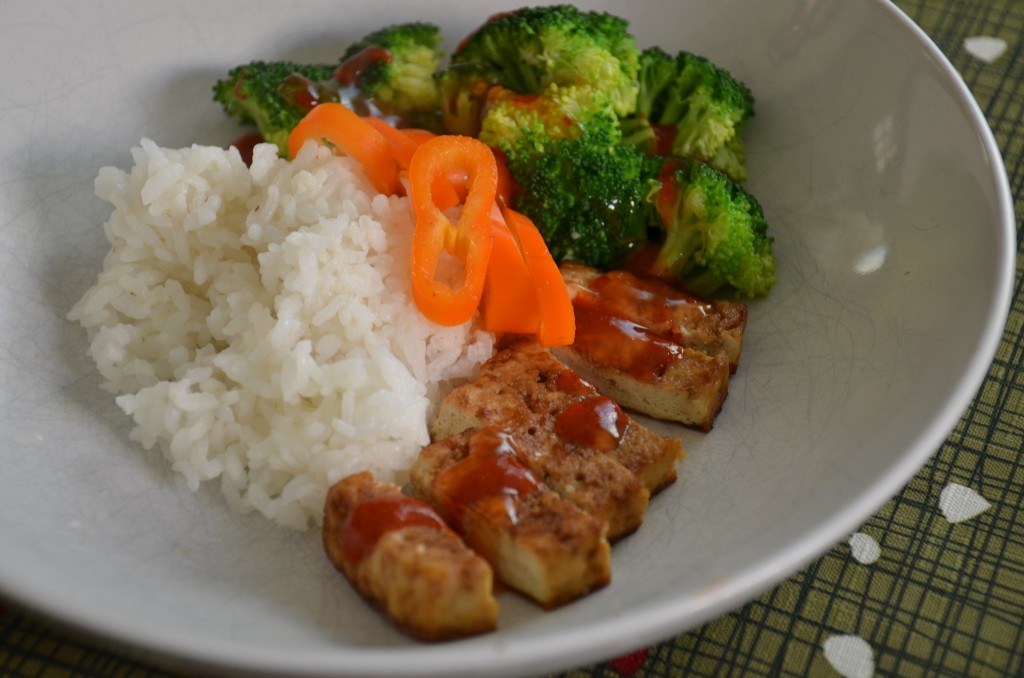 Ingredients
1 brick extra firm tofu (non-silken)
1/4 cup soy sauce (or tamari to make this gluten-free)
1 tablespoon sesame oil
Instructions
Wrap the tofu in a towel, and place something heavy on top to drain the excess water.
Preheat oven to 450 degrees.
Make the marinade by pouring soy sauce and sesame oil in a small bowl.
Once the oven has heated, cut the tofu into 8 pieces.
Dip both sides of the tofu in the marinade, and place the tofu on a baking sheet lined with parchment paper.
Bake for 15 minutes.
Remove the tofu from the oven and baste the tofu. Flip the tofu, and baste the other side.
Place the tofu back in the oven for 5 more minutes.
Serve immediately or set to cool. The texture will get firmer as it cools down.
https://www.sillylittlevegan.com/easy-baked-tofu/