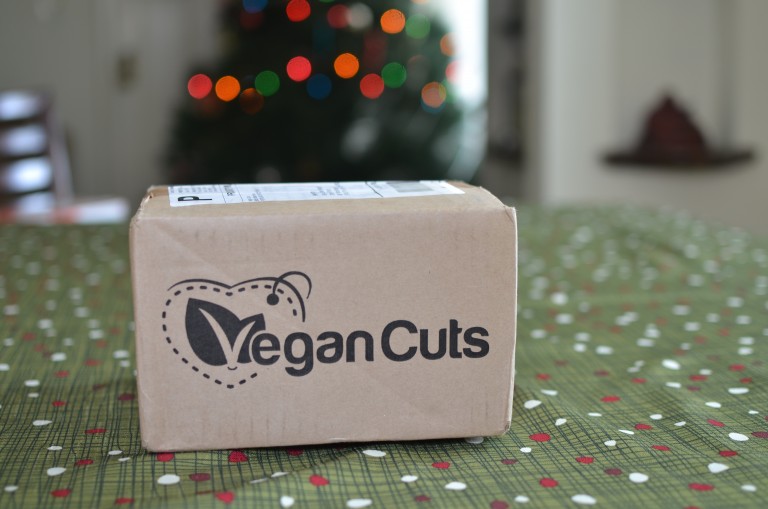 Oh goodness… I got my hands on the December Vegan Cuts Snack Box, and boy, was it fun! After watching a preview video, I knew it would be a good one. There was a mention in the video of chocolate(s), cake mix, and Upton's Natural Jackfruit. That right there made it a done deal. I wanted it!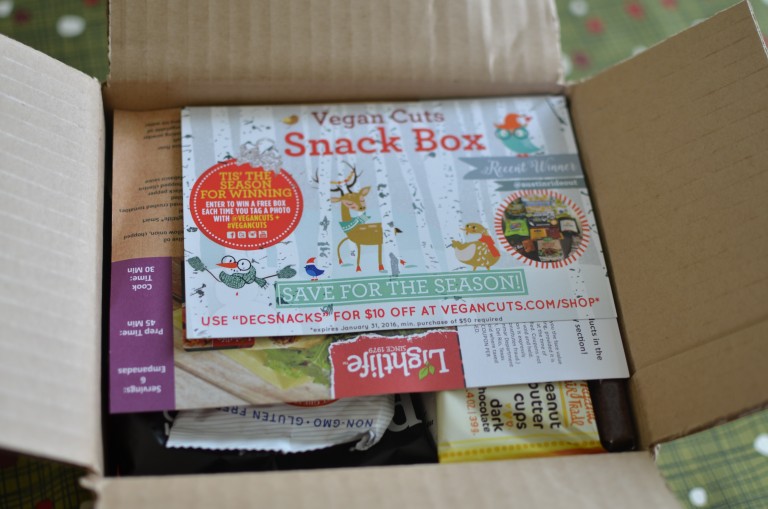 Upon opening the box, I noticed that it was packed tight. Don't be fooled if the box looks small, because it was MIGHTY! (Hey!… can you see the THEO's peanut butter cups peaking out behind the card?…)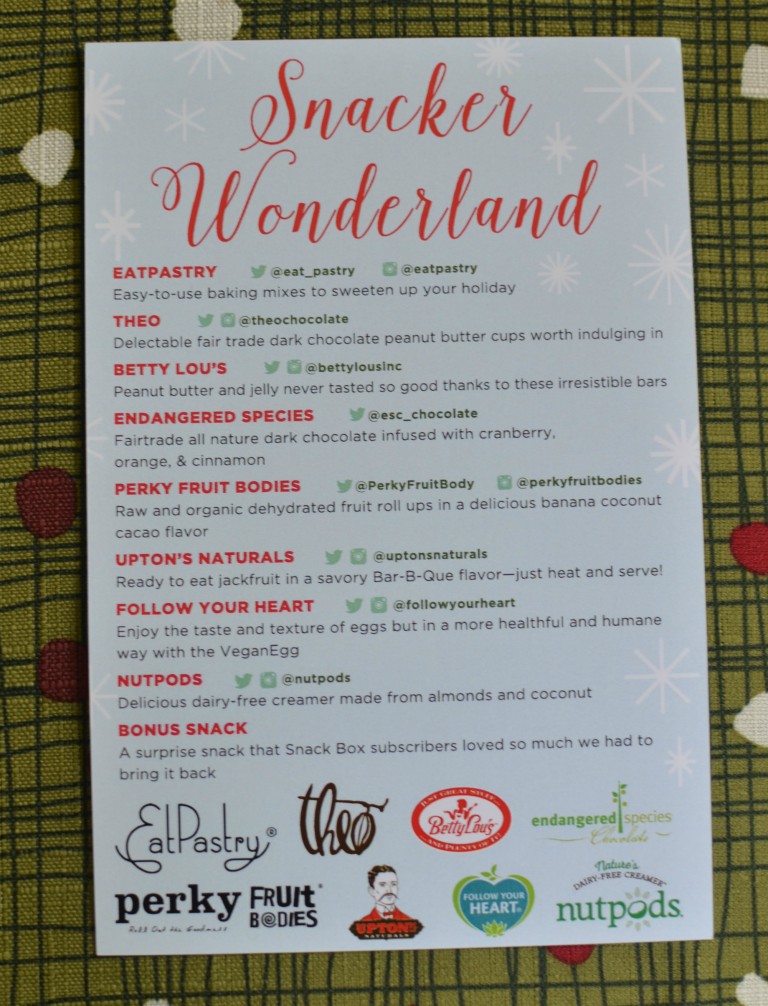 The back of the card, found at the top of the box, gives a full list of all of the snacks with a brief description. Look at all of those items! Vegan Cuts guarantees 7-10 items, and the December box was loaded with 9 great snacks (technically… 2 items were meal items not snacks, but that was the awesome thing about this box!!).
The hardest part for me was deciding what to try first!…I like to save the best for last, but everything seemed awesome so I had nothing to lose regardless of what I ate first.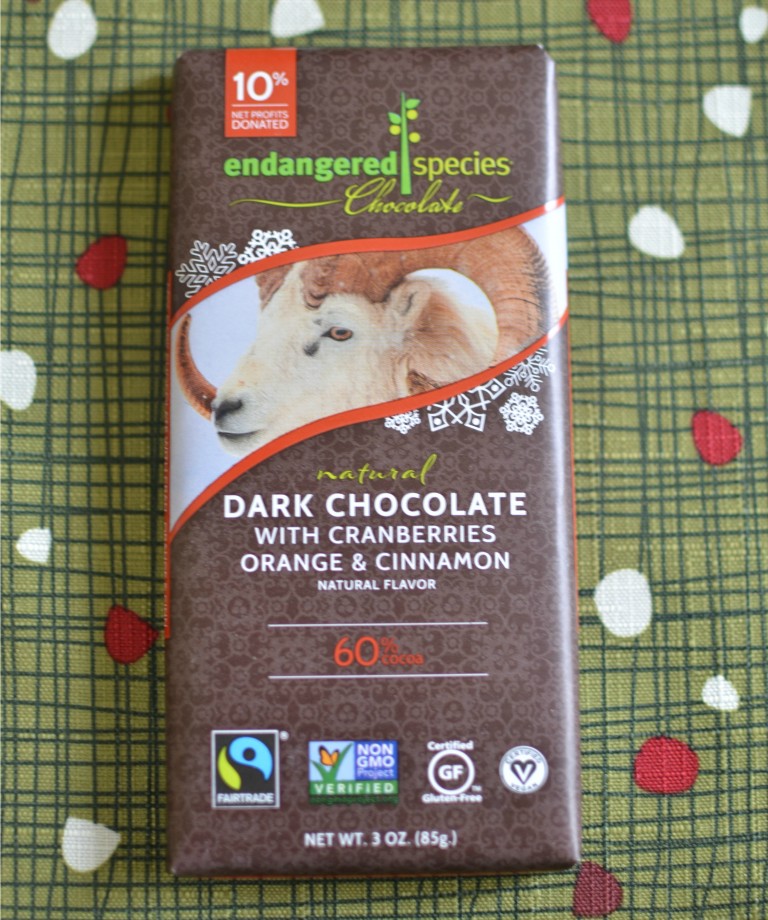 My first choice out of the box was the Endangered Species Chocolate Bar. I love chocolate and orange, and while it goes against my philosophy of eating the worst first and saving the best for last… this was a FULL SIZED candy bar. My hope was that I could make it last several days… all hope was squashed, as my husband and I devoured that candy bar. Yeah… It was that good. Note: Not all of the chocolates from this company are vegan, so please look for the vegan symbol before purchasing.
Besides the fact that this is a scrumptious candy bar, this company ROCKS!! They give back 10% of their profits to two partners every year, with a guarantee minimum of $10,000 dollars. Their current give back partners are Rainforest Trust and Wildlife Conservation Network. So just think, you are doing great thing EVERY TIME you buy one of their candy bars!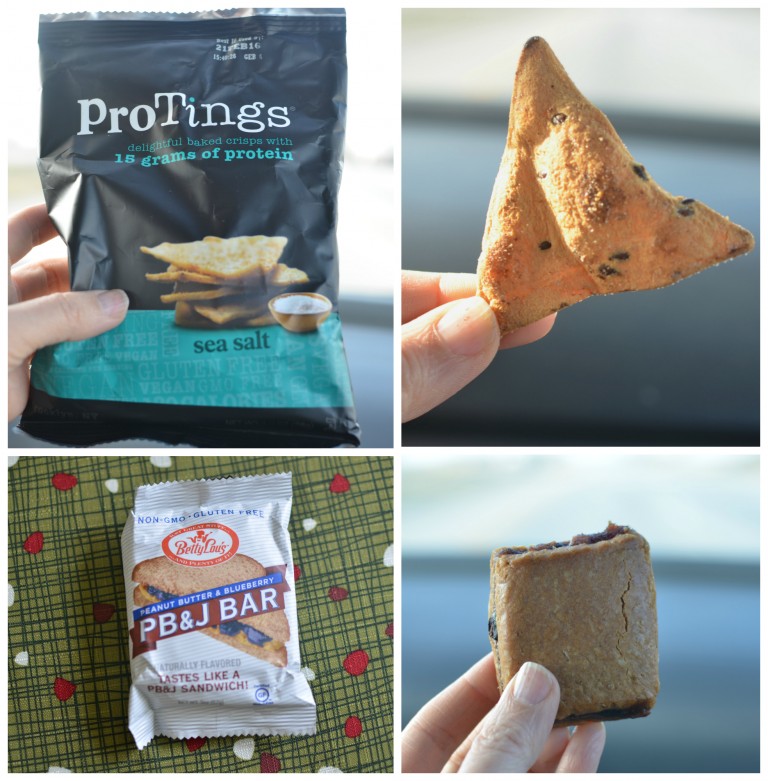 I brought two items along on a family road trip to Dayton. The first item we tried in the car was the ProTing chips. We had the sea salt variety, and these were just ehhh to me. They do pack a protein punch (coming in at 15 g per serving!), but they just weren't my thing. I'll say this, though, this snack was not listed, so it was an item that Vegan Cuts was bringing back because of its popularity. My guess is that the flavored varieties are awesome. Their flavors include nacho, barbecue, and chili lime (all of which are VEGAN!!!).
As for the other snack, the PB&J bar, made by Betty Lou's, my husband and I really liked it. The denseness reminded me of a fig bar, and there was a hint of sweetness with a light peanut butter flavor. It says on the packaging that it tastes like a peanut butter and jelly sandwich, but it was hard for me to compare it to one. I guess if you had to turn a pb & j into a bar form, yeah I can kind of see that… so yeah.. this was a fun item that I had never had before. I could see buying this for hike or for travel.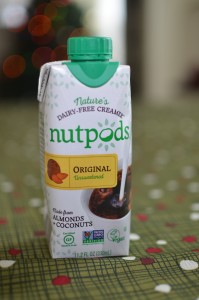 The Nutpods dairy-free creamer was a great addition to the snack box. Since my last Snack Box, I have abandoned coffee and have fully embraced drinking (several cups of) tea. Mostly, I drink chai with vanilla liquid stevia and vanilla soy milk. However, it was really nice to have a dedicated creamer for a week that was all mine (the soy milk is my daughter's).
The creamer was rich and neutral tasting, which was nice. It really let the flavor of the tea to shine while adding a nice creaminess to it. This company has a few different flavors, and I'd love to find them locally. Nutpods are all GMO free, carrageenan free (which is commonly found in non-dairy milk), and made without the use of artificial colors or sweeteners.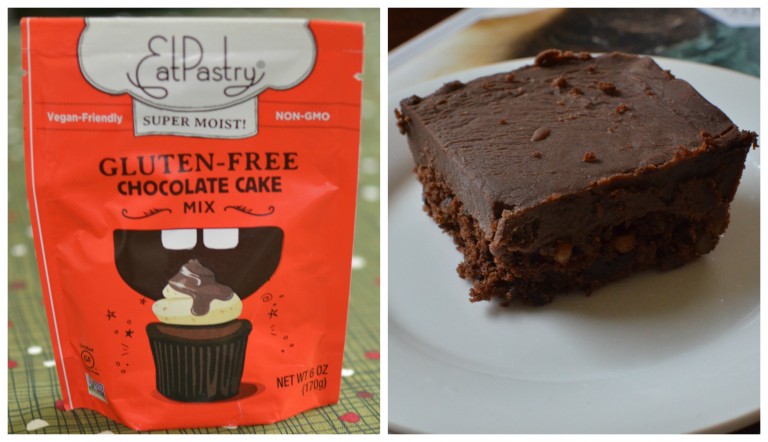 Since I had the box over the holidays, I decided make the Eat Pastry gluten-free chocolate cake mix for my omnivorous family (my parents and extended family). Now look, my family can be really tough critics… my step-dad especially. Let's be honest here, when it comes to him, he doesn't mind if he's eating vegan food, but he doesn't want to know about it. He's a conservative man who grew up in the country with a real meat & potatoes mentality.
I noticed on the bag that the mix could be made into brownies, and it had been YEARS since I had made brownies. So, that's what I did. After I baked the brownies (about 20 minutes in an 8×8 inch pan), I took a small square out of the corner to try. In that one bite, I knew that it wouldn't fool my step-dad. It may have been the chickpea flour that changed the flavor. In order for me to get him to eat it, I had to mask the chickpea flour. I did that by making a thick decadent fudge frosting. When I served the brownies, my harshest critic LOVED them! He had three pieces!!! My husband was also a huge fan, and he said it tasted just like the cake he ate as a kid, Texas sheet cake is what he called it!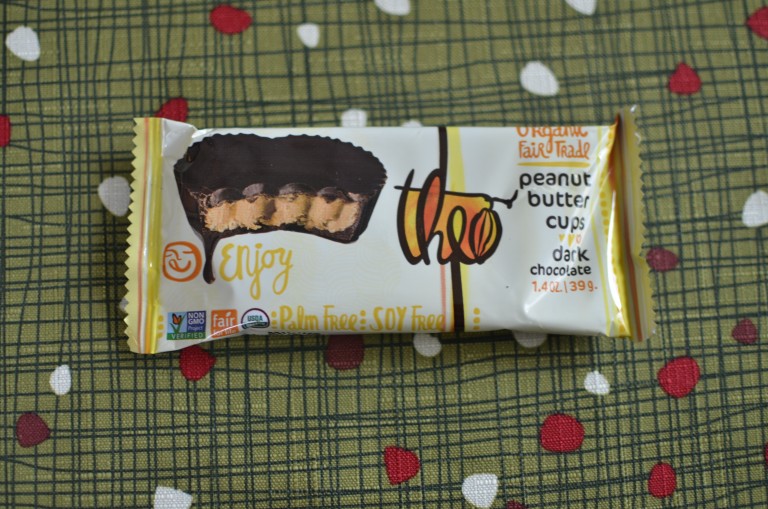 The Theo Peanut Butter Cups were awesome! They remind me of the peanut butter cups that I ate as a kid…only better. They are fair-trade and made with organic ingredients. They're also made without palm oil. These peanut butter cups are definitely a treat!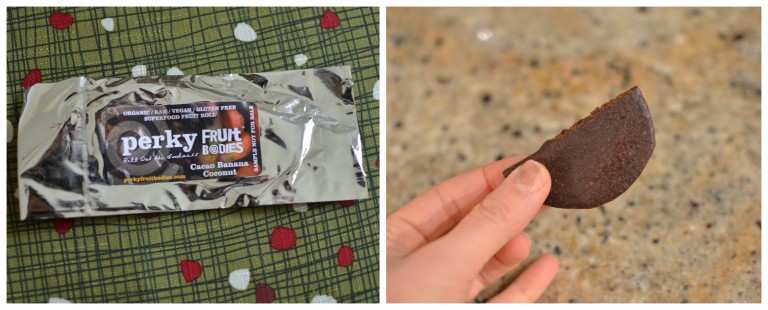 Perky Fruit Bodies was the last item in the box that fit in the snack category. When you take it out of the packaging it's disc shaped, and folded in half. It was dense like a good dehydrated fruit roll, but had a nice chocolate and banana flavor. Yum!
Now… we get into the meal items that were included in the Snack Box.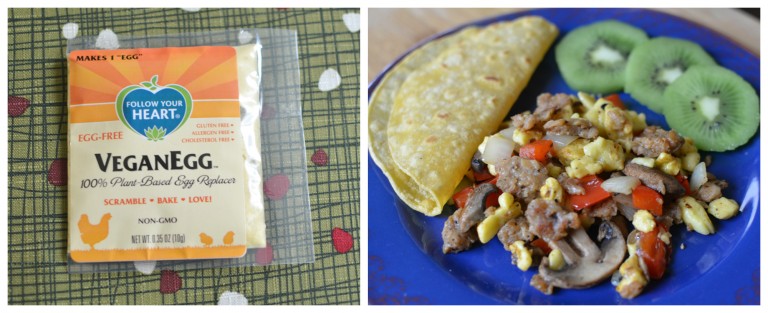 I love the Follow Your Heart VeganEgg!!!… We had already made an omelet with it, and it's also great for a scramble. For the scramble we put in fresh onions, red peppers, mushrooms, and also a hefty serving of Gimme Lean breakfast sausage… and guess what!?… The box include a coupon for the sausage. That was a nice bonus!
The VeganEgg really is egg-ie…. I mean… really. I'm not kidding. These new emerging plant-based products make me wonder why eating animal products isn't obsolete. Animal products are just so horrible for human health and the environment… and let's not forget about the cruelty to the animals themselves… (leaving soapbox, now).
Beyond the coolness of getting a sample of the vegan egg, it was just amazing that Vegan Cuts has been listening to the vegan community. So many people have had a hard time finding it. At the time of the box's shipment, the VeganEgg was often out of stock on Amazon, and not many retailers around the country carried it. So… Thank you Vegan Cuts!.. thanks for listening. It's really wonderful to give your customers a chance to sample it!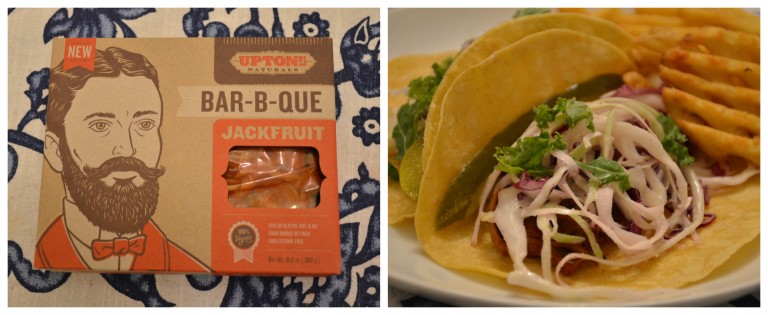 The very last item to review in the December Snack Box was the Upton's Naturals Jackfruit. I have been a fan of Upton's for a few years now (they have a great dine-in place called Upton's Breakroom in Chicago). I was lucky enough to sample this product while I was at Expo West, and I remember liking it. Including this product into the Snack Box was such a cool idea. For me locally, I have only seen the Jackfruit at a small vegetarian store. It has not hit the large grocery chains in my area such as Whole Foods.
Overall, I really enjoyed this product. However, I added a touch of sugar to it because I like a sweet BBQ sauce, and then served it with corn tortillas for tacos (with a side of waffle fries). What a great meal, and for those of you who are just getting off of eating meat, jackfruit is a great alternative! It shreds much like pork, and it's good on your conscience because of the lack of dead pigs… just sayin'… (soap box, again…).
Anyways… let's get to the nitty-gritty… did I like the December Snack Box?… NO… I LOVED IT!.. and for only $19.95 with free shipping anywhere in the United States, it's worth every penny! ♥