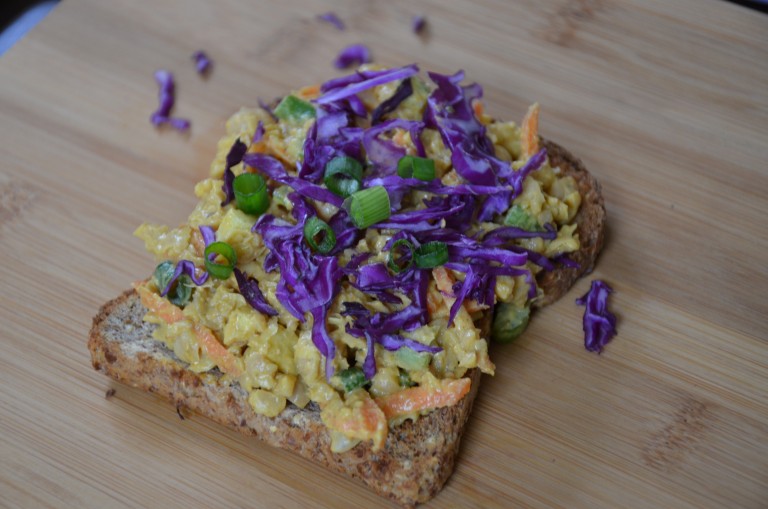 When my family is away during the day, I usually scrounge the fridge for leftovers… My go-to is easy reheatable food. However today, I was really hungry! We had no leftovers to reheat… so it was time to make an easy yummy lunch. I dusted off my handy dandy food processor and created an easy and filling lunch which will make great leftovers for tomorrow!
To start…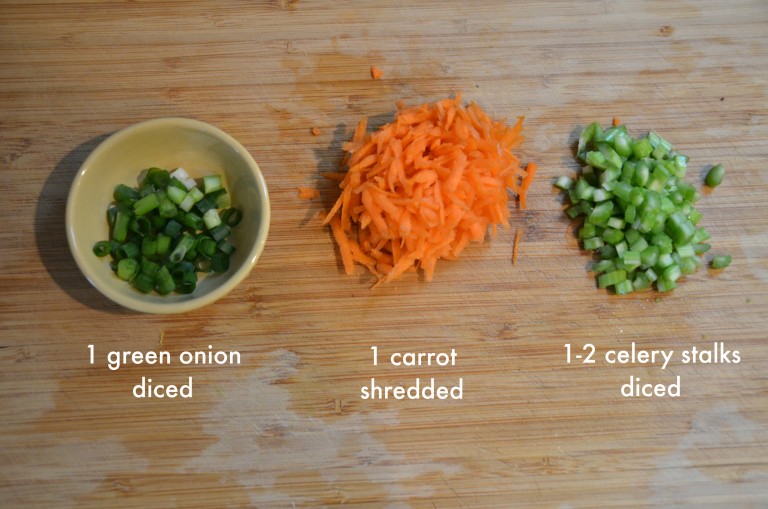 Dice one green onion, shred a carrot, and chop a stalk of celery or two. My celery was really scrawny.. so I went with two stalks.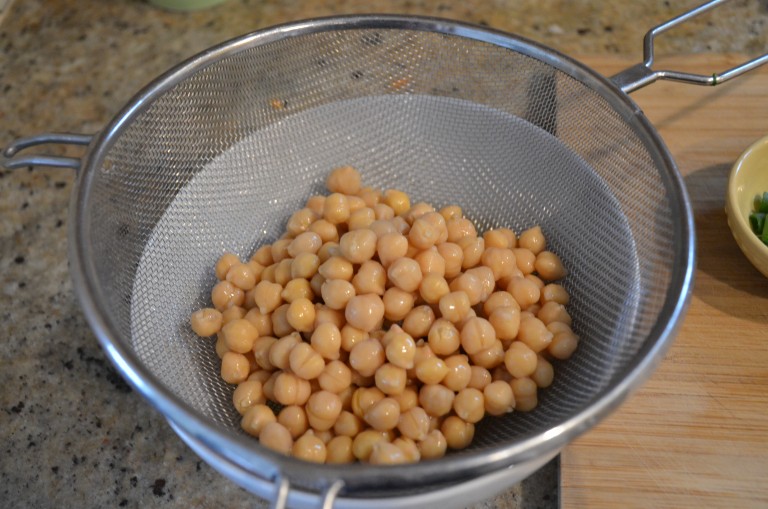 Drain a can of chickpeas and reserve the liquid for a later time. I have mentioned saving the liquid for dessert making, and I have yet to post a recipe…geesh!… Okay… I'm committing to posting a dessert with the chickpea water (aquafaba!). It's going to happen for real this time! Soon… very soon…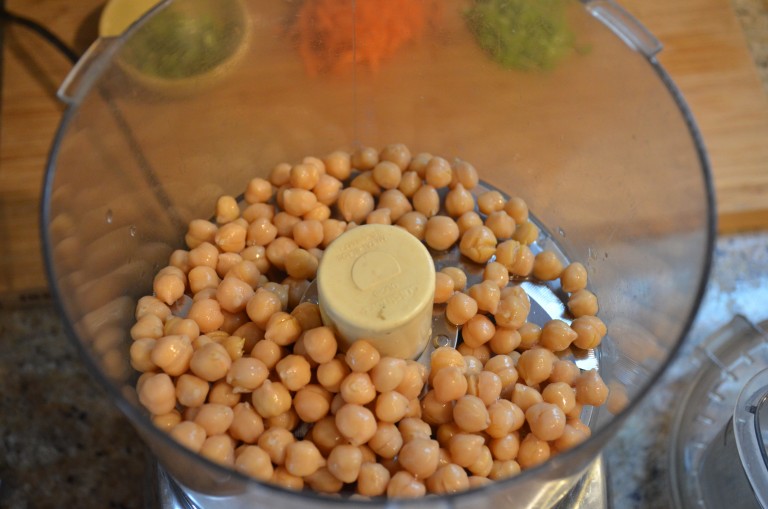 Put the chickpeas into the food processor. If you don't have a food processor, that's okay. Get out a fork and mash the dickens out of it.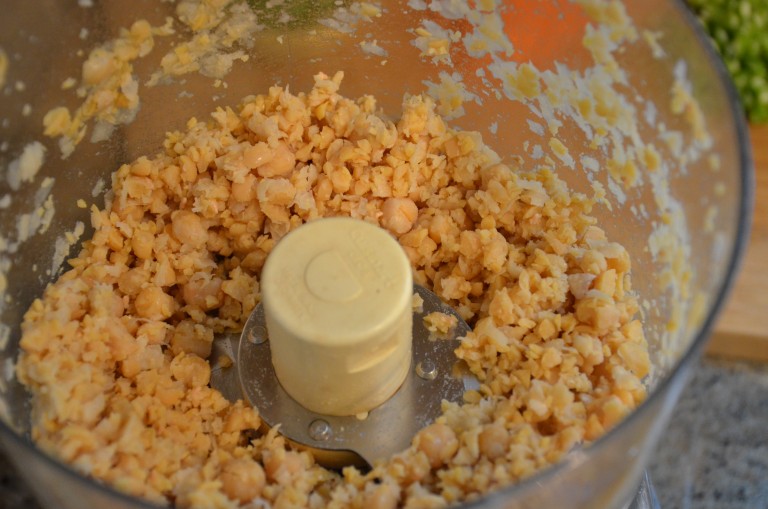 Pulse the chickpeas. By my count, I hit the pulse button 25 times… holding it down a second or two. The goal is to get crumbled chickpeas, but to also have some larger pieces of chickpeas.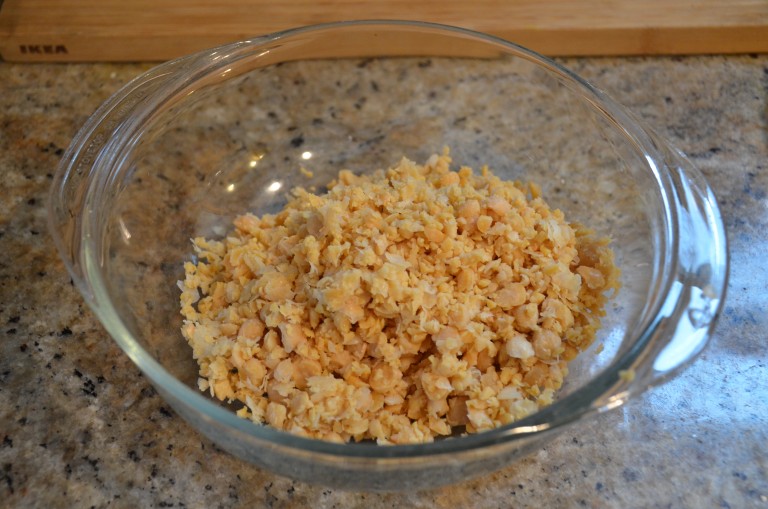 Pour the chickpeas into a bowl.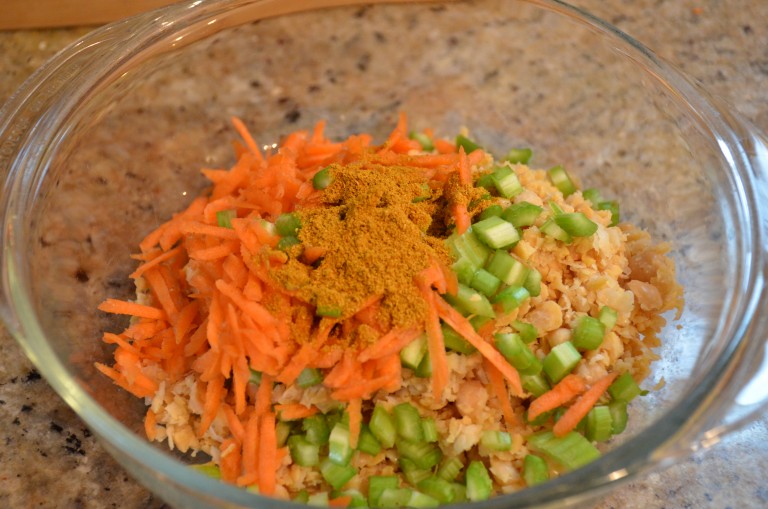 Add the carrots and celery to the chickpeas, and then sprinkle a tablespoon of curry powder on the veggies.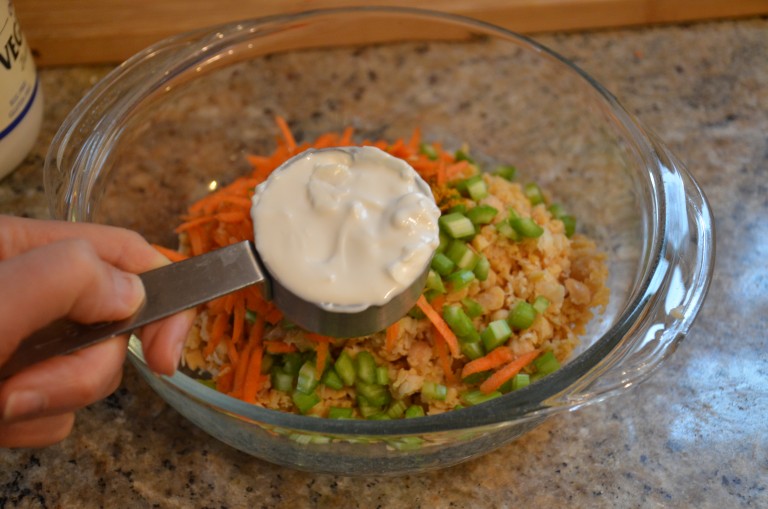 Next, add 6 tablespoons of vegan mayo to the bowl. To make this easier, I scooped out a 1/4 cup plus 2 tablespoons.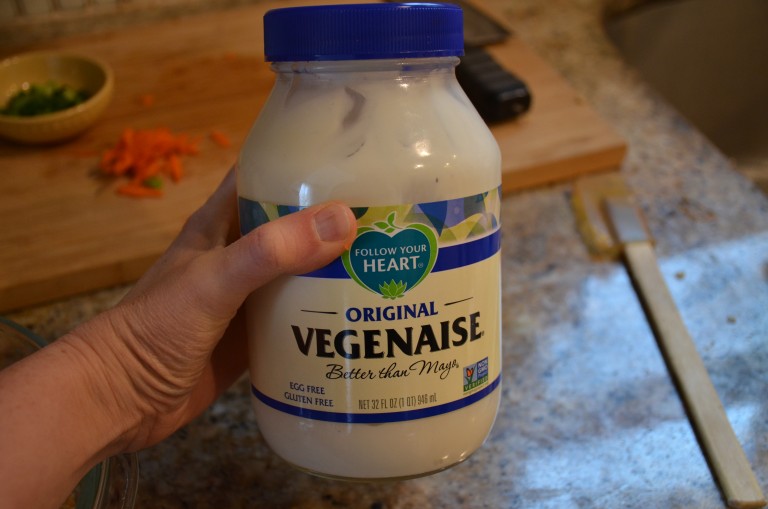 There are a few brands of vegan mayo on the market, but our family favorite is Vegenaise. It's made by the same company that makes the VeganEgg (Follow Your Heart). It is so delish (and yes! We buy the big jar!!!.. Its a better deal.)!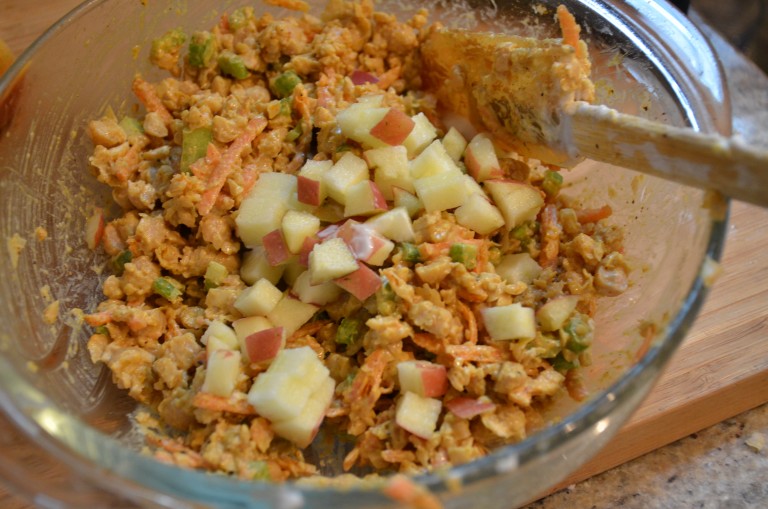 For a touch of sweetness (without the added sugar), add about 1/3 cup of finely chopped apple. If you don't have any apples in your pantry, raisins would likely work well, too!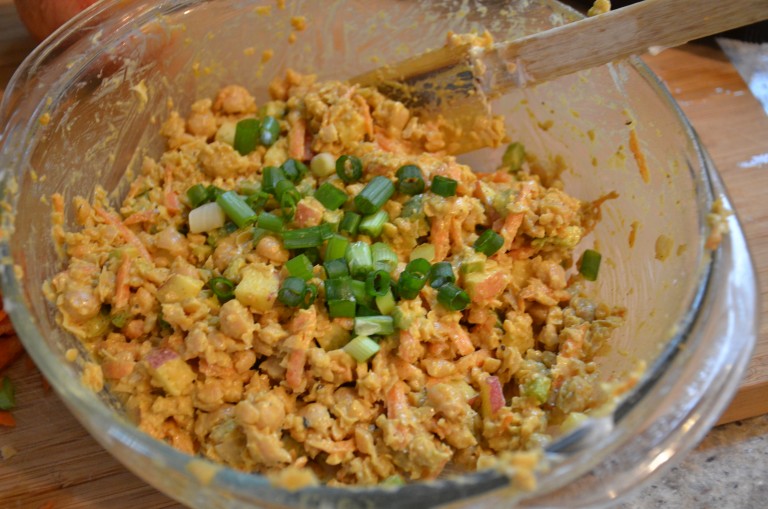 Mix everything together, and add green onions. Fold in the green onions… for an added touch, reserve a little of the green onions for garnish if serving as an open-faced sandwich.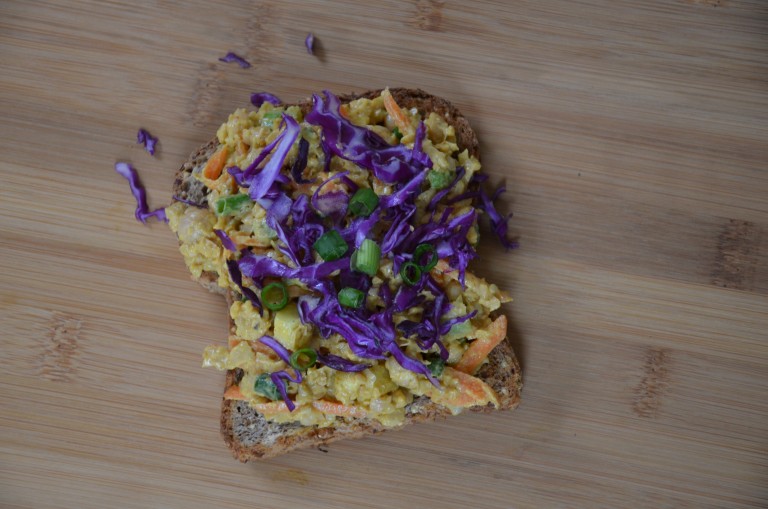 I put a heaping serving of curried chickpea salad on a toasted slice of Ezekial bread and garnished with a touch of purple cabbage and a bit of the reserved green onions.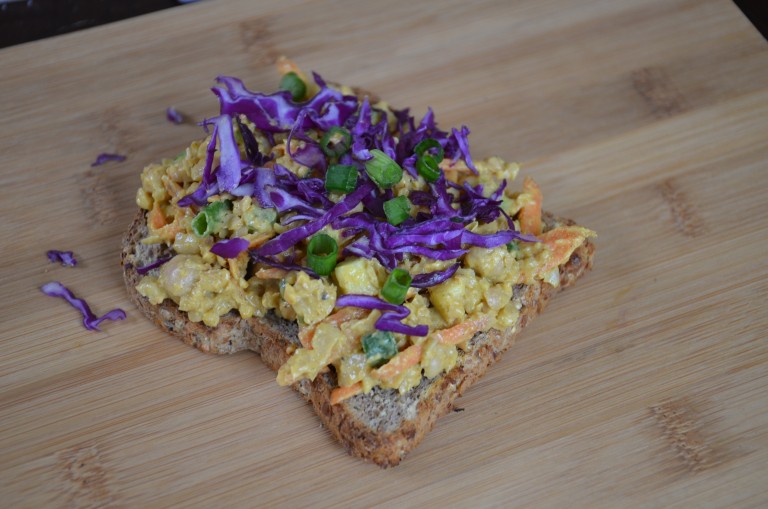 Goodness that purple cabbage is pretty!
My husband ate a sandwich after work, but he used white bread. He recommends a nice fluffy bread or croissant for this. So, take your pick. This chickpea salad is pretty versatile. Now to find a vegan croissant…
Ingredients
1 can chickpeas drained
1 carrot shredded
1 green onion chopped
1-2 celery stalks
1/3 cup apple chopped
6 tablespoons vegan may
1 tablespoon curry
1/4 teaspoon salt
pepper to taste
shredded purple cabbage for garnish (optional)
Instructions
Drain a can of chickpeas and place it in a food processor.
Pulse the chickpeas approximately 25 times, until it's mostly ground but there are still a some large pieces.
Place the ground chickpeas in a bowl and add the chopped celery and shredded carrots.
Add in the mayo and curry powder and stir.
Add the chopped apple to the bowl and stir.
Fold in the green onions.
Add salt and pepper to taste.
Serve as open-faced or as a regular sandwich.
If serving as an open-faced sandwich, garnish with purple cabbage and the reserved green onions.
https://www.sillylittlevegan.com/curry-chickpea-salad/