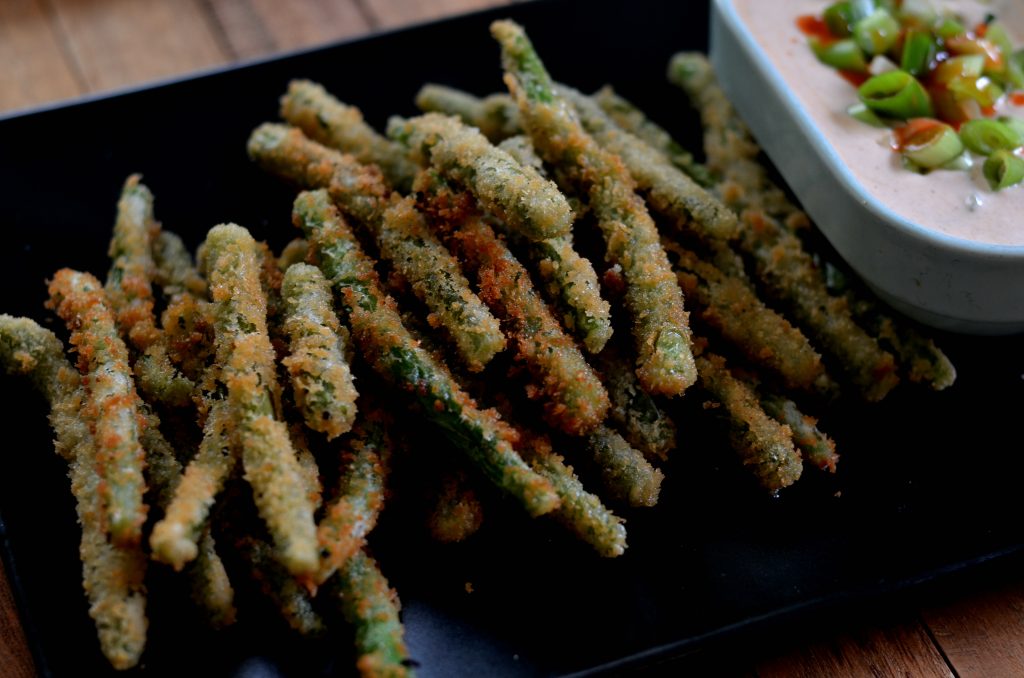 Okay, so I'm not sports minded at all… not even a little bit. However, I realize that this is a huge weekend for football. While it's unlikely that I will watch the Super Bowl on Sunday… I do plan on cashing in on the event by eating a ton of party snacks. Today's recipe is a really yummy game day appetizer! It's crispy fried green beans served with a creamy buffalo dip.
If you've never deep fried veggies, you may be surprised by how easy it is! 
To make the green beans…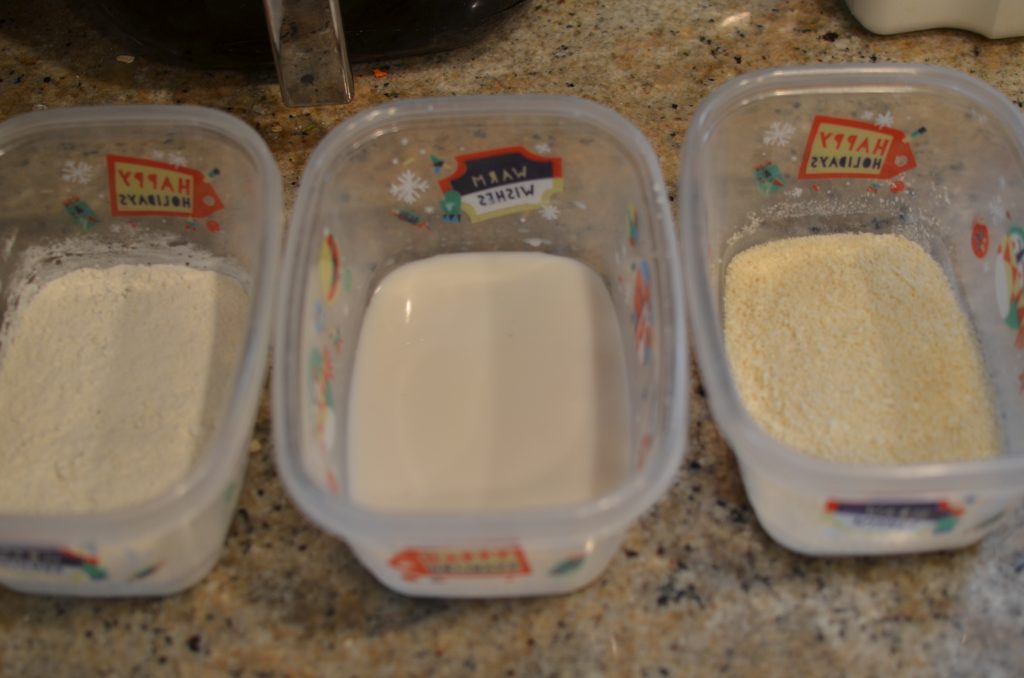 Start by making an assembly line. You will need a container for a cup of seasoned flour (flour with salt, pepper, and onion powder), another container for unflavored non-dairy milk, and a container for a couple of cups of panko bread crumbs.
Trim the ends off of fresh green beans and rinse them.
Now, heat up some oil (I used canola) in a deep pan. You will need enough so that the oil is about a couple of inches deep. Heat the oil while working with the green beans.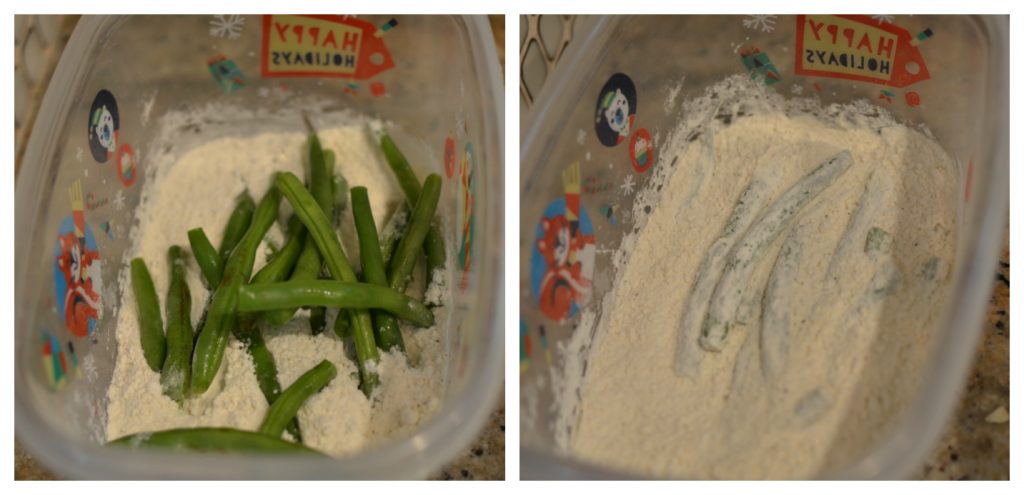 Drop a small handful of green beans into the flour mixture. Toss the beans a bit to fully coat the beans in the flour mixture.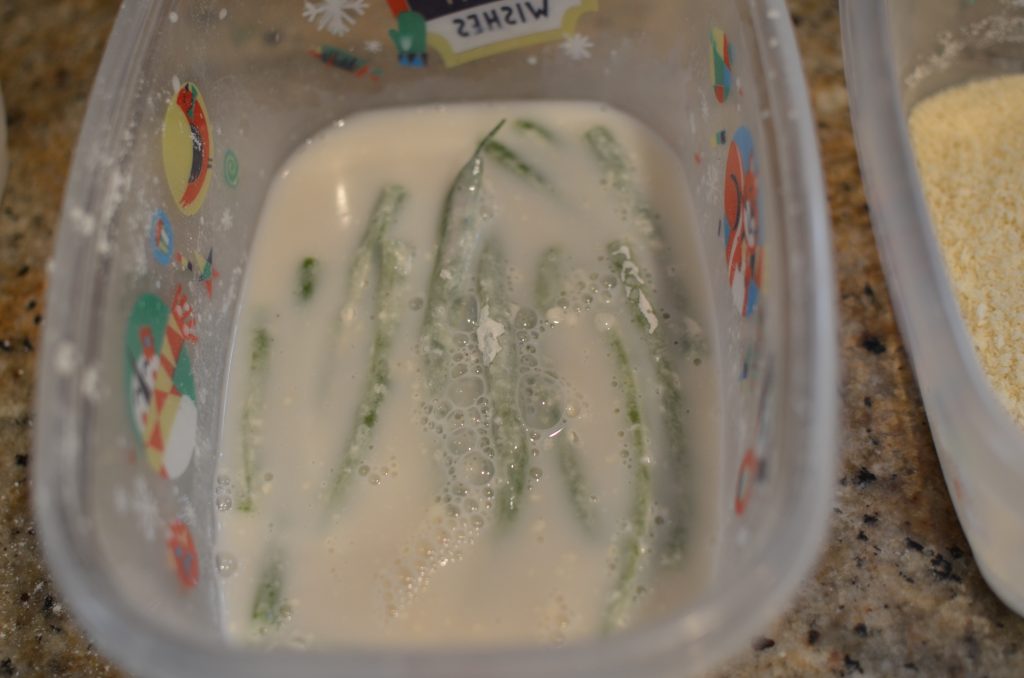 Next, drop the floured beans into the non-dairy milk (I used unflavored almond milk).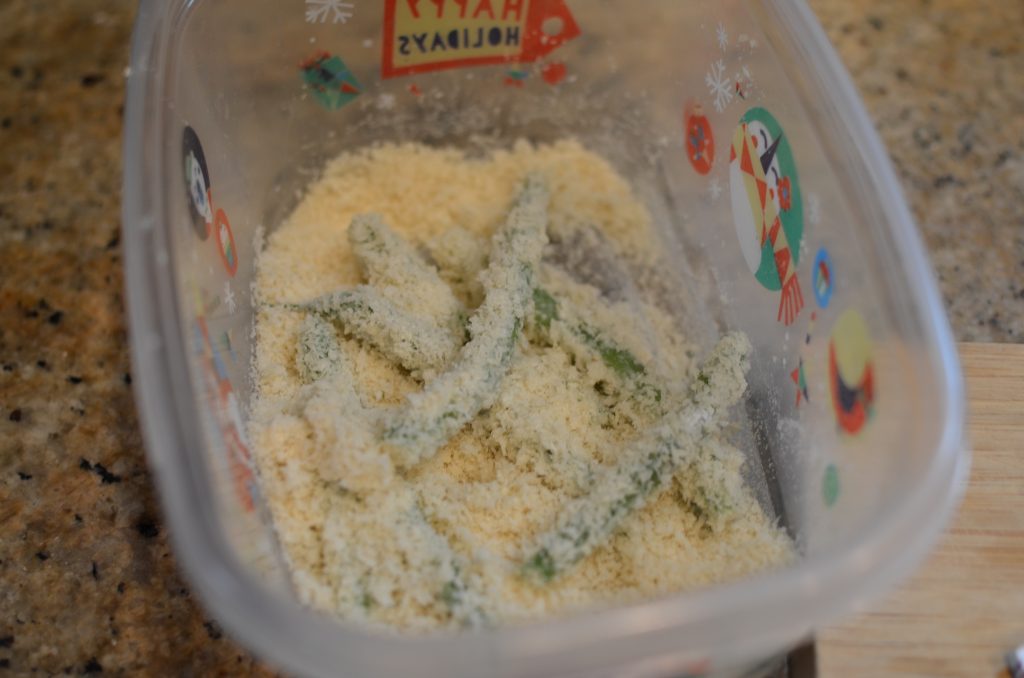 Now, place the green beans in the panko. Shake them up a bit to fully coat the green beans.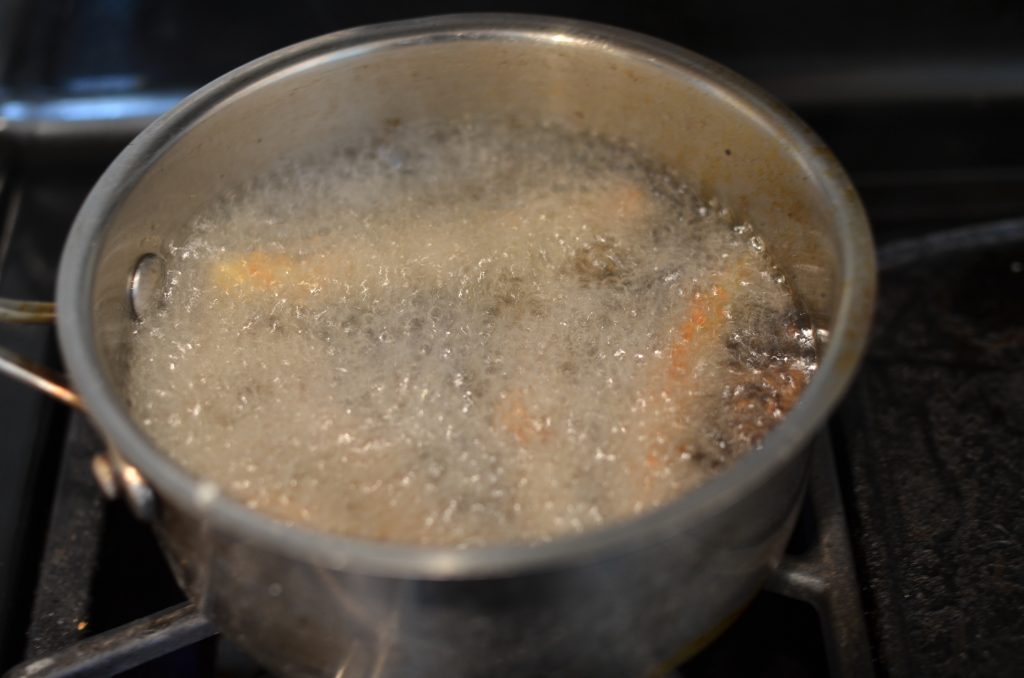 Carefully, drop the green beans into the hot oil. I drop them one-by-one by hand, and when they are nice and golden brown, I pick them out with chop sticks.
Chop sticks are such a great tool for deep frying! If you're not chop stick savy… by all means, use a slotted spoon.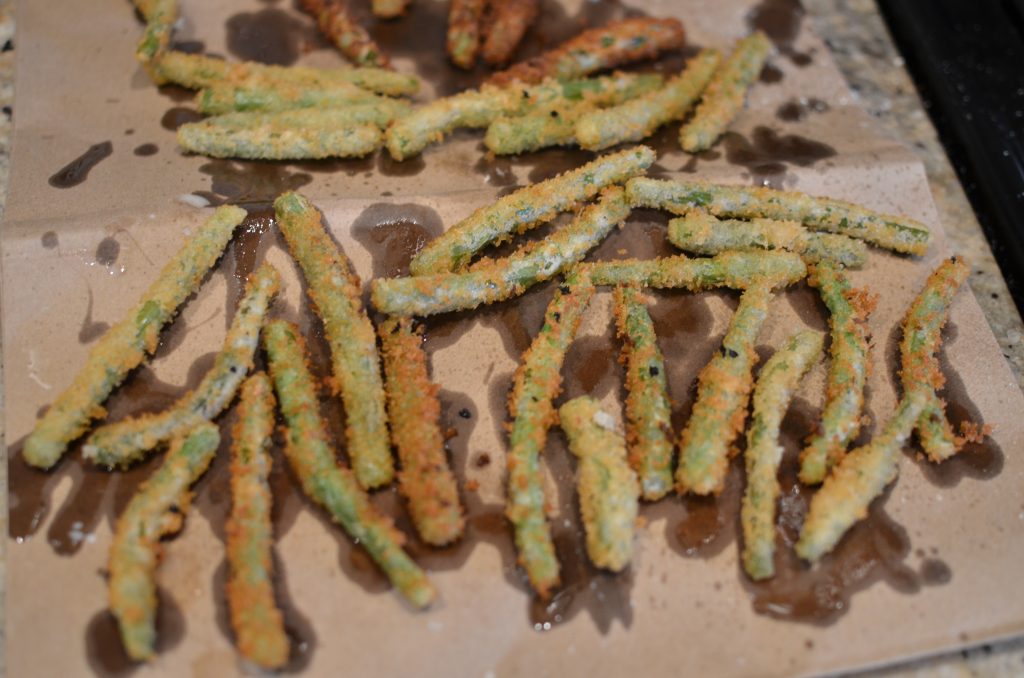 When the green beans are golden brown, place them on paper towels (or a paper grocery bag) to drain off the excess oil. Cook the rest of the green beans, watch the oil so that it doesn't scorch!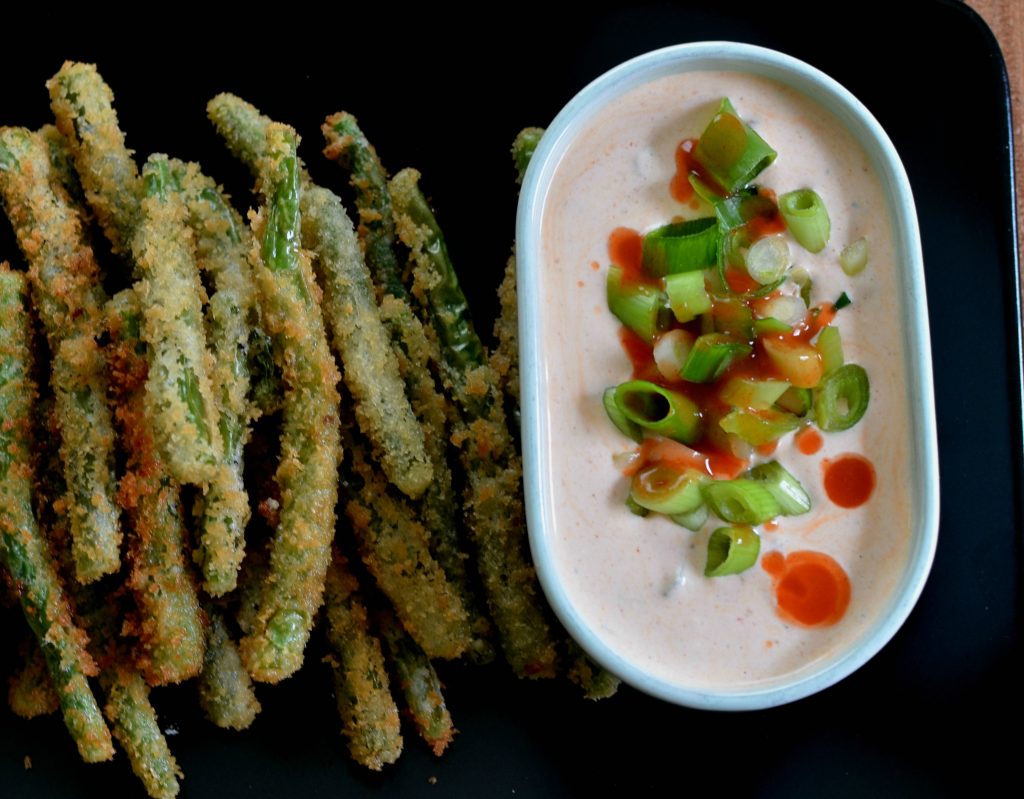 For dipping, I served it with a creamy buffalo sauce. It's made from a half of a container of Tofutti sour cream (6 oz), 3 tablespoons of Franks Red Hot hot sauce, a couple of green onions, garlic powder, salt, nutritional yeast, and some cayenne pepper for extra spiciness.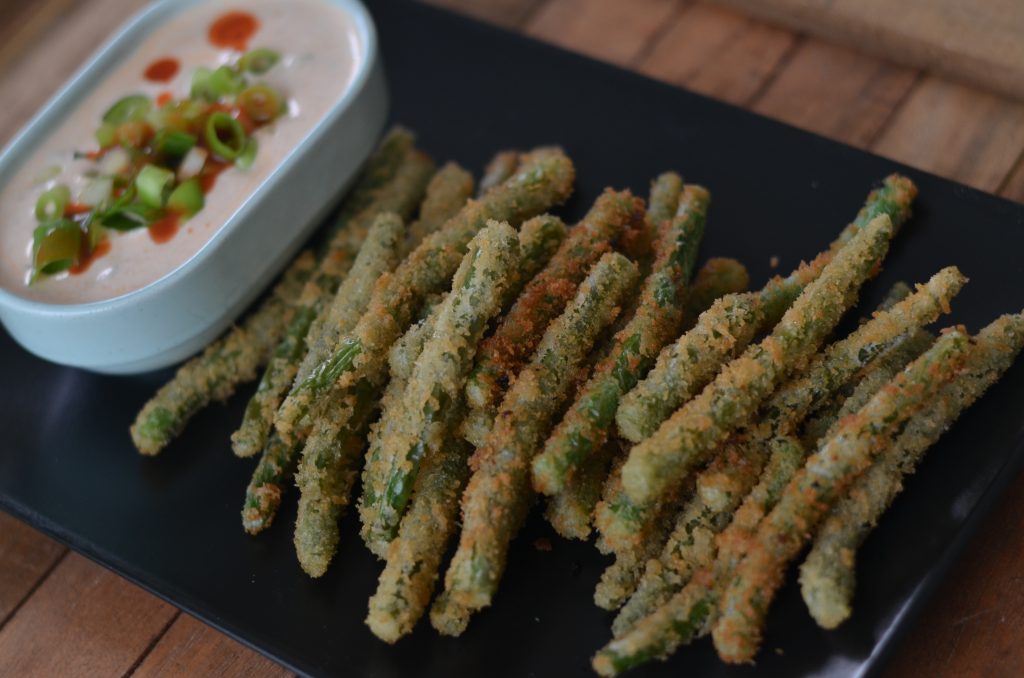 Oh boy… these are good! Bon appetite!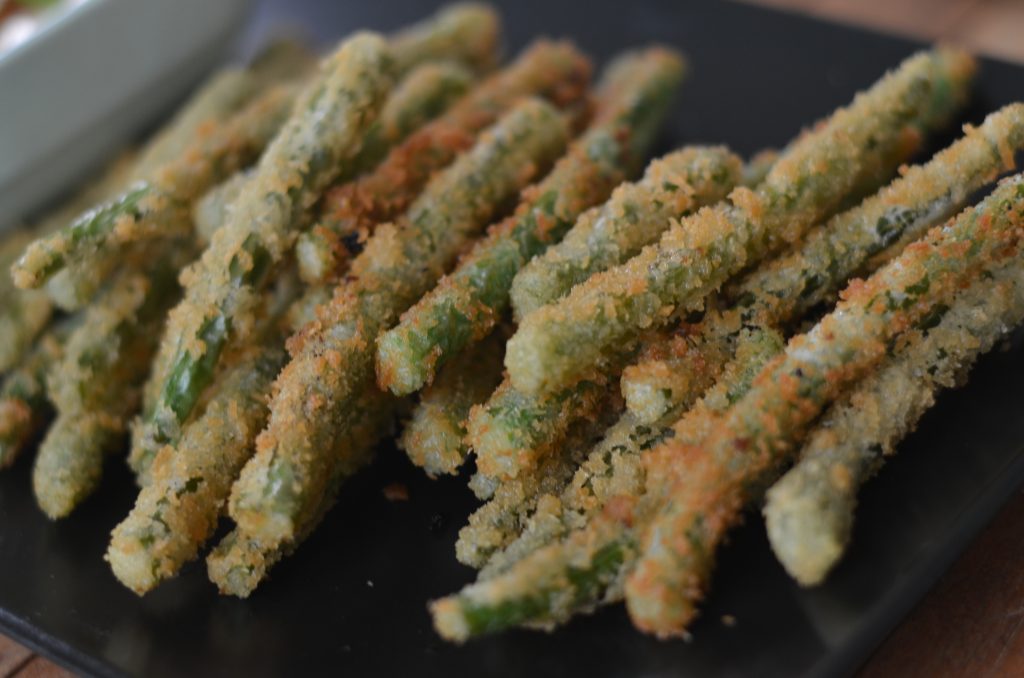 Crispy Green Beans
Ingredients
½ pound fresh green beans (ends trimmed and rinsed in water)
2 cups panko bread crumbs
1 cup unbleached flour
1 cup unflavored non dairy milk
1 teaspoon salt
¼ teaspoon onion powder
pepper
oil for frying
FOR THE DIP
6 oz vegan sour cream
2 green onions
3 tablespoons Franks Red Hot
1 teaspoon nutritional yeast
¼ teaspoon garlic powder
¼ teaspoon salt
¼ teaspoon cayenne pepper (optional)
Instructions
Make the dip by mixing all of the dip ingredients. Reserve ½ of a green onion for garnish. Splash additional hot sauce on top. Let sit while preparing the green beans.
Start an assembly line to dredge the green beans by getting three containers.
In the first container, place the flour, salt, onion powder, and pepper in it and mix.
Then, place the milk in the next container.
Place the panko in the last container.
Heat unflavored oil in a small pan. Pour enough oil into the pan so that it's a couple of inches deep.
Dredge a small handful of green beans in the flour. Coat completely.
Next, put the green beans in the milk mixture.
Now, place the green beans in the panko and coat completely.
Place the dredged green beans into the oil.
Fry until golden brown and place on paper towel to drain excess oil.