Earlier this week, Laney asked me to buy her some cherries. So… I bought her cherries, and they were so sour that she wouldn't eat them. I wouldn't eat them either! So then, I was left with a tub of cherries that no one would touch. However, I knew that I could get my family to eat them if I put them in a dessert, and that's exactly what I did. I found a recipe for Cherry Cobbler, but I had to modify it. The vegan conversion was super easy (switching out the milk and butter for vegan versions), but the sugar content was ridiculous!… I think the original recipe would send you right to the dentist. Also, after trying the cobbler, it didn't have the biscuity texture of a cobbler at all. It reminded me more of this orange cake that my mom used to make from a can of mandarin oranges. This recipe for cherry cake is soft, spongy, and a little bit sticky. Hence, the name Cherry-(Lemon) Sticky Cake came into being! Click HERE for printable version of the recipe.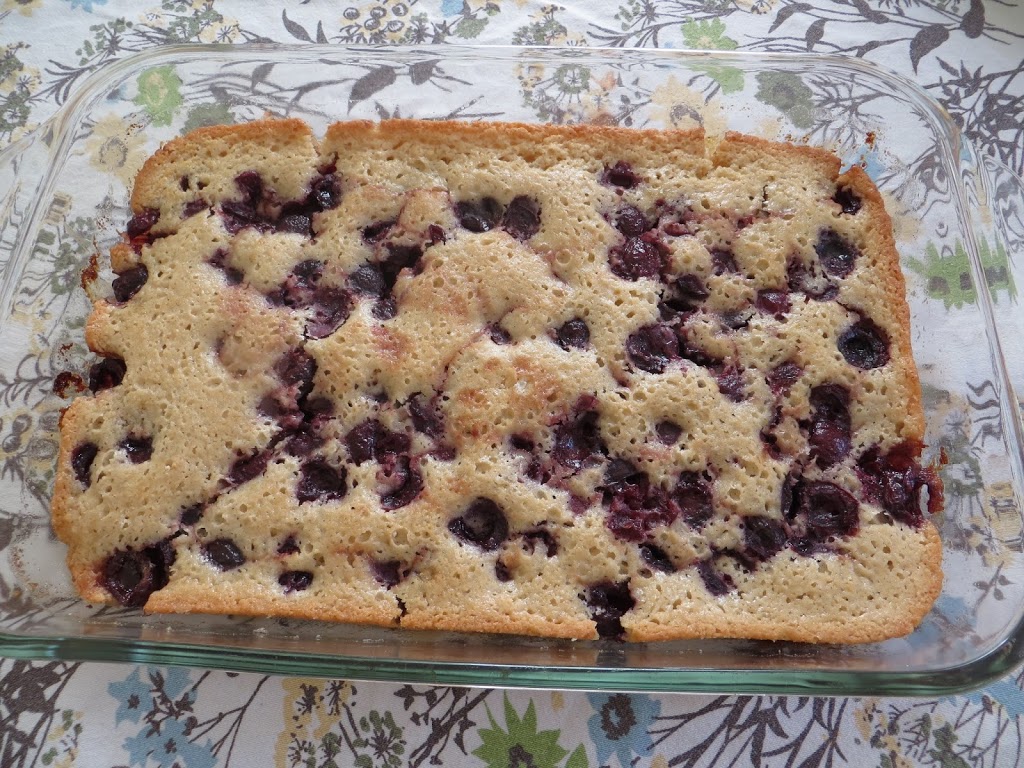 Ingredients (for Vegan Recipe)
Cake
1/3 cup non-dairy butter melted (Earth Balance)
1 cup unbleached all-purpose flour
3/4 cup sugar
1 teaspoon baking powder
1 cup non-dairy milk (I like unsweetened almond)
zest from 1 lemon
Cherries
2 cups sour cherries (pitted)
1/4 cup sugar
1 tablespoon unbleached all-purpose flour
juice from half a lemon
Directions
Preheat oven to 350 degrees. Pour melted butter into a 9×13 inch pan. To make the cake, mix the flour, sugar, baking powder, and lemon zest into a medium sized bowl. Add milk and stir until combined. Pour batter into the pan with the melted butter. Do not mix the butter with the cake. This will give it golden brown delicious edges (the best part!).
In a medium sized bowl, mix the cherries, sugar, 1 tablespoon of flour, and lemon juice. Pour the cherry mixture evenly onto the cake batter. Do not stir the cherries into the cake batter. Bake the cake for 45-55 minutes until golden brown and a toothpick comes out clean.
Enjoy!