What I love about making vegan tacos is the never ending possibilities… whether you use a soy based store bought taco meat, flavored beans… or even vegetables (like jackfruit!), the options are endless. Lately, I've been making an easy and healthy taco filling made from chopped cauliflower and mushrooms… and it's delicious. It's even picky kid approved!
The cauliflower has a nice and neutral flavor, which makes it a great canvas for adding earthy flavors… while the mushrooms have a bit of meatiness and a chewier texture to them. Together, they are stupendous in tacos!
To make this easy and healthy filling: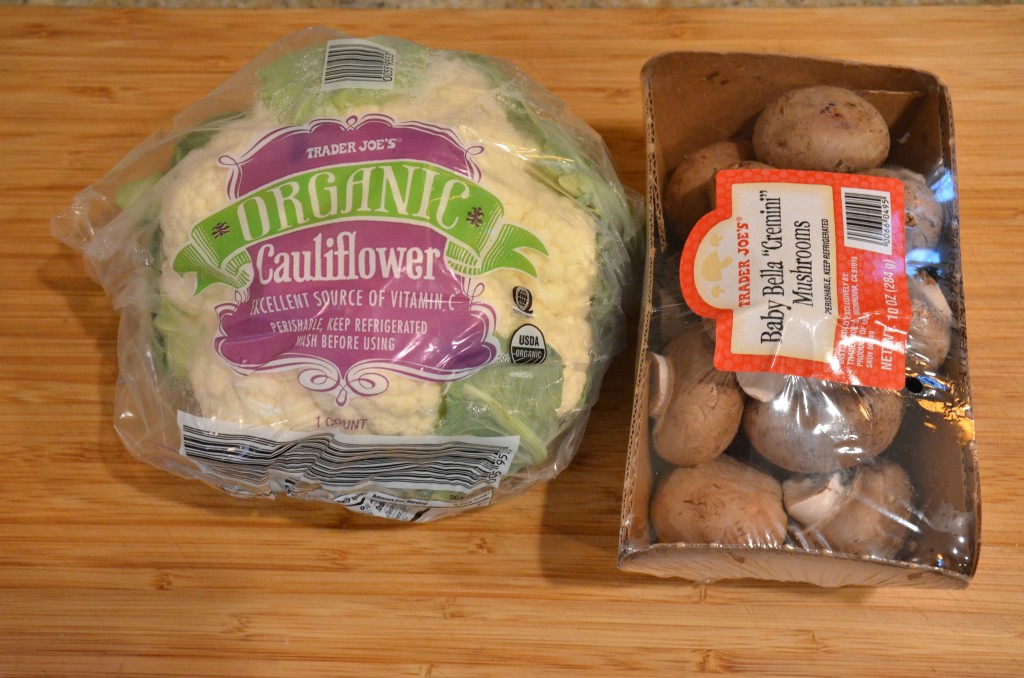 I started with fresh cauliflower and cremini mushrooms.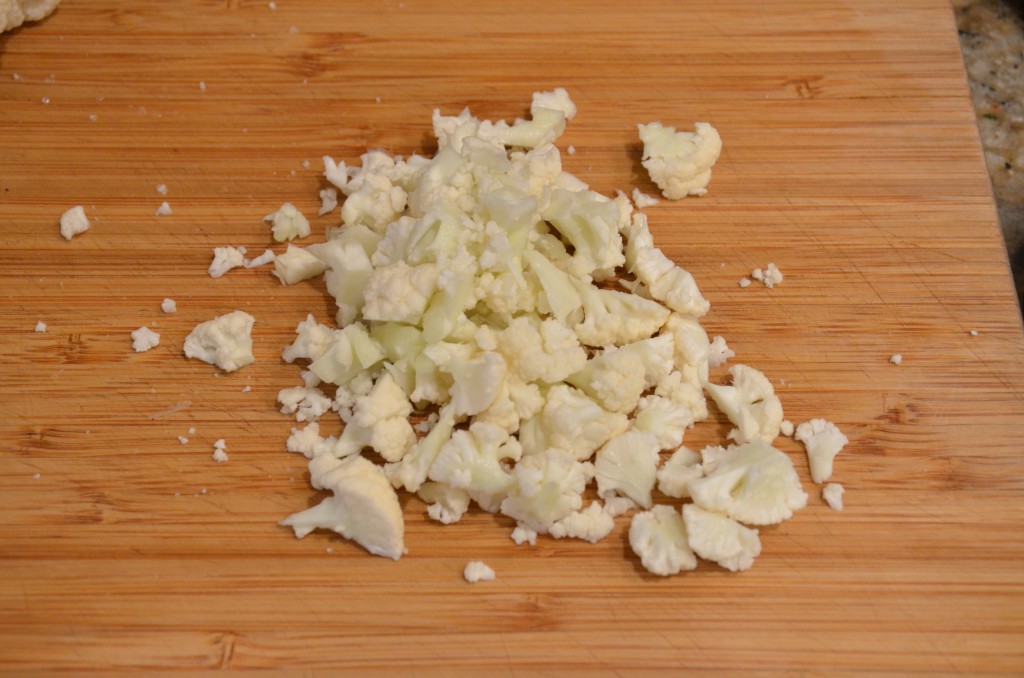 Using only a half of a head of cauliflower, chop the cauliflower into very small pieces.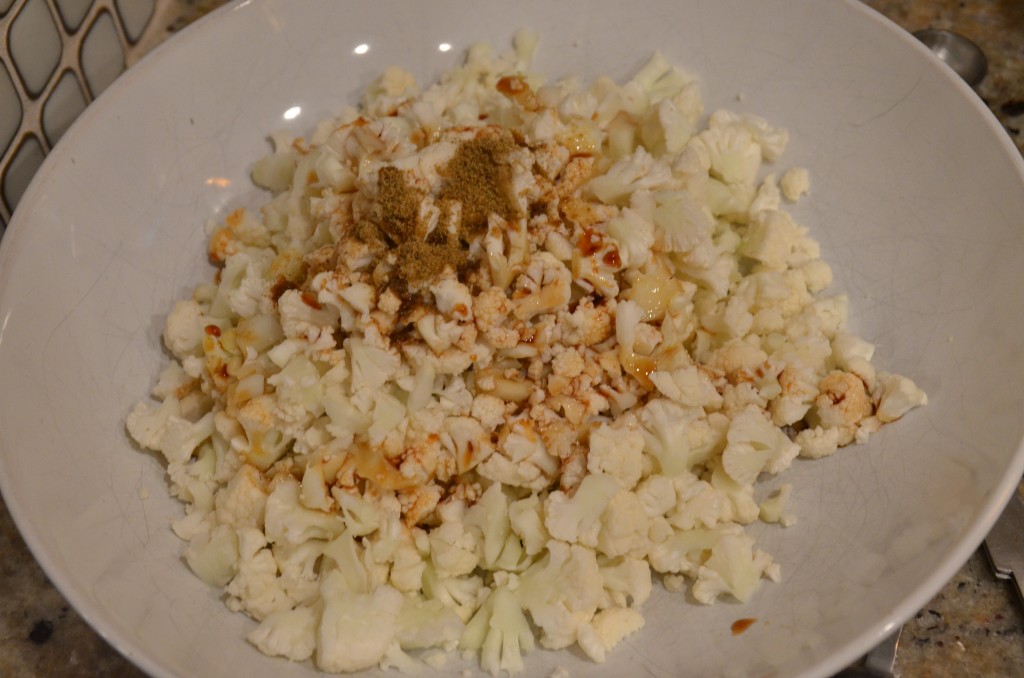 Place all of the chopped cauliflower into a large bowl and add 1 1/2 tablespoons soy sauce (or tamari for a gluten-free option), liquid smoke (Colgin liquid smoke is both vegan and gluten-free), and cumin. Stir. Let the cauliflower marinade while preparing the mushrooms and veggies.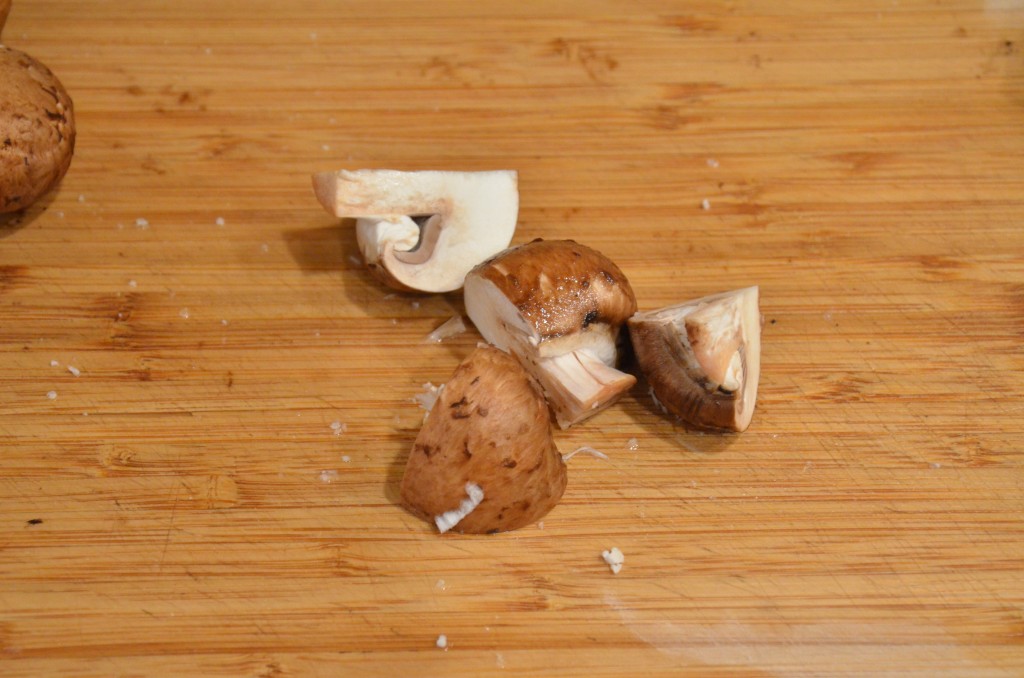 Cut mushrooms into quarters. I used a half of a box of mushrooms which is equivalent to 5 oz.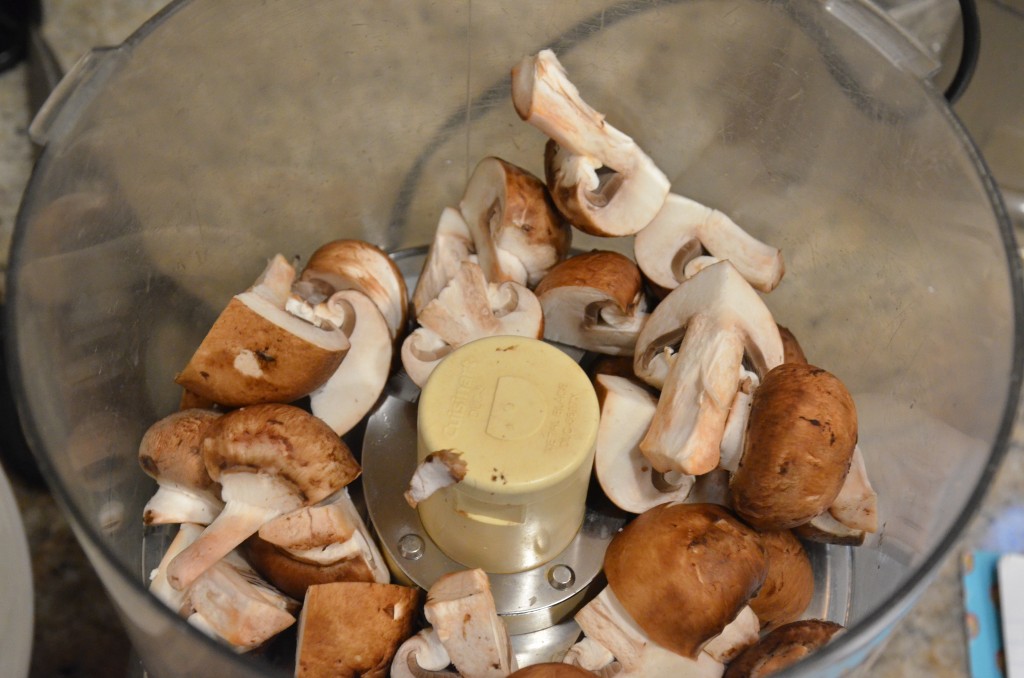 Put the mushrooms into a food processor and pulse about 15 times. It's okay if you don't have a food processor. Just chop the mushrooms into small pieces by hand. No biggie 🙂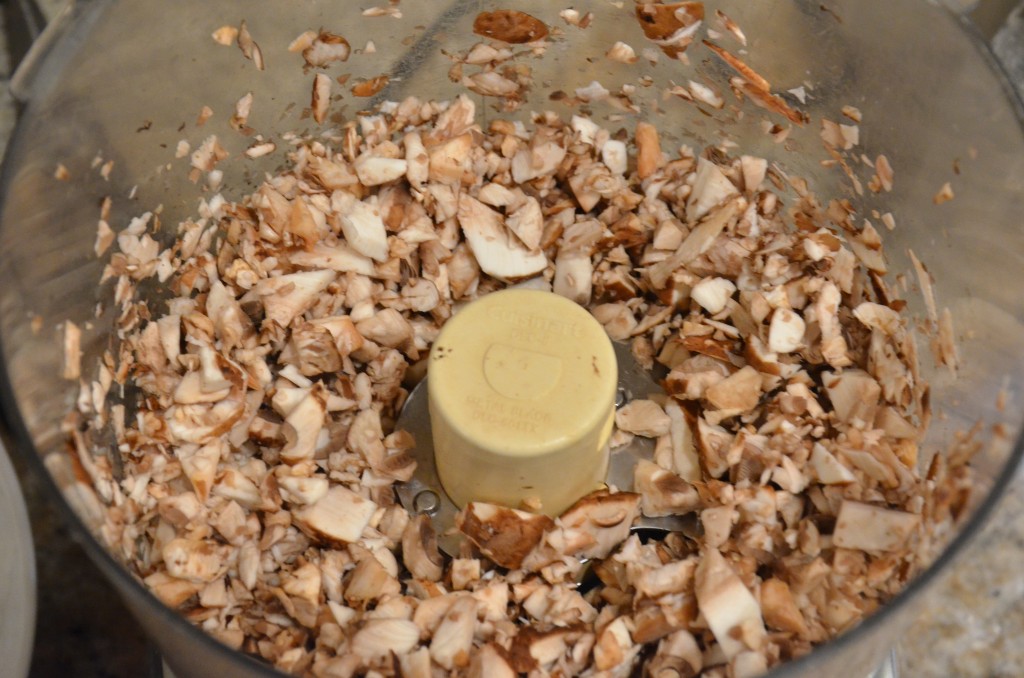 The mushrooms will have large and small pieces after pulsing.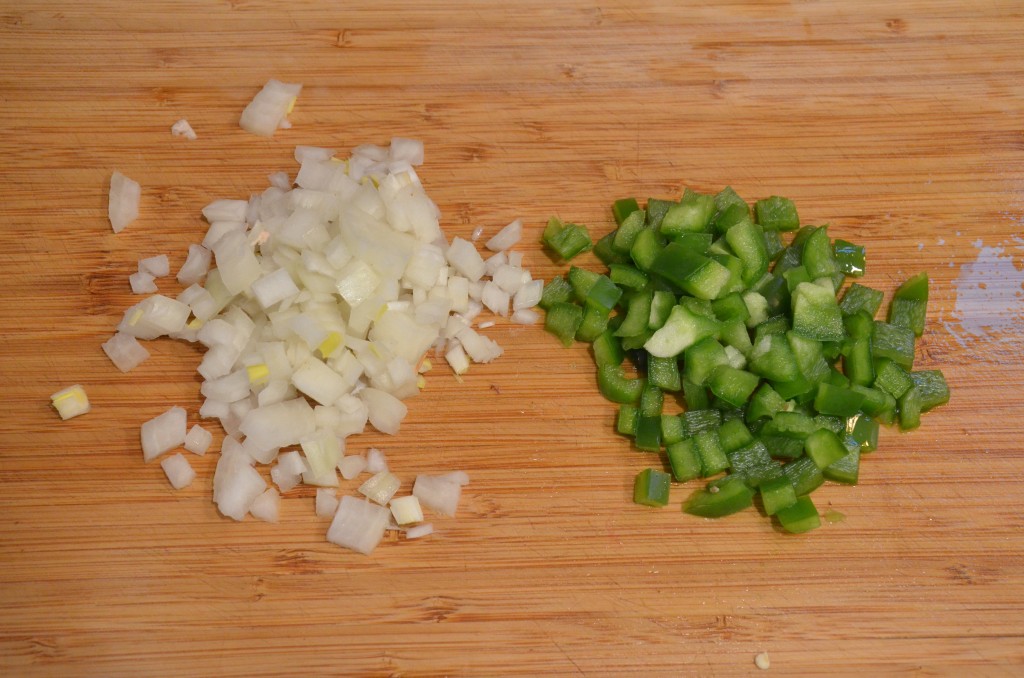 Chop a half of a medium sized onion and half of a green pepper into small chunks…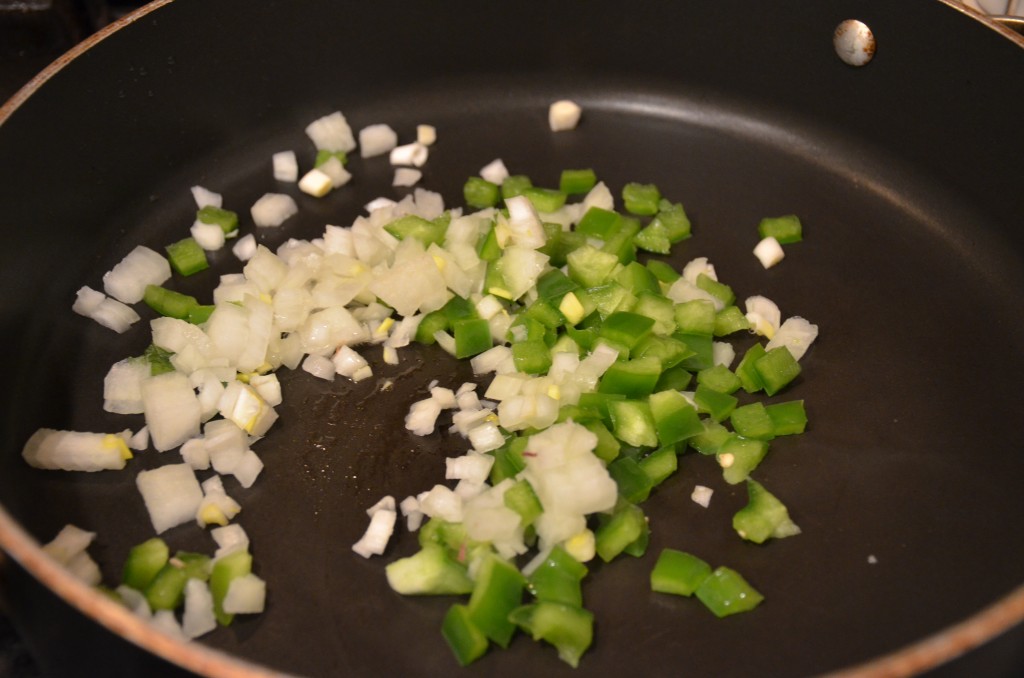 With just a touch of olive oil, bring a pan to medium high heat and place the peppers and onions in the pan. The veggies will start to become fragrant. I love the smell of sautéed onions and peppers! Stirring occasionally, let the veggies cook for about 2 minutes.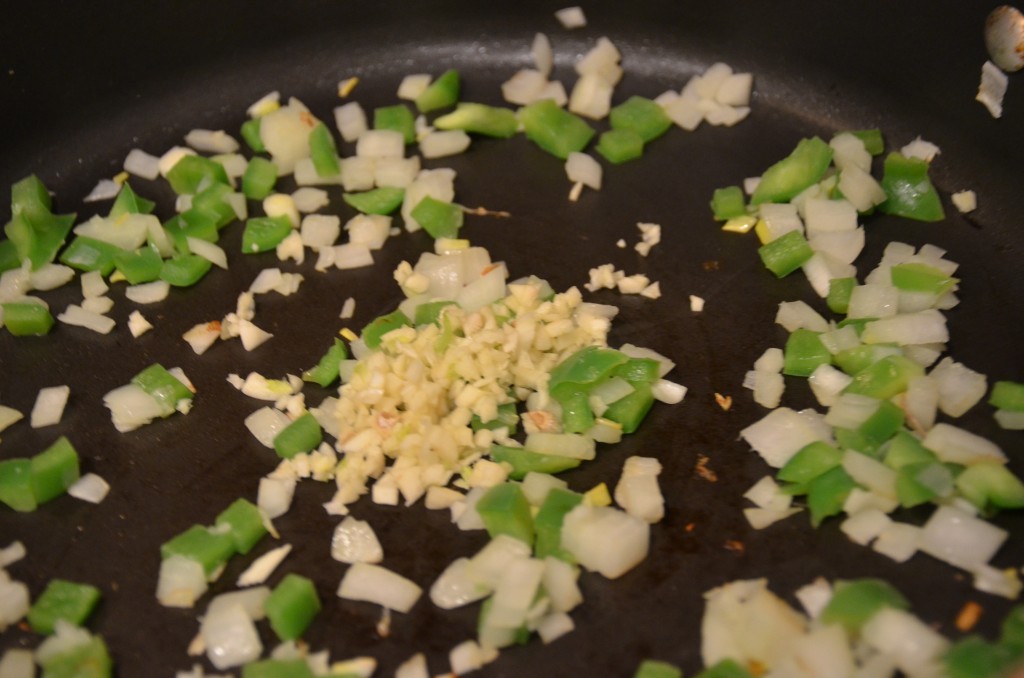 Add fresh chopped garlic to the pan and cook for another two minutes. Make sure to stir occasionally, so that the garlic doesn't burn. Otherwise, the garlic will taste bitter.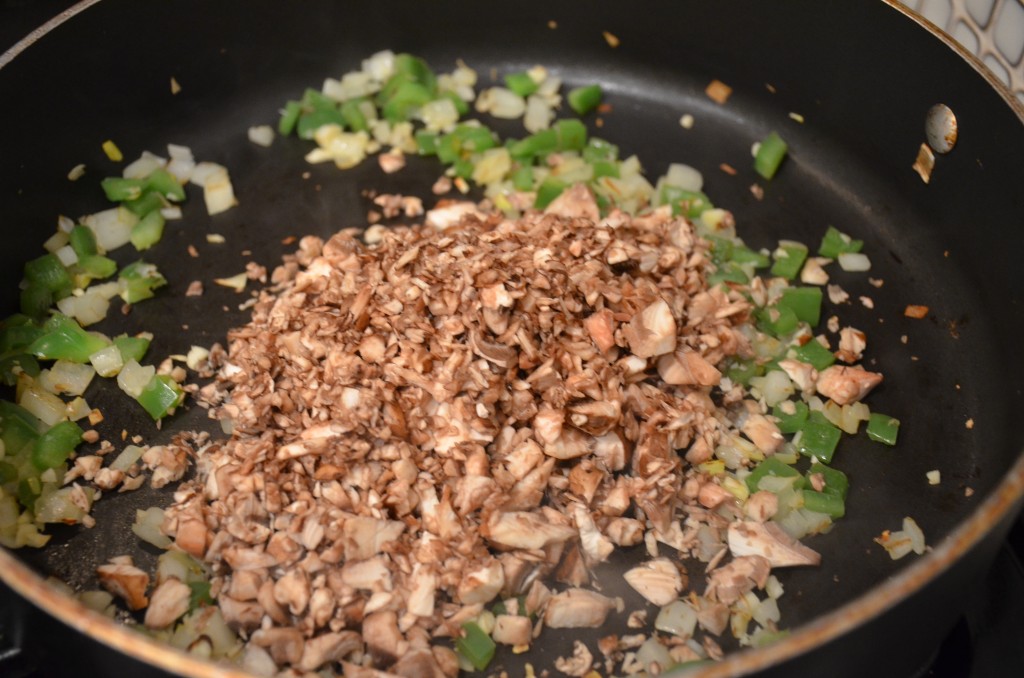 Now, throw the mushrooms into the pan…. okay, maybe not throw… but you know, put them in the pan. Cook for about 2 more minutes.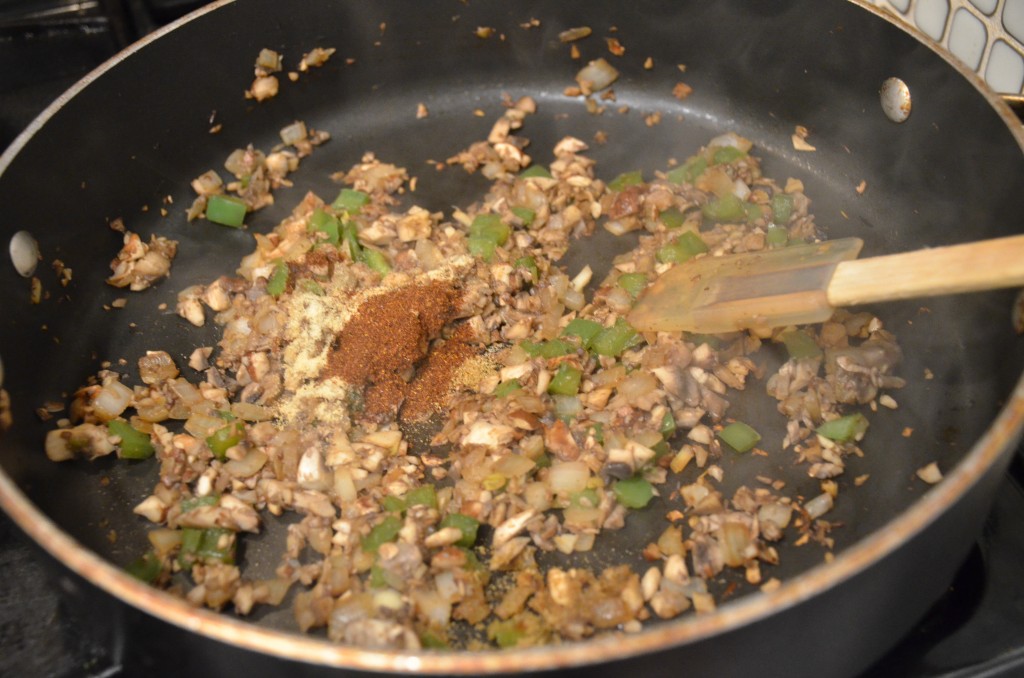 Now, it's time to flavor these veggies! Add more soy sauce, cumin, garlic power, chili powder, and agave nectar then stir. Cook for about 3 minutes.
Last but not least… put the marinated cauliflower into the pan and stir. Let this cook for about three more minutes (stirring occasionally), until it's heated through but not overcooked.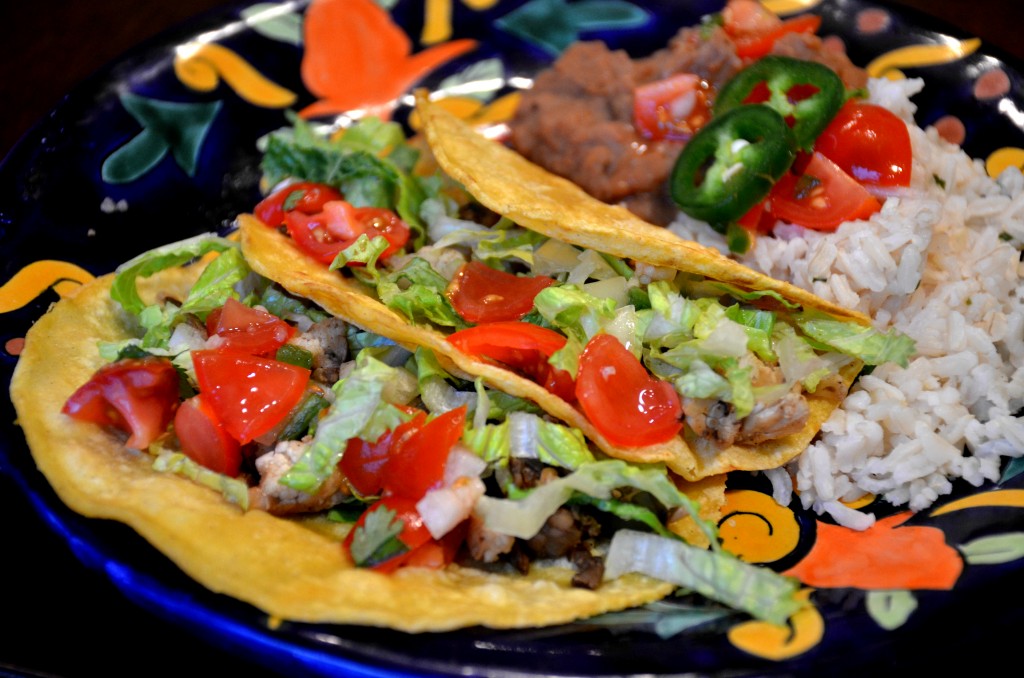 Now, all that is left to do is to serve! I love this taco filling in a soft corn tortilla filled with fresh Pico de Gallo and romaine lettuce. However, this filling is also good in crispy tacos, burritos, and even as cold leftovers eaten with tortilla chips right out of the fridge! ♥
Cauliflower Mushroom Tacos
Ingredients
For the cauliflower and marinade:
1/2 head cauliflower chopped into small pieces
1 1/2 tablespoon soy sauce
1/2 teaspoon cumin
1/2 teaspoon liquid smoke
For the mushrooms and veggies:
5 ounces cremini mushrooms cut into quarters
1/2 medium onion diced
1/2 green pepper diced
2-3 cloves of garlic
1 tablespoon soy sauce
1 tablespoon cumin
1 teaspoon chili powder
1 teaspoon agave nectar
1/4 teaspoon garlic powder
A little olive oil for sautéing
Instructions
Chop the cauliflower into little pieces and place into a bowl.
Pour the marinade ingredients over the cauliflower and stir to mix. Set aside.
Place the quartered cremini mushrooms into the bowl of a food processor.
Pulse the food processor about 15 times.
Heat olive oil on medium-high heat and add the chopped onions and green peppers.
Cook for about 2 minutes stirring occasionally.
Add the chopped garlic and stir.
Let the veggies cook for about two more minutes.
Add the chopped mushrooms to the pan.
Cook for about two minutes, stirring occasionally.
Add the spices: soy sauce, cumin, chili powder, garlic powder, and agave nectar.
Cook for about three minutes.
Add the marinated cauliflower to the pan and cook for three more minutes.
Serve.
https://www.sillylittlevegan.com/cauliflower-mushroom-tacos/