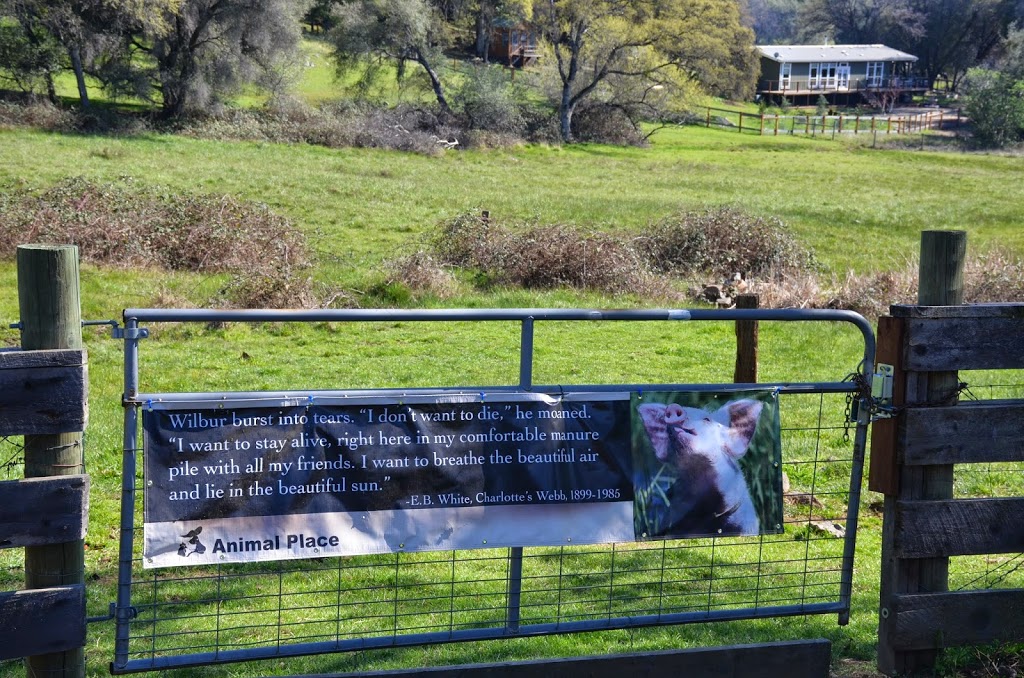 "Wilbur burst into tears, 'I don't want to die,' he moaned. 'I want to stay alive, right here in my comfortable manure pile with my friends. I want to breate the beautiful air and lie in the beautiful sun.'"
My second day in Northern California will stay with me forever.  Again, I had another moment of self discovery.  I realized, while I was at Animal Place, the importance of visiting other animal sanctuaries.  Although I work close with one locally, it's so important to see how other sanctuaries operate… AND… to just bask in the love from being in a place filled with healing hearts. So, I finally have something to put on my Bucket List… I want to visit ALL of the animal sanctuaries world wide… (especially the Sloth Sanctuary!!!).  Quite a task, but I'm up for it…. they don't call it a Bucket List for nothing!… Go big or go home! ♥
Kayle and I started Day 2 with a grand ole meal at South Pine Café in Nevada City (located at 110 S Pine St, Nevada City, California 95959).  Oh boy!  It was a doozy!  So much food!!!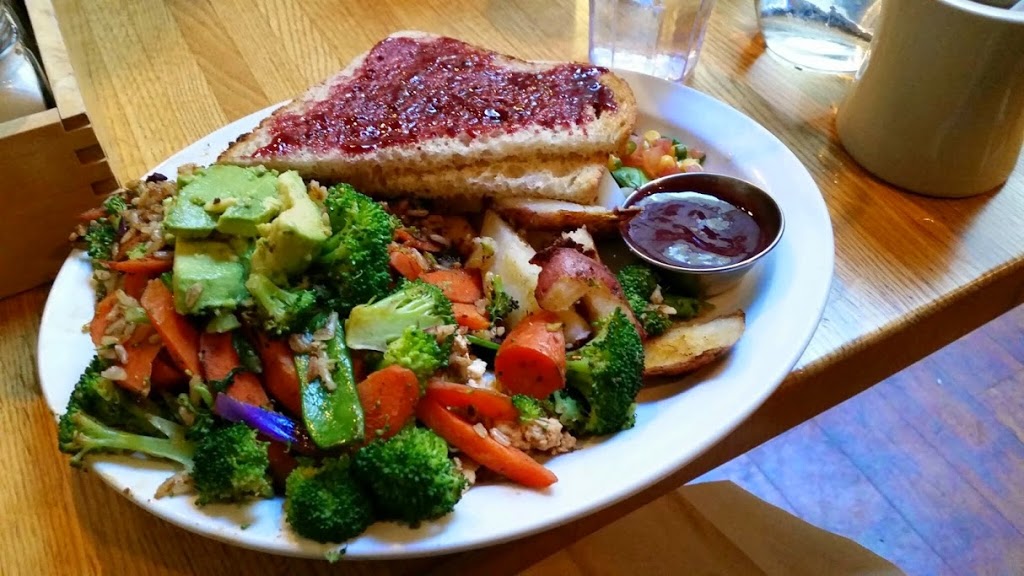 I ordered the Spicy Jamaican Tofu with toasted sour dough bread (the sour dough is the only vegan bread there).  It came with a generous serving of home fries and homemade olloberry jam.  The tofu scramble itself was delicious… the flavoring of the veggies were just ehhh to me… and their home fries ROCKED!  Regardless of not being inspired by the veggies, I ate most of this meal… and probably could've finished it (I skipped dinner the night before, afterall).
After breakfast we stopped by Kayle's mom's house for a quick visit… and then we were off to Animal Place (located at 17314 McCourtney Rd. Grass Valley, CA 95949).  This sanctuary is one of the largest (approx. 600 acres) and oldest animal sanctuaries (started in 1989). I was completely blown away!  Animal Place really knows what they are doing!!!  From their beautiful pastures to their signage… and even a few educational structures (such as a veal crate.. and a human equivalent of a gestation crate)… it was just so much to take in.  I could've easily spent an entire day there.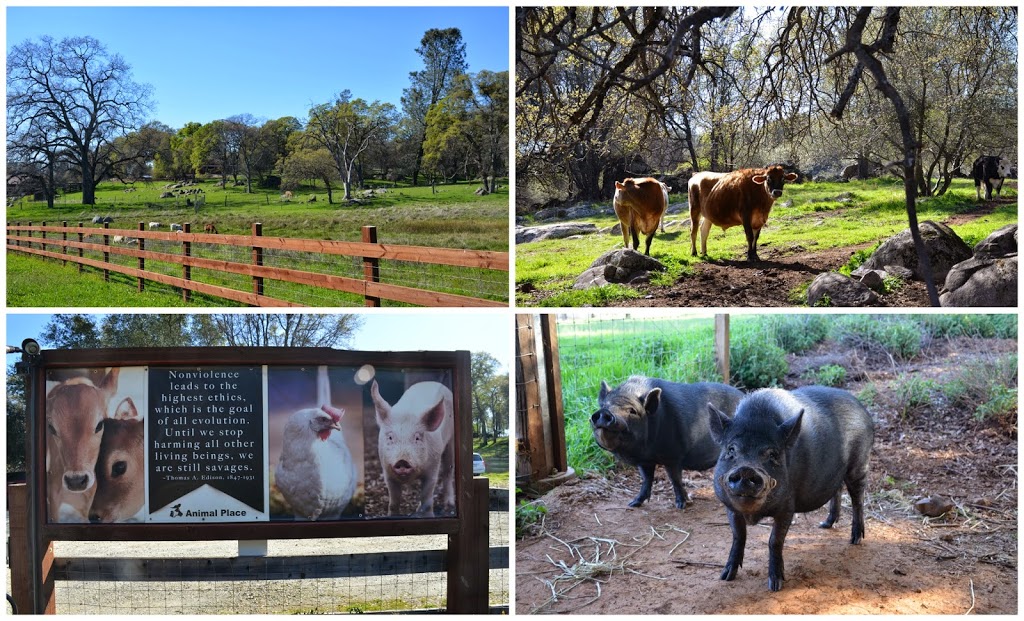 We had a bit of a guided tour by their staff member, Becki.  What a sweetie.. that Becki.  She took us in to visit the hens… and it was so cool… they all came in to greet us!… Granted, they probably thought we were there to feed them, but it was such a treat.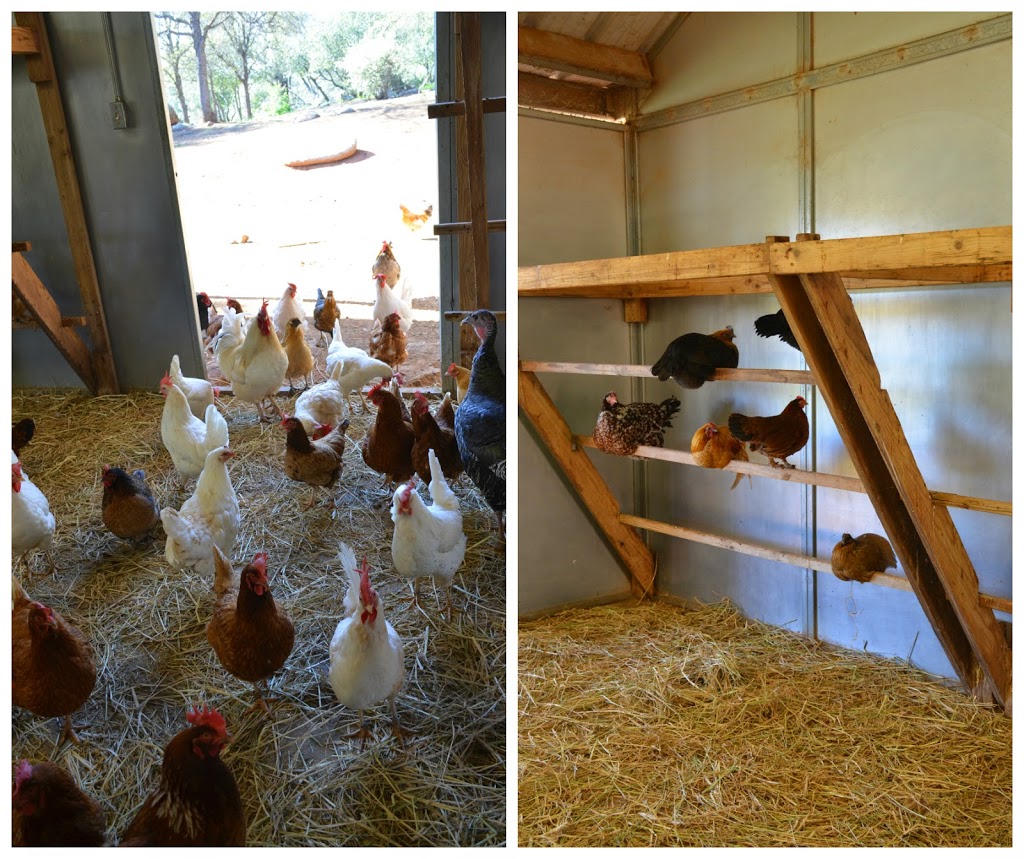 It was so fun visiting the hens.  This is where I finally got to hug a chicken!  Dream come true! Okay… some people wish for money or fame or more stuff…but, me?… I wanted to hug a chicken… and I did!!!… and her name is Little Foot… the sweestest little hen there is!
We checked on the cows and the goats and the pot bellied pigs, and we just soaked in the sun and the animals.  Becki had her own personal victory that afternoon… the pot-bellied pigs were welcoming and not shy for once.  They were there hanging out with us on their own will without the need of food for encouragement.  Becki was so happy, and I'm thrilled that I could capture that moment for her!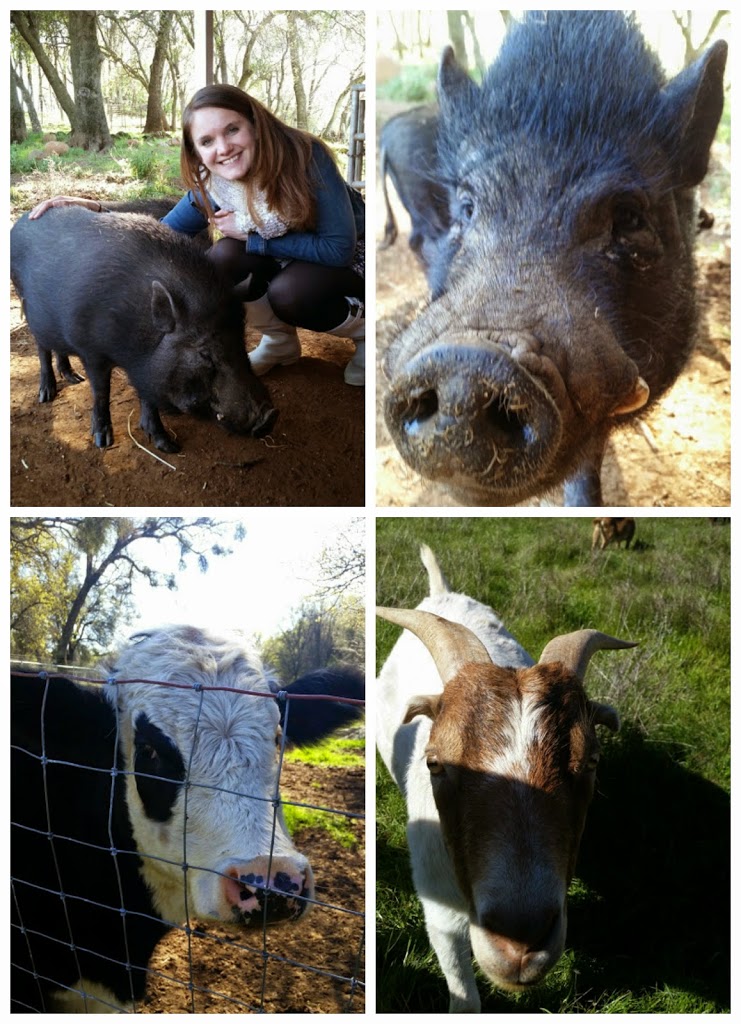 Pictured top left to right: Becki and Frank, Frank, Panda Bob, and a beautiful goat (I don't know his name..)
We then said our good-byes, and we were off to see the Yuba River.  It really was gorgeous.  However, we weren't able to see all of the sights of the river that Kayle wanted me to see… I still had to say goodnight to my daughters and husband (no cellular service near the river).  Even without seeing all of the sites, it was a jam packed day!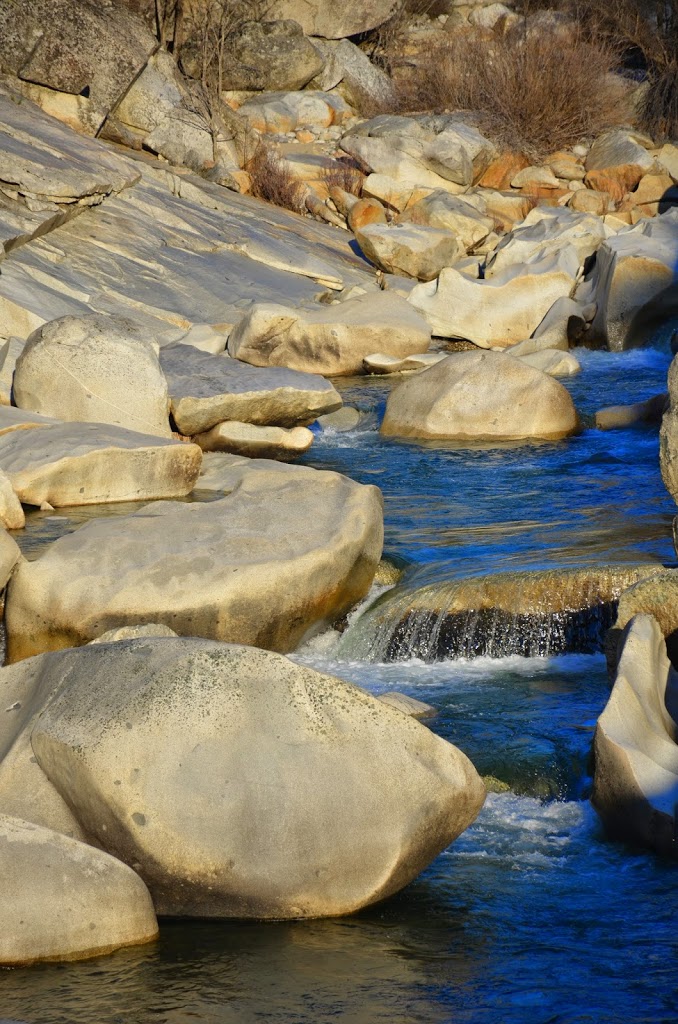 Yuba River
After getting back to Kayle's house, we made an easy dinner, and then it was time to pack up our stuff for our big ROAD TRIP to Anaheim for the Natural Products Expo.  I went to bed that night filled with love for Kayle's little gold mining town.  So many treasures in one beautiful place. ♥♥♥
To be continued…