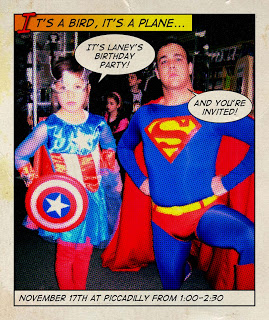 Superhero Birthday Party Invitation
I thought that I'd start my VERY FIRST entry with a celebration!!! Today was L's 6th birthday party, and we had a sweet little party at Piccadilly in Columbus, Ohio. This is the coolest place ever! It's so beautiful there, and they really used up the space in an amazing way (why didn't I take pictures of this place)! By all means, click on the link to see what this place looks like! This party was customized for L's (and her dad's) LOVE of superheroes and for my LOVE of vegan food. We had hummus and chips (so delicious), and the kids were served gluten-free vegan chocolate cupcakes. I absolutely loved that the owner accommodated our wish to have a vegan party! I requested non-dairy creamer for the coffee and BAM (that's a superhero BAM!) she picked it up. Nothing was a problem, and working with the owner was so easy. This event was truely beautiful, and the kids had a blast decorating their felt capes with their initials and superhero symbols. After they transformed into superheroes they were able to TAKE-OFF!… Well, atleast look like they were in flight!
I do want to note that the best part of this Little Vegan Party is that I doubt anyone knew that this was a vegan party (with the exception of the owner). We had good food and good times. That's what a party is all about!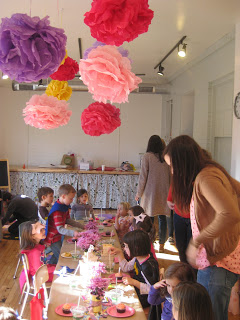 Oooooo…. so pretty!… It's a girlie vegan superhero PARTY!